Whether you're sprucing your living room for an occasion or gutting it for your next big step in life (aka upgrading from a cactus to a plant with actual living flowers), it's always nice to have a helping hand. Someone to assure you that the cat-shaped pillow is great idea, and (more importantly) that the 90s-inspired fluoro orange chair is not.
We asked Westfield Carindale, who have just launched their brand spanking new Interior Styling Sessions, for the easiest ways to make any room Insta-worthy. We could use all the help they're gonna give, since our best interior design drawcard is a semi-severe addiction to The Block.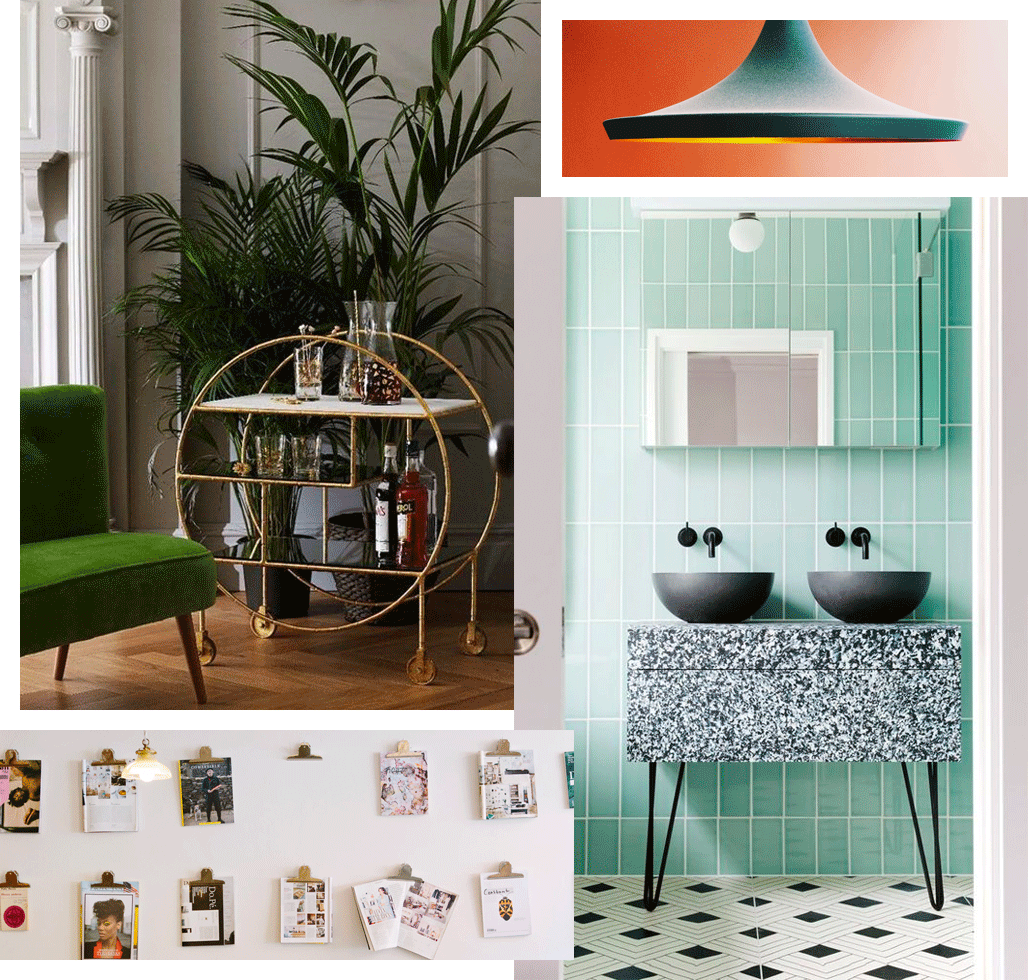 Unless you want your room to embody the physical form of a rainbow, it's a good idea to have a colour palette in mind before you start decorating. If you do want a rainbow room, you're probably way too cool for us (be our friend?).
Take into account your wall colour (if you hate it, paint it), along with any feature items of furniture that are going to stay (your grandma's floral barcalounger for example).
We're loving Scandi-inspired wood, grey and industrial metals. Make the neutrals pop with a handful of statement colours (pink, anyone?) or baby pastels for a calmer feel.

Visual learners—this is one for you. The ultimate excuse to stalk through Pintrest, Vogue and Instagram, create a mood board of your favourite styles, looks, patterns and statement items. Once you've got a collection together, you'll start spotting patterns and similarities so you can swipe that credit card with confidence.
And if there are zero patterns across the board, because your room is going be a unicorn room, you'll have the pleasure of #yolo shopping.

Reuse, recycle or chuck the boxes of receipts you've been hoarding for the last two years (and haven't looked at for approximately 730 days). Redecorating is the perfect time for a spring clean.

If you don't have a gold pineapple in your house, are you even a millennial? You can pick one up for a bloody bargain at Bed Bath 'N Table, or go for something different, like these shiny apples. Yes, you do need it.

From succulents to cacti; blooming blossoms and climbing vines—every house could use a few extra plants. Not only are they great for de-stressing and air purification, but plants are some of the most Instagrammable decoratives around. Don't worry if you're incapable of looking after a gold fish, we've put together a fool proof list of un-killable plants here.

Think: feature art that spans the length of a wall, or a collage of smaller pieces of art.

Rose gold, white gold, copper and brass are all back on the table when it comes to 2018 design. We're loving these rose pink ottoman's from Adairs which come in small and large.

Make the room distinctly yours by adding photos, books and personal touches.

When it comes time to shop, consider getting some assistance from the real experts. Offering a personalised shopping experience, one-on-one services means you can access expert advice when it comes to selecting products at Westfield Carindale. Interior Styling Sessions run year 'round, only at Westfield Carindale. For more info, check out this page.
Image credit: Unsplash
Editor's note: This article is proudly sponsored by Westfield Carindale and endorsed by The Urban List. Thank you for supporting the sponsors who make The Urban List possible. Click here for more information on our editorial policy.