Two weeks ago we asked you for your picks of Brisbane's most exceptional baristas, waiters, and cocktail makers, and you let fly with almost 2,000 nominations (three times the number of nominations from last year!). It seems it's not just the food and drink that keeps you coming back, but the people who make your experience better!
Thanks so much for taking the time to celebrate the people who mix your cocktails, serve your canapés, and grind your coffee beans. Over 200 local businesses were represented, including some old favourites, plus a lot of new faces.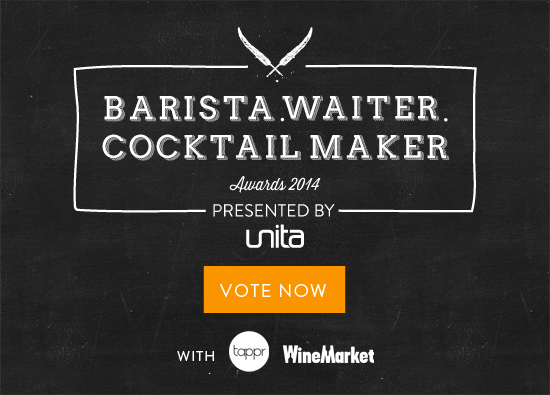 VOTE TO WIN!
The top 20 from each category have been compiled, and now it's up to you to vote for your favourite Barista, Waiter, and Cocktail Maker! Just by voting for your favourite barista, waiter, or cocktail maker, you will automatically go in the draw to win a $400 dinner and drinks experience at Brunswick Social.
And for the businesses…
The barista, waiter, and cocktail maker who are voted the best in Brisbane will each win a $250 voucher for

WineMarket

.
For the business whose barista, waiter, or cocktail maker was voted the best in Brisbane, you will win a partnership package with The Urban List worth $3,000.
The Barista. Waiter. Cocktail Maker 2014 Awards are presented by Unita — a leader in the field of retail and hospitality fit-outs. Many of our favourite restaurants have been decked out by Unita, and for that we are grateful, and full.
Thanks also to our category sponsors, Winemarket, and Tappr.
Winemarket pride themselves on being the best shopping destination for all things wine, mainly because you don't need to put pants on and leave the house for this vino shopping trip! (And we are obviously huge fans of that.)
Our friends at Tappr are changing the game when it come to Mobile-Point Of Sale technology. Tappr are the talented folks behind a very cool new app that allows our favourite small business owners to make transactions and check their business analytics all from their smartphone. Legends!
WHAT ARE YOU WAITING FOR?
The top 20 barista's, waiters, and cocktail makers have been nominated, now they need your vote in order to be crowned Brisbane's best.
Select your favourite in each category, hit submit, and your vote will be cast.