With spring only weeks away, we all need to make the most of our final winter days — and that means indulging in warm, comforting puds and crumbles!
Fruit crumble served with custard is about as cosy as it gets; it's the dessert equivalent of a hot water bottle.
So we're here to tell you how to make the perfect crumble at home with our epic strawberry and rhubarb crumble recipe, and where to find the best crumbles in Brisbane's restaurants.
Fruit first
Given the cooler climate most suited to crumble, we're generally treated to fruits such as apples, pears, rhubarb and berries.
Rhubarb Rhubarb combines two of the best with their rhubarb and strawberry crumble served with crème anglaise.
The main event
Oats, quinoa, nuts and coconut can all be used to top your crumble. It all depends what flavour and texture you're looking to achieve — but don't break the cardinal rule of packing down your crumble. Keep it light and airy!
Lido's famous Rumble Crumble comprises apple, blueberry and pecan with a hint of cinnamon topped with a crunchy pecan crumble and vanilla ice cream.
The Gunshop Café use a butter almond topping on their warm rhubarb and apple crumble served with orange ice cream.
Saucy sides
Crumbles can be very sweet or quite tart depending on which fruit you choose. So a thick, luscious custard could be just the trick, or perhaps something zingy to cut through the sugar.
Boatshed at the Regatta Hotel jazz up their traditional warmed apple crumble with French pear puree and rhubarb gelato.
Newcomers Pig n Whistle Brunswick Street give you vanilla bean ice cream and crème anglaise with their vanilla spiced apple, cherry, cinnamon and macadamia crumble.
And if you're looking for something really special, check out Bacchus' apple crumble soufflé with cinnamon anglaise and vanilla bean ice cream.
Strawberry and rhubarb crumble recipe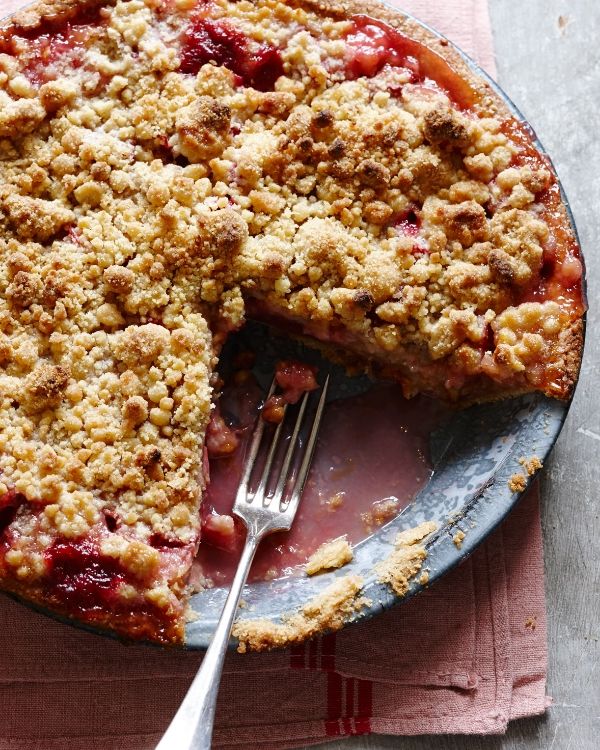 You'll need...
250g punnet strawberries, hulled and halved
1 bunch rhubarb, chopped into thumb-sized pieces
1 tbsp caster sugar
1 tsp ground ginger
Grated zest of an orange
1/3 cup ground almonds
1/3 cup caster sugar
1/3 cup flour
1/3 cup butter, cut into cubes
Pre-heat the oven to 200C.
To prepare...
Mix the fruit, sugar, ginger and orange together in a bowl.
Tip into a shallow tray and roast for 10 minutes.
In a separate bowl, mix together the flour, ground almonds, sugar, and butter. Rub together with your fingers until you get a coarse crumb.
Sprinkle loosely over the top of the roasted fruit, then return to the oven for 20 minutes or until bubbling and crisp.
Serve with custard or ice cream.
Like this list of Brisbane's best crumbles? You'll love Brisbane's best puddings!
TUL Note: Penny is a freelance food writer and obsessive cook, who has returned to Brisbane after ten years living in the UK and Melbourne. She is currently taking her passion for sweet treats one step further and learning the skills to become a pastry chef from her culinary idols, documenting her experiences through her blog Project Pastry.
Image credit: The Kitchn, Kitchen Repitoire