Mercy alive do we love a Brisbane laneway. In recent years many have scorned the upswing of laneway locations springing up all over Brisbane but we totally dig them. Laneways are the paved canals and crannies that have trickled away from Brisbane's wider conduits to do their own thing. You can't tell a laneway what to do; it doesn't care if it's one street over from the financial sector, if it wants to serve yum cha until five in the morning it's bloody well gunna.
Often splattered with mile-high street art murals, these concrete winkles between skyrises create the perfect conditions for cultural blossoms to spring up like penicillin in Brisbane's urban petri dish. Here are some of our favourite Brisbane laneways to get our fix of culture without having to dart all over the city.
Fish Lane
South Brisbane
This burgeoning patch has exploded in recent months with the hottest and hippest accompaniments for a rollicking Saturday night. Let's start with our favourite stalwart Italian, Julius Pizzeria. As the second limb of Beccofino, Julius serves some of Brisbane's most beloved pizza slices and Italian dishes (no visit is complete until someone orders a plate of the calamari to share).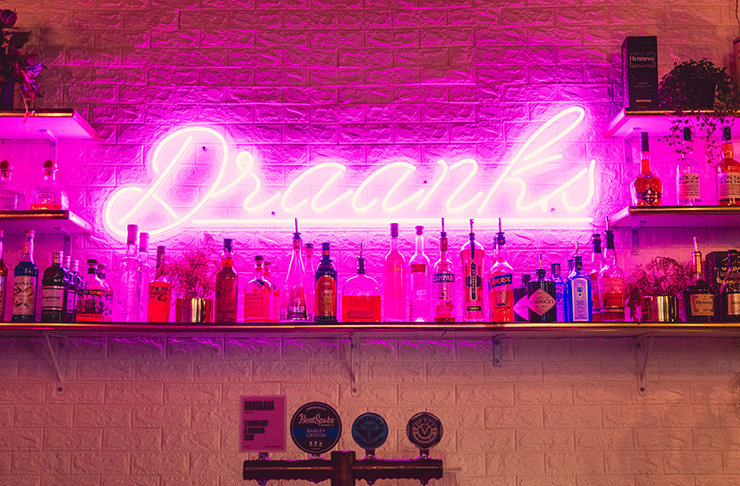 Settled across the way is newbie Hello Please; a fresh, contemporary Vietnamese joint that operates out of a shipping container and reintroduced me to the glory of chicken ribs. For tipples, Fish Lane happens to be where Maker, the dark and foxy sister of nearby Gauge, hangs its hat and muddles its fantabulous concoctions. Make no mistake; things get fun and rowdy on a Friday with Muhammad Ali's likeness presiding over the skirmish.
But Fish Lane doesn't stop there. Moving further along towards West End and you'll meet the back of multi-levelled pan Asian restaurant Chu the Phat, as well as La Lune wine bar, hip hop bar and barber Next Episode, and Big Roddy's Rippin' Rib Shack for some hands on succulence.
Bakery Lane
Fortitude Valley
Insofar as wining and dining is concerned, Bakery Lane is a whole 'nother situation. Their precinct absolutely heaves on Friday and Saturday nights and it's easy to see why. Hosting some of the coolest joints in the Valley, people punting in Bakery Lane get to indulge in the cakes (and coffee and cocktails) at Cakes & Shit, live music and decent slices at Johnny's Pizzeria, Korean fusion at Nomnom Korean, and breakfast and specialty coffee at The New Black.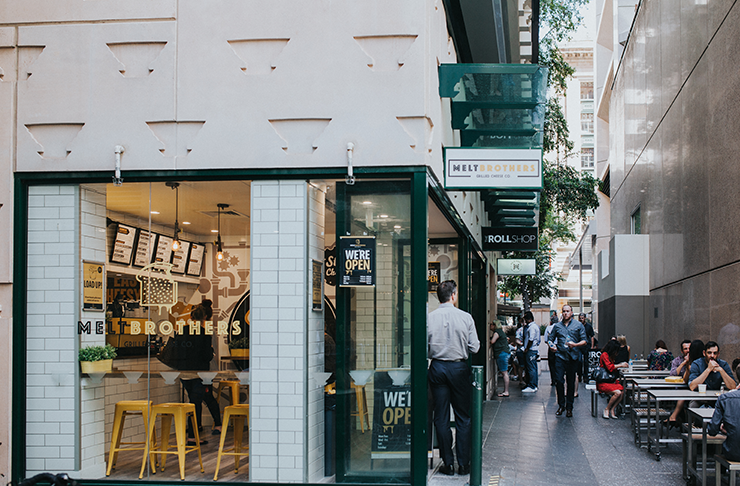 Winn Lane
Fortitude Valley
Winn Lane is probably the cutest and littlest laneway in Brisbane, but beware the punch she's packing. Start your safari via the Winn Lane entrance and grab a coffee from No.5 Café (you'll need it). From there it's a short wander to pick up some bright new threads at Phoebe Paradise, and snip a fresh lid at Babylon Falls Barbershop. If you've got an axe that needs some love (or seeking to acquire one) swing by Tym Guitars, then sprinkle in a little more culture at the Culprit Club. Besides the crammed cul-de-sac, Winn also ropes in the boutiques on Ann Street including Akira, House of Ezis, and Babushka Ballerina for those Uber Black occasions. Just make sure to round off your visit with fries, shakes, and some of Brisbane's best burgers at Ben's Burgers.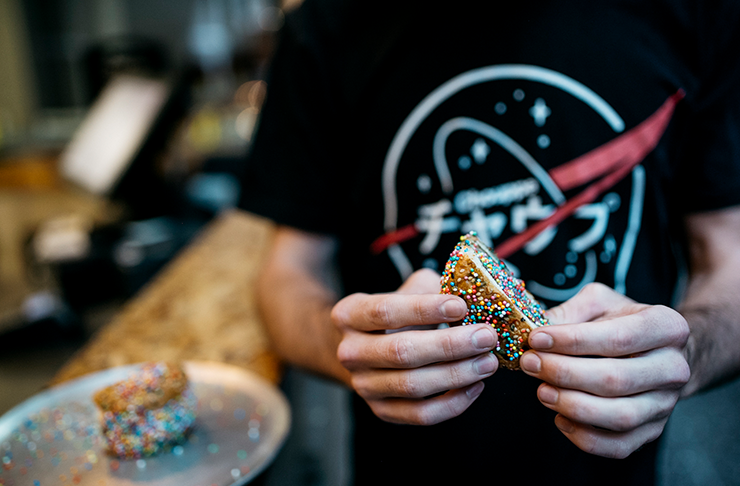 Burnett Lane
CBD
Back before the frenzy took hold, the only place you could go to get your laneway fix was Burnett. We owe this little strip so much. Start at the top in Death and Taxes' bolthole with a slew of expertly crafted cocktails. Mosey down towards Felix For Goodness and get mellow with the local wine selection (Felix also offers slammin' espressos and lunches during the day FYI), then rumble down into Super Whatnot for some further whistle wetting and head bopping with a hip crowd of jazzies. Keep rolling all the way down and eventually you'll run into Brew, that jack of all trades, in the bowels of lower Burnett Lane with the boss mural looking up the street.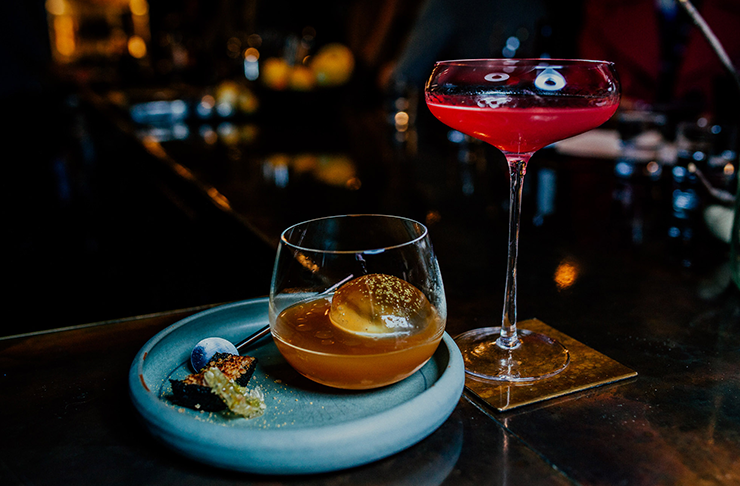 Gresham Lane
CBD
Nights on Gresham Lane more closely resemble a progressive dinner party with 300 strangers than a meaningless bender. We begin at the Gresham, a bar so steeped in history that it's like stepping into a licensed time capsule, and their award-winning cocktails. Next, Red Hook's decadent burgers, chilli fries and battered pickles (all available until well after most places stop serving) to play nice with all those beers you're about to knock back.
And while Coppa Spuntino isn't technically in the laneway, it's accessible via a cheeky conduit connecting it with sister venue Red Hook, so we're just going to lump them in with the others and say that Gresham Lane is also host to the CBD's finest Italian and wine bar.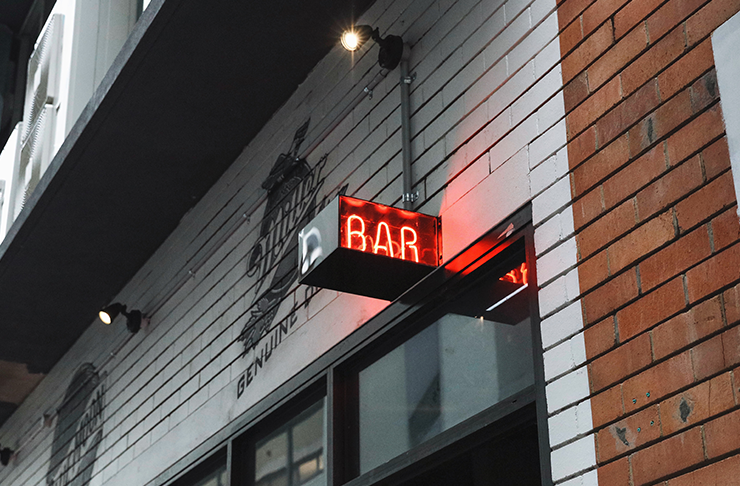 And let's not forget Brisbane's premier grilled cheese toasticians, Melt Brothers, who have managed to work their way into our hearts faster than a needle full of adrenalin. It probably has something to do with their pledge to offer grilled cheeses long into the night as well as brews to wash them down.
Eagle Lane
CBD
The diffusion line of Eagle Street, this laneway is the McQ of Brisbane City's most powerful street. By day, the bean jockeys at Coop Espresso will prop you up with good java and good cheer, while the gang at Fat Angel have lunch completely sorted.
Come nightfall, the resident music bar Brooklyn Standard opens their doors and cranks up the stereo with the best of live acts playing funk, rhythm and blues. Where late grazing is concerned, Brooklyn also offers some suitably patriotic snacks including mozzarella sticks, onion rings, fries and even a cheeky cheeseburger.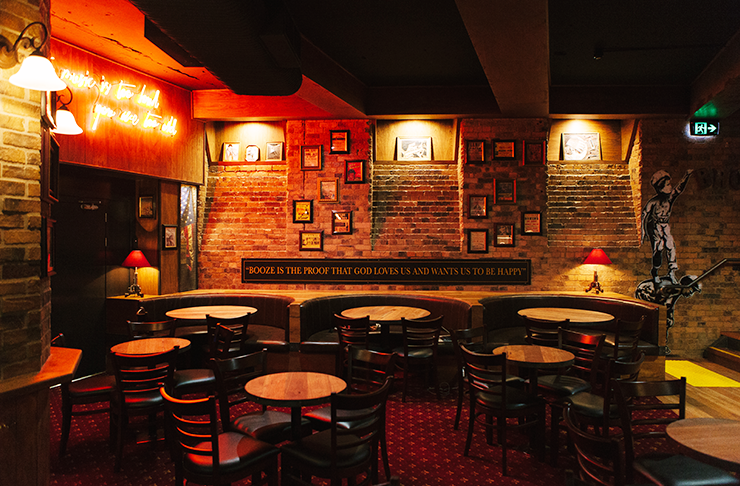 California Lane
Fortitude Valley
This brand new development is still crisp on the Valley agenda. From Brunswick Street, California Lane plays host to a strip of late night faithfuls including American heartiness from PJ's Steaks and the American Diner Co, as well as cups of cookie dough from Doughlord. Then by day, Reverends Fine Coffee and LTD Espresso and Brew Bar have breakfast and caffeine covered.
As for the pedestrian laneway, YP Threads is a one-stop for all your customised party duds, while The Stand cocktail and dessert bar is wholly dedicated to all things sweet and confectious with everything from gelato to milkshakes to sweet cocktails on offer.
Image credit: Ariana Gillrie