As obsessed with Brisbane's restaurant scene as we are, sometimes we do leave the city, but just because we're out of the big smoke doesn't mean we want to skimp on quality nosh. Whether you're already on the move and need a delicious pit stop, or you're the kind of great-food-devotee who would make a road trip specifically for a great meal (we like you), we've rounded up some of the best restaurants worth trekking for.
Mavis's Kitchen | Mount Warning, QLD
Okay, so it may be an hour-and-a-half drive from Brisbane, but Mavis's Kitchen—an honest-to-goodness, down-home country-style restaurant sitting pretty at the bottom of Mount Warning—is pretty high on our list of road-tripping foodie spots. We think Mavis must be queen bee of the local CWA because the meals she's making in that kitchen of hers have wholesome goodness nailed, and then some. Dishes like the balsamic aged, air-dried Bangalow pork fillet with shaved parmesan, rocket, olive oil, and wood-fired sourdough make us happy to be alive. Mavis's Kitchen is open for lunch Wednesday to Sunday, and dinner Friday and Saturday nights.
Restaurant Lurleen's at The Sirromet Winery | Mount Cotton, QLD
Driving to a destination that has both delicious food and wine waiting for you at the end of it is pretty much our idea of perfection, and Sirromet brings the goods as a breakfast spot worthy of the roadtrippin' effort. Leave the driving snacks at home and bring your appetite, because Restaurant Lurleen's wants to feed you things—like toasted waffles with macadamia praline ice cream and sugared almonds, or the Mexican breakfast taco. Restaurant Lurleen's is open for the most important meal of the day, from 8am Saturday and Sunday.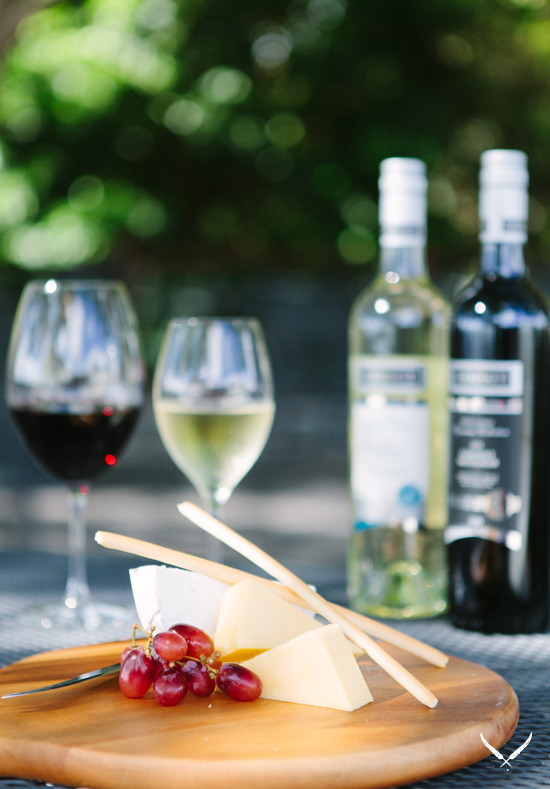 The Spirit House | Yandina, QLD
Thai food is a pretty ubiquitous cuisine here in our fair land (something that we are more than fine with, by the way), but none do it better than Spirit House, in the Sunshine Coast hinterland. Set in the lush, sub-tropical rainforest, the menu is the main attraction—resplendent in its oriental yumminess. Curries, stir-fries, whole ducks, and fish galore… Too much choice isn't a bad thing, right? If you can't decide, then we'd recommend the banquet option so you can get a taste of all the best dishes. Spirit House also run daily cooking classes to help you get your Masterchef on.
Humble Pies | Billinudgel, NSW
We're not only looking for fine dining when we hit the road—sometimes the only thing that keeps you pepped up on a long car trip is the promise of perfect pastry. Only 15 minutes out of Byron, Humble Pies have a staunchly loyal fan base, and their menu of savoury pies, rolls, pasties, and fruit pies is expansive, creative, and award winning (cauliflower and cheese pie, curried lentil, or beef stroganoff, anyone?). We're on team Humble.
Justin Lane | Burleigh Heads, QLD
Justin Lane is a pizzeria and bar with a reputation that extends well beyond the coast line, and after one slice you'll understand why. This is chilled, unfussy eating—just what we're after when we're on vaykay. Order the four cheese pizza and bottle of wine and forget the rat race for a while.
Harvest | Byron Bay, NSW
Harvest is a Byron Bay institution for a reason, and we're guilty of making the trip with only this restaurant in mind. Tucked into the Byron hinterland, and with a focus on local and sustainable produce, Harvest's seasonal menu is always changing, so there's always a reason to go back. Open for breakfast, lunch, and dinner, you'd be forgiven for wanting to stay for all three.
Ze Pickle, QLD
We're no strangers to an (un)healthy burger obsession, so naturally we believe it's perfectly reasonable to drive an hour to get a burger fix. Sure, the proliferation of Brisbane burger joints means we are spoiled for choice right at our doorstep, but once you sink your chompers in to a Ze Pickle burger in Burleigh, you'll understand what the fuss is all about. Juicy and packed full of pickles, these burgers are totes good enough to make up for the full tank of petrol so get drivin'.
Hellenika, Nobby Beach, QLD
It could be said that Alexander the Great paved the way for the modern roadtrip, and even though his focus was more on the conquering of lands side, there are plenty of dishes at Hellenika in Nobby Beach worth conquering. Get your tastebuds primed and 'trip your way to this GC gem for some seriously scrummy Hellenistic delights. Opa!
Image credit: Great Ideas