Expect plenty of sex appeal, fantastic outfits, high drama and raucous laughter when the Lavazza Italian Film Festival returns to Australian shores for its 15th outing at Palace Cinemas across the country this year.
We spoke to Palace's national festival manager, Genevieve Kelly, who gave us her top picks.
OPENING NIGHT: MARINA | DIR. STIJN CONINX
"There's an overarching nostalgia theme this year, and our opening night movie Marina really fits into that," Kelly reveals. Charting the rags to riches story of Italian superstar Rocco Granata, who rocketed to fame with his 1959 hit song Marina, the charismatic Matteo Simoni plays him for the majority of the film, with much-loved Italian stars Luigi Lo Cascio and Donatella Finocchiaro as his parents.
"Rocco's father went to work in the mines in Belgium to try and make a better life for his family, ending up dragging them over there, away from their beautiful, warm Italian lifestyle," Kelly says. "The only place Rocco found happiness was in his music. It's a beautiful biopic and the music's perfect to get you in the mood for the opening night party."
INCOMPRESA | DIR. ASIA ARGENTO
Featuring in the Lavazza Italian Film Festival' Direct From Cannes section, Incompresa is the latest from director Asia Argento after a ten-year hiatus and stars Giulia Salerno, as a suspiciously Asia-like character who spends her days shuttling back-and-forth between the warring camps of her divorced parents, played by the outstanding Charlotte Gainsbourg and Italian TV idol Gabriel Garko.
"I have a real soft spot for Asia Argento, and this is a real charmer about growing up in a very dramatic household," Kelly says. "Her father is a very self-righteous movie star and her volatile mother flits from man to man. The costumes are fantastic and Gainsbourg has got such a great screen presence."
I CAN QUIT WHENEVER I WANT | DIR. SYDNEY SIBILIA
"It's sort of like Breaking Bad meets Ocean's Eleven," is how Kelly describes the screwball comedy I Can Quit Whenever I Want, Sibilia's debut feature featuring a rag tag bunch of super-smart new graduates who find themselves stuck in dead end jobs thanks to Italy's ongoing recession.
"They decided to put their heads together and develop this new drug that they start to push through clubs," Kelly says. "All of a sudden they're thrust into the high life, but once they're successful, people aren't necessarily happy about it. It's very entertaining, and the Italian's don't mind injecting a little bit of cheese in there."
THE MAFIA KILLS ONLY IN SUMMER | DIR. PIERFRANCESCO DILIBERTO
Another debut feature showcasing at this year's Lavazza Italian Film Festival is popular satirist Pif Diliberto's award-winning comedy The Mafia Kills Only In Summer. Set in Palermo, Sicily in the '70s and '80s, it follows the progress from childhood to adult life of everyman Arturo, played as a kid by Alex Bisconti and by all grown up by Pif himself when he's all grown up.
"The current senate president in Italy called this the best Mafia film ever made, it's so enjoyable," Kelly says. "He's dealing with growing up and his love life, which everyone can relate to, and it gives you an idea of what it would be like to try and live your life normally with all of these killings happening around you."
THOSE HAPPY YEARS | DIR. DANIELE LUCHETTI
Daniele Luchetti's latest, Those Happy Years, stars Kim Rossi Stuart as philandering and narcissistic artist Guido, trying to establish himself in the fickle industry while entertaining young models at his sculpture studio. Micaela Ramazzotti, who also plays Davide's mother in Darker Than Midnight, is his long-suffering wife who finally grabs the kids and heads off on holiday where she discovers her inner strength.
"It's a really beautiful relationship study," Kelly says. "There's this middle ground between loving someone enough to be with them or questioning if this is everything you want in life that's complicated, with no right or wrong answer, and a lot of films don't address that complexity."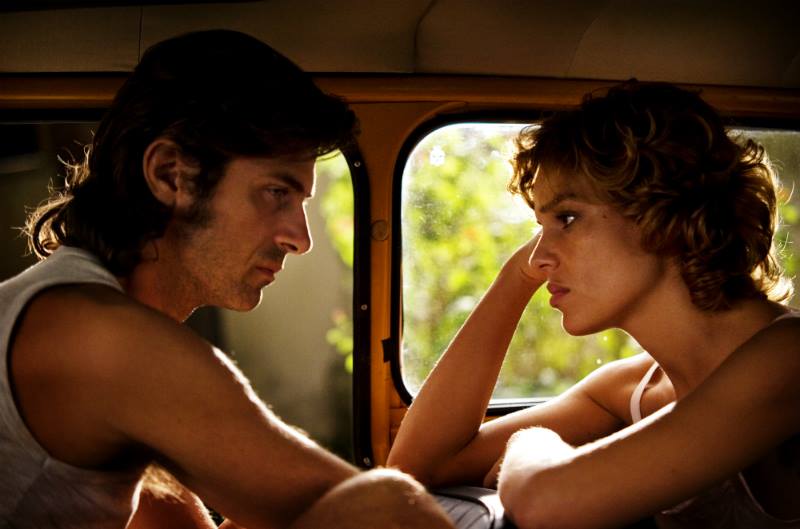 Darker Than Midnight | Dir. Sebastiano Riso
A queer highlight of the Lavazza Italian Film Festival line-up, Riso's biopic Darker Than Midnight is another Cannes Film Festival hit, where it scooped three nominations. It's also another assured debut that takes as its focus a snapshot of the life of a young man, Davide (Davide Capone), who escapes his unforgiving Sicilian father and heads for the bright lights of the big city, where he goes on to become Italy's most famous drag queen, Fuxia.
"It concentrates on this small section of his adolescence and the characters who helped shape him and become the person he really wanted to be," Kelly says. "It's a really beautiful character study."
SONG OF NAPOLI | DIRS. ANTONIO AND MARCO MANETTI
With pre-film entertainment in every city, Song Of Napoli is one of the highlights of the Lavazza Italian Film Festival with plenty of good food and wine to help lubricate the party spirits. With music to the forefront, it stars Paco (Alessandro Roja) as a classical pianist who can't get a gig and winds up taking a low-paid job with the police force. However, when a Mafia boss hosts a big wedding, Paco is sent in undercover as part of the famous pop band providing the entertainment. "It's super-entertaining and very Neapolitan, so we built a very Neapolitan event around it," Kelly says.
CLOSING NIGHT: MARRIAGE ITALIAN STYLE | DIR. VITTORIO DE SICA
The legendary cinematic pairing of director Vittorio De Sica and Sophia Loren reached its peak with the 50-year-old classic Marriage Italian Style. Lovingly restored digitally, it screened at this year's Cannes Film Festival and now Australian audiences can catch it on the big screen on the closing night of the Lavazza Italian Film Festival. "Everybody wants to see this film again," Kelly says. "I love the New York Times quote from 1964 that says it's, "one of the dandiest films of the year."
Marcello Mastroianni stars as a successful businessman who takes in Loren's 17-year-old prostitute as his mistress, but 20 years later she's fed up with his refusal to commit and sets about ensuring he settle down with her and her three sons.
Where to see it
Lavazza Italian Film Festival
Melbourne | 17th September - 12th October
Sydney | 18th September - 12th October
Brisbane | 1st - 22nd October
Image credits: Lavazza Italian Film Festival Facebook, Pinterest