South Bank restaurants, on any given day, are at the mercy of crowds, incessant noise, throngs of tourists, city workers, and lost-looking Northsiders, all looking for that perfect spot to kick back and enjoy a drink and a good meal. And, as much as we kind of secretly love the South Bank 'cray-cray', grabbing a bite to eat while engaging in a battle of turf wars with a fellow diner's elbow isn't exactly our idea of a great night.
If you find yourself in the above situation, it pays dividends to man up and take a short stroll off the 'beaten' path. Just around the corner from the heaving crowds and all that that chaos, tucked away on Tribune Street is Hoo Ha Bar. Enter a world of worn-in leather couches, wooden floors, and a scattering of vintage lamps. No neon signs or mad food trends here, just a relaxed vibe, and a very decent playlist.
Already totally bossing at being a great little watering hole, championing a killer breakfast menu and bar snacks (hello, Hervey Bay Scallops, Seaweed Salad, Walnut and Brioche Crumb!), Hoo Ha Bar now also serves dinner Tuesday through Saturday.
Offering little more than a handful of options, the edited menu shows confidence and quality in its dishes, with a focus on sourcing local produce and creating delicious simple dishes with flair. If braised beef cheek, or a slow cooked lamb shoulder with duck fat kipflers and a mint crust is your kind of foodie jam, then hot foot it to this little South Bank restaurant, pronto!
Naturally, a good drink must accompany a good meal. Lucky for you, Hoo Ha Bar—the name really gives the game away here—boasts a damn fine drinks list, too. With rotating guest taps of some of the finest craft beers around, an excellent wine list, and some dangerously decent cocktails, this South Bank little-known-secret is a total winner in our books.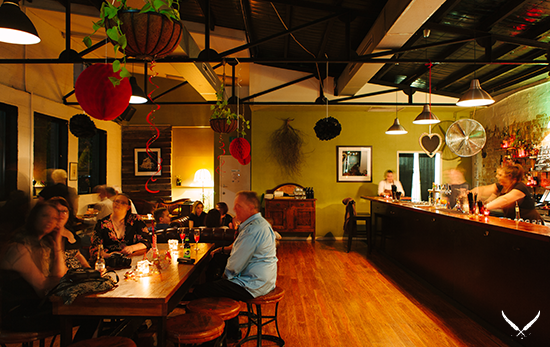 Have you been to South Bank restaurant, Hoo Ha Bar? Let us know what you thought in the comments below!
Image credits: Daniel Maddock
TUL Note: Today's List Love post is proudly sponsored by Hoo Ha Bar and endorsed by The Urban List. Our sponsored posts will never be a secret — the List Love seal will be stamped on any sponsored material you see on the site. Thank you for supporting the sponsors who make The Urban List possible.