Dive bar (noun): an informal bar, pub or neighbourhood hangout where locals gather to shoot the breeze over a sundowner. Example: Woollongabba's Padre. A Brisbane bar where a young gent rocking a man-bun would feel just as welcome as a greying tradie donning his earth-spattered high-vis gear.
With the conviviality of Cheers, the well-worn charm of Moe's, and one cosy couch a la Central Perk, Padre is everything a good watering hole should be. Defying an overall theme (Australiana? 70s kitsch? Beatnik roadhouse?), Padre is one-size-fits-all, whether you're in the mood for belly laughs or a Russian stout that should almost certainly come with a designated driver.
The gents behind Padre bring a diverse range of skills to their humble hole-in-the-wall, including urban apiary, dough flinging from Vespa Pizza, and newly acquired know-how in raising little 'uns. Each of the bar's leading men became doting dads just months before the bar doors swung open, hence the name 'Padre'. If that doesn't warm your heart, a Corpse Reviver cocktail might.
According to one of two Dave's who run the operation, the modest menu is designed to keep patrons there, not to lure them in. As a good dive bar should, Padre gives undivided attention to the drinks. Cocktails vary week-to-week and season-to-season. As it currently stands, you can escape the winter chills with a Daisy Duke (whisky, grenadine, bitters and lemon) or The Don (whisky, ginger apple pie mead).
Dave (1 or 2?) promises there will always be a burger on offer, loaded with a slow-cooked meat of sorts. You can snack on a plentiful ploughman's platter, or some crispy finger-licking staples like chicken wings, croquettes, and jalapeno poppers.
It's boutique, it's craft, it's a simple, no-frills venue with some forward-thinking administrators. Future plans include a beer garden and kitchen expansion out the back, and a heftier social calendar mixing comedy, trivia, and live music in the secret dungeon downstairs. In the meantime, Padre wins kudos simply for being a locale where you can hold a conversation at a comfortable decibel – possibly with the cheery bar staff!
You could easily while away a few hours surveying the decor behind the bar: vintage beer cans, obscure vinyl LP covers, sepia wedding photos, a hollowed-out television set, and Batman paraphernalia all thrown in for good measure. This new Brisbane bar adds yet another layer upon the Art Deco interiors, which at one time or another have housed a drapery, tearoom, and Sri Lankan restaurant.
Much like The Gresham in the CBD, Padre has scrubbed away a few decades of wear and tear to bring the shine back to a colonial Brisbane fit out. He may be young, but Padre is old at heart. Padre listens to The Smiths; his poison is a pickleback whisky shot, and he's not afraid to get behind the mic and tell some crackers on a Wednesday or Thursday night.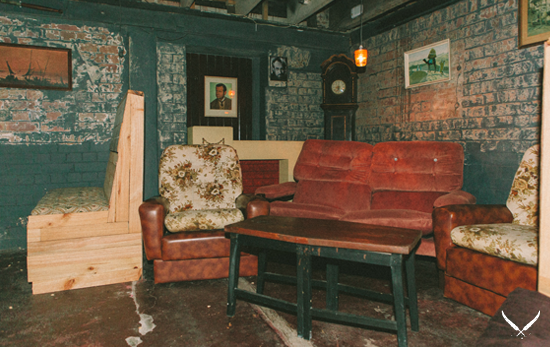 Travel writer by day, freelance foodie by night and full time cake enthusiast. When Ashton isn't at one with the keyboard, you'll likely find her saluting the sun in a yoga class, absorbed in a 90s sitcom marathon, or practising the timeless art of Instagramming around Brisbane. Twitter: @AshtonRigg. Want more from Ashton? Read more here!
Image credits: Daniel Maddock