I haven't been a particularly pleasant person of late. Actually, when it comes to matters of social interaction I've been somewhat of a horrid bore. A bore derived from her body's cry out for a much-needed detox*.
To be fair, I brought it on myself. I've spent close to the past month on the road focused on reckless consumption habits and in two locations that just play devil's advocate to your weaknesses and promote indulgence.
Chicago. Home of heart stopping inventions like the deep dish pizza, creamed eggs topped with foie gras, pork crackling masquerading as chips, and endless plates of chicken wings. Such delicious obesity inducing food, but shit, my body hates me.
Then, Hamilton Island. A place where the champagne is forever poured, the bakery pies are excellent (superb ratio of pastry to filling), and during Race Week, pop-up bars reign supreme… An enormous gin goblet savoured in a garden? Just genius. Thanks Tanqueray.
A detox is badly needed. However, when you declare embarking on said detox in an effort to depart from your wicked ways, you'll find that not only is your liver flushing out the toxins, so too, is it your social interaction.
Going for coffee and cake is a no go. Breakfast? No more toast with a selection of spreads, or yoghurt and granola bowls. Lunch dates are difficult, because who wouldn't want a fat toasty crammed with ham, oozing with cheese and a slick of some creamy condiment. Dinner's tough. Share food. Gripes. Let's not even go there…
Bottom line: eating out on a detox is rough. To help my fellow cleansers, I've compiled this list of where to eat out on a detox in Brisbane, without loosing your sanity, friends, or intentions of seeing the damn thing through. And because I know one man's detox is another man's barbecue, I've included health foods to suit every taste, whether you're after a paleo restaurant in Brisbane, sick salads, or raw nosh.
Sourced Grocer
They've got some pretty good options at Sourced, picks being the green smoothie and, come lunch, the beetroot and carrot salad. It's dressed with tahini and there's some sprouted buckwheat in there, too. With or without chicken — up to you. Good stuff either way.
Raw Pawpaw
Raw PawPaw is a newie (and a goodie), and we'll be bringing you the recap of our visit soon (check back won't you), but in the mean time — ZUCCHINI PASTA! Yeah, thankfully you needn't flock to Byron to get a bowl of this goodness.
Sol Breads
Option wise Sol Breads really comes out on top. Their options are so good and green, it doesn't make decision time easy — and if you're really hankering for a little toast, they'll make it for you on one of their GF varieties. The chia puddings made with fruit and coconut yoghurt are dessert like, they shouldn't be called breakfast. Come lunch the vegan style soups and salad are oh so nourishing.
Paleo Cafe
On the hunt for paleo restaurants in Brisbane? Drag your club to Paleo Café. Owing to their cave men-esque approach, you'll find you can happily consume most of what's on the menu. Because cave men didn't eat grains (e.g gluten) or dairy, and they even had blenders to make up green hued and super clean smoothies. Who would-a-thunk-it? Good stuff.
Orawgi
For detox fare that's not been touched by flame or microwave, Orawgi is your ground zero. Raw burgers, raw sushi, raw pizza, raw doughtnuts. We're nuts about this overwhelmingly healthy Brisbane café.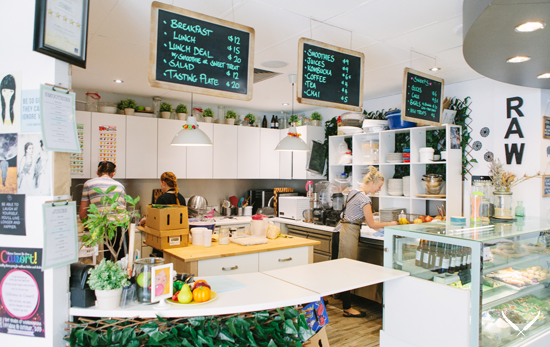 Coco Bliss
This is the jam. You can have pretty much anything on the menu at Coco Bliss, just don't get your super food smoothie made up on cows milk — go with almond or coconut water. The liver cleansing juice, as you'd expect, is particularly relevant here.
Fundies
There's so much good stuff to be consumed at Fundies, you'll be returning for what you didn't have. These guys make the idea of a detox less distressing. Think lentil patties served with nutrient dense salads, and ridiculously good dahl. So thick and filling.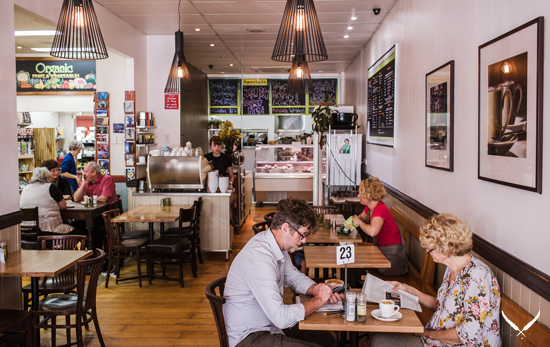 Harveys
You wouldn't have thought there'd be an option at Harveys (they just love wine, pork, and cheese so much), but at breakfast time if you opt for their glorious fruit bowl (hold the honey and yoghurt for extra brownie points), while your dining partners munch through their spiced mince tortillas, you'll be blissfully unaware as you eat, and not feeling the lament of 'woe is me, I'm missing out'.
Boxd Espresso
As they yell out with somewhat comedic humour during their classes, brothers Khuram and Kamran 'only want what's good for your family'. So much so, they've applied the ethos across to their new venture, Boxd Espresso. It's a café tucked away in Annerley that's bringing the number of offerings in this southern suburb way up. The food is 'fighting fit' and Lee (previously of Sol Breads) is in the kitchen, turning out plates that are green and clean. We'll bring you a recap of our visit soon…
*Said detox rules designed to assist the liver and overall digestive health. It's nothing insanely Gwenyth-esque. We're talking loads of good and wholesome stuff — fruits, vegetables, poultry, fish, nuts and gluten free grains. No red meats (beef, lamb, pork), dairy or caffeine. No alcohol is naturally a given. Cooking methods = nothing fried. Minimal is best.
AJ (or Amanda) James is a roaming writer. Based in Brisbane (when she's not on a plane or walking down a sometimes-unsavoury foreign street in search of a good authentic feed), she contributes to a number of publications on matters of food and travel. She recently launched Pepper Passport, "a publication for the avid cook, discerning and curious traveller, lover and sharer of good things, both at home and while away".
Image Credit: BuzzFeed, Daniel Maddock, Geoff Zabell