We gin lovers are a dedicated bunch. After all, there's nothing a little gin can't solve*.
Luckily for us, January (read: GINuary) happens to be one of the best months of the year to gin-fully indulge. One of our favourite makers in Australia, Bombay Sapphire, has put together a drool-worthy line-up of pop-up events and limited-edition cocktails to properly celebrate the first month of 2018.
So, if you're a gin lover in Brisbane, these venue's cocktails will blow. Your. Mind.
*This is not 100% accurate. Maybe 95%. If you like gin, that is...
Watt Bar
New Farm
If anything screams summer, it's chilling riverside with a seafood platter and a gin cocktail. Watt Bar's sun-soaked gin garden is the perfect spot to hit up for exactly that this Ginuary, every Friday, Saturday and Sunday from midday until late. You'll find us sipping on the house-infused lemon, rosemary, or cubeb berry creations. Our fave? The River Blend's crisp concoction of Bombay Sapphire, passionfruit, grapefruit sour, soda and lemon. Bliss!
Port Office Hotel
CBD
This heritage-listed hotel has recently seen an impressive refurb and should be your go-to for a sophisticated after-work drink and snack situation. Go for the Rooibos Negroni (Bombay Sapphire, Campari, and rooibos-infused Martini Rosso, served over ice with a dehydrated orange slice) and feel oh-so-civilised, thank you very much.
Byblos
Hamilton
With its gorgeous setting overlooking the sparkling river, glam Mediterranean vibes, and extensive drinks selection, Byblos is the luxe gin destination of your dreams. Tuck in to Moroccan tapas in their gin garden on the breezy terrace Thursday to Sunday. Take your pick of exotic gin cocktail and carafe specials, like the Casa Blancan Botanist. Yes. Please.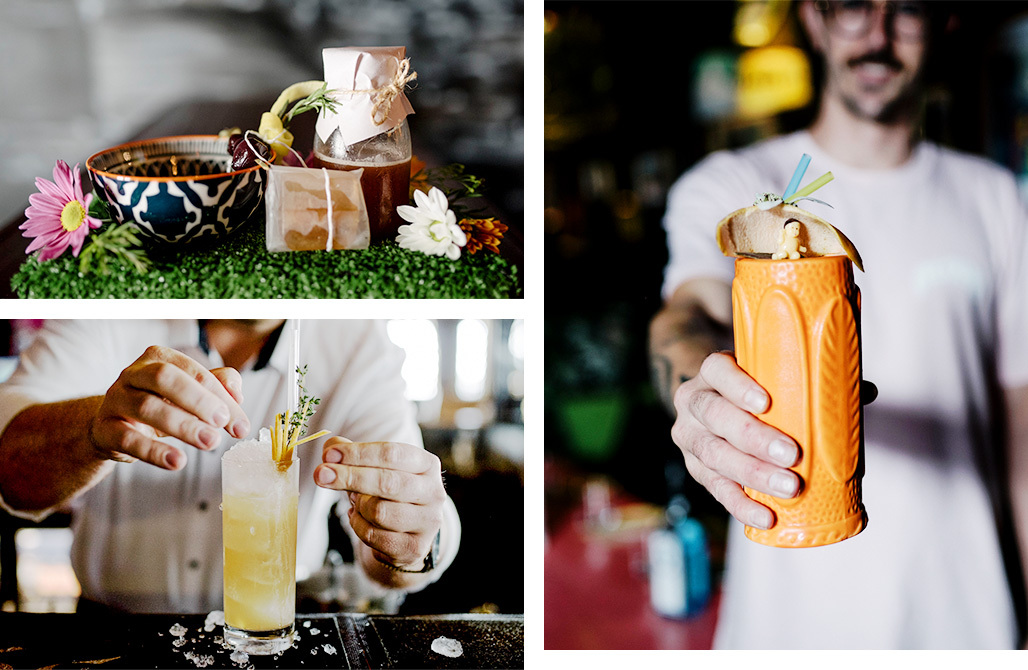 The Collective
Palm Beach
It's not technically in Brisbane, but this innovative multi-vendor foodie concept on the GC is totally worth the trip, and here's why: imagine yourself at a lush, colourful rooftop bar by the beach, drinking the 'Tis Rhubarb, a Collective gin cocktail staple. Bombay Sapphire, champagne, sweet vermouth, with house-made rhubarb and coriander seed syrup, then served with a house made champagne sorbet. We'll see you there, then? Thought so.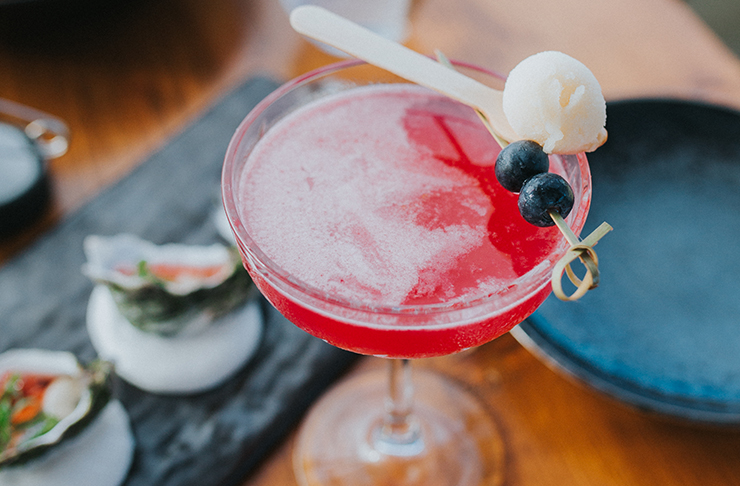 Aloha Bar
Broadbeach
Again, calling it Brisbane's a bit of a stretch, but this tropical themed watering hole in Broadbeach is just too good to miss if you love yourself a summery gin or three. With its jungle vibes, cute AF laneway and greenery-laden secret entry, it's a haven from the big crowds, and the perfect spot to enjoy their delish Ginuary offering: the gin-meets-tiki Java Juice.
Jellyfish
CBD
If you're heading out for a gin cocktail, it's a no-brainer to have it at one of the most stunning locations in Brisbane, no? Known for its next-level seafood, Jellyfish is also the ideal spot for a riverside G&T (especially when the gin menu includes flavours specially created by the head chef, like orange peel and starfruit). Jellyfish's clean, bright décor is the perfect backdrop for enjoying the crisp tastes of its various gin creations, especially while you soak in that view.
Soho Place
Broadbeach
Really, where better to celebrate Ginuary than a London-themed, drinks-only speakeasy? The guys at Soho Place know a thing or two about drinks, and we're only too happy to step through the cute-as-heck red phone box entryway and put ourselves in their expert hands. Definitely a candidate for Brisbane's most Instagrammable drink, the Saxony gin cocktail is inspired by, well, Saxony, where Bombay Sapphire sources Angelica. It's got a healthy dose of Jagermeister (bear with us here), gin, strawberry and blueberry jam, plum bitters, and lemon juice, topped with Ceylon and assam tea. And it's damn good.
Editor's note: This article is proudly sponsored by Bombay Sapphire and endorsed by The Urban List. Thank you for supporting the sponsors who make The Urban List possible. Click here for more information on our editorial policy.
Image credit: Tash Soreson for The Urban List & provided.