Okay, we admit it. We have sort of become acai snobs. It's always a risk trying a new place, do they have good granola? Do they put a sprinkle at the bottom of the bowl so you get a pleasant surprise when you think you've devoured all the crunch? Are there options to add delicacies like almond butter and coconut yoghurt?
The list goes on….so we have done all the hard work for you and rounded up some of our favourite places on the Gold Coast to grab the all too familiar, acai bowl.
Niche & Co
Tugun
It's no surprise Niche & Co is at the top of our list, it's a household name among Southern Gold Coast locals for their famous beachside bowls. Their menu is vast and it becomes troublesome to try and pick just one, but our go-to is always the cacao and coconut bowl. Why? Because it has a subtle hint of you guessed it, cacao and coconut and is topped with chewy gojis, chia seeds, a generous serving of shredded coconut and grapes. If you're after something a little decadent, opt for their Salted Caramel bowl. It's out of this world.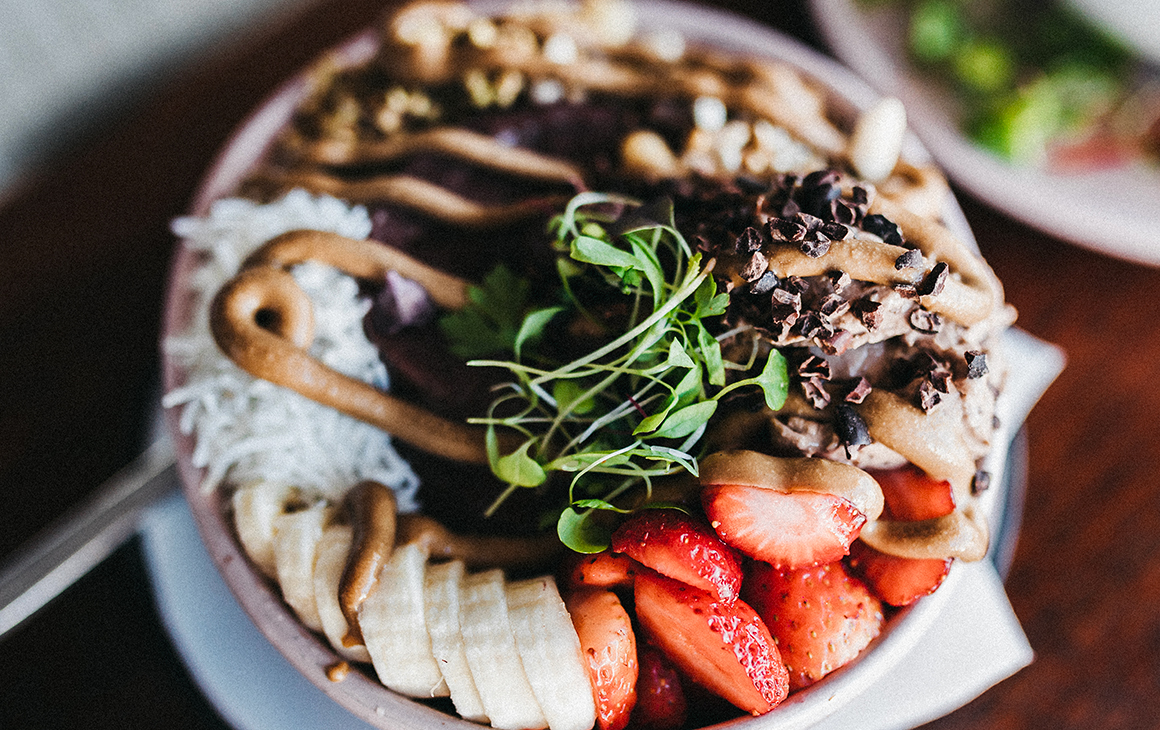 Blendlove
Southport
Blendlove is the epitome of love at first sight and first bite. This gorgeous raw and whole food eatery serves up tasty soul food and of course, they offer an array of acai. With 10 different and unique smoothies on the menu that can each be turned into a bowl for an extra $3, you won't know where to begin. There's the traditional acai or the purple protein version, or if you want to get a little crazy, there's the unicorn smoothie that includes mango, raspberries, blueberries, basil and cold-pressed orange juice. Now that's taking 'eating the rainbow' to the next level. You even get to choose what kind of buckinis you want on the top—natural, chocolate or caramel.
Goji Granola Bar And Cafe
Clear Island Waters
Ok, you may have never seen an acai bowl that looks like this. The guys at Goji Granola Bar really take it up a notch with a thing called FLUFF. It's their very own version of coconut soft serve and they introduce new flavours every week from Kit Kat to Bubble Tea. You can build your own bowl—choose from an Acai, Coco or Pitaya base, add two dried fruits, then pick a roasted nut and choose your fluff flavour and top with treats like vegan churros and caramel sauce. They've even introduced a mermaid bowl that has the brightest blue hue from spirulina. Even better? They're all gluten free, dairy free vegan and organic.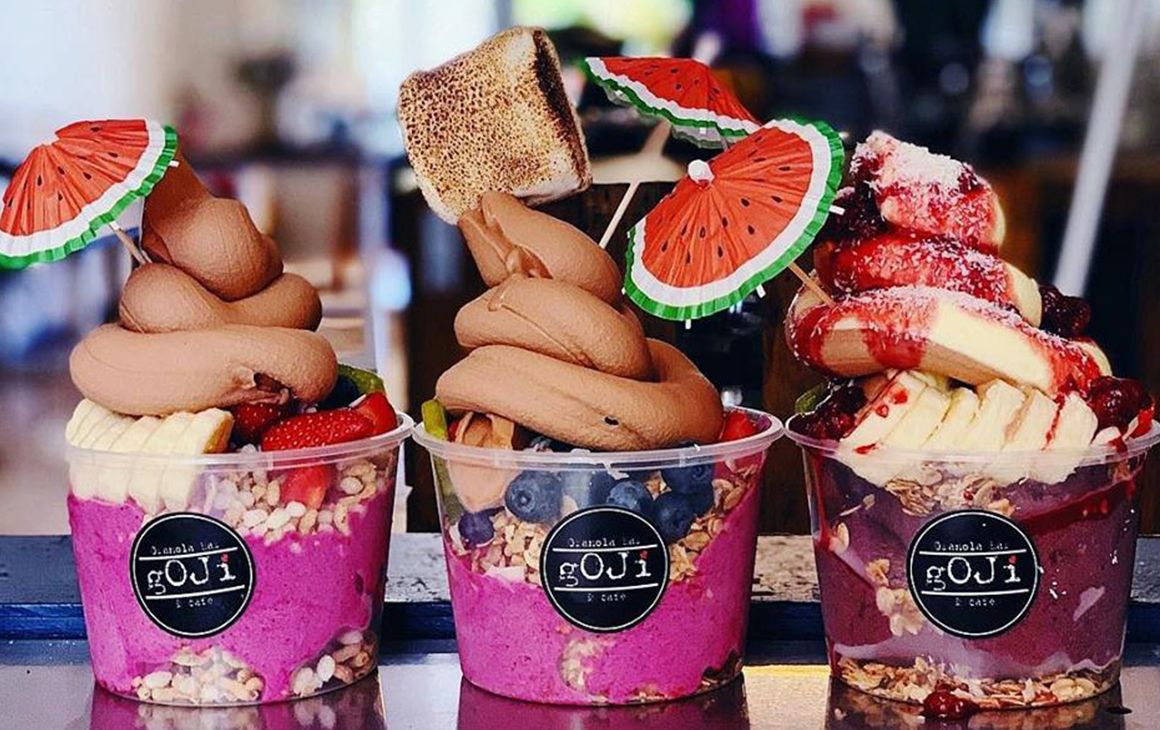 Tugun Fruit And Flowers
Tugun
This locally loved fruit and flower shop is the best option for when you want to cruise down to Tugun Beach, acai bowl in hand and be grateful for where we get to live. It's hard to leave this joint without a beautiful bouquet of flowers too. Their acai bowls are so extra, more like containers of constant satisfaction with every mouthful. Because they are a fruit shop, they have the best and freshest toppings day in, day out. And each time you'll get a surprise, it's pretty much a whole fruit salad in there.
Down 2 Earth Organics
Palm Beach
Kelly Slater has been known to frequent this joint when he's in town—now we don't know about you, but if it's good enough for an 11-time world surfing champion, then it's good enough for us. From your traditional acai to espresso infused bowls, breakkie bowls, peanut butter bowls and crazy chocolate bowls, it's no wonder Down 2 Earth attracts a few famous athletes, as well as the mindful acai loving consumer. Their bowls are incredible value for money, overflowing with all the goods filling the stomach and the soul. Those with a sweet tooth can even add Nutella or peanut butter to the top. On Tuesdays, they do $8 bowls—that's better than vegemite on toast any day of the week.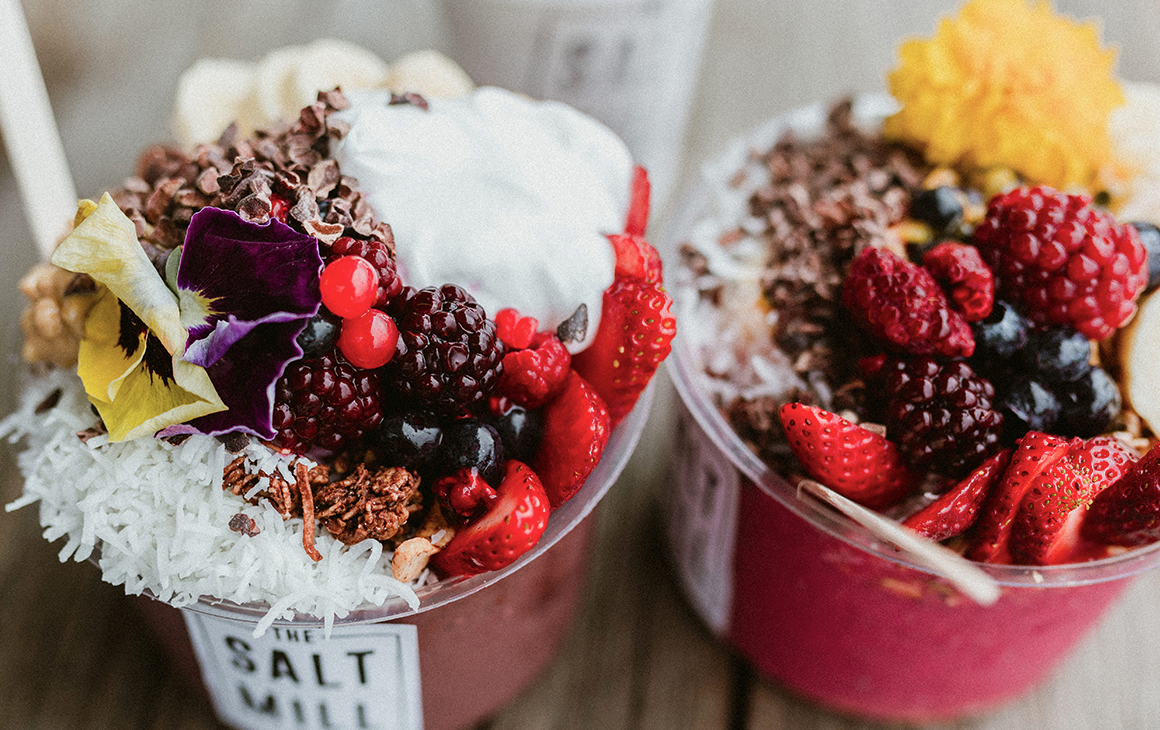 The Salt Mill
Currumbin
The beloved Salt Mill is a cute hole-in-the-wall Currumbin cafe that boasts your classic corner store, friendly neighbourhood vibes. We adore the Salt Mill and their lip-smacking acai bowls, steamy brews and nourishing bites. With a small but robust menu, they take pride in their acai and offer up a few different versions, all of which are best walked right across the road and enjoyed with your toes in the sand. The coconut and granola acai is a crowd favourite but sometimes you just have to jump right in and go for the choc granola bowl.
Alfred's Diner
Mermaid Beach
We love this tricked out backyard with its picnic tables and sprawling lawn. The menu here is full of delicious eats that are perfect for a takeaway and oh so affordable. Yes, we know it's hard to go to Alfred's and not get one of their burritos but hear us out because the choc acai bowl is an absolute cracker. Think seasonal fruit, chocolate buckinis, coconut, cacao nibs and sweet chewy goji berries. But if you can't decide between the two, maybe get the burrito and wash it down with an acai.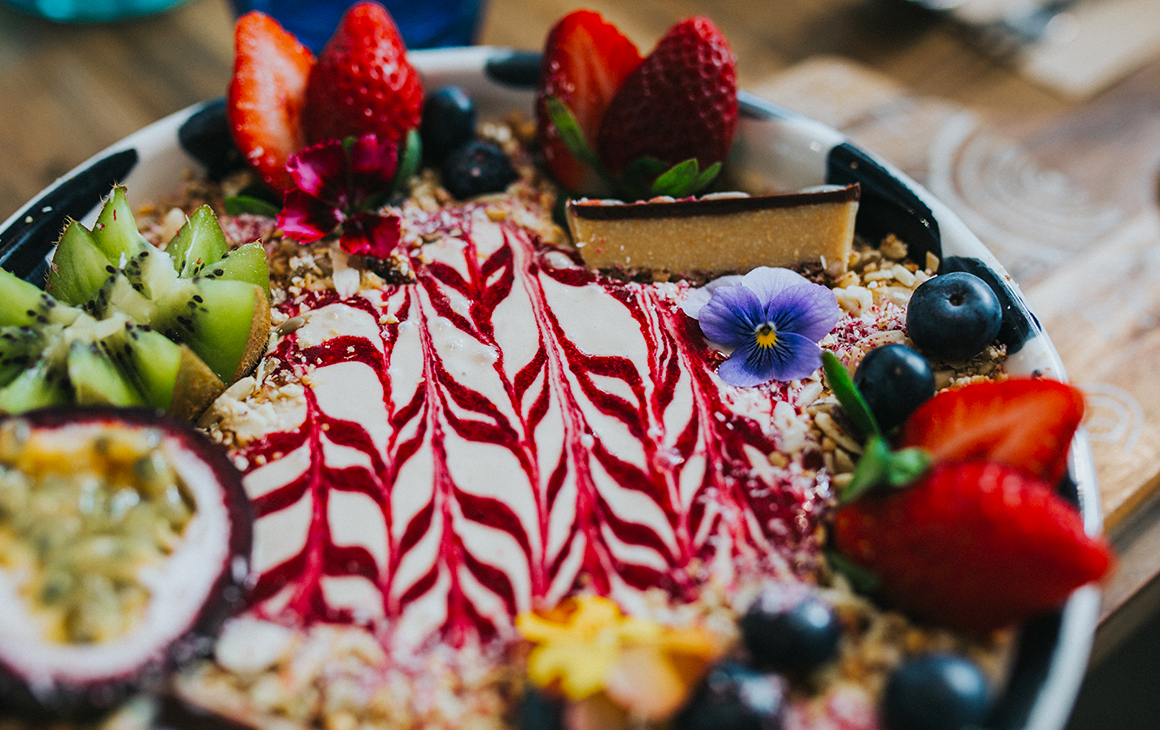 Cardamom Pod
Southport and Broadbeach
We bet you've never seen a better-looking bowl than what this eatery serves up. The team at Cardamom Pod in both Brickworks and Broadbeach really spend the time on making their acai bowls look like works of art. If you want to get one for the 'gram, we would suggest you stop by here. Take your pick from the OG version with a touch of spirulina creme, the snickers bowl that is actually topped with a raw snickers bar, or the dreamy chocolate bowl that is drizzled with choc and caramel sauce and topped with a raw Gaytime slice. Want something a little fruity? Then go for the Tropic Thunder Detox bowl which is filled to the brim with all things heavenly and healthy.
The Fruit Shop Burleigh
Burleigh
You'd be hard pressed to not notice this place, located on Burleigh's buzzing James Street, the line often stretches down the footpath and spills out onto the road on a sweltering summer's day. Famous for their fresh juices, with their bowls not far behind, their repertoire of fruit is beyond. The bowls are more than generous, with crunchy granola waiting for you at the bottom (if you make it that far) and all the colours of the rainbow on top. Add The Fruit Shop Burleigh to your hit list today.
Paddock Bakery
Miami
Yep we're quite aware Paddock may just fall into all of our 'Best on the Gold Coast' lists, and no they aren't paying us anything. If a place can do no wrong, then we think you need to know about them. A friendly reminder if you will. Miami's adored Paddock Bakery makes a mean feed and an even meaner acai bowl that is both sweet and smooth. Guess what's on top?! A mini meringue and fresh fig, different but we like it. And if you've been living under a rock, there is a pint-sized smaller version now on the shores of Talle Creek, so you can tuck into a sweet acai bowl from the comfort of your beach towel—absolute bliss.
Want to continue the health kick? Check out these awesome running tracks and stunning hikes.
Image Credit: Goji Granola Bar & Cafe, Hayley Williamson and Kaitlin Maree Photography for Urban List