It's one of those skills we ALL wish we had—to be able to draw. We hunted down some of the most talented peeps on the Coast that are illustrating and creating like there's no tomorrow.
If you are looking for a gift for someone that has everything or just want some daily inspiration to get arty, then check out the below Gold Coast artists and illustrators who are doing really rad stuff in their respective fields.
Hayley O'Connor
A full time graphic artist at Billabong HQ, it's any wonder she has time to do stuff on the side. This super talented chica originates from Melbourne but we can claim her since she now resides here on the Gold Coast. Hayley O'Connor fills her weekends and spare time drawing the Queens of the world, from models like Maya Stepper and Taylor Hill, to Beyonce and Elyse Knowles. Not only does she put pen to paper in an elegant yet edgy manner, but she also splashes her style on skate decks, has been seen in magazines like Collective Hub and Surfing World, has held numerous art exhibitions and even designs her own tees.
Follow Hayley: @hayley_o_creatve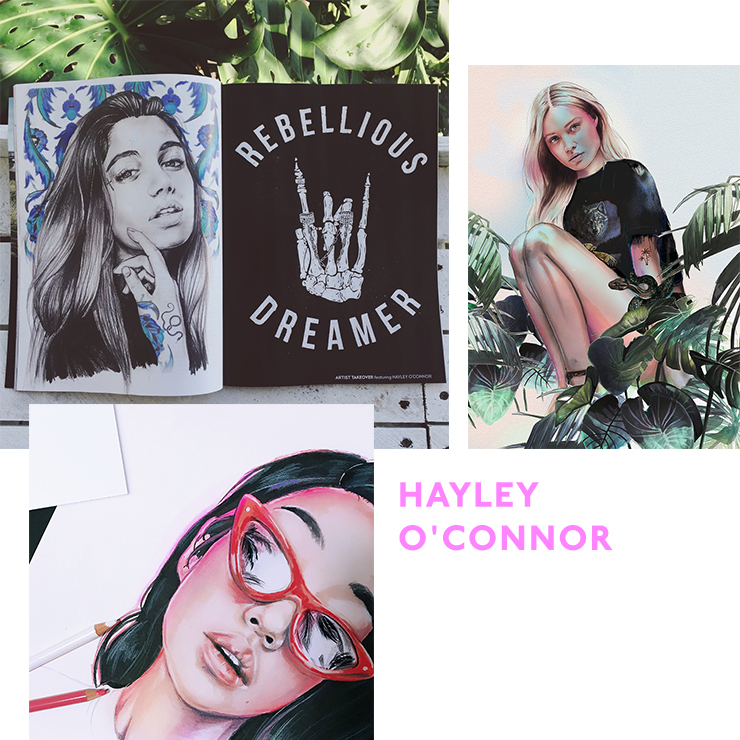 Sharna Martorella
In a world of constant typing and swiping, it's refreshing to see some good ol' handwriting. It all began back when Sharna Martorella's friends would ask her to write them notes from their 'parents' to get them out of class—lunch money for a handwritten note sounds pretty good to us! Inspired by the everyday; shopfronts, billboards, music, poetry and nature, Sharna is someone that will make you want to get out your pen and paper and fine tune the way you write. She makes for a great Instagram follow too, because she puts her spin on the skill of lettering with an inspirational message that makes everyone feel like it's all good in the hood, erryday!
Follow Sharna: @sansharns.studio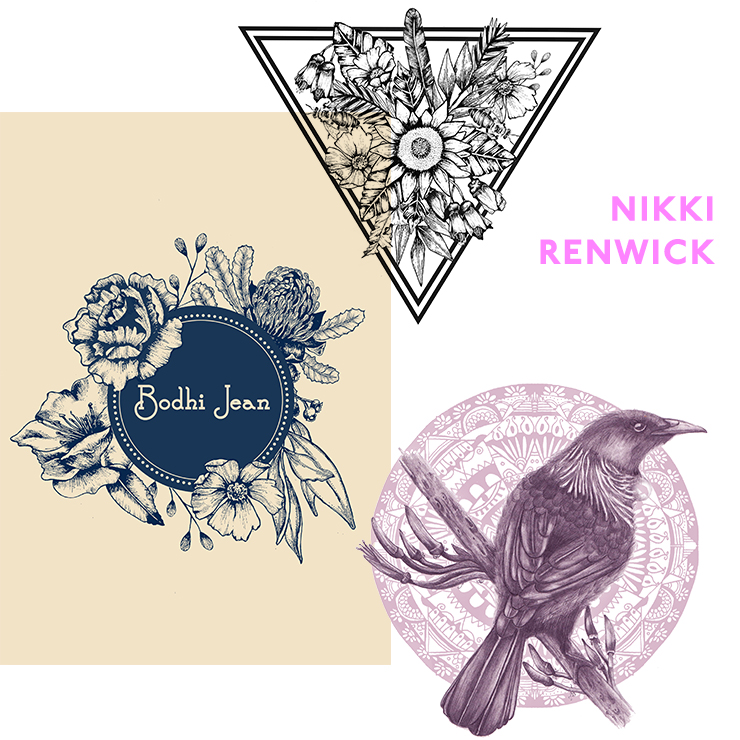 Nikki Renwick
With salt water running through her veins, the history of a global gypsy and an artistic instinct like no other; Nikki Renwick's style is tribal, nomadic and has a strong sense of symmetry and grace. Growing up on the rugged west coast of NZ is what inspired her to first pick up a pencil—to draw NZ native birds full of intricate details, numerous colours and markings sparked a passion that has turned into so much more. She now creates wisdom affirmation cards, wall hangings, birthday invitations and tattoo designs. You name it, Nikki knows how to do it.
Follow Nikki: @namiko_native_design
Jamaica Rose
Jamaica Rose started drawing in high school and only used graphite and lead pencils. Since then, she has progressed into painting with acrylic and drawing with led and pastels and you may have seen this beauty's work at local cafes and businesses around the Gold Coast. Our favourite is definitely the tropical vibes at Niche and Co., all pink and pretty and then there's the menu at Café Caribou or mural at Sticky Rice. Seriously, who can write and draw this good with chalk on a blackboard? It has to be the ultimate test for legible handwriting.
Follow Jamaica: @jamaicacreative
Luke Okay
Luke Okay is one talented, yet humble, human. Another one snapped up by the surf industry to design prints on tees from snakes and dragons to radical retro logos and graphics. In his spare time, he is an avid surfer and also an ambassador for 'Take 3 for the Sea' as he is incredibly passionate about ocean conservation. Creating and illustrating art and holding exhibitions to spread the message to everyone, to be more aware of the effects their actions have on the environment, and to always take three pieces of rubbish when you leave the beach! It's all the little things that add up to make a huge difference.
Follow Luke: @luke_okay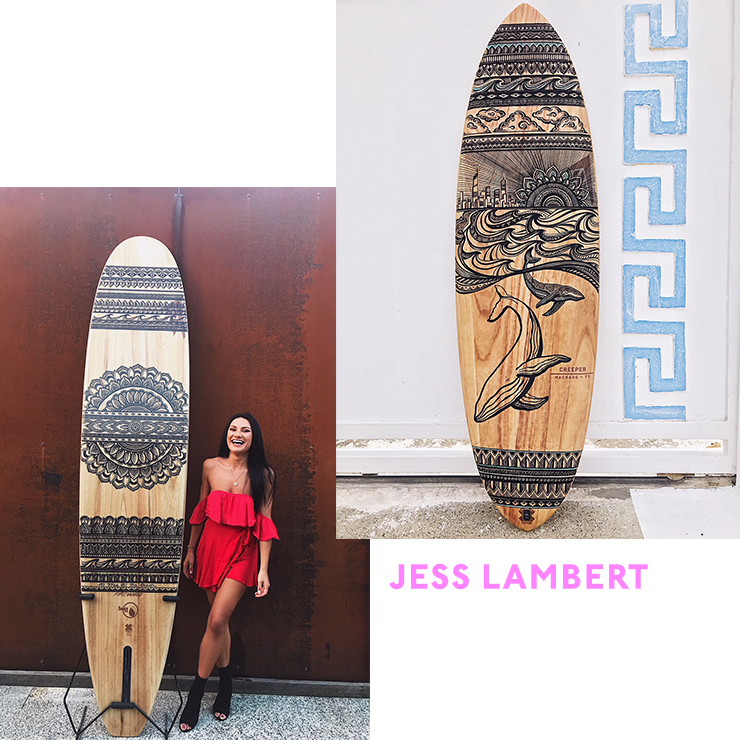 Jess Lambert
Known best for the intricate artwork she creates onto surfboards, Jess Lambert is forever inspired by the ocean and loves to be in it or near it, or drawing it. Surrounded by the salty air is where she admits to losing all sense of time and is the place she goes to recharge and relax. Her style is created using just black pens, and a whole lot of patterns and lines and done completely freehand. The King of Surfing, Kelly Slater even has a piece of her artwork on his wall filled with design elements that are special to him. What's next for Jess? We can't wait to see where her passion leads!
Follow Jess: @_jesslambert_
Kiel Tillman
Kiel Tillman realised he had an affinity for art when he found himself drawing on his text books, rather than reading them, in high school. Growing up, he was drawn to surf and skate graphics, loving the mix of branding and illustrations, which he definitely keeps alive in his work today. You may have noticed his work on the Tugun Supermarket; a helluva cool Gold Coast mural that reminds us we live in the greatest place on Earth. The sheer scale of the mural is applaud-worthy and one of Kiel's proudest achievements to date. His handiwork is also splashed on the walls at Black Hops II in Bundall, Burleigh Brewing and various small businesses across the Coast—making Kiel a stand out Gold Coast artist and we thank him for sharing his super-sized talents.
Follow Kiel: @kieltillman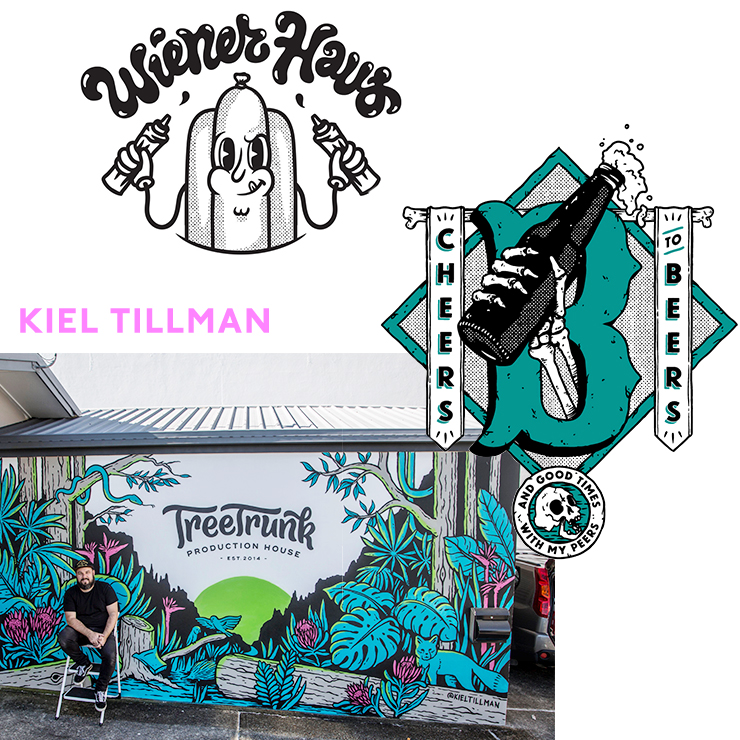 Renee Enoka
You could say she was born with it—Renee Enoka won her first drawing competition when she was four years old—likely when the rest of us were still learning to spell our own names. Inspired by authenticity and all natural things in the world, including raw beauty and the feminine form, she believes there is beauty everywhere, but mostly beyond the contrary. Her illustrations are so real, that they are unreal. Hard to tell if a drawing or a photo, her work has undergone a little transformation of late as she works with pops of colour, prints and patterns, creating timeless peices to style your home. Renee is definitely one to watch!
Follow Renee: @enokaart__
Claudio Kirac
Well known for his contemporary artworks, photography and design, Claudio Kirac has a strong connection to the Gold Coast cultural scene and its place within Modernist Australian history. He has always known that illustration was for him, coming ever so naturally to a child that used to draw cartoons in his mum's homemade cookbooks. With 25 years in the industry as a practising artist, his proudest achievement is having his work acquired as part of the permanent collection at Gold Coast City Gallery. Also, launching and growing a creative agency that is grounded in art, culture and surf is a testament to Claudio's profound passion and that GC creatives are well and truly killing it.
Follow Claudio: @claudiokirac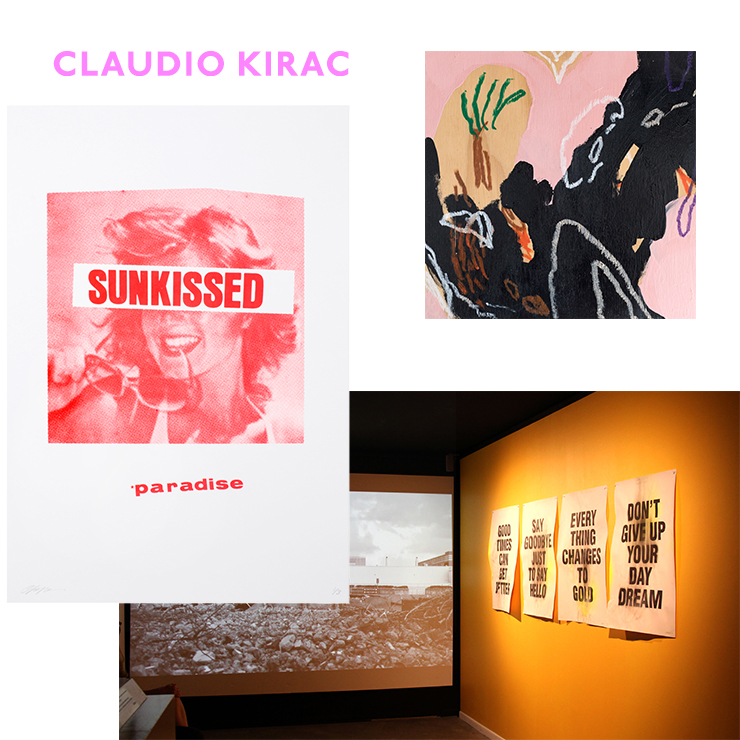 Luke Day
Luke Day's graphics have their own distinct clean style; easily recognisable as he combines hand-crafted typography and minimalist illustration for a fun and playful vibe. Realising he was into art and illustrating at 16 years of age, Luke spent his life savings and went to Shillington College which kick-started his creative career. From mocking up logos for brands like Ripcurl, Element, Afends and numerous LA and NYC brands, to covering walls in murals like the one at Mexicali and Balter Brewery, Luke is a well established graphic artist here on the shores of the Gold Coast and we can't wait to see the rad stuff he comes out with next.
Follow Luke: @lukehday
Ultimate respect for the best Gold Coast artists and illustrators? Give them a follow for ongoing inspo.
Inspired? Try out these Art Classes That You Can Sip While You Paint.
Image credit: Hayley O'Connor, Jess Lambert, Nikki Renwick, Kiel Tillman, Claudio Kirac