It's easy to get settled in the nest of the Gold Coast. With great places to eat and drink, bountiful nature to get amongst, and a rousing creative scene, you'd be forgiven for developing a stubborn commitment to never leave.
But before you go dousing your roadmaps in lighter fluid and trading in the SUV for a moped, let's talk about life beyond the boundaries of the GC. We'll start with a riverside city of botanical gardens and state galleries, potter our way through country pubs and glowworm caves, and wind up in a small town famous for its cannabis festival.
This selection of Gold Coast day trips should see the wettest of blankets hunting down their old Polaroid and throwing pesto and halloumi sandwiches into a cooler bag.
Brisbane
Once looked upon as a confused and culture lacking wasteland, Brisbane has come along in leaps and bounds on the reputation front. Open-air cinemas, film festivals, rooftop bars, and countless live music venues all set around the banks of the Brisbane River. With Queensland's flawless tropical climate making it a year-round city, Sydney and Melbourne might need to watch their back.
Byron Bay
Originals of the Byron Bay Shire will talk sadly of days when bongo drums and grassy knolls reined supreme, and not a Sportsgirl or sushi bar was in sight. Yes, on first glance things have changed dramatically in Byron since the good old days, but the heart of the town has not been punctured. Head along to the Byron Bay Markets on the 1st Sunday of every month if you're not completely convinced, then do the headland walk to Wategos Bay to really understand why this place is still loved. And we need not mention a little abode known as The Farm… Need more ideas, here's 48 hours worth.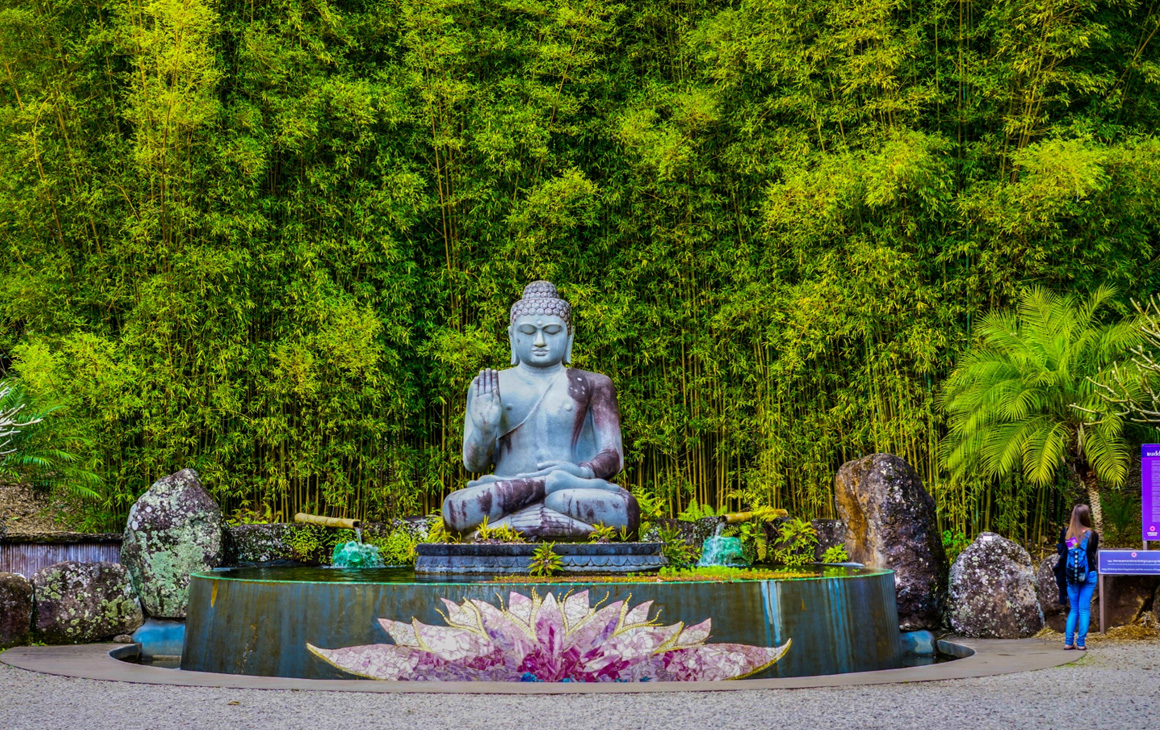 Crystal Castle
Mullumbimby
Polish your aura, adorn your bindis, and get your paisley wrap pressed. A valley of shimmering crystals, labyrinth meditation walks and tarot card shops is but a short drive from the Gold Coast. How blessed we are! And how genuinely thankful you will be for a day spent at Crystal Castle. The GC might be a one-point-nothing on the scale of chaotic-city-life, but that doesn't mean you don't need to escape every once in a while to clear the mind and salute the mind-boggling beauty of Mother Nature. Man didn't make those crystals – just try fathoming that for a minute.
Mooball
No soul on this Earth should have to reach the pearly gates without visiting Mooball. For no other reason than the pride of visiting a place called Mooball, complete with cow print street polls. Oh, Mooballers (Mooballites?), you festive little devils.
The Big Prawn
Ballina
You'll take a few happy snaps, eat prawns and lettuce smeared in cocktail sauce, and hit up a few of Ballina's great op-shops. Then you'll drive back to the Gold Coast. It's not exactly a Grand Canyon of a day out, but your authenticity as an Australian or a well-travelled visitor will increase ten fold. You've now seen one of Australia's Big Things! From the southern end of the Gold Coast the drive to Ballina's quirky Big Prawn can be done in just over an hour. Once you've ticked off The Big Wine Cask and The Big Deck Chair we'll pop your framed certificate in the mail and you can sit by the phone and wait for your call from the PM.
Mount Tamborine
Okay, so this is hardly a day trip as it's technically on the Gold Coast. But how could we bypass an opportunity to mention a town with a winery on a lily pad pond that serves goat's cheese tart and all day Devonshire tea? And The Cedar Creek Estate Vineyard and Winery – which is also home of the famous purpose-built glowworm caves – where you can take a tour to "learn about the amazing life cycle of these little creatures" – is only a percentage of everything worth loving about Mount Tamborine. Throw in some crystal shops, waterfalls, and one of the region's only castles and you have yourself a very wonderful day trip indeed.
The Strawberry Farm
Pimpama
Fresh strawberries?! Squeal! Fresh strawberries on a farm with tiny animals like a goat named Billy and tasty strawberry treats like a famous chocolate sundae?! Triple squeal!!
Nimbin
Isn't it strange how we all just go about our business, completely ignoring the fact that we have this lawless hippie town rolling spliffs and selling hash cookies like it's god damn Woodstock? Nimbin is a place you need to see to believe, and its audacious attitude is hard not to enjoy. Being the respectful, law abiding citizen that you are, this day trip should be taken in the comfort of a conservative, windows up sedan with a stash of aforementioned halloumi pesto sandwiches packed and ready. If you're a little crazy around the edges, you best get out, walk around, and chat to strangers at every chance you get.
North Stradbroke Island
You may remember us naming 'South Straddie' on our list of the Gold Coast's best beaches. Well a little further north you'll find, surprise surprise, 'North Straddie'. This island is more of a day trip than its paddle-across brother, with a passenger ferry available from Cleveland that takes around 25 minutes. Once across you will find a hoard of charming bed and breakfasts and dining options, as well as plenty of things to do such as whale watching and gallery hopping. Although completely manageable as a day trip, you should probably throw caution to the wind and make a whole weekend of it.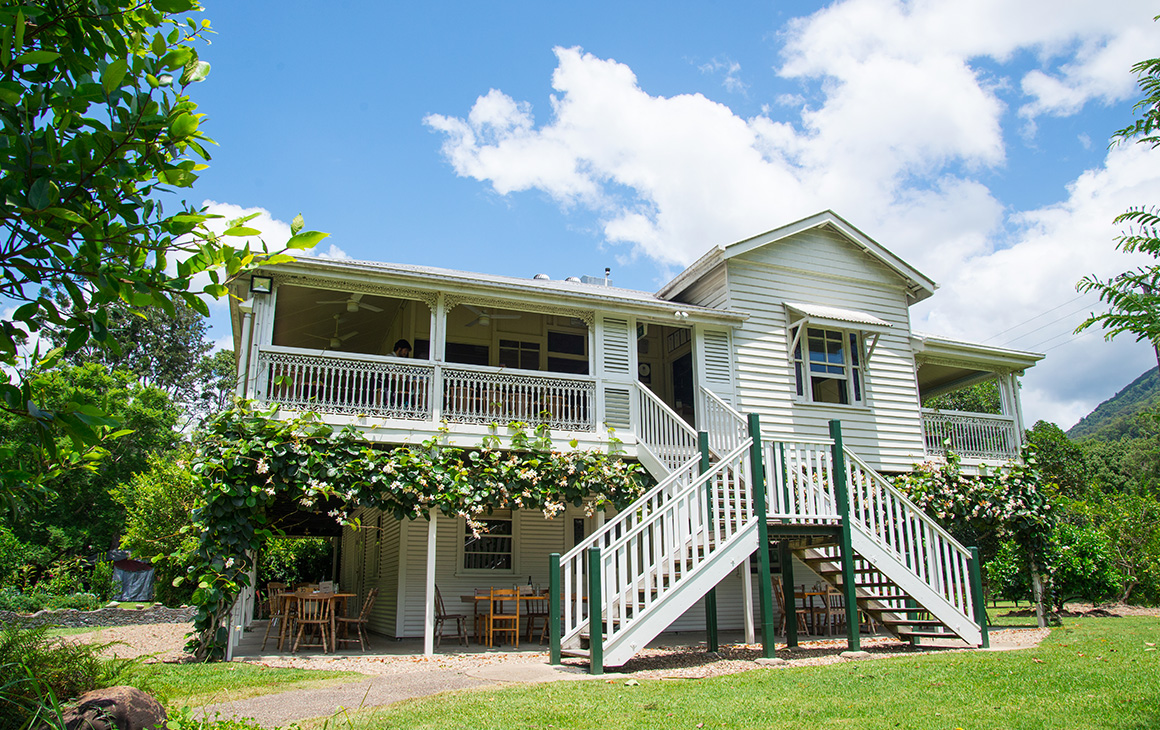 Murwillumbah
Welcome to Cuteville: postcode 2484, population 8523. Home of the Tweed Valley Banana Festival, a few great pubs and a whole lot of character, Murwillumbah is the kind of town you will immediately fall in love with. And quickly make plans to relocate to. It sits at the foot of Mount Warning, which offers a stunning sunrise climb and jaw-dropping views. Round this day trip out with coffee and a weekend breakfast in the old Queenslander of Mavis's Kitchen.
Photo Credits: Tallow Woodridge, Alex May, and Brooke Darling
Notorious for losing her own possessions, making poor life decisions and sleeping in stairwells, Samantha Chalker is the ideal candidate for staying home wrapped in cotton wool. Which makes her a not so ideal candidate for being a travel writer. But here she is, making it work, and feeling very thankful that the universe has her back. Find Samantha online.