Your mouth is drier than the Sahara Desert. Your head is on the brink of explosion. Your bank account is devastatingly low. It's official, you're hungover. When you're in the depths of a crippling hangover, the only light at the end of the tunnel is high-calorie comfort food. We've done the work for you and rounded up the best hangover eats on the Coast. Hang in there liver, we will rebuild.
Cheat Platter | Milky Lane
The best part about a hangover is that from the minute you open your bloodshot eyes until the minute you close them, it's CHEAT DAY. Welcome to a blissful day where no calorie counts. Milky Lane's Cheat Platter comes with a burg of your choice, loaded fries, mac & cheese croquettes, korean fried chicken and an epic thickshake. Dinner=sorted.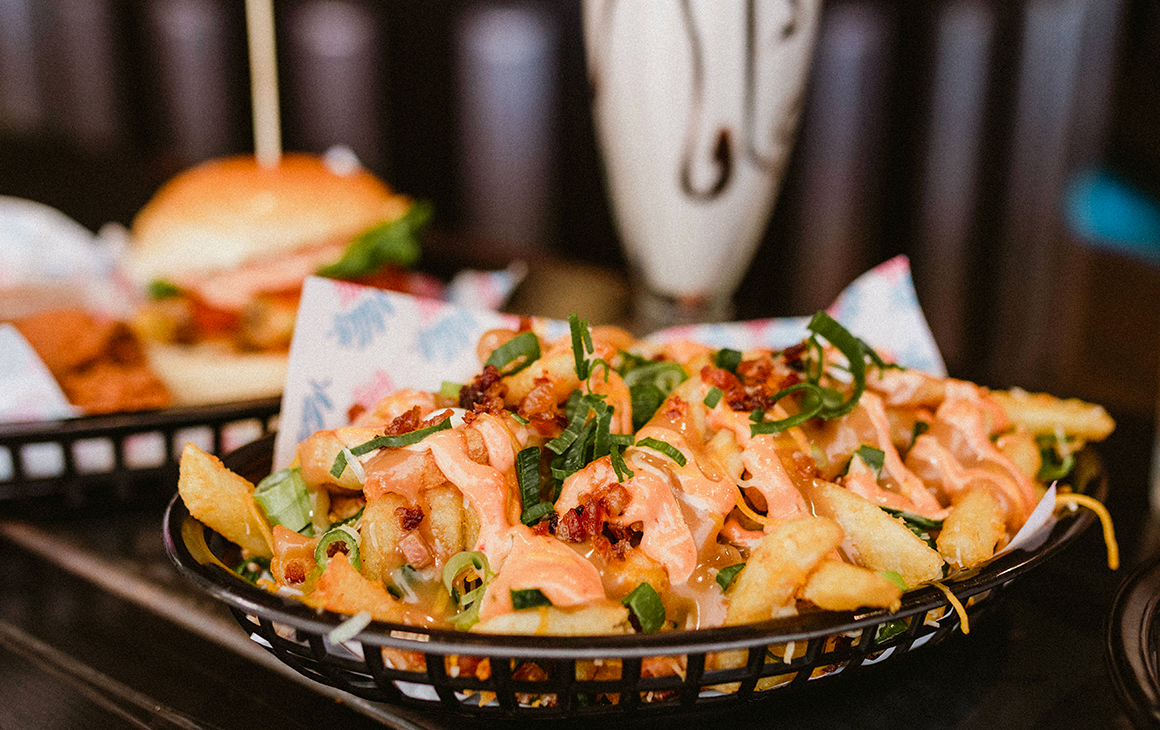 All-You-Can-Eat Brunch | Bazaar
Let's face it, you're probably not going to make breakfast. Enter, Sunday Brunch at The QT. From fried chicken & waffles to a fondue station that would put Willy Wonka to shame…indulge, loosen your belt then head back to bed.
Chicken Tacos | Mexicali
Once your mouth starts producing saliva again, put on some clothes (preferably clean) and head to Mexicali. Fresh air, corn chips, guac & taco, need we say more? Still in a world of pain? Add a margarita and hope for the best.
Wings | Lord of The Wings
They've dubbed themselves Lord of The Wings and rightfully so. Choose from 20 different sauces, starting at mild honey mustard and ending with the hottest, buffalo suicide. That's right, burn your sins away.
Breakfast Burrito | Alfred's Diner
Breakfast meets burrito, it's a modern-day love story. Bury your sorrows with egg, bacon and tomato relish at Alfred's. They won't judge you.
Family Pack | JAMROC Jamaican Jerk Chicken
Marinated chicken char-grilled to perfection. Grab your stretchy pants, order a large family pack and revel in gluttony at JAMROC. You deserve this, you really do.
3am Burger | Ze Pickle
Ze Pickle do burgers well, really well. Their 3am Burger will bring you more joy than tequila ever did…beef patty, heavenly maple bacon, Kanye's fried cheeze sticks, guacamole & zp sauce.
Royale With Cheese | Easy Street Diner
Leave Struggle Street and head to Easy Street to get your life back on track. There is nothing a cheeseburger can't fix. Nothing.
Hangover Dawg | The Loose Moose
A hot dog perfectly curated to cure your hangover. We're talking double-smoked bockwurst snag, caramelised onion, melted jack cheese, bacon, scrambled egg, hollandaise and BBQ sauce. Cheers Loose Moose.
Phat Bastard Challenge | Longboards
There's a certain way you feel on a Sunday night, after a day of binge eating. Now we don't want to be cruel and spell it out...but Longboards can. The Phat Bastard Burger Challenge. 1.8kg burger, a side of fries, 30 minutes. You were made for this.
Crispy Chicken | Betty's Burgers
We don't know who Betty is, where she is from or why she decided to create the most succulent chicken burger of all time, we're just glad she did. Thank you Betty. It's people like you who make hangovers more bearable.
Ready for round two? Check out these awesome rooftop bars. Or looking for a health kick? Check out these clean eating joints on the Coast.
Image Credit: Brooke Darling and Hayley Williamson for The Urban List