Valentine's Day. It may only be a two-word phrase but it is one of the most dreaded in the English language (we know, dramatic much?). But, gals, what we've learnt is that you don't need a man to have a loved up V-Day. Sometimes the person who is going to appreciate you the most is your main gal who's been there for your through it all #RealTalk. The one you get dolled up with for a night on the town, binge watch crappy reality TV with whilst eating pizza and ice cream, and will comment 'YAS QUEEN! SLAY' on all of your Instagram posts—even though she spent the last hour going through filter options with you.
So, this year we're saying a big "byyeee!" to Valentine's Day and treating our BFFs to one hell of a Galentine's Day this February 13.
Our pals over at Emma & Roe totally understand the power of your female BFFs so we've teamed up together to bring you the ultimate Galentine's Day guide for all the besties that have been by your side, no matter what.
Put Together Your Dream House At Trader Trove
Known as the home of the most aesthetically pleasing homewares ever, a visit to Trader Trove will have you planning your dream home—with your bestie, obvs. With fantastic finds sourced from all over the world, we challenge you to stay within your budget. Next step: moving in together and having a house worthy of being featured on an #InteriorPorn Instagram account.
Relax, 'Gram, Repeat At Bath House
This stunning communal bathhouse will have you leaving so relaxed that you'll forget about the chaos that is your inbox. Go online and choose your perf package with your bestie and you'll enjoy hydrotherapy spas, red cedar saunas and a magnesium plunge pool, to name a few. Heck, why not splurge for a massage while you're there?!
Kick The Night Off In Style With Drinks At Rick Shores
Beachfront venue? Check. Epic cocktail list? Double check. Rick Shores has it all from ambiance to an extensive drinks menu that perfectly suits those beachside vibes. Sit back, relax and enjoy hanging with your besties.
Gorge Yourselves At Fire Cue
Bringing a little piece of Bali to Australia, Fire Cue is the ideal spot for your Galentine's Day dinner with share plates a-plenty and of course many drink options. Want to try a bit of everything? Why not get the Fire Cue banquet, because tonight is about treating yourself, right? We say no to wasting time deciding what to order, and yes to letting someone else choose for you.
Make It A Cute Staycation At The Island Boutique Hotel
Newly refurbed and giving us the ultimate beach getaway vibes, The Island is our pick for a cute bestie getaway. A stone's throw from the beach and complete with a gorgeous rooftop bar (for the perfect Insta, of course), The Island couldn't be more ideal.
Brunch The Next Day Is A Must At Dragonfly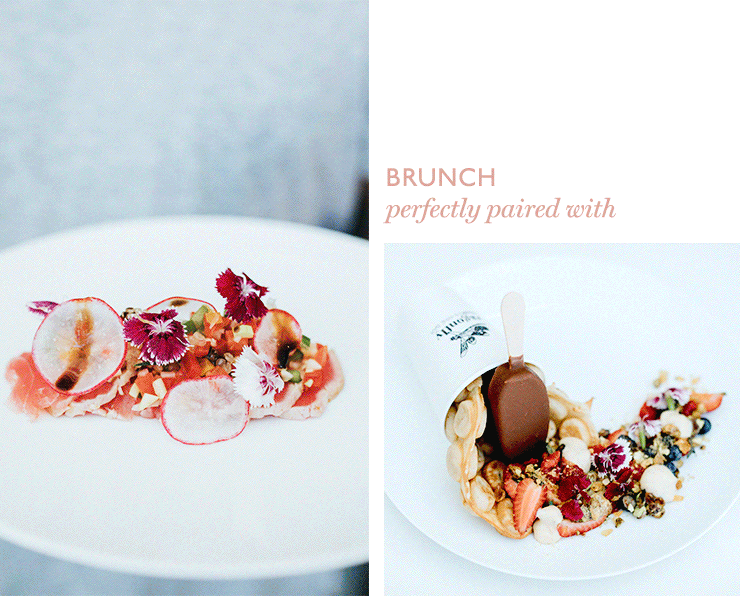 There's no time like the present to gorge yourself on Dragonfly's iconic waffles. These bubble waffles are paired with a mini Magnum ice cream, seasonal berries, and pistachio praline, so you know it's legit. Oh, and it's grammable AF too with a sprinkling of edible flowers. We mean, yes, please.
Phew! Sorry, not sorry if you're now 100% down a for a Galentine's celebration with your girls after reading this. Saint Valentine who?! To start packing, check out the list below or rogue and reward yourself for being single over on Emma and Roe's website.
Editor's note: this article was produced in partnership with Emma and Roe. For more information on our editorial policy please click here.
Image credit: Grace Elizabeth Images + Hayley Williamson for The Urban List