If you do what you love, you'll never work a day in your life. That's the dream, right? Standing out among a crowd of budding creatives and entrepreneurs can seem hard enough, let alone making the leap from employee to business owner. Hard, yes. But not impossible.
One person who's done it and never looked back is 30-year-old artist and small business owner Jeff McCann; a multi-disciplinary creative who is making colourful waves in fashion and art circles as well as the music industry. If you haven't heard of McCann, or his sustainable clothing and accessories label Cardigan Threads, you've undoubtedly seen his designs. From his Spilt Milk set designs and festival-friendly fashion to his outrageously fun stage costumes and other-worldly illustrations, his designs are made from recycled textiles and are as eye-catching as they are eco-conscious.
Here, we've teamed up with CommBank's Goal Tracker to chat with McCann about his art and how he saved enough money to turn his passion project into a thriving business.
How would you describe what you do?
I call myself a maker. I do a bunch of different things, whether it's costumes, jewellery, fashion, installations, decorations, sculpture—I don't like to put an official title on it. It really depends on what time of year it is, whether it's festival season or market season, but I guess the main thing for me is that whatever I do, I like to be interactive with my audience. I like to be playful and make people be a part of it with an environmental edge as well.
Your work is made from recycled textiles, why is sustainability important to you?
Even before I was a creative I was always a bit of a greeny and a hippy—and I hated waste. I liked the idea of taking something that was considered rubbish and the challenge of turning it into something useful again with another purpose altogether. But then once I became a creative, I didn't see the point in making new stuff; I think we have enough stuff in the world as it is. It's so much more exciting to turn a cardboard box into something someone can wear and get enjoyment from. Then hopefully I will start to challenge more people to reconsider what they're doing. You want to have a voice but you want it to mean something. If you start off by shouting at people about sustainability, you can repel people because they may start to feel guilty about themselves; I don't think it's as effective.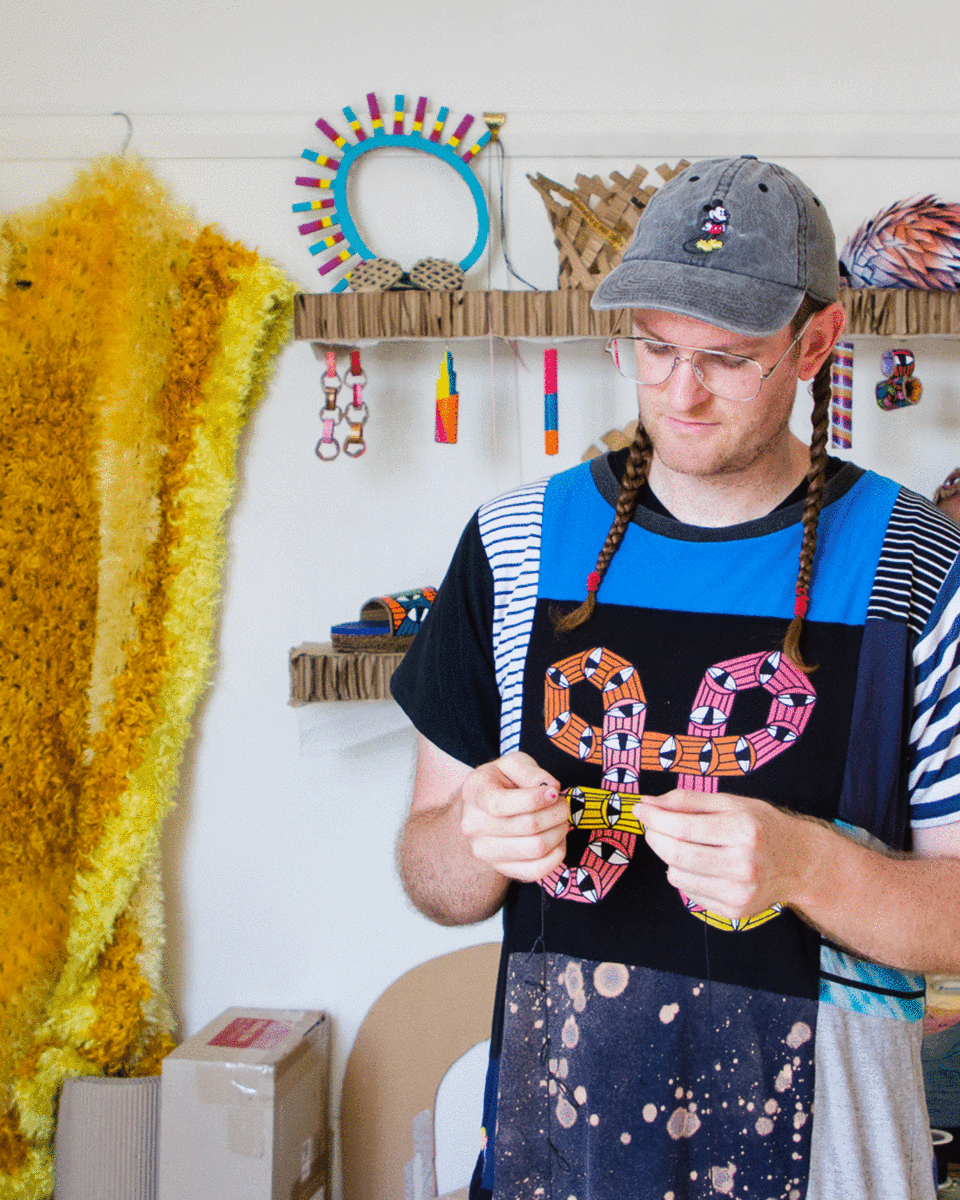 Creativity runs through your veins, how long have you been designing?
I've always drawn and painted, ever since I was a kid. I went to art classes when I lived in Dubbo. It was the only art class that was available outside of school. I always thought I was going to be a traditional artist who painted realism because that's what I thought art was. It wasn't until I was at uni doing set design for a theatre show when I first used cardboard; it was free, I was poor, I couldn't afford materials and there was lots of it. I could draw on it and build with it, so it was a perfect thing for me to experiment with. It also loosened me up because I was very tightly wound, creatively, and I didn't want to waste materials and buy a white canvas just to ruin it. As soon as I started to use materials that were either free or less precious that's when I could really relax and become more playful in my work. It has helped me to become prolific because I can prototype a lot of stuff and if it doesn't work out I'm okay with it because I just keep making.
Did you study art and design?
I studied Design for Theatre and Television at Charles Sturt University in Wagga. It's a country uni, so lots of time and space to do your own stuff. I stayed there for two years after to work out who I was and I was like, 'Oh, I'm the cardboard guy.' That's who I am. Then I decided I could move to Sydney and have my own point of difference. I knew what I wanted to do and I could go there with experience from my smaller exhibitions in Wagga.
Your designs are unique, vibrant and uplifting. Where do you draw your inspiration from?
It really depends on how I'm feeling and my environment. I'd say fashion and drag culture because I like to go to performances and live events. I go to as many performances that push the boundaries of what fashion should be. So, it's usually performers who are multidisciplinary. Also a lot of street art influence and architecture; I've developed this strong fascination of creating worlds or spaces. It's nice to not limit myself to one thing.
You touched on drag culture, are you an active LGBTQIA community member?
Definitely. As a punter I go to a lot of both big and grassroots queer events; I try to be a part of it by doing decorations and being in amongst it all. Business-wise, it's been quite smart because I found out what my voice could be—I started out being a sustainable creative but five years on, I've realigned who I am, I've grown up and I want to include my queerness in my work because I think it's important and powerful.
When did your passion project start to turn into a money-making side gig?
When I moved to Sydney about six years ago I set a plan in place. I had a part-time job in retail and then when I went home I would work on my creative stuff. I did that for two years with a plan to launch a bag collection and market stalls. I spent $4,000 on a Christmas market stall application and I said to my boss, 'Look, I've paid this much in fees, I'm not going to do this half-hearted. I need to make sure it's something I can actually do, so I have to quit. If it doesn't work out, I can cross it off my list and come back.' Then I got asked to do a project for the Queen Victoria Building to create their Chinese New Year rooster sculpture and it just started the ball rolling. It was a great job with a lot of prestige and gave me a lot of street cred with other organisations. In the two years leading up to the markets, I was trying to network and figure out who I could work with. You must be reliable, plan, have a goal and constantly follow up with people.
People can often fall into the trap of accepting jobs that don't align with their personal brand. How do you avoid this?
I got a mentor, which really helped. I started going to creative business workshop events because I knew that if I was going to do this, I needed to make sure I had my business under control. I met a great lady and she became my business mentor. To this day I still go to her and talk about my goals, work out what projects I want to do—plus all the harder business things I don't know. Things like registering your business name, getting an ABN. Without her, I would have struggled to find my path as quickly as I did.
Did you have a strategy when saving to launch your business?
At first, I set up a system where every month I put money into an account, but I realised it wasn't necessarily possible because I would get chunks of money. So then I changed it to every time I did a project or got paid I would put a percentage of that away. So, when I do my budgeting, I go by projects and that will change the percentage of what I put away. I have spending accounts, savings accounts and emergency accounts.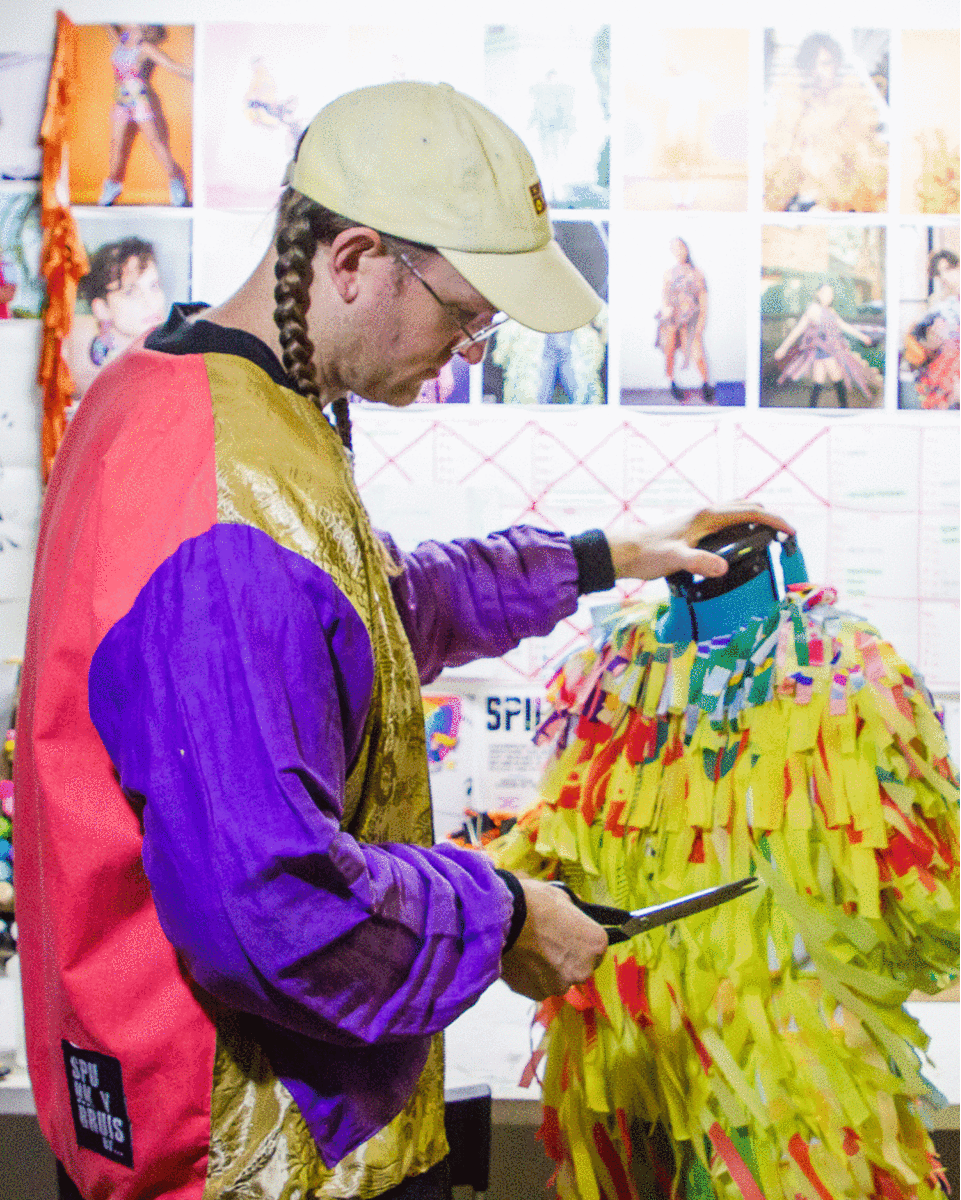 Did you face any financial challenges when you were saving to launch your small business?
I never had a lot of money but what money I did have I budgeted. I found it really rewarding to be able to save for something and then get it or do a project and tick it off, saying you did it for yourself. I actually would have really benefited from a tool like Goal Tracker to keep me on track. You really have to plan. Pay your bills and not save the money for your business? Or save for the business and then pay the bills later—you have to prioritise. Then you also have those times when you think: What am I going to do? And you just have noodles that week.
What did your weekly expenses look like and did a big chunk go toward saving to start your business?
I spent $120 a week on food for all my meals—I planned it to a tee. I knew how much I needed for rent and my phone, but then savings for my business wasn't a lot because so much of what I was doing was working with cardboard from local shops for free.
What's been a career highlight so far?
It would have to be working with Spilt Milk and having the whole festival branded with my work. It's so much of my world and I enjoy going every year. Working with musicians and having them be a part of my work was just surreal. To walk into a festival and have my stuff all over the stage, all over the tickets, people were wearing my merch. When Lorde is headlining a festival that you've done the design for—that was really, really cool.
The other would be working with Montaigne. She was the one giving me street cred with performers in the industry. She was quick to jump on board because of the environmental element to my work and she really wants to help support creatives and give us a platform to build our brand.
What do you love most about what you do?
I love that it's always changing and I never really have the same day twice. I think that's the best thing because it really pushes me out of my comfort zone. I used to be a former fat kid, ultra-introverted, very quiet, stayed in my comfort zone too much—so now I can tell how much I have grown because I know who I am and I'm completely comfortable. Oh, and not having a boss! If I want to sleep in, I don't have to tell anyone—not having to answer to someone, that was my main reason for starting my own business. I want to work with people not for people. That was my goal, I didn't see any other way of working.
What's your advice for any budding creatives looking to turn their side gig into a business?
Talk to people. Don't just talk business but talk about your ideas. I think by talking to people, you're more real and it could even be a future collaboration. It could be someone you need to know or they tell you something you need to know. Be okay with things taking a long time. Don't be too hard on yourself—nothing great happens overnight.
If you're thinking of saving to transition your side gig into a small business, setting goals and knuckling down on your savings is imperative. CommBank's Goal Tracker offers a simple and effective solution to managing your savings goals by breaking your bigger goals into mini, achievable ones. Click here to find out more and kick-start your savings goal but always consider the terms and conditions when making a decision about what best suits your circumstances.
Editor's note: This article is proudly sponsored by Commonwealth Bank Goal Tracker and endorsed by Urban List. Thank you for supporting the sponsors who make Urban List possible. Click here for more information on our editorial policy.