Wanderlusters take note, there's so much more to this picturesque lakeside town than just #ThatWanakaTree. Boasting one of New Zealand's most vibrant food scenes, a wide selection of local wines, spectacular views and shreddable winter powder—you'll find it hard to spend just three days here.
A detour off the beaten track to Wanaka will win you over with the sheer energy of this town. You'll discover a place full of people that love what they do, and do it bloody well. From friendly locals nailing their craft to enthusiastic internationals here for the season, this is the place to be.
Here's everything you need to eat, see and do in the dreamy town of Wanaka.
Getting There
Kick off your Kiwi adventure on-board with Air New Zealand who will get you to the neighbouring region of Queenstown with ease. Once on land, pick up your rental car (snow chains mandatory) and set off on your winter adventure just 70 minutes out of town.
Where To Stay
For the best views in Wanaka, look no further than Aurum Villa. The architecturally-designed private villa overlooks a breathtaking vista of Lake Wanaka and the snow-capped mountains beyond. Featuring floor to ceiling glass doors, three super king bedrooms and luxury amenities throughout, we're not offended if you cancel your plans to simply spend three days in this paradise. If Aurum is booked up, never fear—Release Wanaka curate a number of chic local digs, including a Mountain Top Chalet.
Day One
8am | Sample Authentic French Pastries
Coffee and pastry, name a more iconic breakfast duo. Get your fix ten minutes from town at Pembroke Pâtisserie who serve up mouth-watering donuts, scrolls, tarts and croissants. Don't go past their life-changing custard slice, starring layers of flaky pastry, gooey vanilla custard and topped with zesty icing.
9am | Tick Off This Bucket List Adventure
Ever wanted to see the jaw-dropping sights of Mount Aspiring, the Southern Alps and Milford Sound from above? Southern Alps Air have got your back. Their Milford Sound Glacier Flight will take you soaring over snow-capped mountains, breathtaking glaciers, lush rainforests, stunning lakes and of course, the UNESCO World Heritage site. Checked off in a mere two-hours, including time on the ground at Milford Sound to explore, you can also extend your package to include a cruise around the sound or a helicopter glacier flight for the full bucket list experience.
11am | Devour Lunch and Explore Wanaka Township
Hidden down a laneway off Helwick Street you'll find the Federal Diner, a local lunch spot away from the crowds starring flavoursome bites, Wellington's Emporio coffee and some epic cheese scones. On a chilly Southland day, the seafood chowder with prawns and crusty bread is calling your name. Still hungry? Their braised pork shoulder roti is the stuff of dreams—soft, flaky flatbread with tender pork, hoisin, kewpie mayo and pickled chilli. We'll take two thanks.
1pm | Sip Your Way Around Wanaka
Wanaka and wine—it's a perfect pairing really. Kick off the tasting session at Rippon, which boasts stellar views and sensational vino. You can drop by their Cellar Door for some sips 11am–5pm daily, but we recommend going the extra step and arranging a private tasting with the cellar door manager, Leslie. You'll be set-up in the grand Rippon Hall overlooking Lake Wanaka as Leslie walks you through the enticing stories behind each delicious drop.
Your next stop is Maude Wines Tasting Room, where you'll be greeted with a cosy atmosphere, friendly hosts and even the winemakers dog if you're lucky. Nab a seat next to the fireplace and select your samples—we highly recommend the Chardonnay. Your tasting is delivered in a quaint beaker set and is best paired with the fromage board of imported french cheeses and handmade crackers.
If your whole group wants to get in on the vino fun, make sure to travel by taxi—Yello are your go-to in Wanaka.
5pm | Catch The Sunset And #ThatWanakaTree
After your afternoon tipple, pop back down to the town centre for a stroll along the shoreline and scout out the infamous #ThatWanakaTree. Capture the ultimate 'Gram of the lake at golden hour, which on a clear day is an unbeatable view.
6pm | Indulge In Italian Eats
If carbohydrates are your middle name, Francesca's Italian Kitchen is the place for you. This place is buzzing even on a weeknight, so make sure to book ahead. Kick off with crispy potato skins doused in truffle oil, porcini salt and pecorino, which are made from, you guessed it, the gnocchi cast-offs. Order a meatball slider with mozzarella and beetroot agnolotti with nut brown sage butter and that's your starters sorted. Chase this up with the legendary house made potato gnocchi with braised beef cheeks, and of course a traditional woodfired pizza. Fill your dessert stomach with a cannoli, tiramisu, affogato or all three—we're not judging.
8pm | Enjoy A Nightcap (Or Two)
Top off your first night in Wanaka out with a sip from one of the local bars. Cork Bar offer a cosy atmosphere, outdoor heating and an extensive local beer, wine and drinks list. Scout out the dedicated gin and tonic menu for your fave—we're into the 'Respect Your Elders' with elderflower tonic and rhubarb.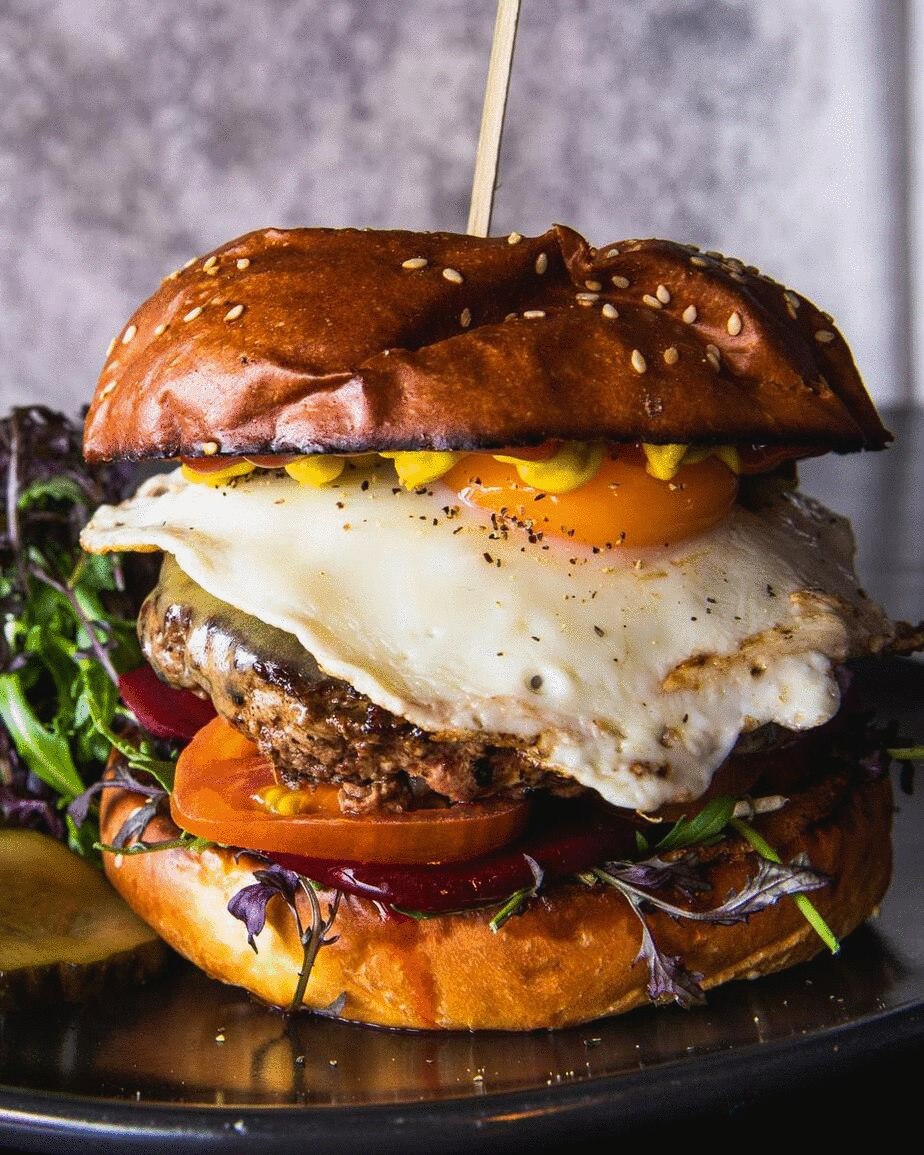 Day Two
8am | Set Off On Your Skiing Adventure
Snow lovers rejoice, it's your day to hit the slopes. Twenty minutes from town you'll find Pine Trees carpark at the base of Mount Cardrona. If you're not confident on mountain roads, stop here and let the free shuttle take you up to Cardrona Alpine Resort. Top tip: grab a sweet crepe or savoury galette for brekky from Charlie Brown Crepes, stationed in the carpark before you head up the mountain.
9am | Gear Up
Simply show up with warm, active clothing and decent socks because Cardrona have everything you need to get going on the mountain. Upon purchasing your passes, you'll be issued a swipe card that you can pimp to the max with add-ons from waterproof outerwear to helmets, goggles, gloves, boots, equipment and lockers.
10am | Coffee At The Lounge
Grab a flat white or hot chocolate from The Lounge, which is conveniently located adjacent to the where the ski lessons kick off.
10:20am | Hit The Slopes
If you're a seasoned skier, skip the lesson and head straight for the chondala (a combined chair lift and gondola)—your gateway to the mountains beyond. If, like us, you require a bit more guidance, then a first-timer group lesson is a must. It's an affordable introduction to the snow, and the instructors will help you nail the basics like walking uphill, turning, stopping (read: pizza shape) and the all important graceful recovery from falling over—it's going to happen. Before the lesson is up you'll have aced a few downhill runs on the practice slope and be ready for an afternoon of adventure.
12:30pm | Refuel For Lunch
Store your skis at one of the many drop off points around the Main Base Building (just remember which ones are yours) and head inside for a bite to eat. For a quick meal between lessons, opt for a Wanaka Bakery pie from the Base Café or some delicious Asian-inspired dishes from the Noodle Bar—we're talking sushi, chicken katsu and spicy curries. If a long luxurious lunch is more your vibe, The Mezz is where it's at—with table service and decadent eats like a juicy beef burger, you'll thank us later.
1:30pm | Level-Up Your Ski Game
Now that you have the basics down, regroup with your instructor for a private afternoon lesson that will help you level-up from first-timer to beginner. Hosted in the Beginners Area, you'll practise on gentle runs and have access to the Learner Conveyor tunnel (also known as the magic carpet). You'll receive personalised advice on how to move your body, take control of your run and generally gain confidence in owning the slope. Next up you'll be hitting Cadrona's green trails in no time.
3:30 | Enjoy A Mountaintop Tipple
Ditch the skis and take a break—you deserve it. Grab the gondola up to Vista Bar for a sneaky sip of Mumm Champagne or our personal favorite, boozy Baileys hot chocolate, overlooking the mountain scenery.
5pm | Get Around Local Craft Beer
Kiwi's are crazy about craft beer, so why not sample some of Wanaka's finest after a day on the mountain. Head to Ground Up Brewing's Cellar Door for a selection of seasonal brews, small batch and experimental beers. Alternatively (or also) check out Rhyme and Reason who offer tasting paddles, cheese boards and hoppy hour.
7pm | Dine At A Wanaka Institution
For Wanaka's most unique dining experience, head straight to the White House. Situated in an original 1930s art deco style holiday home, which is also the owner Pedro's residence, the establishment is reminiscent of a quirky living room come restaurant. Picture eclectic decor, a roaring fireplace and laid-back Cat Stevens tunes on rotation. The curated blackboard menu changes seasonally with Mediterranean-inspired Kiwi fare, including a delicious selection of vegetarian options. Start with their famous bruschetta, we're in favour of the slow-cooked beef, feta and mustard one, followed by smoked kahawai fish cakes and a cheesy mozzarella baked eggplant.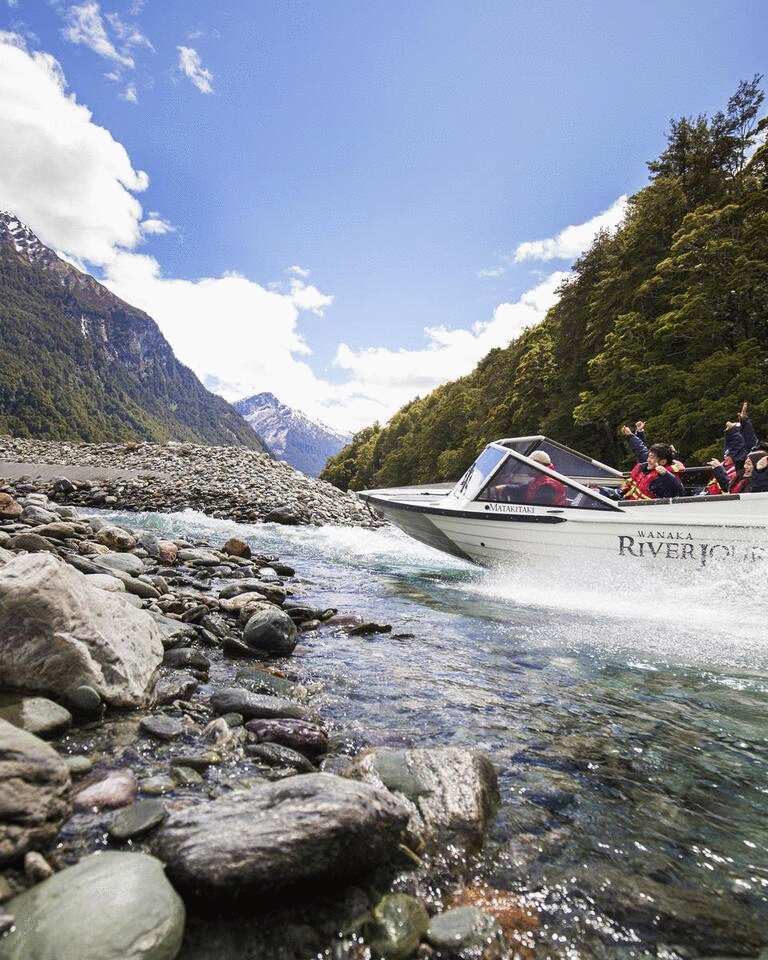 Day Three
8am | Opt For A Hearty Breakfast
Big Fig's motto is 'slow food, served fast' and honey, we're here for it. Dishing up a deli-style breakfast from 8am–11am, it's easy to overindulge in the homely Lebanese-inspired fare. We're talking middle eastern granola with stewed fruit and sweet labneh, the famed shakshuka or sweet treats like tahini chocolate brownie or lemon and pistachio cake.
10am | Jet Out On A Wilderness Adventure
Calling all Lord of The Rings fans, we've found your Wanaka must-do. Up your heartbeat with a jet boat journey into Middle Earth with Wanaka River Journeys, where you'll see the crystal clear Matukituki river, snow-capped peaks of Mount Aspiring National Park and pristine glaciers. Winter adventurers can look forward to heated handrails and a warm cuppa after, and summer goers should add on the 4WD safari excursion for a day-trip like no other.
1pm | Lunch At A Historic Hotel
Make your way back up Crown Range Road for some succulent pub grub at Cardrona Hotel, one of New Zealand's oldest historic hotels. You'll instantly recognise the rustic yellow and red building which saw the town through the gold rush era. Nestle yourself into a cosy corner with a mulled wine and devour old favourites with a Central Otago twist—think ale battered blue cod with fries and smashed peas, or a drool-worthy venison and bacon burger with smoked cheese and beetroot relish. Once your savoury-tooth is satisfied, grab a smores kit from the bar and head outside to the fire for a gooey marshmallow moment.
3pm | Tour A Local Distillery
You'll likely have tasted their artisan spirits in town, so why not explore the inner workings of Cardrona Distillery. Situated in Cardrona Valley among picturesque rose gardens and expansive hills, this is the world's most southern whisky distillery. The 90-minute tour will school you on everything it takes to make handcrafted spirits—from milling to fermentation and distillation. The best part? It concludes with a tasting of their liquors, vodkas, gins and whiskies—count us in.
6pm | Treat Yourself To Kika
Make your last night in Wanaka a memorable one at Kika. The modern tapas-style restaurant, owned and operated by award-winning chef James Stapley, boasts an elegant, comfortable atmosphere you just won't want to leave. Peruse the drinks menu for your poison of choice, including beer on tap from local brewers Ground Up and a refined cocktail selection—we're partial to the orange and fennel Negroni with Cardrona gin. To help ease the dinner table debate over which dishes to order (spoiler: they're all great), our top picks go to the Cloudy Bay clams with salsa macha, the melt-in-your-mouth seared tuna with koji mayo and the butternut and white bean hummus with black garlic. Beef up the selection with some larger plates like the roasted pork belly with lentils and celeriac or a side of roasted cauliflower with whipped tahini, dates and dukkah. A word of warning though, save room for a sweet treat like The Argentinian Tom Selleck—a Magnum-shaped dessert with flavours of yerba mate and dulce de leche.
Dreaming of a winter wonderland? Check out our guide to planning your ski holiday, or hit up 100% Pure New Zealand for everything you need to know.
Editor's Note: The author of this article was hosted by 100% Pure New Zealand and Lake Wanaka Tourism in Wanaka.
Image Credit: Release Wanaka, Jackson Lana, Jess Willemse, Casey Horner, Cardrona Alpine Resort, Tom Quandt, Vaughan Brookfield, Lake Wanaka Tourism, Kika