The most vibrant season in Victoria (spring doesn't count since 99% of the population has violent hayfever), autumn's mild temperatures and diverse scenery makes it perfect for road tripping and exploring.
If you're searching for autumn #inspo—look no further. High Country has not one, but TWO entire dedicated autumn festivals, because they're serious about those red 'n gold leaves.
Home to some of the most spectacular natural beauties in Victoria, we teamed up with Visit Victoria to bring you your High Country autumn bucket list.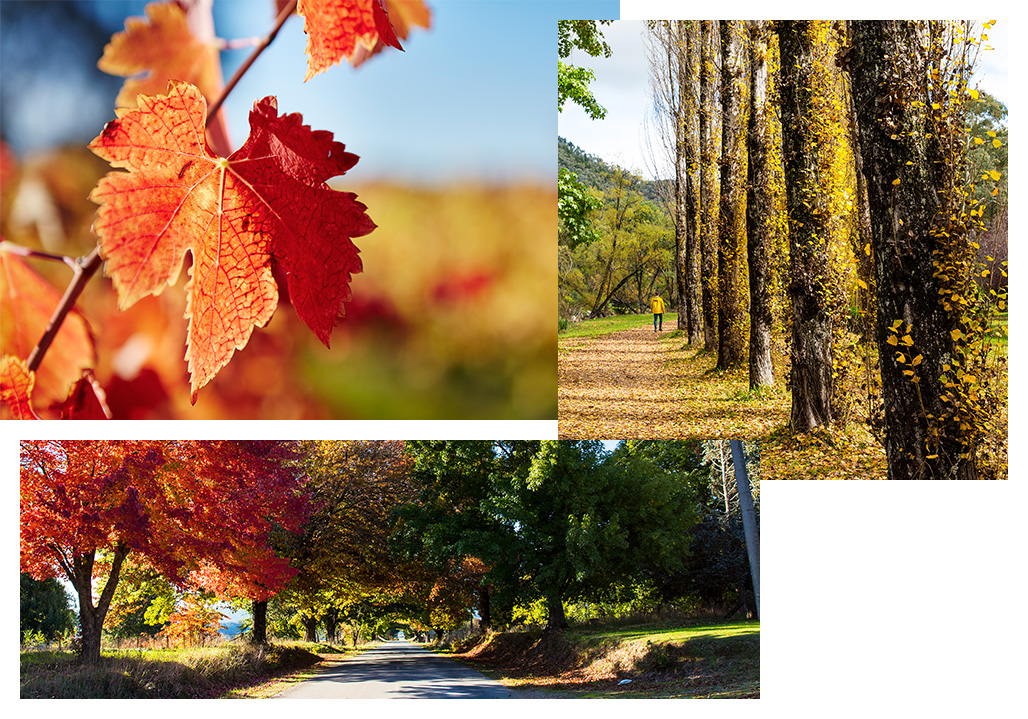 #1 Go Autumn Leaf Hunting
The perfect excuse to visit some of the High Country's wine and food-filled regions, autumn brings all spectrums of orange to Beechworth, Wangaratta and Yackandandah.
If you're planning a day at Beechworth, make sure Beechworth Wine Estates and the Beechworth Bounty food trail are on your list. Finish the day with bubbles and gourmet high tea at Albertines, because who can say no to scones on a holiday?!
The most picturesque, sun-soaked town in Victoria—the Ovens River runs directly through the town of Wangaratta. Set up on the banks for a weekend picnic escape or head upstream to camp for the night.
The quietest of the three towns (and the least discovered), Yackandandah offers homely local cafes (our pick is Hunters and Gatherers) and a cross-country mountain bike network that's ideal for beginner to intermediate riders.
#2 Bright Autumn Festival
A ten-day celebration (27 April to 6 May) championing autumn colours and artisan produce, the Bright Autumn Festival is one of the biggest events of the season, nay, year. If you're tossing up about when to go (um, for the entire festival?!), don't miss the Gala Weekend and the Wandi Nut Festival (including a dedicated food and wine tent showcasing everything chestnuts – chestnut gnocchi, pancakes and chocolate… need we say more!?).
#3 Jamison Autumn Festival
A small town south-west of Mount Buller, after a visit to Jamison you'll be making a detour every time you're heading up to the slopes. Held on Saturday 28 April, Jamison will be transformed into an arts and music hub with live singers, fine art, and pottery demonstrations. Learn to throw gold nuggets (it's a thing), stop for freshly baked cakes at Deb's Jamieson Café, and did we mention it's all FREE to attend?
#4 High Country Harvest Festival
Running over three huge weekends from Friday 4 to Sunday 20 May, the High Country Harvest Festival celebrates the regions finest winemakers, producers and chefs. Now in its sixth year, over 50 events (yep, there's something for everyone!) are hosted in the region's finest cafes, restaurants, wineries and farms. Our pick is the autumn cocktail flight paired with local nibbles and cheese.
#5 Pedal to Produce
Marrying exercise with local food delights, the Pedal + Taste tour is a circular loop that starts and ends in Beechworth. Covering 35 kilometres at an easy pace (don't worry, there are plenty of food-filled stops factored in over the day), wine, cheese, olives and lunch is all included. Enjoy the tour in mild autumn temperatures when farmlands are coloured in bright leaves. Make sure to book in advance, as tours are only available on 5 May and 19 May. You can also check out other Pedal to Produce options here.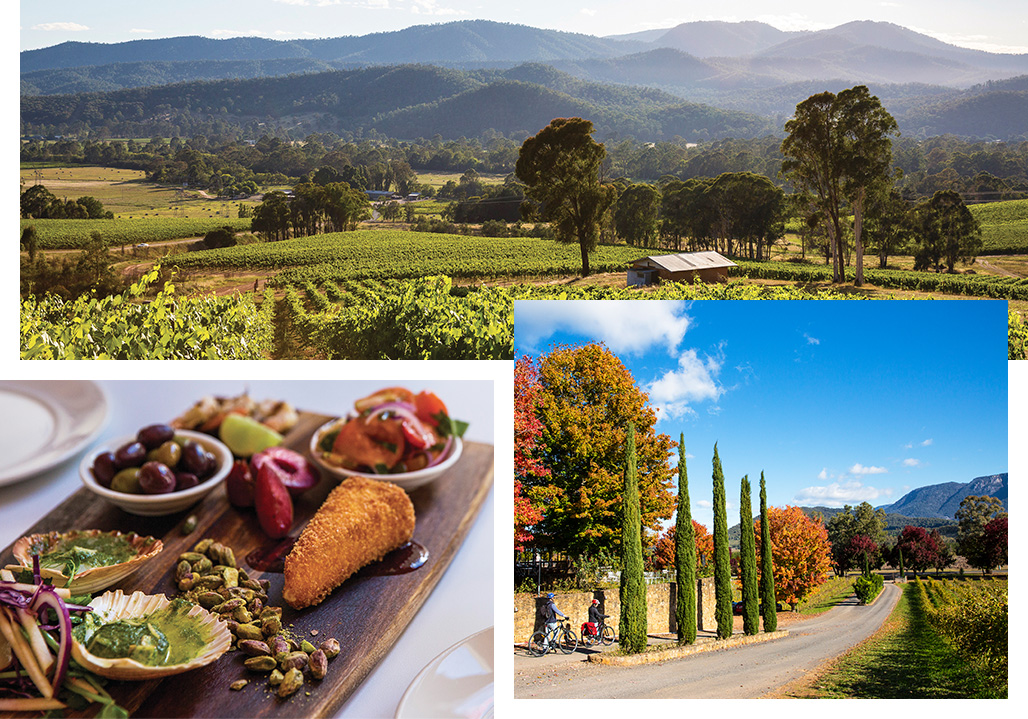 #6 Seasonal Cooking Classes
If you've ever wished your camping cooking prowess extended beyond tuna in a plastic bowl, it's the perfect time to change that. The Creative Campfire Cooking class (running 6 May) is hosted by Jones Winery and Vineyard and capped at 12 participants. Using seasonal local produce, the lunch menu may include confit duck, croque monsieur and chocolate tart (a bit better than that tuna pasta you usually eat in the bush).
The Pickled Sisters also run an overnight Grapevine Glamping tour (glamping AND wine?!) along with hands-on cooking classes complete with lunch. The Autumn Harvest class is our pick for the season (13 April), but other options include the Say Cheese cooking class and the All About Choux cooking class.
#7 Running In Mansfield
Varied terrain and a jaw-dropping range of trails, combined with cool climates makes Mansfield a runner's dream. Head up in autumn to experience the ski-mountain covered in yellow, red and gold terrain. Start on Home Trail for an easy downhill jog, or head up International for a steeper climb.
#8 The Best Bush Walks
The High Country is renowned for its diverse range of tracks, terrain and spectacular scenery. Highlights include all of the Alpine Resorts (and Dinner Plain), Harrietville, Mt Pilot, Mt Buffalo and Mitta Mitta.
You would have to try very, very hard to not enjoy any walks in the Alpine National Park. However, if it's your first time exploring the area and want a little adventure, we recommend the Mount Feathertop hike via Razorback. The second highest mountain in Victoria means you'll be rewarded with snow gum woodlands all the way to the top of Twin Knobs and Mt Feathertop (plus a jaw-dropped 360-degree view which extends across the Alps).
The Mount Pilot Circuit hike is located in the Chiltern-Mount Pilot National Park and features a spectacular variety of flora (BYO phone), along with a rock climbing area. Climbing enthusiasts can take their time to detour and explore here, or follow a series of beginner trails along the walk.
Mitta Mitta and Harrietville are home to hikes that have variety of distances and inclines, including more leisurely walking tracks.
#9 Winery Tours
If your ideal weekend away involves more red and less rocks—make a beeline from the King Valley and Rutherglen. Home to the Prosecco Road (where five of the best producers in Victoria have rallied to create a trail like no other), balance your walking with wine. Our pick is the two-day King Valley and High Country Epicurean Private Tour, which includes private tastings, outdoor picnics, accommodation and the best views around.
#10 The Ultimate Picnic
Mount Buffalo is named for its rocky form in the vague shape of a buffalo, there's over 90kms of walking trails to explore across the landscape. Cliffs, granite tors, snowgrass plains, alpine ash and snowgum forests are all covered in this stunning area. If you want a really unique experience, check out the Portaledge Picnics's on Mt Buffalo. You'll be suspended on an open cliff face so you can fully appreciate the birdseye view of the landscape with some of the best regional produce. Where do we book?!
Planning to go autumn leaf hunting? Make sure to have a sneaky peek at Visit Victoria's what's on guide.
Image credit: Provided.
Editor's note: This article is proudly sponsored by Visit Victoria and endorsed by The Urban List. Thank you for supporting the sponsors who make The Urban List possible. Click here for more information on our editorial policy.