Sometimes it's easy to forget that Melbourne is a mere hour or two from some of Victoria's most jaw-droppingly beautiful nature spots. So if you want to see something other than hipsters lining up for brunch, why not take a roadtrip to one of the state's mind-blowingly beautiful nature spots? Iconic beaches, lush rainforests and misty waterfalls are a mere drive away.
We've compiled the ultimate list of nature's wonders in regional Victoria to visit before you die.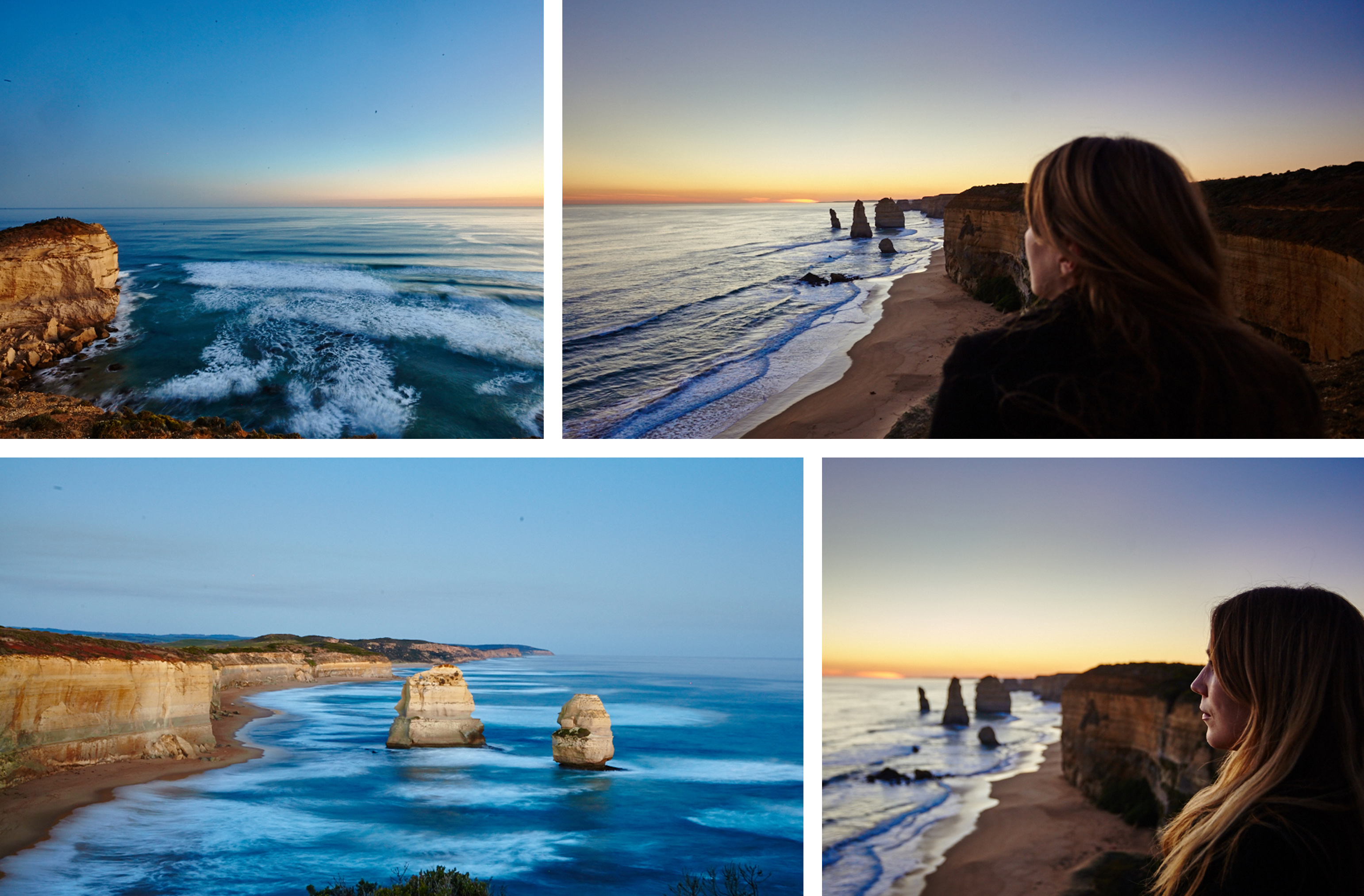 #1: The 12 Apostles, Port Campbell
Arguably Victoria's most famous natural landmark, the 12 Apostles were created by over 10 million years of constant erosion of the coastal mainland by the stormy Southern Ocean. These beauties need to be seen at dusk and/or dawn—the craggy columns are a physical testament to the power and beauty of nature, as well as the inescapable truth that all things must change.
The elements continue to erode the stacks at a rate of roughly three-quarters of an inch per year—yikes! Today, only seven apostles can be seen from the various lookouts linked by timber boardwalks around the cliff tops, and it's uncertain how many will be left in ten years' time. Which is why you should go, right now.

#2: London Bridge, Port Campbell
London Bridge is falling down… And despite the fact that the children's rhyme refers to a different bridge across the Thames River in the UK, Port Campbell's London Bridge did indeed fall down in 1990. For years, tourists had walked out along this natural bridge formation to survey the ocean at the end, but after millions of years, it spontaneously collapsed in the middle, leaving a chunk of land isolated in the ocean and two startled-looking tourists stranded on the outer span. There's an urban legend that they were in fact adulterers who had their cover blown when they were flown back to the mainland by helicopter on national TV, but it's never been confirmed.
Rechristened London Arch, but still popularly known by its former name, this bridge-without-a-middle is gorgeous to visit at sunrise or sunset, with multiple designated viewing areas to marvel at the wave-sculpted seascape.
If you're planning on eating your way around these incredible feats of nature, the 12 Apostles Gourmet Trail is a top place to start. Head inland from Port Campbell and you'll find Timboon Distillery, Timboon Cheesery and and Berry World, where you can pick your own during the summer months. Nature's bounty isn't only for the viewing, folks!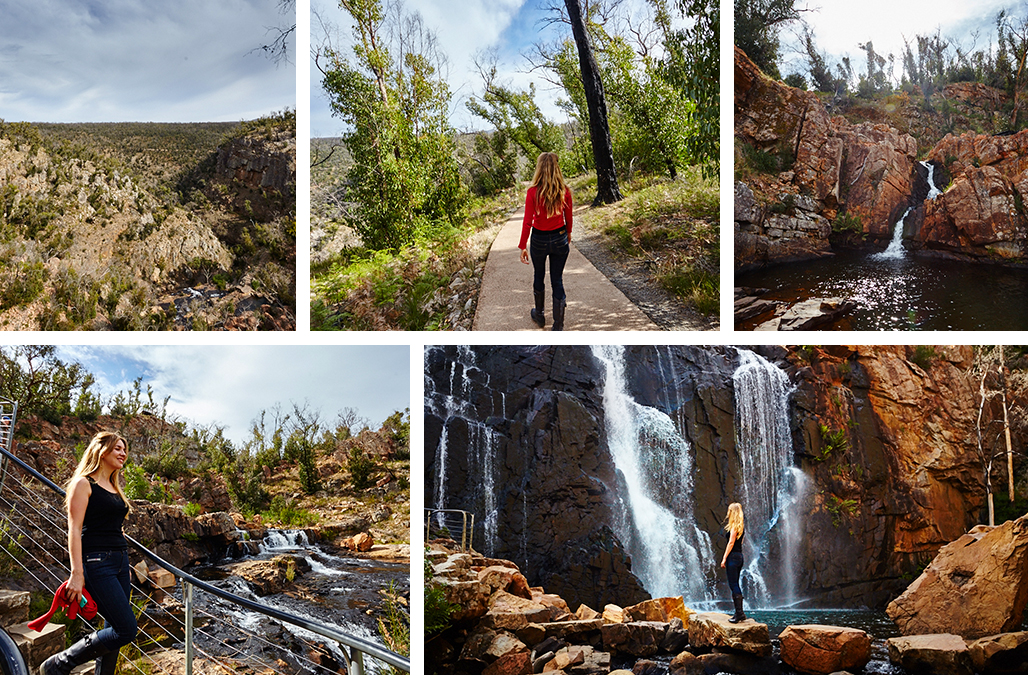 #3: MacKenzie Falls, Halls Gap
Nestled in Halls Gap within the natural oasis that is Grampians Gariwerd, MacKenzie Falls is one of the largest and most spectacular waterfalls in Victoria. A steep trail leads to the base of the falls, where all year round water cascades over huge cliffs into a deep pool above an impressive gorge. In summer, you can swim there, while in winter, you may prefer to content yourself with filling your water bottle to taste some of the purest water imaginable.
There's a series of waterfalls scattered around the main event, so it's easy to spend a weekend or a whole week exploring the many trails and tracks. Public amenities which include BBQ facilities, and even a food van selling hot jam donuts from time to time, to reward you for all your strenuous walking.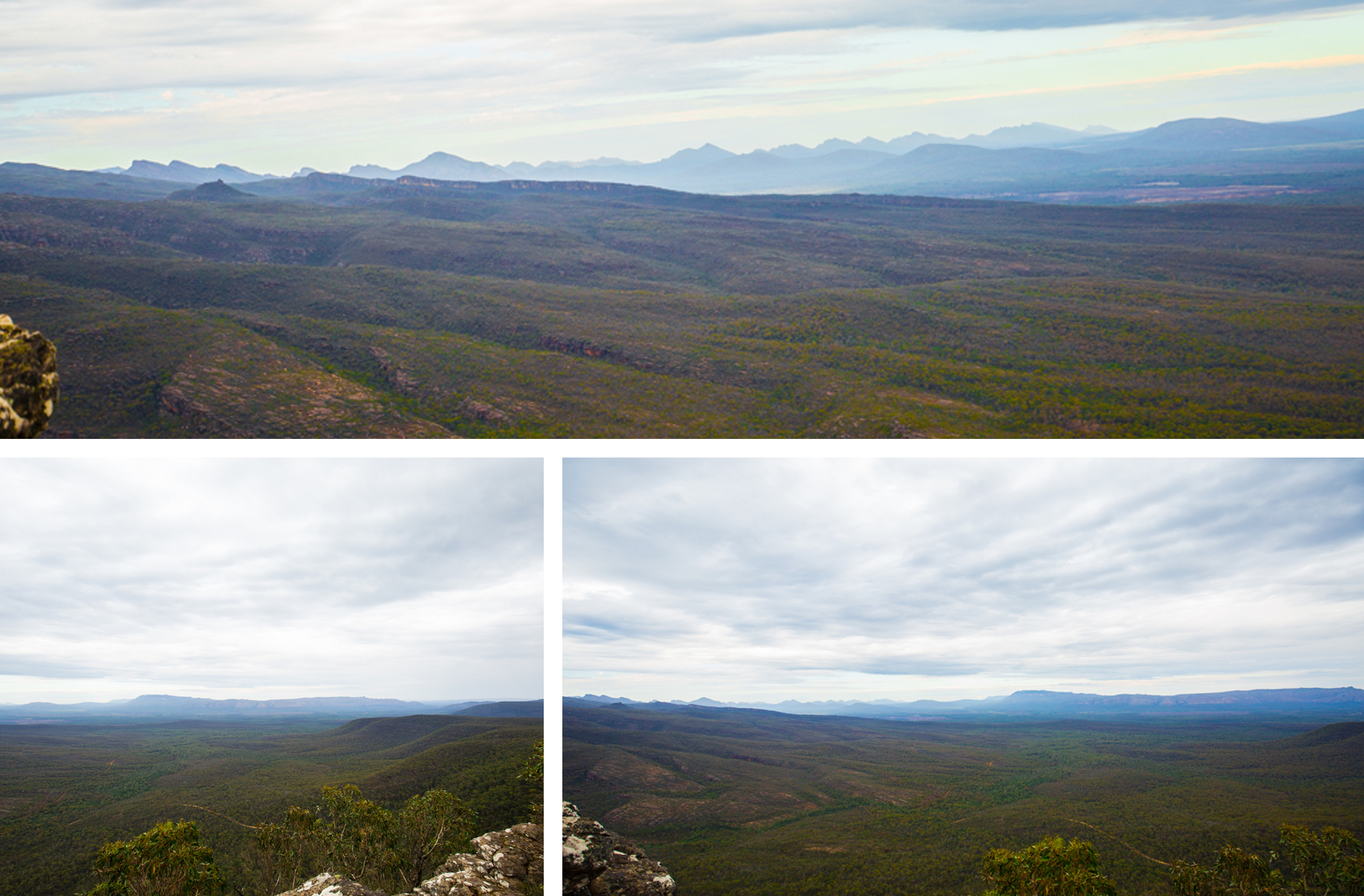 #4: Reeds Lookout, Halls Gap
Located in the heart of the Grampians National Park, Reeds Lookout offers unbeatable views of the Victoria Valley. Follow the path around the gate and along a sealed road to the summit; from there, you can see out over the whole valley as well as Victoria Range, Serra Range, Lake Wartook and the fittingly titled Mt Difficult Range.
If lording it over the physical world inspires you to physical activity, take your pick from the many walking trails and rock-climbing pathways surrounding the lookout. These are suitable for walkers of all abilities, and are famous for their beautiful wildflowers and native birdlife.
Our pick of the refuelling stops in this neck of the woods has to be Harvest Halls Gap. Here, you'll find fresh produce to eat in and take-away, including some of the best sausage rolls in the country (or so our tastebuds say!). And if you're planning on spending a few days exploring all the sights of the Grampians while road-tripping in the region, Meringa Springs takes the biscuit when it comes to luxury. Reward those achy limbs after a hike with a swim in their solar heated infinity pool and a night in one of their private villas where you can watch the sun set over one of nature's finest vistas.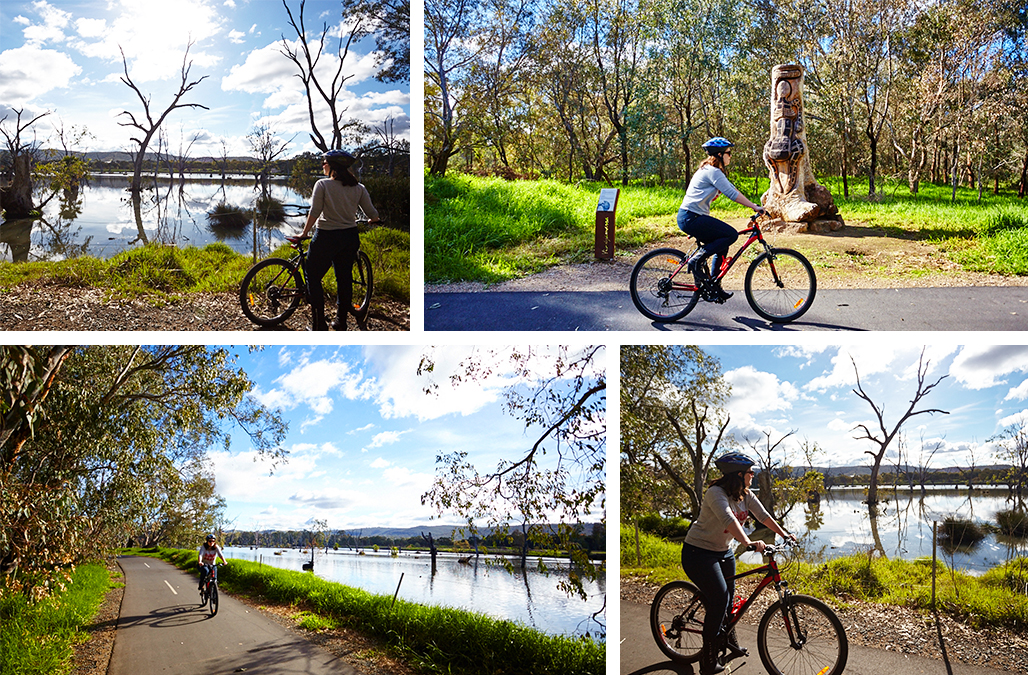 #5: The Murray River, Albury
Some of the Murray region's best places to get up close with nature centre around the mighty river itself. One of our favourites is the Yindyamurra Sculpture Trail, which can feel a million miles away from civilisation. When the sun peeks out, the Murray's waterways here turn into sapphire glass mirroring pelican flocks and tree skeletons. Grab a bike (Cycle Station will deliver your ride right to the start of the trail) and race between the wooden sculptures.
Or, better yet, jump on a paddleboat and experience the Murray in old-school fashion. Swap life in the fast lane for an hour or two of meandering past scrubby bushland and the odd snoozing koala, or opt for a private house boat instead of a cruise liner thanks to Murray River Houseboats' top of the line boat—aptly named 'Indulgence'. It lives up to its name with sun lounges, fresh flowers and a spa for ten... It's basically a floating penthouse.
#6: The Pinnacles & The Nobbies, Phillip Island
The natural rock formations that are The Pinnacles are one of the most Instagrammable places on Phillip Island. The walk to get there will take a couple of hours so ditch the thongs for decent walking shoes or hiking boots. For a shorter stroll head to The Nobbies, where the boardwalks roll through steep hills swathed in coastal greens earlier in the season (the hills can turn golden later in summer) and dotted with Cape Barren Geese.
If you're super keen, go at dawn and take the back road (The Boulevard) from the Penguin Parade site to get there for a super pretty hill top drive. You'll likely spot wallabies, more geese and birds of prey and some epic sea views. Remember to take some coins so you can spot seals lounging around their rocky offshore empire via the onsite binoculars!
Our top tip? Pick up your fish and chips at the San Remo Fishermans Co-Op on the way to Phillip Island's most famous hot-spots... Because nothing beats a dose of nature with a bellyful of hot chips.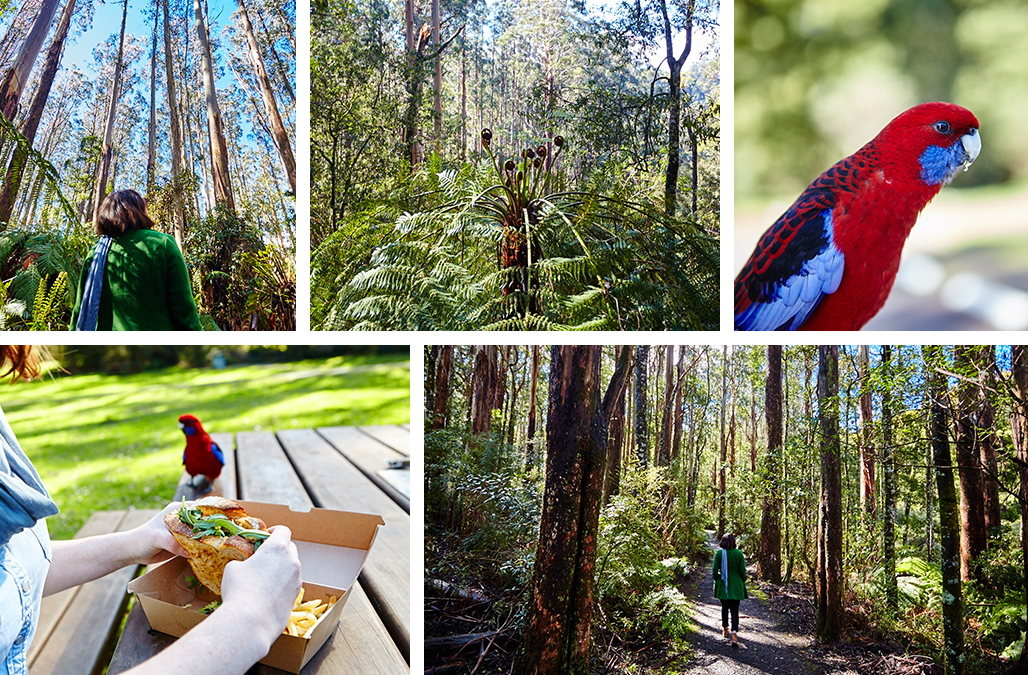 #7: Tarra Bulga National Park, Gippsland
Tarra Bulga National Park is a great place to experiece Australia's wealth of greenery and wildlife, amongst show-stopping trees and ferns that provide nature's antidote to shade on a hot summer's day. During pretty cruisey bushwalks (some wheelchair accessible too) it's all unfurling ferns, towering mountain ash and vibrant wattle around these parts. You can hear babbling brooks, lyrebirds enjoying a good old sing-a-long and you'll even spot teeny native robins hopping along your path. There are some top picnic spots here too, but you might have to fend off the Rosellas from stealing your Reuben though (we're serious).
If you're really jonesing for a dose of fresh air, grab a bike and head to the Gippsland Plains Rail Trail. There's 60+ kilometers of plains, flora, country towns and farms to ride through starting from Traralgon, but you can jump on at multiple points for a shorter jaunt.
As for accommodation, Mansi On Reymond is our pick of the bunch. Don't skip brekkie here—the smashed avo is a treat and they know how to poach their eggs juuuust right! Stuck for a dining experience that will blow you away? The Criterion Hotel serves a mouth-watering menu that is the epitome of decadence. Juicy pork belly, locally caught fish that's cooked to perfection, white chocolate and raspberry cheesecake, and cocktails galore. Please, please, please, can we eat here every evening?!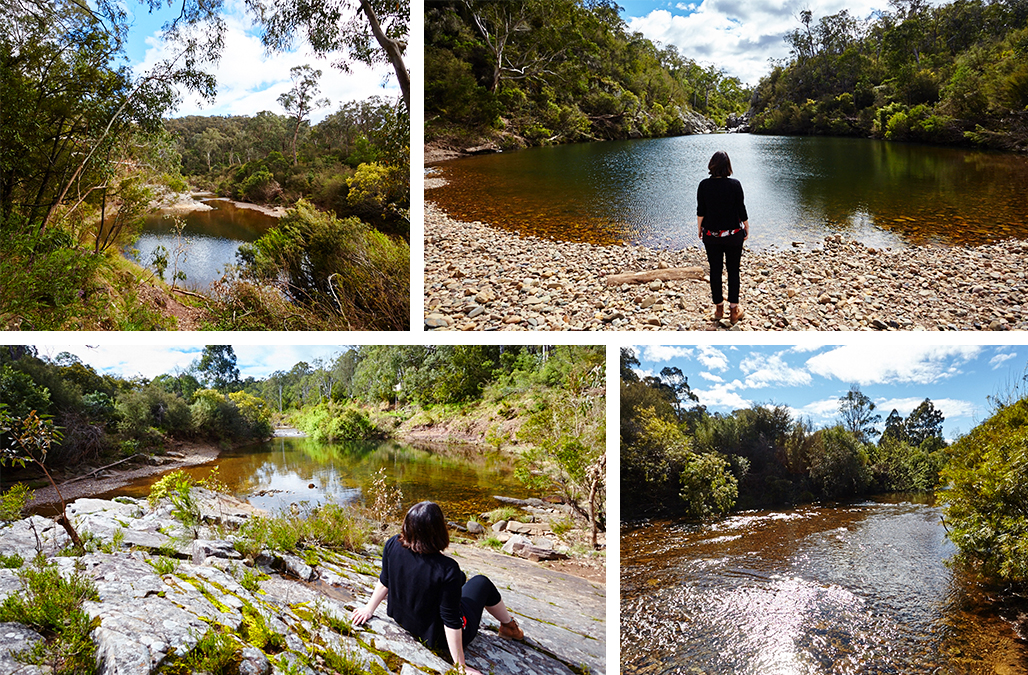 #8: Blue Pool & Freestone Creek, Gippsland
The little town of Briagolong has its share of secret swimming spots. Freestone Creek and Blue Pool are both beautiful, with Blue Pool being our pick. It's an almost teal billabong, ensconced from the outside world by a gorge. The multi-coloured pebbles sure are pretty at both places but pack your reef shoes to save your feet. Take an inflatable doughnut or lilo and your whole day will be set just floating about.
You'll also find some of the best cafes in Victoria in the Gippsland area, with Three Little Birds, Little Prince and Coffee Collective all serving some of the most delicious dishes for miles. We fell head-over-heels for Coffee Collective's sweet banana pancakes and Three Little Birds' French toast with strawberries, but if trendy Korean-inspired cuisine is your thing, you HAVE to drop into Little Prince for some wings, Thai salads and bao. So much goodness.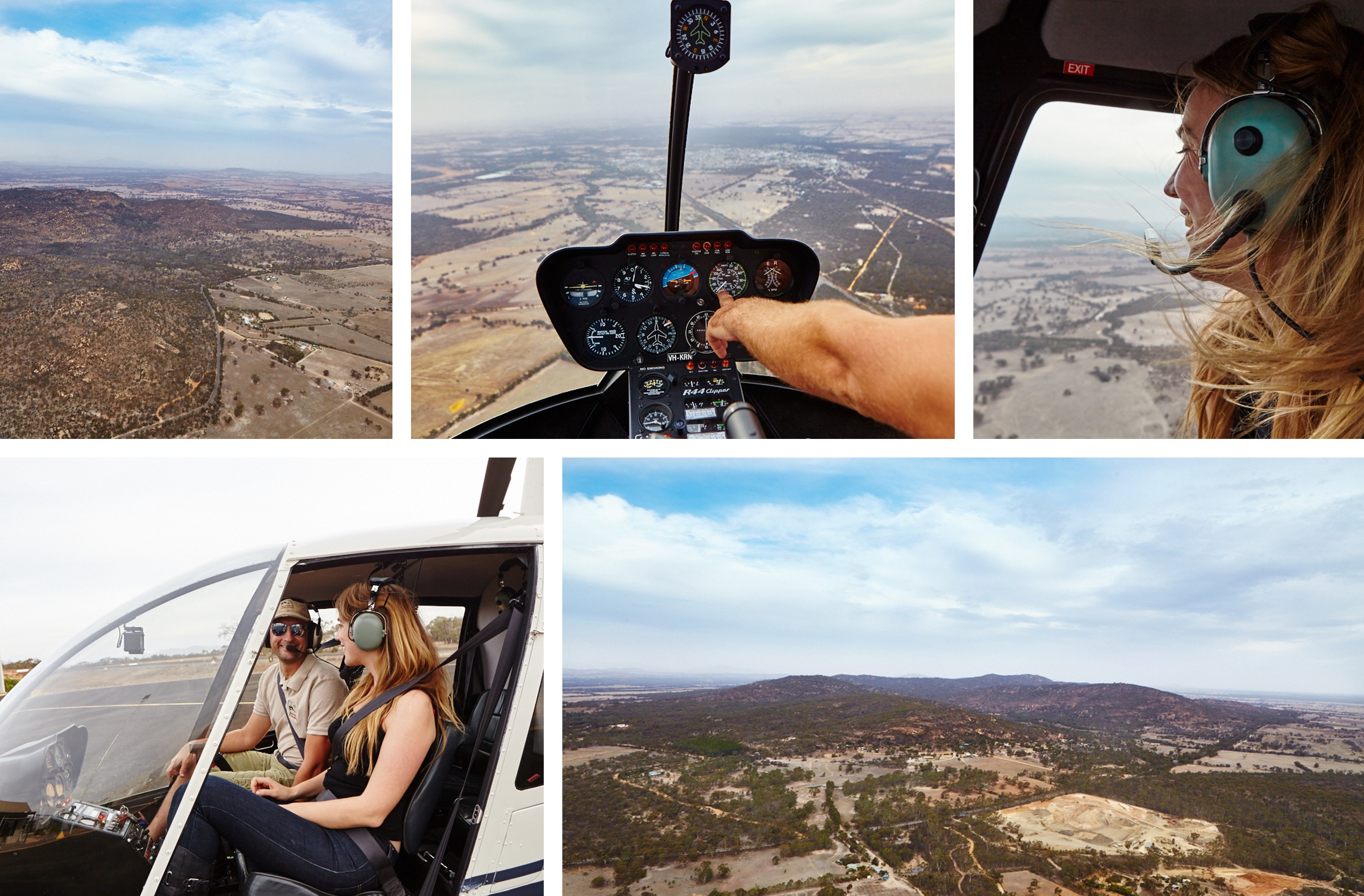 And to put it all into perspective…
Why not take a scenic helicopter ride to really get a bird's eye view of Victoria's phenomenal ranges, lakes and cliffs? No longer strictly the reserve of the über rich (or Bronwyn Bishop), helicopter joyrides start from $99 per person with Grampians Helicopters, and are highly informative and interesting to boot.
Get your adrenalin pumping on the Black Range Blast, which zips over the Black Range Scenic Reserve and back in only ten minutes, or go on the 25-minute Northern Loop over the Grampians National Park to see MacKenzie Falls from a panoramic perspective. Better yet, Grampians Helicopters partners with regional restaurants, wineries and farms to offers lunch, wine and picnic tours. That means you can fly off in a chopper with a group of friends to enjoy a three-course lunch that includes a wander through a vineyard to enjoy wine under the vines.
Could there be a more perfect way to tour Victoria? We don't think so.
Melbourne's an incredible city, but sometimes we all need to get out of town for a weekend. The Urban List has partnered with Visit Victoria to bring you our Get Out Of Town! series — the ultimate guide to Victoria's regional gems. For more ideas about where to wander through nature's finest hot-spots, click here.
Image credit: Michelle Jarni and Jenna Fahey White for The Urban List