Admit it. You're in a breakfast rut. The avo on toast at Three Bags Full? Smashed it. The baked eggs at Axil? Been there, munched that. My Mexican Cousin at St Ali? More like brothers from another mother.

While we appreciate the amazingness of the above cult breakfast dishes and their much-loved compadres, there is a whole world of mind blowing breakfast stuffs out there just waiting to be discovered.

For your breakfasting pleasure, we present to you 25 Amazing Melbourne Breakfasts You Might Not Have Tried. Jump in your Go-Go Mobile and get going – the search for the best breakfast in Melbourne continues!
GLASS MERCHANTS | BALACLAVA
Located next to the ever popular Wall Two 80 is impressive newcomer, Glass Merchants. While the breakfast menu looks pretty tasty overall, our pick is The Macho Breakfast – marinated slow cooked steak, eggs and tomato/capsicum relish. It'll put hair on your chest and a satisfied glow in your belly.
MISS JACKSON | ST KILDA
You definitely won't make a hash of ordering if you opt for the Potato and Leek Hash at Miss Jackson! This baby comes with smoked trout and poached egg on smashed mint peas and is mouth wateringly good.
GIDDIUP | SOUTH MELBOURNE
On the corner of Coventry and Francis streets in South Melbourne, Giddiup dishes up oh-so-good Field Mushroom and Gruyere Pita Toasties. Wash it down with a Karmic Cold Pressed Juice for a match made in heaven.
THR1VE | MELBOURNE CBD
Located in the shiny new Emporium food court is paleo fast-food outlet, Thr1ve. While there are all manner of healthy goodies on offer, the Paleo Pancakes are our pick! These little beauties are made with coconut and almond flour, free-range eggs, and maple syrup, topped with cinnamon and organic honey. Light, fluffy, delicious and nutritious.
GOLDEN CHILD | GLEN IRIS
We love this super cute little café out in the leafy burbs, renowned for their innovative breakfast offerings (like an Asian pork dish with Chinese pretzels. Yup, for breakfast!). So we perked up when we saw their FB feed last weekend…Eggs Benny with Harissa Hollandaise and the thickest of bacons. We'll be seeing you soon Golden Child!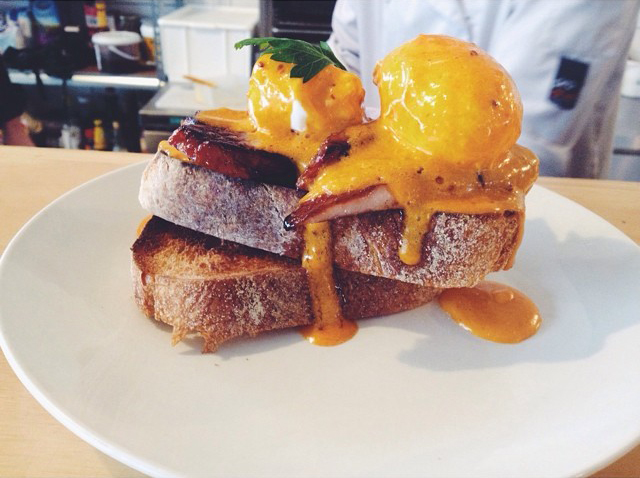 Image credit: Golden Child Facebook.
ADDICT FOOD & COFFEE | FITZROY
We were super impressed with this new Johnston Street café on our first visit on Saturday. While Addict Food & Coffee's breakfast menu is awesome (the pancakes were eye wateringly pretty on their journey to a neighbouring table), we can personally vouch for the Potato Hash & Mushroom Duxelles, with roasted field mushroom, poached egg and caramelised onion. Extremely instagrammable; downright delicious.
KANTEEN | SOUTH YARRA
Perched on the windy banks of the Yarra, Kanteen is a TUL favourite. Amazing in summer, it's also great in winter, as long as you rug up. The Spanish Eggs will warm the cockles of your heart – oven baked with goat's cheese, chorizo, Napoli, basil and parmesan. Drool.
ROCKWELL AND SONS | COLLINGWOOD
We may know and love 'em for their famous Double Patty Smash Burger with Kraft cheese, but we've recently been wooed by Rockwell and Sons' brekkie menu too. Here's looking at you Buttermilk Biscuits, Sawmill Sausage Gravy and Poached Eggs.
GRAIN STORE | MELBOURNE CBD
If you haven't been to the simply divine space in town that is the Grain Store, you must! And while there, might we suggest you wrap your sweet lips around the Buttermilk French Toast and Spiced Pear with passionfruit crème, apple puree, peppered caramel, and walnut praline? Lord have mercy.
MONTAGUE PARK FOOD STORE | SOUTH MELBOURNE
The manly element of the TUL office assures us Montague Park Food Store's Big Boy's Breaky is a winner, with eggs, chorizo, roasted Spanish tomatoes, bacon and hash browns served with toast and house-made relish. Go on an empty stomach, hangover optional.
TYRANNY OF DISTANCE | WINDSOR
For something a bit different, we love Tyranny of Distance's Breakfast Stack of House Cured Salmon, beet relish, horseradish romesco and spinach with two poached eggs on potato rosti. Tangy and tasty.
TRUE NORTH | COBURG
If you find yourself without a breakfast destination this coming weekend, we suggest you head North, True North. At this hipster-friendly Coburg café, the Heuvos Rancheros are our pick. Think two fried eggs, slow-cooked black beans, housemade salsa and avo wrapped in a warm corn tortilla. Nom.
TOUCHWOOD | RICHMOND
If you like to rise and shine with a healthy kick start to the day, Touchwood's Morning Grain Salad is for you. It's a superfood palooza on a plate, pumped full of quinoa, freekeh, wild rice, rocket, toasted almonds, chai soaked raisins, cumin yoghurt and topped with a runny poached egg.



Image credit: The Botanical Instagram.
THE BOTANICAL | SOUTH YARRA
Continuing on the #cleaneating theme, the Warm Coconut & Chocolate Chia Pudding at The Botanical is another great breakfast you might not have tried. It comes in a little pot, looks cute as a button and is a great gluten-free option. Chia seeds are soaked in coconut milk, raw cacao, spices, and palm sugar. It's then served warm with rhubarb, roasted buckwheat, sunflower seeds, almonds, goji berries, and cacao nibs. Who says healthy eating has to be boring?!
MISS MARMALADE | BRUNSWICK
Don't even get me started on how much I love eggs benny. Word from those in the Northside know is that Miss Marmalade in Brunswick do some of Melbourne's best. Our Bacon Eggs Benny comes with two perfect poachies, hickory smoked bacon, crusty organic potato and rosemary bread, hollandaise, micro herbs and a hash brown. Speechless.
EAST ELEVATION | BRUNSWICK EAST
Adventurous breakfaster? Go the Black Pudding, cavalo nero and poached eggs with horseradish, oven dried tomatoes and guindillas (peppers) on pumpkin bread at East Elevation. A hearty start to the day.
SMALL VICTORIES | CARLTON NORTH
We love tortillas any time, and the Breakfast Tortilla at Small Victories is a stand out. It comes stuffed with fried eggs, spiced braised Berkshire pork belly, queso fresco (white cheese), pickles, radish, peanuts, and coriander.
OSCAR COOPER | PRAHRAN
There's nothing fitter than a fritter! We love Luisa's Zucchini Fritters at Oscar Cooper. These balls of crispy veg goodness come served with tomato fondue, buffalo mozzarella, micro herb salad, white balsamic reduction and poached eggs. An interesting twist on a breakfast classic.
COOPER AND MILLA'S | ARMADALE
Sometimes the simple things in life are the best. A good ol' BLT is one such thing, and the one at Cooper and Milla's in Armadale is perfection. Here you'll find crispy bacon and cos lettuce, plus juicy vine ripened tomato wedged between Chirico sourdough, spread with fresh aioli. BL(is)S more like it.
CRISP | MELBOURNE CBD
It's no secret that Crisp make one of the best salads in Melbourne, however did you know they also have a damn fine brekkie menu too? Our pick is the Hot Creamy Porridge – delish oats served with fruit, nuts, or your choice of Crisp's other delicious toppings. At only $5 a serve, this is hands down the winner for healthy & pocket-friendly breakfast in the CBD!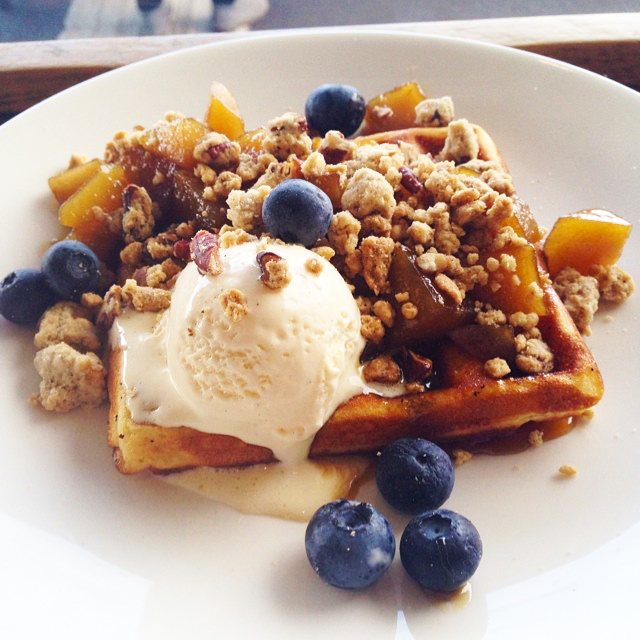 Mixed Business. Image credit: Hooroo.
MIXED BUSINESS | CLIFTON HILL
Mixed Business's Apple Pie Waffles. Yup. Buttermilk waffles topped with maple baked apples, pecan crumb and vanilla ice cream. Words cannot describe.
CHICCO | SEDDON
Need an omega-3 hit? Try the Norwegian Sardines at super cute Charles Street café, Chicco. They come with semi-dried tomato and walnut pesto and poached eggs, atop rye.
COMMON GALAXIA | SEDDON
Breakfast is always more fun when funghi's involved! The Mushies on Toast at Seddon's Common Galaxia are out-of-this-galaxy good. They come on sourdough, with haloumi, asparagus, 2 poached eggs and salsa verde. Deeelish!
PINT OF MILK | NEWPORT
We couldn't possibly do a best breakfast list without a Smashed Avo option, and our out-of-the-way pick is at Newport's Pint of Milk. They mix theirs with Persian fetta on pumpkin sourdough (so yum!), with a chilli, mint and broad bean dressing. Whoever says avo on toast is boring has obviously never tried this tangy version!
PATCH CAFE | RICHMOND
Perched on Bendigo Street in Richmond, Patch is the first dedicated paleo café in Melbourne and the cave-people are loving it. Everything on Patch's breakfast menu is super healthy, but our must-try is the Breakfast Salad of kale, avocado, pomegranate, almond, cauliflower and soft boiled egg. The best bit? Bacon is a paleo-friendly food, so add to your heart's content!
How many of these amazing Melbourne breakfasts have YOU tried?

Main image credit: Bon Appetit