Summer is here, the mercury is on the rise and Melbourne is turning up the heat. Thanks to our friends at Youfoodz, we're bringing you this bumper list of the 50 Best Things To Do This Summer.
While you're off galavanting around town dying to tick off all 50, Youfoodz is freeing up a stack load of time, pre-preparing delicious, convenient and healthy meals—perfect for when it gets too hot to be outside and you need to just collapse on the couch with Netflix, the AC and great food.
The days of curling up under a blanket with Jodi Picoult's latest soul-destroying courtroom drama while Jane Bunn preaches subarctic temperatures on the 6 o'clock news are over, and the time for summer adventures is nigh.
We've put together a list of 50 things you can do this summer in the world's most weather-deranged liveable city.
1.Catch a new release blockbuster at the Ben & Jerry's Openair Cinema on St Kilda Beach (go on a Sunday and you'll also be privy to free ice cream and live music).
2. Smash a $10 jug (or two) of beer or cider at the Shaw Davey Slum in Carlton (splash out and pair them with a $10 bowl of wedges too).
3. Pick up a $15 inflatable Icy Pole Lilo from Kmart and head on down to Laughing Waters, just thirty minutes from the city, for a lazy float and a tan.
4. Dust off your fanciest pants and head on over to French festival, So Frenchy So Chic, at Werribee Park. Make sure to pre-book an incroyable cheese hamper to collect on arrival.
5. Catch a new release at the Lunar Drive-In Cinema in Dandenong and pay only $30 for an entire carload of up to seven people (errbody's gotta have a seatbelt though guys).
6. Head down to Fed Square any weekend in December to catch the Food Truck Station and treat yourself to a smorgasbord of burgers, kebabs, tacos, donuts and like twenty other things that will clog your arteries.
7. Pick up some tickets for the Australian Open at Melbourne Park this January and see the word's best tennis superstars battle it out in temperatures of 40+ degrees while you sip Pimms from the grandstand.
8. Save some cash money and spend it on more Pimms while watching all the tennis action from the big screens at the Australian Open Festival at Birrarung Marr.
9. Kick back and enjoy some live music at Federation Square on Thursday evenings.
10. Feast on delish street food in the Queen Victoria Market ground on a Wednesday evening at the Summer Night Market.
11. Unearth the child within and head over to Luna Park on a Friday or Saturday evening to take advantage of the 2-for-1 Night Rider special, and enjoy an evening of late-night adrenalin.
12. Enjoy a decadent brunch of blueberry and ricotta hotcakes on the sun-soaked balcony at Top Paddock.
13. Get the gang together and pick up a pre-made picnic basket from the Stables of Como to enjoy in the Como Garden grounds.
14. Conquer the 1000 Steps Memorial Walk in the Dandenong Ranges and celebrate with a good ol' fashioned barbecue in one of the picnic huts.
15. Hire a tennis court at Albert Park Hockey and Tennis Centre for an hour and then cool off by the lake with a sweet treat from Carousel Café.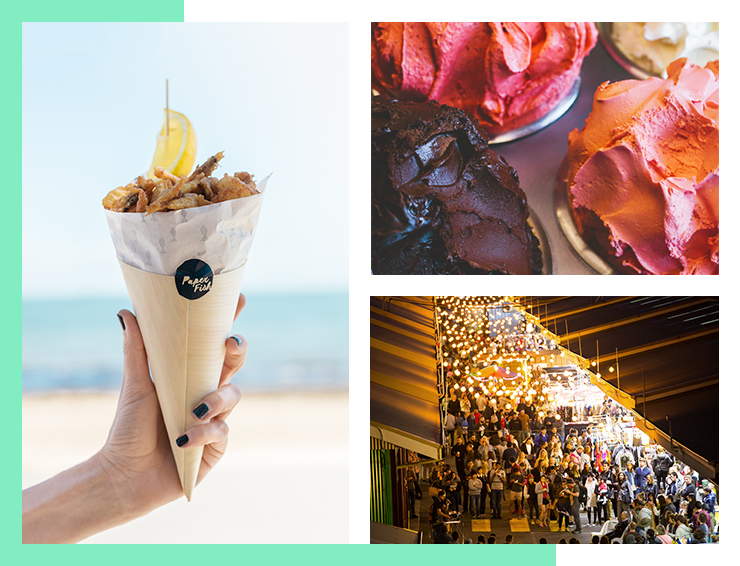 16. Catch Flume at the Sidney Myer Music Bowl in the Botanical Gardens on December 15th or 16th.
17. Buy a triple scoop waffle cone from Gelato Messina and spend the afternoon perusing Fitzroy's graffiti with a self-guided street art tour.
18. Bust out some free summer rhymes at F.M. Karaoke.
19. Catch another new release outdoors at the Moonlight cinema in the Botanical Gardens—BYO bean bag and summer picnic.
20. Head over to the NGV and check out the Viktor&Rolf exhibition (don't forget to post a photo on Insta so everyone knows how cultural you are).
21. STAY AT HOME ON WHITE NIGHT. Or, alternatively, grab the gang and avoid the crowds by pulling up a patch of grass at the Fitzroy Gardens for an evening of beer, cheese and Trump Against Humanity.
22. Visit Brighton Beach and update your Facebook cover photo with a panoramic shot of the bathing boxes.
23. Sink some beers, get severely sunburnt and dance the day away at the annual St Kilda Festival.
24. Grab a book from Readings on Lygon Street, and a gelato waffle cone from Pidapipo, and head to the Carlton Gardens for some 'me time'.
25. Catch some comedy at the European Bier Café on a Thursday night.
26. Do your mind, body and soul a favour and have a soak in Melbourne CBD's Japanese bath house—Onsen Ma.
27. Take in a classic film at the Astor Theatre with a homemade choc-top that'll change. your. life.
28. Hit the rooftop bar at Naked For Satan for a cocktail or three, courtesy of their open terrace and bar—Naked in the Sky.
29. Dig for treasure at the Lost and Found Market between 10am– 6pm on a Saturday or Sunday.
30. Tuck into a Chinese banquet of steamed prawn dumplings, vegetarian spring rolls and chicken fried rice at Shanghai Dumplings in China Town. Don't forgot to BYO multiple savvy b's from the Vintage Cellars down the street.
31. Visit Cremorne to checkout Lushlux's Kardashian-related graffiti murals (Kim's naked selfie on the side of a print shop on Gwynne Street, and Kim, Kanye and T-Swift can be seen from any train between Richmond and Flinders Street Station).
32. Go to Revolver on a Saturday evening and leave on a Monday morning.
33. Take a road trip to Torquay, walk the esplanade and brunch at the Front Beach Café.
34. Checkout the Chinese New Year celebrations at Federation Square on February 6–7.
35. Pop over to the Botanical Gardens for a Sidney Myer Free Concert at the Music Bowl.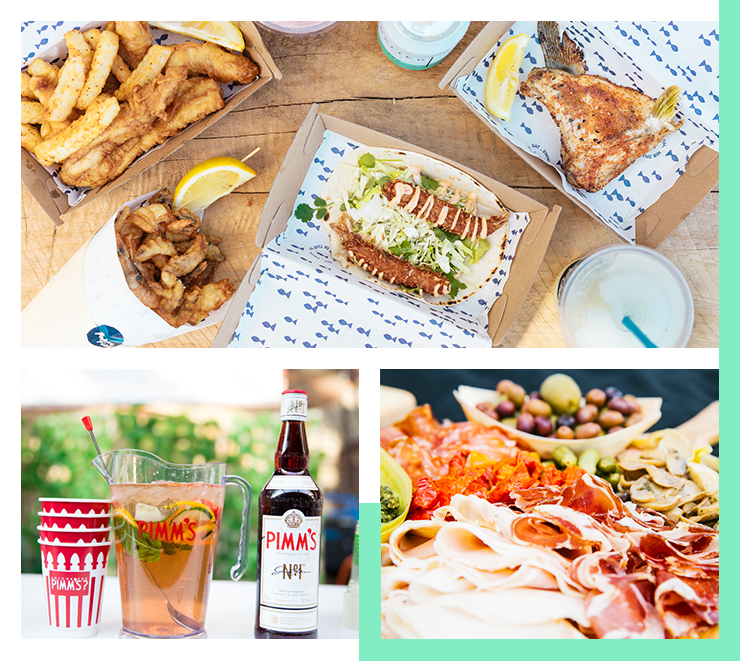 36. Cuddle up in a blanket and a fresh burger while you watch a chick flick (or a dude moov) at the Rooftop Cinema.
37. Spend your rent money on enchiladas at the Melbourne Latin Summer Festival at Kings Domain on January 7th.
38. Take in some live music and Malaysian old school comfort food at the South Melbourne Night Market on Thursday evenings.
39. Get your Banh Mi and pulled pork bao fix at the International Street Food Festival in St Kilda on March 19–20.
40. Get everyone together for a boozed-up brunch and head down to the Midsumma Pride March at St Kilda's Fitzroy Street on January 29 for some frocking good times.
41. Scale the Emerson and kick back with some cocktails on the rooftop bar.
42. Of an early (hawt) evening, head to St Kilda beach for a swim, grab some fish and chips from Paper Fish afterwards and take in the sunset.
43. Drink away an afternoon at Noisy Ritual—Melbourne's first people-powered urban winery.
44. Boogie down to Glass Animals, Gang of Youths, Aurora and Tame Impala at St Jerome's Laneway festival.
45. Road trip to Phillip Island for delicious coffee, fish and chips, fried chicken and penguins.
46. Sip Pimms and play croquet for sixteen days straight on the banks of the Yarra at the Royal Croquet Club.
47. Grab a tall glass of Frosé from the place that made it famous—Mr Miyagi—and wash it down with two or three Bombay Spider Crab Tacos.
48. Reserve a sunny summer's afternoon (or morning–we don't judge) for a drinks sesh at the Loop Roof rooftop bar.
49. Avoid the throngs of inebriated youths and watch the New Year roll in with a late night picnic in the Domain Parklands (or see in the New Year inebriated at Federation Square. Again, we don't judge).
50. Catch the One Day International against Pakistan on January 15th.
Editor's note: This article is proudly sponsored by Youfoodz and endorsed by The Urban List. Thank you for supporting the sponsors who make The Urban List possible. Click here for more information on our editorial policy.
Image credit: Griffin Simm for The Urban List