Arbory are not messing around. Not only have they brought back Arbory Afloat for a massive summer run, they've now added a second storey.
Yep, they've taken it up a level, physically and metaphorically. Arbory Afloat has just unveiled the new 'Upper Deck' rooftop—surely Melbourne's first ever floating rooftop bar?
The Upper Deck can host up to 116 guests, and it's available for private events if you really want to soak up those summertime feels.
So what's up there? Well for starters they've got a bunch of different seating options, including actual daybeds where you can lounge around like high-class lizards.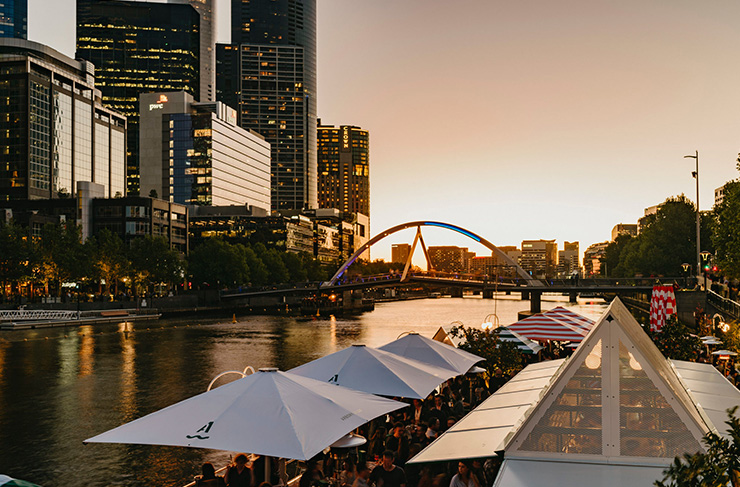 The guys are also running some special package deals. The premium package includes a magnum of NV Jacquesson Cuvee 740 'Dizy' Champagne, a selection of antipasto, a seafood platter with oysters, prawns, mussels and king crab and a selection of classic woodfired pizzas for $620. Fancy shit.
"We wanted Melbournians to be able to experience and appreciate the Yarra in a truly unique way," says owner Tim Botterill. "It was important to us that the Upper Deck was unveiled after daylight savings so that guests could enjoy loungey hospitality overlooking our mature citrus trees, all while taking in the beautiful Melbourne sunset." Well played, Tim. Well played.
And take it in we shall. Since it's opening last September, Arbory Afloat has already cemented its spot as the go-to destination for Melbourne summer.
The new-look Arbory Afloat is open seven days a week, including Christmas Day and New Years Eve, 11am to 1am.
Image credit: Arbory Afloat