Craft beer is everywhere in Melbourne these days. In fact, it's become so prolific that a lot of brewers prefer the term 'independent beer' (to differentiate from labels that were crafty, but then got bought out by CUB for millions and mllions of dollars). If you're new to the city, or the beer scene, the sheer amount of new breweries, bars and froths can be pretty overwhelming. The good news is, you're never far from a good pint in this city.
Here's our pick of some of Melbourne's best brew bars. Bottom's up.
Brews In The East
The Royston
Richmond
An institution in Melbourne's beer history, this backstreet Richmond pub was the first to serve Mountain Goat beers back in the 90s, and it hasn't slowed down since. Lured by the giant neon glow, barflies love The Royston's cosy, locals-only atmosphere. Take a seat at the enormous horseshoe-shaped wooden bar and indulge in one of nine rotating taps. The kitchen serves up a hearty mix of gastropub fare and classic Aussie pub food.
Slow Beer
Richmond
A European-style beer cafe, Bridge Road's Slow Beer combines Richmond's love of quiet, classy cafes with a heavily curated beer selection. Brews are available on tap, out of the fridge or off the shelf, with everything available to take away (even tap beer, as long as you provide a growler). It's a tiny space absolutely crammed with a giant selection of beers, both local and international. Grab one of the most amazing gourmet toasties on the planet, a crafty pint, and take a seat at the window. Happy days.
Moon Dog
Abbotsford
Certainly not the biggest brewery in Abbotsford (that red brick behemoth is just around the corner, but forget that), but definitely the best. Moon Dog is known for an eccentric approach to brewing, with the brew bar combining zany décor (flamingo lamps and a giant painting of John Candy) with boundary-pushing beer. Everything is brewed on-site, so the IPA is fresh as possible (try Jukebox Hero or the new Suncat), and pizzas are served hot and crisp from a tropical caravan out front. Be sure to head along on Wednesday to try your luck at bingo or the meat tray raffle.
East of Everything
Camberwell
A bit of a diamond in the rough, East of Everything is the sort of place you'd never know existed (if you didn't have mates like us). Hidden away above Bar None in Camberwell, East of Everything boasts killer city views and six rotating taps featuring some of the best of Victoria's breweries. While you're testing the taps, treat yourself to a Cajun chicken quesadilla or classic-style cheeseburger. You deserve it.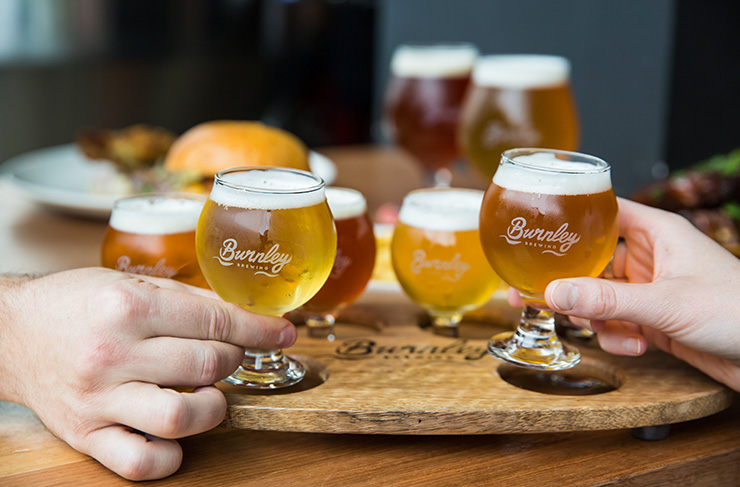 Photography: Jenna Fahey-White
Burnley Brewing
Richmond
Love these boys. They took over the old Romulus & Remus site in 2017, but they loved the food so much they kept most of the kitchen staff on. So not only can you tuck into a crazy-good tasting paddle, you get old-school Richmond classics like American-style sticky lamb ribs (outrageously good, just FYI) alongside Italian classics like crispy gnocchi with peas and chorizo. If you want to hear a good story, ask the Burnley Brewing boys how they got those ceiling-high super brew tanks into the restaurant...
Brews In The North
Carwyn Cellars
Thornbury
Melbourne's Mecca for craft enthusiasts, Carwyn Cellars is a shining beacon of the scope and depth of the craft beer scene. Featuring an unbelievable 20 taps, and access to a range of rare and unique beers rarely seen elsewhere, this is the place to go for beer-induced sensory overload. The newly minted beer garden provides a sunny spot to plant yourself as you try (in vain, no doubt) to bravely explore the never-ending beer selection. Line that stomach with some killer local food (plenty of places will deliver straight to your table) and hold on for dear life.
The Terminus
Fitzroy North
Serving beer for 150 years, The Terminus combines a classic pub atmosphere with a constantly updating and broadly appealing beer list. Sixteen constantly changing taps include a selection of brews unseen elsewhere, and regulars are treated to some seriously memorable debuts. The venue itself is split into four, so there's a range of atmospheres, depending on your mood. Quiet meal in the dining room? Maybe a pint of pale in the sunny beer garden? When the beer is this good it hardly even matters.
Beer Mash
Collingwood
Beer Mash is a super cool Smith St venue. It used to be almost-exclusively for growler takeaways, but now it's expanded into a well-rounded beer bar. A crazy amount of taps with a focus on the weird and wonderful (Scandinavian brews are often featured) and the tiled tap wall is littered with custom lettering to signify the beers inside. Get into the growler game or just crack a tinnie and catch up on your people watching. Pro tip? Head downstairs and discover the hidden cocktail wonderland that is Above Board.
The Mill Brewery
Collingwood
Collingwood's newest microbrewery has just celebrated its first year of life, but the quality and breadth of brews available suggest it's been a very busy year. Set on quiet Sackville St, The Mill is a tiny garage space with fermenters at the back, a little bar and a smattering of tables and barrels out front. Beers are up-to-the-minute styles, with fresh hop hazy IPAs and fruited sours, as well as the more easy-drinking pale ales. While away those lazy weekends with a friendly game of table tennis, or grab a table outside and tuck into the regular food truck rotations.
Brews In The CBD
The Penny Blue
CBD
Tucked away down an alley just behind Emporium is one of the CBD's best little spots. The Penny Blue is unpretentious and caters to a diverse crowd, but beer-lovers are sure to get the royal treatment. A mishmash of cosy couches provides the best atmosphere to pick a bottle from their extensive chilled selection, sink in and let time go by. A new menu of beer snacks (stuffed nachos sound good with pretty much anything, right?) makes this a great after work option.
Sun Moth
CBD
Sun Moth is a cafe by day, but at night it's heavily beverage-focused, with an eye towards craft beer and natural wine. Think minimalist interior, projectors playing old movies silently in the background, and various DJs providing the score. Hidden away down Niagara Ln, nestled behind historic warehouses, Sunmoth is cooler than your average...and the sort of place your friends will wish they'd known about first.
Whitehart
CBD
Whitehart is fairly new to the city's growing craft market, but it's already held in great esteem. One of a handful of places to receive a keg of Feral's insane fresh hop IPA Tusk (weighing in at a crazy 11% abv) means they're making waves already. The place is unique in that, despite the curated beer selection, it also provides a lively atmosphere. Drink the best beers around while dancing outside down a lane outside a shipping container? Go for it.
Cookie
CBD
A mainstay, sure, but there's a reason. A couple of floors up on Swanston Street, Cookie is a beautiful cocktail bar and restaurant that also happens to have a killer (and very long) beer list. The focus is broad, with selections being brand-new local ales or distant European styles (which you hardly ever see around town). If you're stuck, the knowledgeable (and dapper) bar staff are always happy to assist. The hoppy beers pair so well with spicy and fragrant Thai food too, so it'd be remiss not to sit down for a bite while you're there.
Brews In The South
The Local Taphouse
St. Kilda East
One of the kings of Melbourne beer for nearly two decades, The Local Taphouse may sit a few clicks away from the brewing scene's northern epicentre, but that does nothing to diminish its quality. With a frankly intimidating amount of taps and a heavy roster of beer events, The Taphouse is a trip worth taking. Sunday night is for trivia, but it fills up early and there aren't bookings, so you've got the perfect excuse to plant yourself and try a tasting paddle. Keep an eye out for Ale Stars events too: they're in-depth chats with local brewers and the chance to drink beer under the guise of education. Win-win.
Boatrocker
Braeside
Consistently one of Melbourne's best breweries, Boatrocker's Braeside Barrelroom is the South's best brewery bar and home to some incredible beers. From their light and fruity Miss Pinky to the beastly Ramjet (11% barrel-aged stout), Boatrocker can cater to all tastes. Can be a bit of a trek for non-locals, but honestly it's worth the Uber just to be able to drink these pristine ales in their natural environment.

Photography: Griffin Simm
The Hack
Port Melbourne
Easily one of the most beautiful openings we've seen in the last few years, Hack Brewing recently took over a historic hotel site at the top of Bay St, Port Melbourne. They turned it into The Hack, a dedicated brew pub with the stylings of a hip cafe...and Limp Brisket in the kitchen. Our pick? Grab a pint of the Hack 'Easy Ale', sit yourself down outside in the late afternoon sunshine, and tuck into the Classic Limp Brisket bun—layered with tender, smoked brisket, spiked with McClure's pickles, mustard and BBQ sauce.
Otter's Promise
Armadale
Another beer store and bar hybrid, Otter's Promise is a beacon of brews on High Street, Armadale. Recently granted a license to serve drinks on-premise (as opposed to just takeaway), local hop heads should make a bee-line for this former wine store. Six taps feature a mostly local focus, but with wine by the glass and a fridge full of tightly sealed delights, it's expansive enough to suit all tastes.
Grape and Grain
Moorabbin
Grape and Grain is a Moorabbin bottle shop and bar, set up by liquor industry stalwarts to emphasise that buying beer (and wine and spirits) should be about fun. That just sounds right. And with a serious selection now available on twelve rotating taps, it doesn't get much more fun than this. Whack it in Google Maps and follow your nose. Well worth the drive.
Brews In The West
Mr West
Footscray
Brand new and already an industry leader, Mr West is Footscray's home of fine drinking. In the west and want a decent beer? How does 24 taps sound? Extensive bottle list? Cheese and charcuterie? Sounds about right on the money. While the food menu is compact and mostly of the snack variety, you're welcome to bring your own from local establishments.
Junction Beer Hall & Wine Room
Newport
Right next to Newport Station and one of Melbourne's longest servants of the craft beer movement—welcome to Junction Beer Hall. It's a traditional pub separated into smaller spaces, with a craft-focussed bar and dining room with a large beer selection (18 taps and 80 bottles) and a comprehensive food menu. Food is real classy pub fare. Think scotch fillets and bearnaise or chorizo and pork belly pizza. Exactly the sort of thing to help soak up those local stouts on a cold Newport night.
The Park
Werribee
The idea that only inner-city types want craft beer is so outdated. Werribee's brew bar, The Park, is one of Melbourne's finest institutions. Just a few metres from the train station, but don't confuse it for some sticky dive bar. With 23 rotating taps (including a hand pump and nitro), plus 250 bottles in the fridge, The Park is setting some standards. Food is killer, with an award-winning chef and a huge variety of styles in their seasonal menu—anyone up for soft shell crab po-boy or Korean BBQ bao? They go so well with whatever you're drinking.
Still thirsty? Here are our favourite craft breweries in Melbourne.
Image credit: Annika Kafcaloudis