From drinking holes galore to sweat-soaked gig venues, meatball sliders to fresh Mex, healthy delights to homemakers' heaven, Richmond is a shiny, happy playground for many a Melburnian. In our humble opinion, here's the best of the 'burb.
SWAN STREET
EAT
While Swan Street eats may sometimes involve a dirty kebab at 3am, if you dig deeper it's a real foodie's delight. The original Fonda is more low-key than its Windsor and CBD counterparts, dishing up some of Melbourne's best Mexican street food. Think fresh rockling tacos, super filling chopped beef burritos and aguas frescas (delicious fruity beverages that can be spiked with tequila if you so desire…and we sooo do). Swan Street should possibly be renamed the Mexican mile, as it's also home to our fave taqueria, Chingón, and family-friendly Mexicali Rose. Serving delish food for over 30 years, the latter is clearly striking a chord with Latin-loving Richmond locals. With a super cute rooftop terrace perfect for cerveza sipping on a summer's eve, Chingón keeps it simple with a menu that pretty much consists of tacos, charred corn and salsas. The blue corn tacos are a steal – grab four for $23 and you'll be sat-is-fied (our pick is the fish). The margaritas pack a punch – you have been warned. Oh, and don't go too nuts on the drinks as it's cash only.

If meatballs, sliders and ice-cream sangas are more your thing, the Richmond outpost of The Meatball & Wine Bar is for you. Dining here is super easy. Just choose your ball (beef, pork, chicken, fish or veg), your sauce (red, white or green), and something for it to sit on (might we suggest the MB smash) and soak up all those meatbally juices. The sliders are some of Melbourne's best, too. Whatever you do, leave room for the famous Whoopie Mac ice-cream sandwich (the gingerbread cookie is our fave).

The Beer & Burger Bar has that fail-safe combo – frothies and man-sized burgers. Served on a brioche bun, wash down one of Melbourne's best burgers (roast pork with grilled pineapple, apple relish, Asian slaw and salted pork scratching – let me atcho!) with your choice of 40 plus beers and ciders. Nom.

Speaking of all things #cleanliving, health nuts of Melbourne are crazy like a coconut over The Nutrition Bar. After opening in February, it's now doing a raw-ing trade in green smoothies, protein shakes and balls (soooo yum), and one of the best acai bowls in town.

If you're looking for breakfast or brunch, Swan Street has you covered with old Greek faithful, Demitri's Feast. Baklava French Toast, people! One TUL staffer also raves about their hot chocolate, which is 'just like drinking from a chocolate fondue fountain'. Friends of Mine is another of our favourite spots for the morning after the night before. With a cosy-chic fit out, great coffee and accompanying queues, the smashed avo is one to write home about, served with thyme buttered mushies, feta and basil on multi grain. We're also mad for their scrambles and, if you're really hangry, the lamb meatball piadini is a friend of yours (and mine).

Speaking of pals, if you've got a few, round 'em up and head to Feast of Merit for their 12-hour slow cooked lamb joint with harissa. Not only does Feast of Merit dish up truly delicious Middle Eastern inspired nosh, they're an ethical bunch too. Owned and run by YGAP, there's a focus on local and sustainable produce and fair prices, with profits supporting various youth education and leadership projects at home and abroad.
For Euro cuisine and a great wine list in stylish surrounds, Union Dining, with its gorgeous white-tiled frontage is always a classy option (it has date night written all over it).

Another Swan Street gem is Love Pho, for piping hot bowls of the good stuff.

DRINK
For fans of al fresco boozing, a cracking parma or pub steak, and live music, the Corner Hotel is a golden gig venue slash pub. The Corner is a Richmond icon and we love her casual charm.

The Richmond Club Hotel, fondly dubbed RCH by us locals, is a shrine to good times. This multi-levelled behemoth has both indoors and outdoors covered with something for everyone – live music, a heaving d-floor, great pub menu, various bars, nooks, crannies, private booths, smokers' corners…we could go on. Great for a Friday night on the razzle, and a popular Sunday session for the Richmond massive.

Meanwhile, next to Richmond Station, the more intimate Holliava wine bar has recently had a bit of a facelift, and she's now purrtier than ever.

The Meatball & Wine Bar.
PAMPER
Dapper Richmond lads look no further than the awesomely-named Dr Follicles to take care of their, err, follicles. Meanwhile, bendy folk of both sexes are well catered for with one of Melbourne's best pilates studios, KX Pilates. With a bunch of classes each week for all skill levels, head here to sculpt and strengthen your body under expert instruction.
SHOP
From groceries to gifts and books, Swan Street's also got its fair share of shopping gems. One Swan Street stalwart is the charming Bertie's Butcher; the spot it occupies has been a butcher store since 1870, run by a small succession of families over the decades. Bertie's is all about provenance – it's your go-to for top quality local and ethically sourced meats. They've now also fired up the smoker and opened Little Bertie's out back, where they're dishing up brekkie and smoked-meat lunches.

For gifts and homewares, the super sweet Lily and the Weasel has a highly browsable selection. Stock up on Melbourne-made triple milled soaps, quirky Robert Gordon ceramics, Nancy Bird accessories and Have You Met Miss Jones goodies.

Nelson Brown also stocks a gorgeous range of homewares, accessories, soft furnishings and gifts. We love the delicate, pastel ceramics and scented Paddywax candles.

For a unique gift, Hut 13 is a bright and cheerful interiors and accessories store that sells the wares of local creatives.

Royal Order of Nothing stocks a range of local and international threads and accessories for girls, guys and littlies, while Richmond bibliophiles are catered for with the fabulous Booktalk – a welcoming treasure trove of new and used titles (plus café).

CHURCH STREET
EAT


Pillar of Salt
To start your day off right, our Church Street breakfast faves include The Fair Foodstore – a super cute corner café on the quieter part of Church Street between Bridge and Victoria – and The Old Barber Shop Café. No fuss and welcoming with street-side seating, our Barber Shop picks are the croque madame and acai bowl with granola and guarana. Delicious and nutritious!

While you're pretty safe opting for one of these two, the next two brekkie and lunch options attract EPIC waits on the weekend. But they're worth it! Located down the Alexandra Avenue end of Church, Top Paddock is a gorgeous light and airy space that churns out amazing Five Senses brews on lean, mean caffeine machines. The bircher is one of the prettiest you'll find, and the chilli scrambles with mushrooms and feta come highly recommended. Recently voted the best cafe in Melbourne.

Up the road towards Swan, Pillar of Salt is a firm TUL breakfast, brunch and lunch fave. The chicken schnitz is a people pleaser, while the cycle set should give the Californian super food salad a spin. Try and score a seat in the great courtyard out back.

For top shelf pizzas and pasta, there are two great options on Church – Chris Lucas's Baby (make sure you get the wickedly delicious pizza dolce for dessert – think salted caramel, pear and nougat gelato) or the Royal Saxon. A popular Church Street watering hole with the after-work crowd, you can dine inside or amongst the trees in the lovely open-air courtyard. You might think it's a drinks spot only, but the Sax serves really amazing Italian food.



Church St Enoteca

Church St Enoteca is another Italian gem, with a more fine dining approach. A sophisticated option for a date, special dinner or business lunch.

Moving on, Richmond Oysters is a real pearl (groan) if the freshest of fresh seafood floats your boat. And it's not just the slippery suckers on offer. Dine in, or take away a fresh shrimp haul to throw on the barbie at your leisure.

After much anticipation, Lucas's Kong has finally arrived on Church and, yup, this Korean BBQ joint is worth the hype. We might wait 'til the queues die down before taking a second bite, but the TUL team dined there recently and were pretty darn impressed. Must-tries include the smoked brisket buns, hot wings and kalbi short beef rib.

Finally, for a cheep and chic(k) dine in or take away option, The Pecking Order does great things with poultry. And you get popcorn while you wait. Huzzah!
DRINK

Royal Saxon

All that eating is thirsty work, so luckily Church Street has an eclectic bunch of bars and pubs. Aside from the Saxon, our picks are the Prince Alfred Hotel (PA's) with its slightly grand vibe, cosy fireplaces and massive beer garden, prime for summer sipping, and notable all-rounder Maeve Fox.

If you like no-frills pubs, The Great Britain is grungy enough to tickle your fancy, while the quirky Bar Economico mixes some sensational cocktails. In this stylishly rundown rum haven, drinks come in plastic after you've pre-purchased drink vouchers.
SHOP
If you're in the market for big ticket items for the home, Church Street is the altar you'll be worshipping at. Think Coco Republic, King Furniture, Poliform and the like.

If you have an eye for modern design and a champagne budget, you'll have a field day in SPACE, while Meizai also stocks stunning pieces from international designers. If you like reclaimed, repurposed looking tables, cabinets and furniture, you'll adore what's on offer here.

Homewares shopping is exhausting, so you'll need a sweet treat on the way home. Drop by La Belle Miette for mouth-watering macarons, or hit up Pana Chocolate and stock up on their famous raw, organic, vegan choccies. Or grab a seat and refuel with a coffee and sweet treat.



Image Credit: Meizai

BRIDGE ROAD
EAT
What was formerly a shopping destination has transformed into a bit of a dining hub in recent years. Bridge Road has an abundance of excellent breakfast and lunch options, in particular. Relative newcomer, Touchwood, has earned a reputation as one of the best cafes in Melbourne, and we reckon it's up there. The smashed avocado with beetroot relish, burnt lime, picked red onion, coriander, mixed seeds and sumac salt is amazing, as is the super generous serving of chilli scrambled eggs, with the morning grain salad a healthy option.

Mazzitelli

Gypsey & Musquito is a cute and homely café with an Aussie outback inspired menu. The pie boxes and steak sandwiches I can personally recommend as yum yum pig's bum, there's a great salad selection in the front cabinet, and for afters there are snot blocks and lamingtons, plus an array of bush teas. Full of unique charm.

Up the Hoddle Street end, Fifty Acres is also great, dishing up Dukes and yummy brunch fare in sleek surroundings. Make sure you order a side of the balsamic mushrooms. Mmm.

Across the road is the much loved vego fave, the Tofu Shop. Head here for the most delicious vegetarian and vegan fare you'll find in Melbourne. Don't dig bean curd? You will after a visit to the Tofu Shop. Promise.

Mazzitelli and Richmond Hill Cafe & Larder are great options any time of day. In the AM, the former is not too frantic and does a mean eggs benny, while Larder is a Richmond brunching institution with a charming European vibe and classic dishes that always go down a treat. The cheese room is a sensorial delight and they run regular wine and cheese nights. Um, yum. By night, Mazzitelli is all authentic Italian charm, with its welcoming array of strung small-goods and aperitivo and antipasti from 5pm – 7pm, Tuesday to Saturday. If you're there for dinner, the prosciutto san Daniele is a moreish nibble to start with, and the pasta options might include an osso bucco gnocchi. Comfort food done oh-so-well.

Bouzy Rouge is a gorgeous option for drinks and tapas in the cosy front bar, or a bang up meal in the glitzy restaurant – think Venetian mirrors and animal skins (care of Ralph Lauren). Opulent and intimate, there's also a courtyard for summer dining. The menu is Mediterranean inspired, with their paella a big draw card.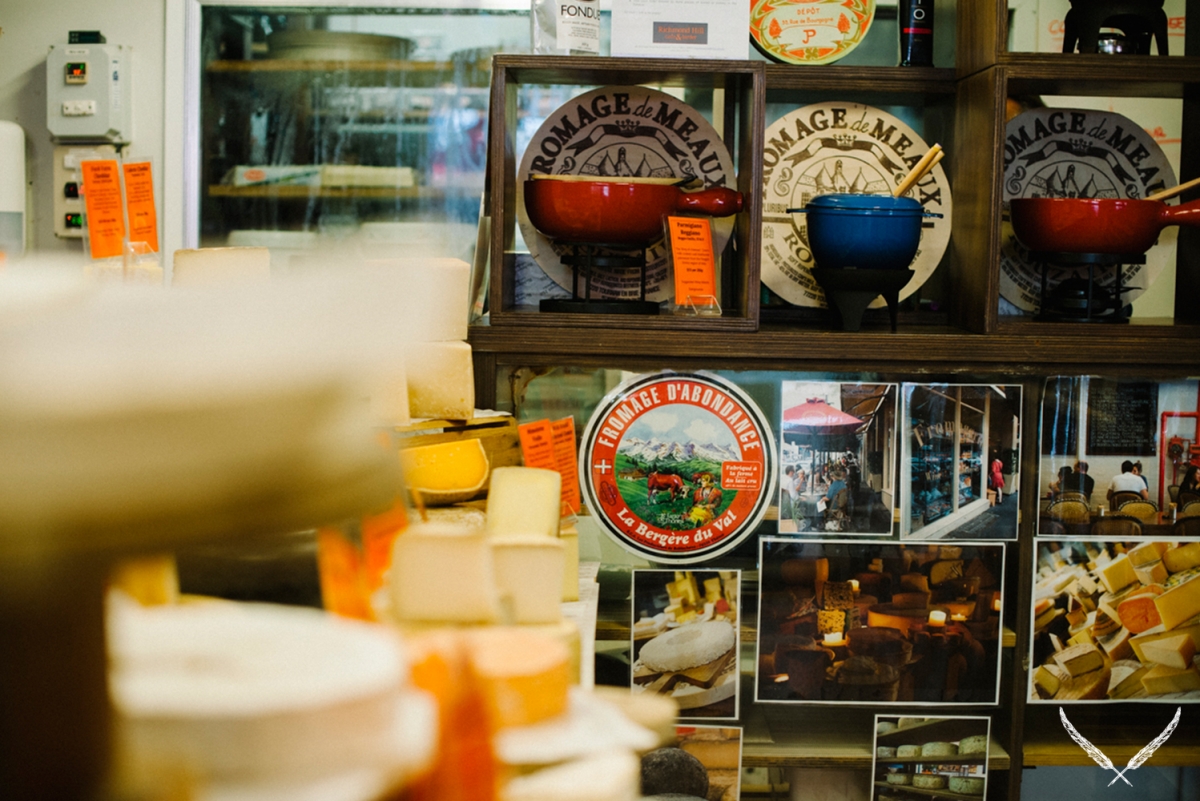 Richmond Hill Cafe and Larder

Gllow is a bit of a local's secret for cheap and delicious take-away Taiwanese, while Maedaya Sake & Grill is Richmond's coolest Izakaya. It's affordable and tasty, you order by iPad and there's a HUGE selection of sake on offer.

If you need a low-guilt sweet treat to finish your evening, Frozen by a Thousand Blessings is a family-run fro-yo affair (from the people behind popular café, A Thousand Blessings). They use biodynamic milk to make their amazing frozen yoghurt, and most of their toppings are organic and locally sourced. There's also a sugar-free stevia option. Totally healthy 'til you pile on the berries, halva, granola, choc chips…
DRINK
It may look average from the outside, but skip the lower floors and mosey on up to the rooftop at the Mt View for one of the best views in Richmond, if not Melbourne. With live music on a Sunday and cute coloured lights at night, it's a great spot to while away the weekend.

The Collection is famous for its cocktails, with our favourite being the popular cucumber gimlet. After a few, you might like to feast on the delicious Cajun-style menu. Their Wednesday steak night comes with a twist – their sirloin comes mesquite smoked, with a side of whisky BBQ sauce.

Down the Burwood Road end, The Bridge Hotel, is a quirky drinking option. It's a charming rabbit warren of different bars, rooms, balconettes, dance floor, dining room and a cool indoor-outdoor European laneway-inspired courtyard.
PAMPER
If you're in the market for some high tech beautification, NeoSKiN is one of Melbourne's best skin clinics, with tailored solutions for your needs (and a fave of our girl crush, Zoe Foster-Blake). They focus on targeted treatments like laser, peels, microderm and injectables.

Body Active is a holistic healthcare centre, where the friendly staff will look after all your wellness needs – from remedial massage and dorn therapy, to acupuncture and naturopathy. Body Active is also home to Inner Core-set Pilates, one of Melbourne's best boutique pilates studios. Deryn gives loads of one-on-one attention in her small reformer classes.

The amazing Barre Body has also opened a light and bright Bridge Road pop-up. Head here to tighten and tone that tush with a fusion of yoga, ballet barre, pilates and isometrics.

If your digits are in need of a little pick me up, Trophy Wife Nail Art should be your port of call. While you can get your regular old fire engine red, we recommend you give them free creative rein as they do some of the best nail art in Melbourne. A fistful of strawberries? Why not?



Image Credit: Inner Core-Set Pilates
SHOP
For your next Richmond picnic, head to Laikon Deli for delicious charcuterie and deli items, and to Slowbeer – a dedicated beer-only bottle-shop – for your craft brews. It's like Nirvana for beer lovers, and you can also drink in and enjoy hops-friendly nibbles likes olives and cheese.

Fashionable fellas can suit up at Bridge Road's Godwin Charli store, while there's a Gorman outlet for the ladies, and a white and airy sass & bide store.

Homemakers should browse the high quality Spanish colonial timber furniture and chic neutral homewares and ceramics on offer at Zuku Trading.
VICTORIA STREET
EAT
You might think that Little Vietnam begins and ends with pho. And there's a lot of it, that's pho sure. So how do you know where to get your slurp on when dining on Vic Street? I Love Pho 264 is hands down our pick for the best pho in Richmond, with Pho Chu The is a close runner up.



I Love Pho 264

Continuing on the Vietnamese theme, the bright green Ha Long Bay is a stand out for affordable, fresh and fragrant Vietnamese / Chinese cuisine, like yummy stir-fries and the ubiquitous star anise broth. Binh Minh is another old faithful and Ying Thai spices things up near the corner of Hoddle. We love the seafood pad ke mow, and the papaya salad. Delish! If you wanna get down and dirty with Peking duck and BBQ meats, the no-frills Pacific Seafood BBQ House is for you.

For authentic Japanese cuisine, SHIZUKU is a rare gem amongst the Vietnamese joints. Try the karage popcorn chicken (nom) and their five star pork belly ramen. Everything is dished up with a generous side of Japanese hospitality.

For brunch, kick it with the cool kids at Little Big Sugar Salt. Firstly, choose whether you want something little or big, and then either sweet or salty. We rarely pass up their acai bowl, but if the hangover's epic, only the Dr Ron Swanson will do. That's a triple-decker croque monsieur with béchamel, pork hock and egg for the uninitiated.

And for lunch, there are loads of cheap-as-chips bakeries for all your banh mi needs. Our pick? Nhu Lan for the super crispy roll, generous fillings, speedy service (despite the queues) and ridic price tag. $4. Seriously.



SHIZUKU
DRINK
The National Hotel is inconspicuous from the outside with its grey cement façade, but inside you'll find a stark but cool pub, leading to a cracking beer garden, that's pumping on a summery weekend. The food here takes its cues from The Nash's surrounds; the pan-Asian menu features the likes of coconut braised beef short rib with pine mushrooms, pickled cucumber & rice and pulled pork banh mi sliders. We suggest you get a few plates to share, as the food is goooood.

The Aviary is popular with locals for its share plates and beer garden, and The Vic's another old favourite. It's super low-key and you can BYO food. Mr Burger also comes by on Wednesday and Friday, if you fancy some beef with your brewskie.
SHOP

Image Credit: The Family Love Tree Facebook

Amidst the Asian grocers and hospitality trade outlets, there are a handful of awesome shops on Victoria Street. The Family Love Tree is one of these – a gorgeous furniture and homewares store full of exotic finds – bright, colourful cane furniture (we love the peacock chairs), cool vases and ceramics, rugs in punchy prints or rattan and Kip & Co bedding.

Maison Est is your one-stop shop for tasteful, largely French-inspired homewares, while The Orient Express has gorgeous statement pieces for your urban oasis.

On the other end of the spectrum, Japanese chain Daiso has everything you never knew you needed, at $2.80 a piece!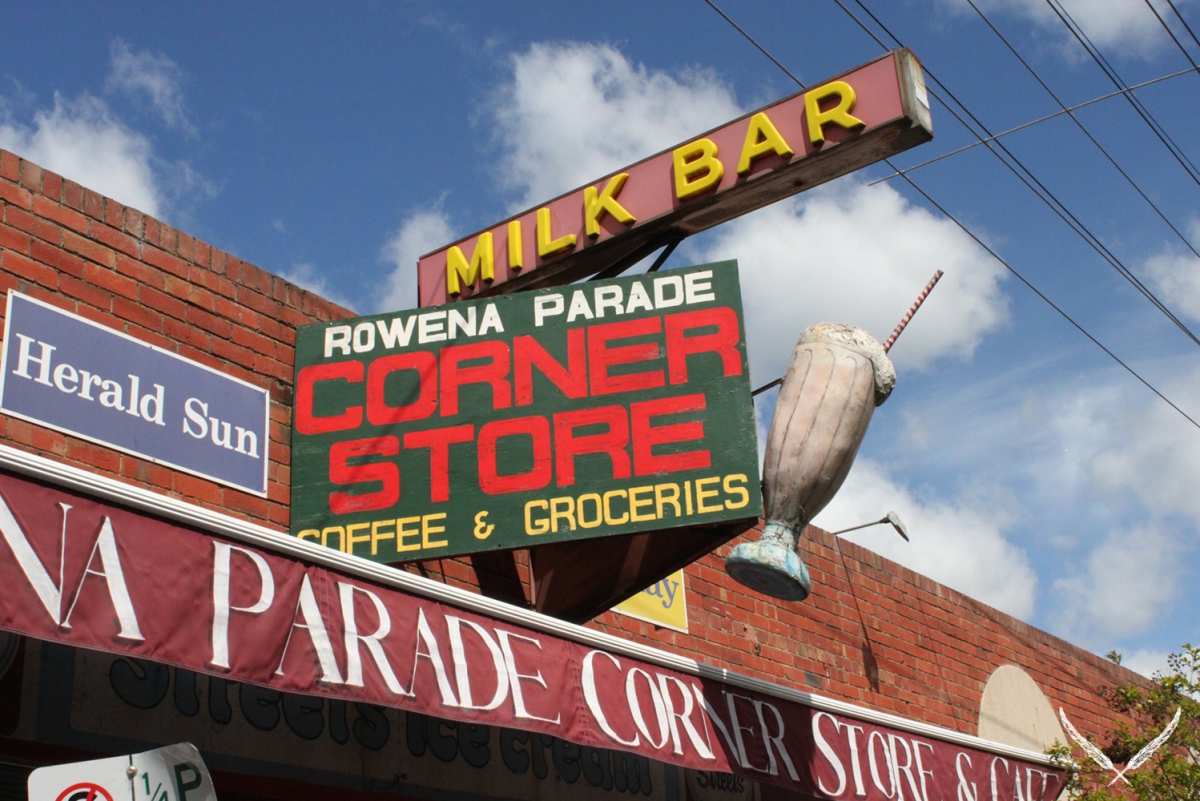 Rowena Parade Corner Store
AND THE REST…
We also love the following Richmond spots, outside the Swan / Church / Bridge / Victoria boundaries.

Restaurants & Cafes
Patch Cafe – Bendigo Street's new paleo café
Rowena Parade Corner Store – old-school Greek inspired café / milk bar on Rowena Parade
Cheerio – a hole in the wall café bringing a sensational brew to Lennox Street
A Thousand Blessings – a cute as a button café on Highett Street that's a hit with the stroller set

Bars & Pubs
The London – Lennox Street's old-school local with great pub grub and footy on the teles
The Kingston – a cosy local's pub on Highett Street with a great beer garden and an amazing Wednesday steak night
The Royston – '70s-esque pub with great food (huuuge parma), comfy couches and a chilled out vibe
Mountain Goat Brewery – Open Wednesday and Friday, the Goat Bar does great pizza and, wait for it, beer
The Grand – a classy gastropub serving up exceptional Italian fare

Patch Cafe

Other
Yoga in Daily Life – an authentic fuss-free studio with classes for beginners through to advanced, meditation courses, etc
Minette's Vintage – one of our favourite vintage clothing spots, located on Burnley Street

So there you have it Listers, our guide to where to eat, drink and play in Richmond. Did we miss any of your faves?

Image Credits: Tash Sorensen and Ryan Noreiks, The Urban List.