For many folk in Melbourne, lunch is quite often the forgotten meal of the day; the midday break that falls by the wayside to be replaced by a muesli bar at the desk, another email that needs to be answered, an errand to be run…anything but lunch.
Being the food loving crew that we are at TUL (as if THAT isn't obvious), we think it's a crying shame that lunch in Melbourne isn't taken more seriously. Whatever happened to sitting down and enjoying the good ol' fashioned second meal of the day?!
If there's anything better than lunch, it's got to be a long lunch, preferably one held in a super chill environment with good food (but of course!), great wine (because you need something to wash it down with), and devilishly good cocktails (the perfect way to end a meal, no?). Searching for a great spot for a long lunch in Melbourne? Enter Prahran's Oscar Cooper.
Now most Urban Listers will know we're pretty big fans of Oscar Cooper, and there's a few damn good reasons why. Located just around the corner from TUL HQ (meaning we're there, ohh, every day 'taste-testing' the goods), Oscar Cooper dish out some of the best breakfasts in Melbourne (try the shakshuka), alongside lip-smackingly good jaffles, fresh juices, and stellar coffee.
The café, located on the corner of Greville Street and St Edmonds Road in Prahran, also has a super relaxed vibe, oh-so-friendly staff (it kinda feels like Cheers…where everybody knows your name), and an open fireplace that is perfect for warming wintry toes and backsides.
However it's Oscar Cooper's lunch menu, kicking off at 11:30am, that really gets us excited. One look at their food and drink offering and you'll totally get why Oscar Cooper is one of Melbourne's best cafés and a great place for enjoying a laid back long lunch in Melbourne.
I mean, how can you say no to spicy wasabi crusted calamari with Vietnamese slaw? How about sticky lamb sliders with sriracha mayo? Or perhaps the Thai beef salad with mint, coriander and bean shoots? Oh and don't even get us started on how good the wagyu burger is…one Urban Lister has proclaimed she will cry (and she's deadly serious) if Oscar Cooper ever take it off the menu.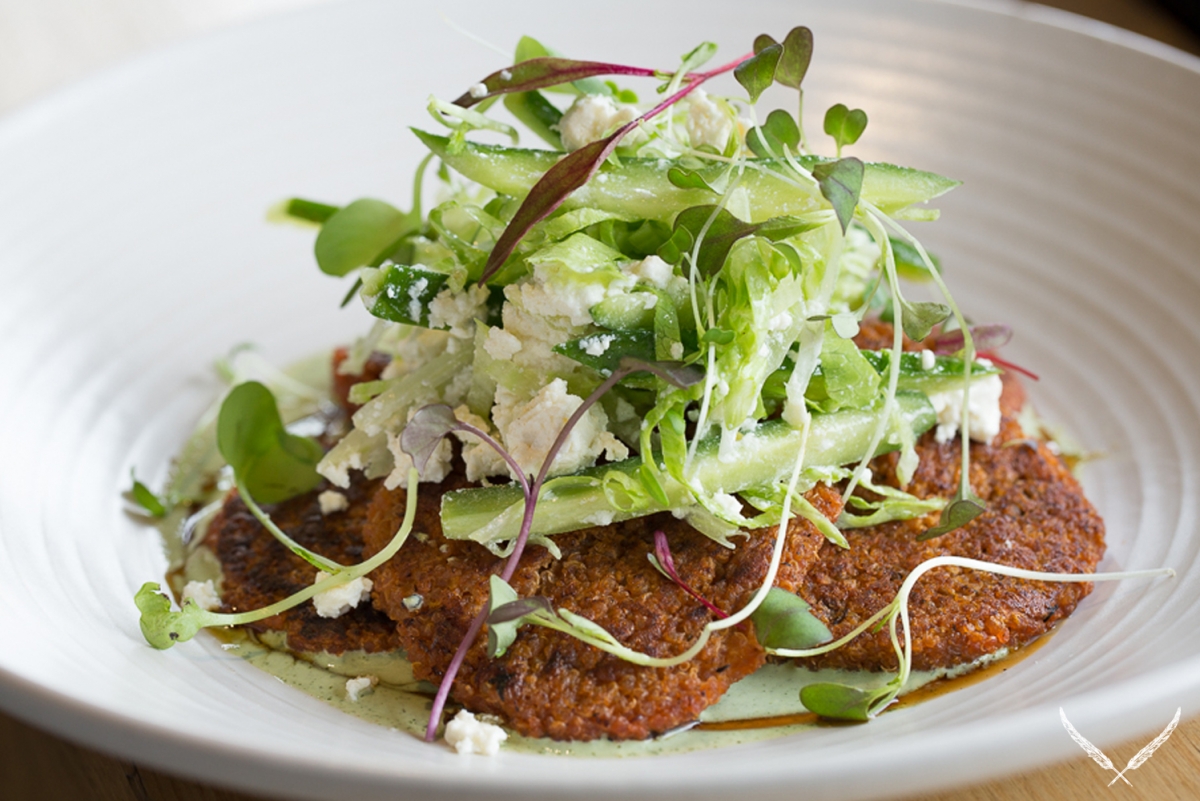 The all day drinks list (yes, you read right…ALL DAY…winning!) is the perfect accompaniment for your long lunch, with a range of local Victorian and interstate sparkling, red and white wines on offer by the glass, as well as by the bottle. Not so keen on wine? Oscar Cooper can also add a shot of vodka or gin to your juice for something a little different, but just as delicious. Try the Golden Pash – pineapple, apple, orange and passionfruit – with vodka, or the Buffalo Soldier – watermelon, apple and mint – with gin. Yum!
Remember, though, how we said cocktails were the best way to end a long lunch? Well Oscar Cooper does some of the best tipples in town. Once you've devoured your food, get stuck into a spicy Bloody Mary, one of their famous Espresso Martinis, or even a refreshing Peach & Basil Mojito. Oh and did we mention the cocktails at Oscar Cooper are only $10?! Cue another round…
Next time lunch rolls around, forget eating at your desk. Drop your pen, park that email, and head straight for Oscar Cooper. That's right, the long lunch in Melbourne is well and truly back.
Image Credits: Jacqui Wilkins and Ryan Noreiks, for The Urban List.
TUL Note: Today's List Love post is proudly sponsored by Oscar Cooper and endorsed by The Urban List. Our sponsored posts will never be a secret — the List Love seal will be stamped on any sponsored material you see on the site. Thank you for supporting the sponsors who make The Urban List possible.