We know, we know. It's been a while since we treated you to a list of hot-off-the-press new Melbourne restaurant and bar openings. So, without further ado, here's what's been cropping up, or is about to, in a postcode near you.
August
Kicking off the party is the grand reopening of Hotel Brighton, which took place last Friday 1st August. The huge, super slick Bay Street venue is co-owned by singer Natalie Bassingthwaite, St Kilda captain Nick Reiwoldt, and Nathan Brown of the group behind Flinders Street's Waterside Hotel. Full of stylish dark timber, the ground floor's perfect for a chilled out pub meal with family and friends, while the roof deck is set to be a sizzling summer venue for young Melburnians. Read about it here.
Come 7th August, the popular Bluebonnet BBQ food truck will be setting up permanent digs on Collingwood's Johnston Street, after stints at The Beaufort, Grub Food Van and Forgotten Worlds. Michelin-trained chef Chris Terlikar takes Texan BBQ meats to a whole new level, with a menu boasting the likes of brisket, smoked pork belly, juniper rubbed venison short ribs, cornbread and a killer 600g smoky beef rib.
Also this week, LadyBoy dining + bar will be throwing open its doors on Bridge Road in Richmond. Described as 'playful Thai dining', we're expecting good things from LadyBoy, with chefs hailing from Longrain and Easy Tiger. Opens Wednesday 6th August.
This Friday, Victoria Street's iconic Terminus Hotel will reopen her doors to thirsty Abbotsfordians, under the new ownership of Sand Hill Road. She's had a sexy new fitout from Techne, described as 'Paris Tropical', but we're glad to see she's retained her pea green exterior.

Chapel Street drinking and dancing hole, Hoo Haa, is launching pop-up restaurant, Kuku Mama, for a month from Thursday 14th August. We've been told there's a well known chef involved and a menu that will include soft shell tacos, dumplings and buns with a twist.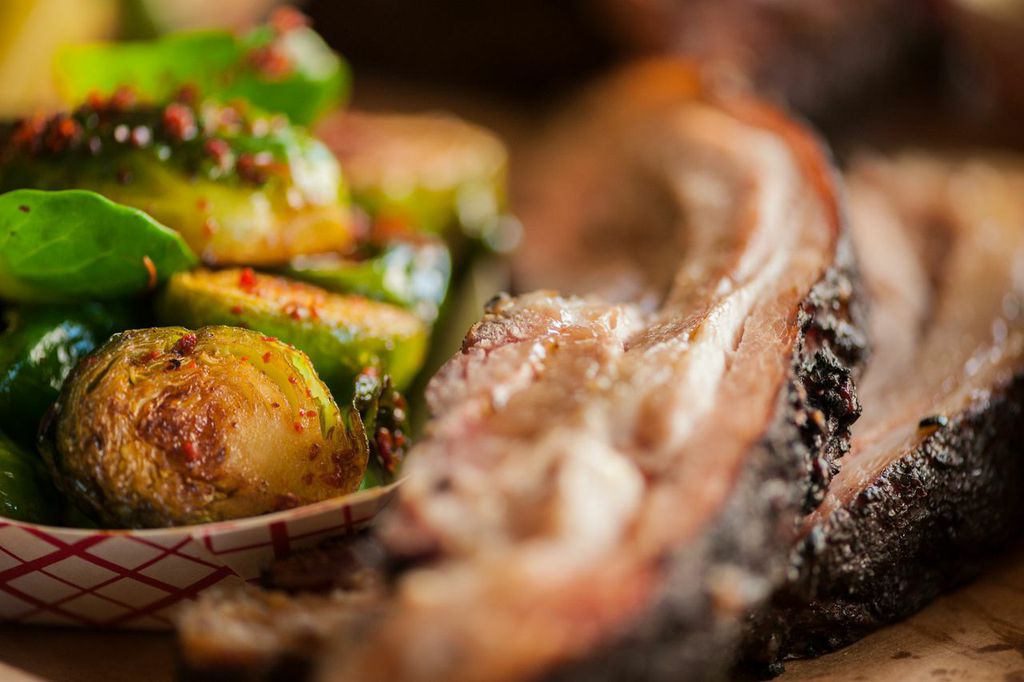 Bluebonnet BBQ. Image by Sean Hastings Photography.
Continuing on the boozy theme, a 900-seat waterfront beer hall is set to bring festivities of Oktoberfest proportions to South Wharf. Munich Brauhaus will be serving steins as of Wednesday 20th August, along with a menu that is an ode to pork, featuring such loveliness as Riverlea suckling pig, cooked over a charcoal spit. We're calling it as the go-to drinking and dining destination for spring.

We were pretty gutted to see Gertrude Street's Belle's Diner all boarded up, but breathed a sigh of deep fried relief when we learned she'd be reopening as Belle's Hot Chicken. Open now, the focus here is on Nashville-style hot chicken, with heat levels ranging from mild to blow-your-head-off, accompanied by slaw, crinkle chips and pickles. Drop by on a Sunday for the chicken waffles. Yep, chicken waffles.

If tapas is more your thing, make sure you check out Sandringham's Boca Del Sur. With sweeping views of Port Philip Bay, we're eyeing off the salt cod croquettes with salsa romesco. Opens Friday 15th August.

Here at TUL, we squealed with excitement over the new that one of our favourite Fitzroy eateries, Hammer & Tong 412, is launching a food truck! She'll be rolling all around Melbourne from 18th August and showcasing the very best of Chef Simon Ward's menu, with around 20 items on rotation. You can expect the soft-shelled crab burger to make an appearance, plus much much more.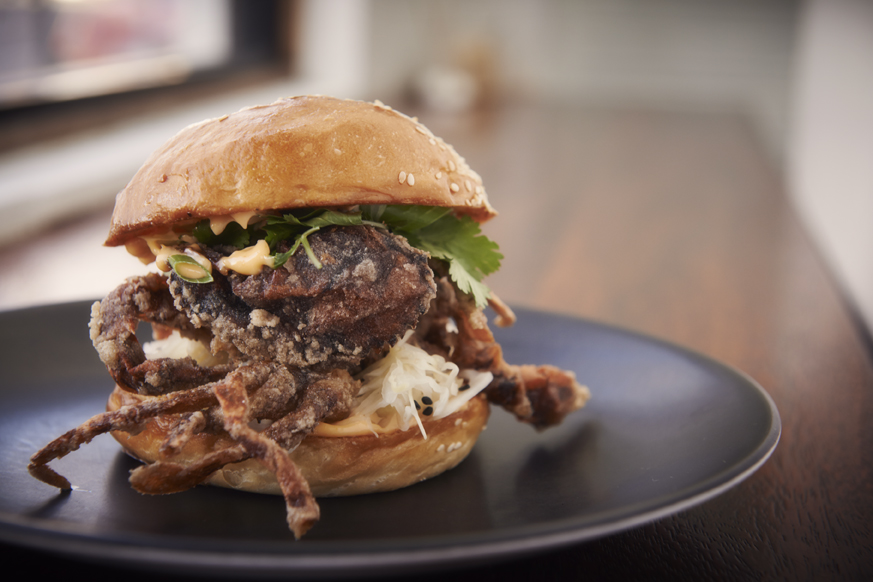 Image Credit: Soft shell crab burger at Hammer & Tong.
Late August can't come quick enough, not only for the official end of winter, but for the slated opening of Johnny Di Francesco's new bar, 400 Gradi Cicchetti. The Margherita maestro's drinking den will be situated right next door to Carlton's 400 Gradi, with a sizeable drinks list, small bites menu and stylish interiors by Pascale Gomes-McNabb. He'll also be opening a second, much larger pizza joint at Crown come October.
We were also super psyched to receive our invite to a preview of Meatmaiden, the new CBD venture from the Meatmother team. She's opening on Wednesday 27th and we're expecting a deliciously meaty offering. Bibs at the ready.
September
This spring, the inimitable Jacques Reymond will be opening L'Hotel Gitan (translation: the gypsy hotel), with his wife and three children all involved in the project. A pub-bistro cross, L'Hotel Gitan will be a sister venue to Toorak Road's Bistro Gitan, and will serve up reasonably priced French cuisine. Read more about the Reymond's latest venture here.
And, in case you missed it…
July was rather epic, with a spate of amazing new restaurants and bars luring Melburnians out of their wintry lairs.
We recently wrote about two exciting new restaurant openings on Bridge Road. On the more casual end of the dining scale is the third outpost of Big Boy BBQ, dishing up American BBQ fare to eat in or take away. We hear it's definitely worth asking for the secret menu item of chilli cheese fries. Nom.
Taking it up a notch or two is casual fine dining option, Mister Jennings. After a stint at Northcote's much lauded Estelle, Ryan Flaherty is hoping to inject some light back into the Bridge Road dining scene. And with creative dishes the likes of frozen kangaroo that defrosts AS YOU EAT it, we predict Mister Jennings will soon be attracting punters from both sides of Punt Road.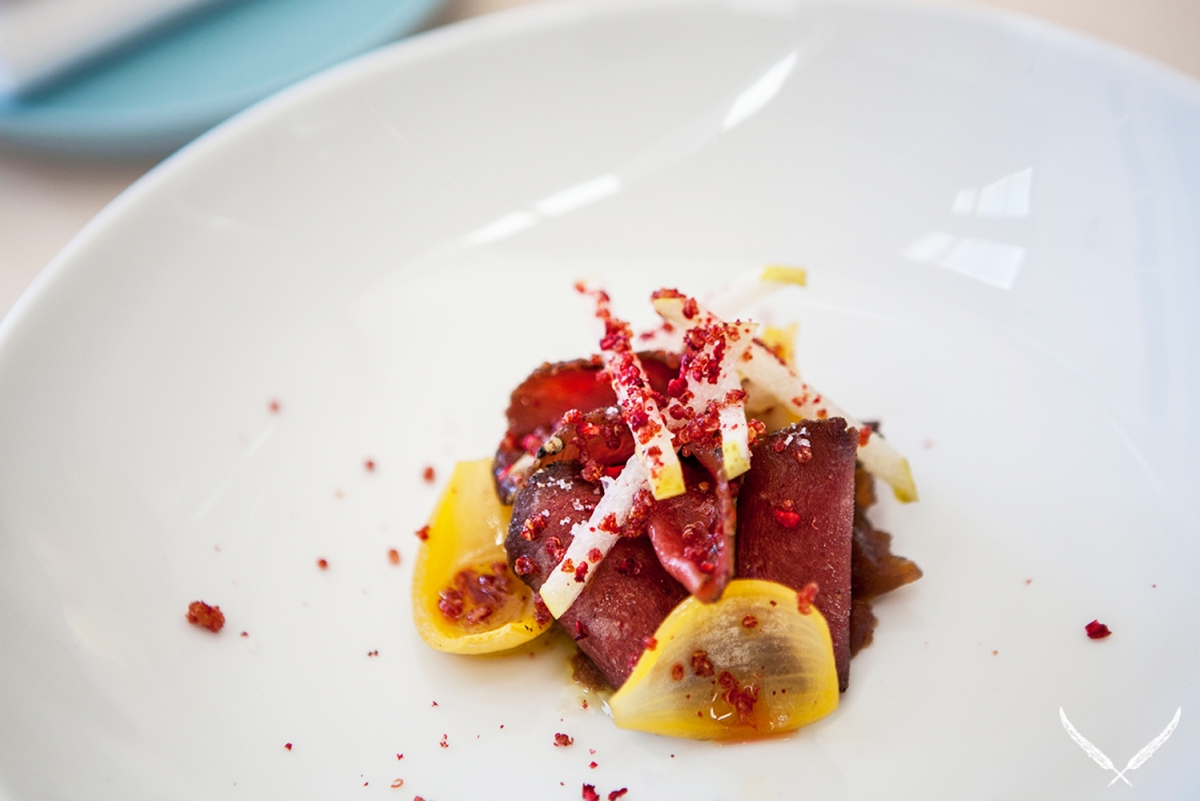 Image Credit: Mister Jennings, Michelle Jarni for The Urban List.
From the crew at San Telmo comes much-hyped Peruvian grill, cevicheria and pisco bar, Pastuso. Throwing open its doors on ACDC Lane last week, Pastuso has taken inspiration from the geography of Peru, and is divided into three regions: the coast, the Andes and the Amazon Jungle. The marble-topped cevicheria represents the coast with delicate, citrus-cured delights like thinly sliced swordfish loin with cucumber, aji amarillo sauce and rocoto jelly. From the Andes come the delectable roast meats, prepared in a traditional Peruvian smoking chamber, charcoal pit and spit. Finally, the pisco bar (sweet baby cheeses) channels the jungle, with an exotic Latin-inspired cocktail list.
Early in the month saw the opening of Pan-Asian restaurant, Lucy Liu, in the CBD spot formerly occupied by PM24. Hotly anticipated, she has been putting on an angelic performance with her stellar cocktail list (the lychee martini is not to be missed) and delicious bites perfect for sharing. Our pick? The steamed sticky beef buns with cucumber, hot chili and black vinegar.
Another addition to the CBD is Italian-style gem, Chuckle Deli. They've got a mouth watering daily rotation of hearty salads, plus reuben sangas, cured meats and pickles. Oh, it's licensed too.
Kirk's Wine Bar has cropped up on Hardware Lane and is the latest addition to the European Group's venues, with a delicious European inspired menu and killer wine selection. What else would you expect from Owner-Chef, Ian Curley?
The hottest new café opening for July was Kettle Black in South Melbourne. Brought to us by the gun team behind Top Paddock, Liar Liar and Two Birds One Stone, need we say more… The King Island crayfish roll with coastal spinach and tangy yuzu mayo is what we'll be ordering on our maiden visit.
Over St Kilda way, the sweet Finn Café has also popped up on Carlisle Street, serving Seven Seeds brews and yummy breakfast and lunch fare. The Guilty Moose is new to Albert Park, and High Street, Windsor, has welcomed Soldier On.
We shed a collective tear over the news of Silo by Joost's closure, but its rebirth as fancy, sustainable CBD soup kitchen, Brothl, has perked us up. 'How can a soup kitchen be fancy?' When the stocks are made from the bones left over from the Attica, Rockpool and European kitchens, that's how. Stay tuned for our Brothl verdict.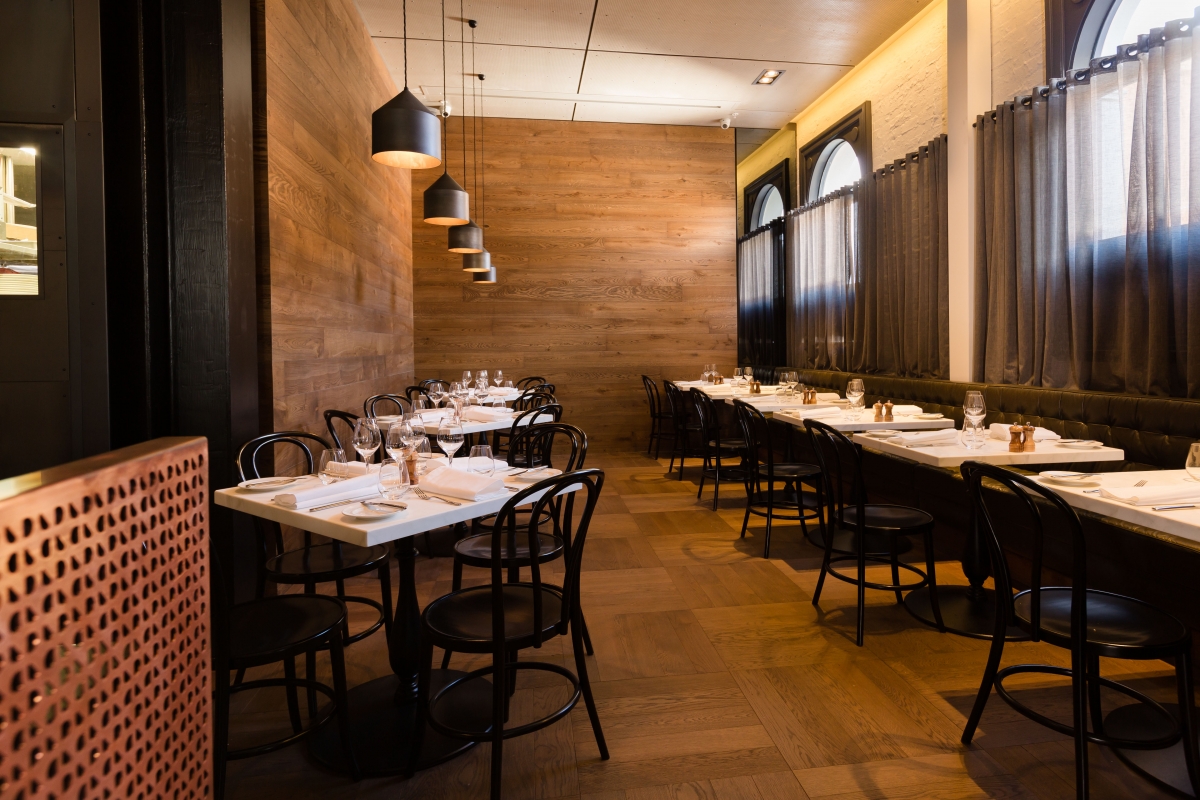 Image Credit: Coppersmith Hotel Bistro.
We were sad to see the fabulous Sartago close on Church Street, but in its place is newly opened Asian fusion restaurant, Mamame'. We can't wait to try out the soft shell crab burger!

Impala & Peacock also opened in Brunswick – a cute specialty tea house with a sustainability focus that also hosts a bunch of health and community events.

Clarendon Street welcomed a stylish boutique hotel this July, with 15 rooms, a rooftop terrace, bar with 18 craft beers on tap, and a stylish dining room. A family affair, Coppersmith Hotel owes her pretty looks to design firm, HASSELL.

Finally, if you're out Spotswood way, head to The Nest brewery to indulge in Taco Beer. You heard me. Taco Beer.


Main image credit: Coco et Cocoa