Driving along High Street the other day, it occurred to me that the area is enjoying somewhat of a renaissance, with new restaurant and cafe openings occurring left, right and centre. The latest venue to open on the Prahran strip is Charlie Dumpling – a hip and happening space focusing on Asian Fusion and serving some of the best dumplings in Melbourne.
My trip to Charlie Dumpling came on a Friday night, not long after the restaurant had opened to the public. Being the two owners' first foray into the restaurant biz, and with so many seasoned operators in the hood, you couldn't blame the Charlie Dumpling team if they had shown a hint of nerves or dropped the BBQ pork bun-shaped ball. Fortunately, there were no such mishaps – this is one heck of a smooth operation.
Led by executive chef Dylan Roberts and restaurant manager Jamie Munro-Lynch, the team at Charlie Dumpling are knowledgeable and friendly, pros at what they do and eager to please at every turn. From the minute my boyfriend and I stepped into the bright and colourful space (the wooden door feature wall looks unreal) to the minute we rolled out, we were looked after and made to feel like the only guests there (we weren't – Charlie Dumpling was packed).
But what of the food that filled our tummy so? Well, well, well, it's safe to say that the new dumpling player in town has brought the goods and serves up some of Melbourne's best dumplings, no joke.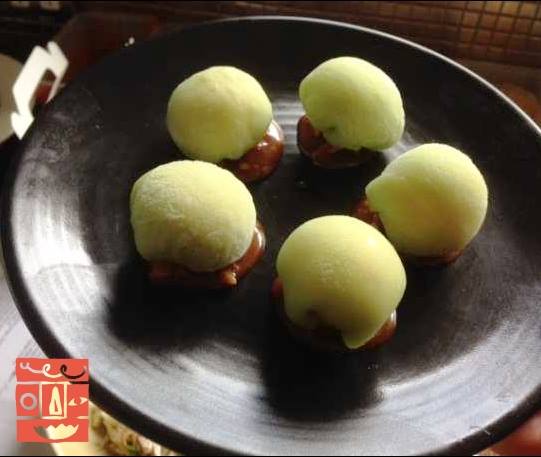 The menu – consisting of small bites, savoury dumplings, and salads, plus sweet treats to finish off – has a decidedly modern twist, with highlight dishes including fried chicken ribs with five spiced honey, snapper & chilli lime dumplings, and Peking duck dumplings with spiced plum sauce. The BBQ pork buns were also so good I nearly licked the plate clean (if only there weren't people there to see me…) and the chocolate and chilli sugar dumplings, served with homemade raspberry sorbet, were THE BOMB.
There's plenty of space to sit back and feast, with a courtyard at the back and upstairs dining room complementing the front seating area. Prefer not to dine in? No worries – Charlie Dumpling also offers takeaway and has a handy app so you can order ahead.
Located near the intersection of High and Chapel Streets, opposite the Red Tulip apartments and not far from Swinburne University, Charlie Dumpling is in no short supply of customers. But will the customers still be there in a few months time? The answer is yes – the proof is in the, errrr, dumpling.
Charlie Dumpling | 184 High Street in Prahran | 03 9510 4213
Image Credits: Food 52 & Charlie Dumpling Facebook