Let's buy some more sneakers shall we? Because we don't have enough of those already.
While I could say this collab is 'highly anticipated' or 'the best of the year', frankly I'd be lying. Why? Because Virgil Abloh seems to be on a hot streak and is dropping fire collabs on us left, right and centre. Truth be told, they're all amazing.
But this one...this one I think you guys are going to dig.
In the second collaboration between Converse and OFF-WHITE, they've reimagined the Converse Chuck Taylor 70. The ballot to get your hands on these is open right now.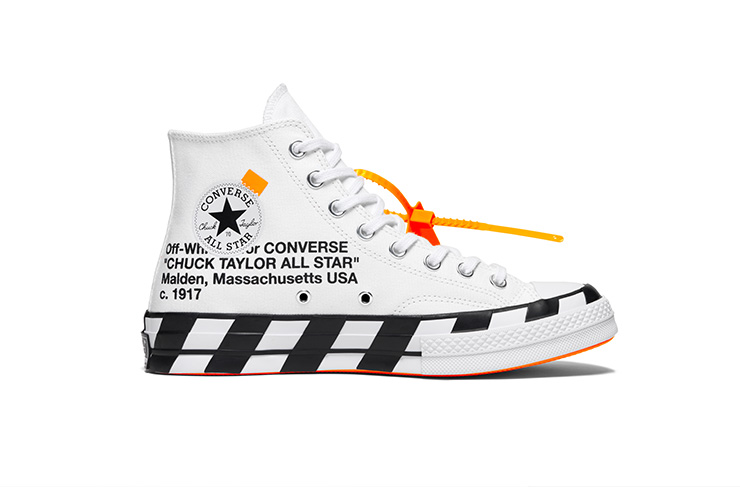 Back in 1970 the Chuck was pretty hyped. It was the pinnacle of function for sport and was considered the best basketball sneaker ever (...it was the 70's guys). The Chuck 70 is built off that original 1970 design, featuring premium materials and attention to detail.
Given the incredible history of the sneaker, it seems only fitting that Abloh takes a crack at it.
For this collab, it's all in the details—canvas construction with the OFF-WHITE™ industrial stamp on the medial section. The kicks also feature an orange zip tie, co-branded-insoles, mini orange tabs on the ankle patch, and more orange applied on the outsole. On top of that, there's alternating black and white stripes on the midsole to reflect OFF-WHITE's signature motif.
...and the shoelaces feature "SHOELACES", naturally.
Now details to cop are as follows. Take notes people.
The sneakers drop on 8 October, BUT you need to get yourself in the raffle for the opportunity to purchase them. Entre here. The ballot opened yesterday and will close at 9am AEDST Monday 8 October. This is not a drill.
The new Converse X Off-White Chuck Taylor 70 will RRP for $180. Available only online.
Image credit: Converse