East Gippsland might be several country miles from Melbourne, but it's got some of the best road cycling in the State. Especially once you get into the coastal trails beyond Bairnsdale. The roads are well kept, it's not too hilly (if it's mountain switchbacks you're after, pedal north on the C601 towards Dinner Plain and Falls Creek), and there's a good chance of fish and chips for dinner. You can't ask much more than that.
If you're thinking of packing up the bike and heading east, these are our favourite cycling trails in East Gippsland.
East Gippsland Rail Trail
The big one. There are several old railway trails crisscrossing Victoria, but the East Gippsland Rail Trail is one of the more famous ones. It's a beautiful stretch, running 96km from Bairnsdale to Orbost (technically the trail ends at Newmerella, but most people just push on to Orbost). The Trail is a mix of sealed roads, old trestle bridges, hard-packed gravel and shady forest stretches. You can do this one solo—it's not particularly difficult—or there are group cycling tours available. Allow about 3-4 days for this one, depending on fitness.
Length: 96km
Terrain: Sealed road, hard-packed gravel
Highlights: Colquhoun Forest, Bullant Brewery (Bruthen), Nicholson River Bridge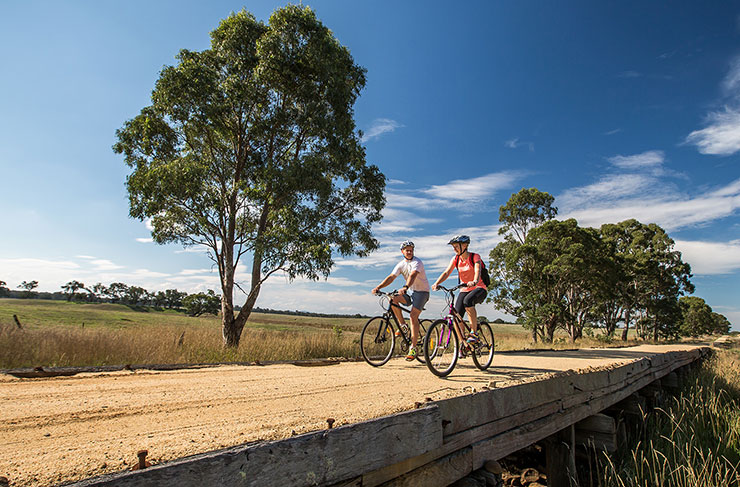 Photography: Visit Melbourne
Gippsland Plains Rail Trail
The Gippsland Plains Rail Trail is technically not 'East Gippsland', but it's beautiful and bloody close, so we're including it here. This is a 67km inland track that runs along the former Gippsland Plains railway line, all the way from Traralgon to Stratford. Three days should be plenty for this one—you'll get to see the Latrobe River floodplains, picnic at Eaglehawk Creek, cross some restored historic bridges and pick up a good feed at the Tinamba Hotel. Most of the trail is smooth dirt or gravel, but it's flat all the way—perfect for beginner riders. The only steep bit is the hill at Racecourse Rd, near Heyfield.
Length: 67km
Terrain: Dirt, hard-packed gravel
Highlights: Toongabbie Wetlands, Rainbow Creek Crossing, Ned Stringer Memorial
Lakes Entrance Foreshore Track
Look, it's not the Tour de France, but the Lakes Entrance Foreshore Track is still a charming ride as the sun's going down. It's flat and easy-going, and you usually get a lot of kids learning to ride. Don't expect to work up a sweat, but the views are pretty. You can also snag some excellent fish and chips from either Footbridge Fish & Chips or Awesome Fish & Chips. The perfect end to a long day in the saddle.
Length: 2.7km
Terrain: Sealed path, shared walkway
Highlights: Fish and chips on the waterfront
Paynesville/Eagle Point Loop
If you're near Lakes Entrance and want something a little more strenuous than pedalling along the foreshore, check out the Paynesville/Eagle Point Loop Track. It's a 10km circuit from Captains Cove, through Sunset Cove, and along the Newlands Drive foreshore. You get some cracking views of McMillans Strait, Newlands Arm and Lake King, and if you time your ride correctly (dawn or dusk is best) you can usually see kangaroos and wallabies grazing by the side of the track.
Length: 10km
Terrain: Dirt,gravel
Highlights: Sunset Cove, Lake King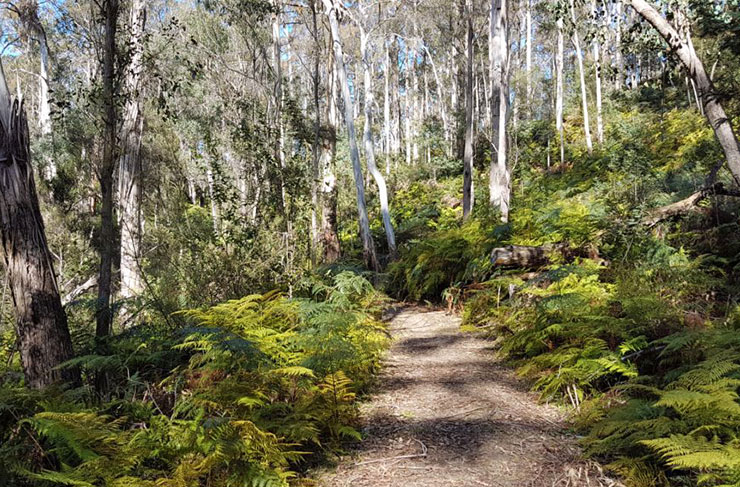 Photography: Uncool Cycling Club
Gippsland Lakes Discovery Trail
The Gippsland Lakes Discovery Trail branches off the main East Gippsland Rail Trail, so you can choose this as an alternative route. It follows the path of an old tramway from the early 1900s, once used to move granite from Mississippi Creek to the North Arm of the Gippsland Lakes. It stayed in use till the 1940s, and today it's a fairly well-packed dirt track running through the Colquhoun State Forest, down to Lakes Entrance. The final stretch is sealed road into town. Choose this one if you're after a beautiful day-ride with tranquil forests and babbling brooks.
Length: 36km (Bruthen – Lakes Entrance), 13.7km return (Lakes Entrance – Log Crossing)
Terrain: Dirt track, sealed road
Highlights: Granite quarry, forest scenery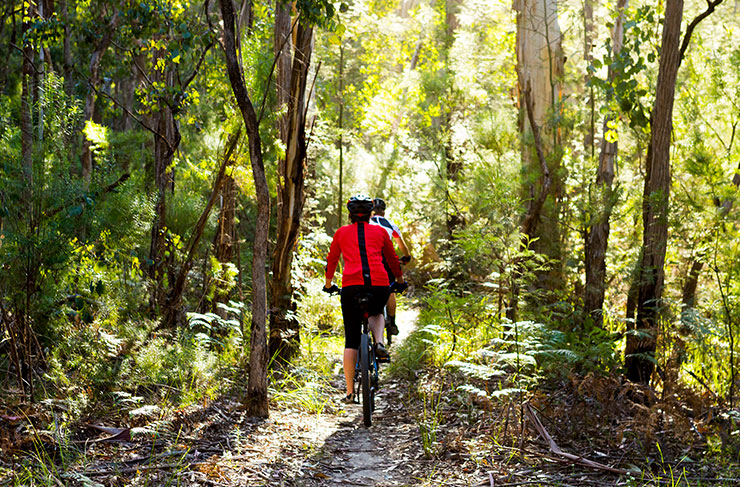 Photography: Visit Victoria
Nowa Nowa Track
Want a proper mountain bike track? The Mountain Bike Park at Nowa Nowa has a pretty good reputation and a variety of trails for beginner/advanced riders. Just swing a left outside Nowa Nowa, down the Nowa Nowa Buchan Rd. You'll spot the park, and the information centre. When it comes to choosing your track, take a look at the maps available. There's the Uphill Track (4.9km), Jumping Jackaroo Track (5.2km) and Wallaby Ramble (4.8km) among others. Most are very well kept, with gentle side slopes and some sweet arching corners. There's also the option to shuttle to the top of the hill, if you want to try multiple runs on the same day.
Length: Varies
Terrain: Rough dirt tracks
Highlights: Views, adrenaline-pumping trails
Want to combine a little cycling and camping? Check out our best spots to camp in Victoria.
Image credit: Blue Collectors