Picture a running crew. Your mental image may include a cluster of fit people sprinting clad in all their skin-tight, fluoro glory.
The AM:PM.RC run crew make a point of doing things differently. Founded by a trio of fit 'lil Melburnians, the team hosts weekly crew runs in Melbourne and around the globe. At the heart of the movement is a sense and real human life community, which may be the perfect amount of soul-crushing peer-pressure you need to hit all your #fitspo goals.
Nike have recently teamed up with the AM:PM.RC crew and New York-based Bridge Runners to explore Melbourne on foot. Here are all the hotspots (all totally officially #fitspo approved) you should have visited in Melbourne and made even better if you run there #treatyoself
#1 Possibly (Most Likely) The Best Croissants In The World
Melbournians are hiding a big, buttery secret. Originally based in Elwood, Lune Croissanterie recently upgraded to a bigger Fitzroy location, no doubt fuelled by the croissant-raging foodies that would queue from 4am every Saturday morning.
Wedged into a corner of Rose Street, Lune Croissanterie is in the heart of Melbourne's most unique street art precincts. Run with the crew through the likes of Brunswick Street, Rose Street and Fitzroy Street before a well-deserved twice-baked almond croissant. The food is, as the AM:PM.RC crew founders say, "a really important aspect of the crew, in fact running is almost secondary to the food".
#2 The Brunch Hotspot That Won't Break Your Diet Bank
Established street-style photographer Ben Clement isn't just good behind the camera. A serial overachiever and intolerably nice human, Clement is the co-captain and co-founder of Melbourne's AM:PM.RC crew.
"I live in North Melbourne, so I end up at Auction Rooms more than anything," Clement says. His recommendation? "A kombucha and salad does the trick."
At the moment Auction Rooms has a Green Hummus Bowl with garbanzo bean, spinach hummus, baby broccoli, French beans, heirloom carrot, preserved lemon and seeds. All the health.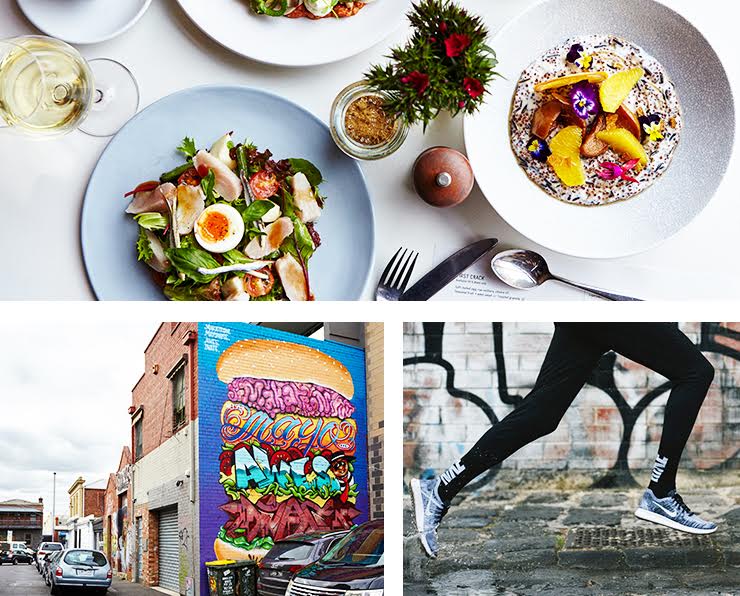 #3 The Vegan Haven…'Nuff Said
With a brunch and dinner menu that will make every carnivore drool, run your way through Docklands, the CBD and hit Smith & Daughters for a reward.
Leave your Fitbit and gadgets at home—running with the AM:PM.RC crew is all about encouraging (or if you're like us, being heavily encouraged) by the person next to you. You'll want to bypass the iconic Web Bridge in Docklands and Tattersalls Lane in the heart of Chinatown.
Order up a storm of Spanish-inspired dishes, including cheesy eggplant bake, seafood stew and creamy garlic mushrooms.
#4 Everyday Cafes For The Everyday Jogger
Everyday Coffee has been slowly building their caffeinated empire, with locations in Collingwood, Melbourne and Northcote. Conveniently close to the Yarra Boulevard and graffiti-lined Johnston Street, perk up with an espresso shot at Everyday Coffee Collingwood pre-run.
Elizabeth Campbell, a co-captain of the AM:PM.RC run crew, is a huge fan of Everyday Coffee after a brisk morning run.
#5 Mexican Without The Crowds
Spawning like tacos on Tuesday, Fonda's Smith Street location is hardly difficult to spot. Asymmetric pastel shades of purple, pink and blue blanket the exterior of the restaurant. The interior is home to pale timber booths and deep leather booths. The kitchen will happily dish you out a feast of tacos, ensaladas and quesadillas.
#6 All The Sports You Could Possibly Need In Life
Melbourne's sporting precinct spanning across MCG, AAMI Park and Olympic Park plays host to some of the biggest world tournaments including the Australian Open Festival and AFL Grand Final.
Amble through Birrarung Marr, a favourite stop of the AM:PM.RC run crew, and explore the city-based Yarra Trails.
Be sure to check out any upcoming Nike Running events here.
Image credit: Michelle Jarni for The Urban List, provided.
Editor's note: This article is proudly sponsored by Nike and endorsed by The Urban List. Thank you for supporting the sponsors who make The Urban List possible. Click here for more information on our editorial policy.