For the second year running, the Festival of Steve's curated celebration of all things manly returns to Melbourne Place's The Kelvin Club at the top end of the CBD. Bringing together some of the city's finest proponents of style, no gentleman should miss the free event if he wants to dress sharper and with more confidence.
A bunch of well-groomed speakers will impart their sartorial wisdom during Festival of Steve's eight-hour showcase of some of the city's coolest man-friendly small businesses. On the bill are Felix Scholz of The Tailored Watch, and the guys from tiptop personal tailoring service Oscar Hunt and stylish outfitters V and J Menswear. The Cycles Galleria lads will handily share their top tips for getting around town on two wheels in a suit.
Hill of Content, The Little Bookroom and Classic Comics will be on hand to provide a little light reading, plus there will be also be billiards and poker lessons, as well as cocktail concoctions to sip on while the dudes listen up for top grooming tips. Steve goers will be entertained by the likes of ARIA-nominated singer-songwriter Jason Walker, alt-country singer-songwriter Cat Canteri of The Stillsons and jazz artists Rebecca Barnard and the Romantics. Award-wining comedian Andrew McClelland will also perform his latest stand-up routine, One Man Stand. Talk about jam packed!

Decamping to The Kelvin Club for the Festival of Steve, the suave boys at Oscar Hunt started their made-to-measure suit business from a room at the Olsen Hotel, then moved to a small but perfectly formed former office space. They've now taken up residence in the iconic Hardware House, also home to architecture and interior design firm Techne, on the corner of Hardware Lane and Little Bourke Street.
Oscar Hunt's dapper and bespectacled Lachie Watson and Jared Acquaro, with his well-groomed beard and tattoos, will be there on the day to offer advice on how a brand new tailor-made could change your outlook on life. "When I see clients jump in front of the mirror for the first time and throw on something made for them, their confidence is automatically lifted," Watson says.
Often blokes come into Oscar Hunt with pages pulled out of magazines for inspiration. "There's a fair chance we'll be able to do something similar for you. A lot of people bring in pictures of Ryan Gosling or Daniel Craig, and their clothes are often made specifically for them. You don't really see them on the rack."
Watson says there are three main benefits to getting a suit custom-made. "The first is fit; you don't need to worry about that when you're getting tailored. The next thing is fabric. Tailors know a lot more about fabric than what you would generally find in a retail store. Thirdly, it's options. If you're after something quite specific, a lot of the time you can't get it off the rack."


Image credit: V and J Menswear.

"Festival of Steve is the perfect platform for us because it's menswear-specific," Watson says. "It's great to introduce people to what we do and what we have on offer. That creates a level of rapport before they've even come in."
"There's a lot of guys out there who want a tailored suit, but they just don't know where to get it," Acquaro adds. "That's why these events are great."
V and J Menswear co-owner Carl Cilia will also be on hand at the Festival of Steve, along with business partner Rick Miolo. The duo will be showcasing their range of shirts, suits and accessories, as well as offering styling sessions and etiquette advice.
Accessorising is vitally important in Cilia's book. "A tiepin, pocket square or handkerchief is a very beautiful, subtle addition that completes the overall look of a suit or a semi-casual look," he says. "A suit without a pocket square, for us, is an empty look.
"It really all depends on where you're going to wear it, too," he adds. "If you're going to a business meeting, I encourage dressing it up a little. It's a reflection on yourself and also the people you're about to introduce yourself to."
Cilia says you don't have to blow the budget either, as gents can maximise their wardrobe with essential basics. "Once they feel comfortable, anywhere they go they can put a wardrobe together, and that gives them confidence in themselves. That's very important in life, particularly if you're in business."
Cilia hopes Festival of Steve will continue to grow, year after year. "Everyone showing at Festival of Steve has the same philosophy, and that's why they're starting up their own business. We're very proud to be a part of something like that, now and in the future."
Coordinated by City Precinct, a community-minded organisation of small businesses in the CBD, Festival of Steve is free entry, but you're encouraged to make a gold coin donation to mental health charity beyondblue at the door.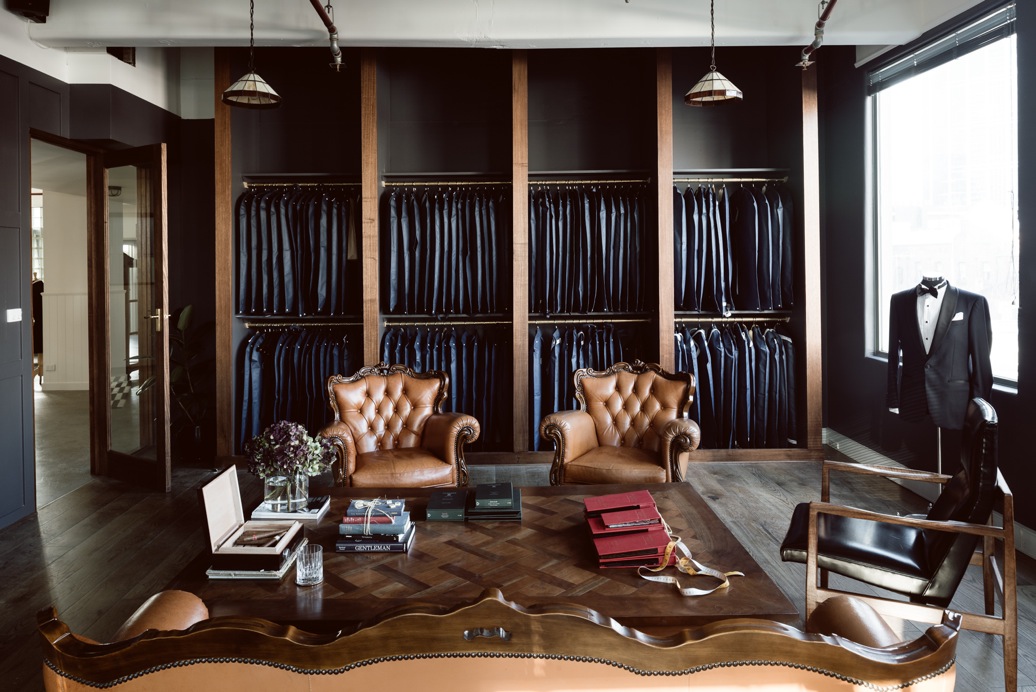 Oscar Hunt. Image credit: Tom Blachford.

Festival of Steve takes place on Sat 24th May | 12:00 – 8:00pm
For more info, check out the website.
Main image credit: Pinterest