December has come and gone yet again, taking with it all the Christmas gift buying! But the new year still has plenty to offer in terms of Melbourne markets! Get pumped for fresh produce, summer sessions, fresh fashion and loads of entertainment to keep the holiday vibes going! Here's our round up of Melbourne's best markets in January.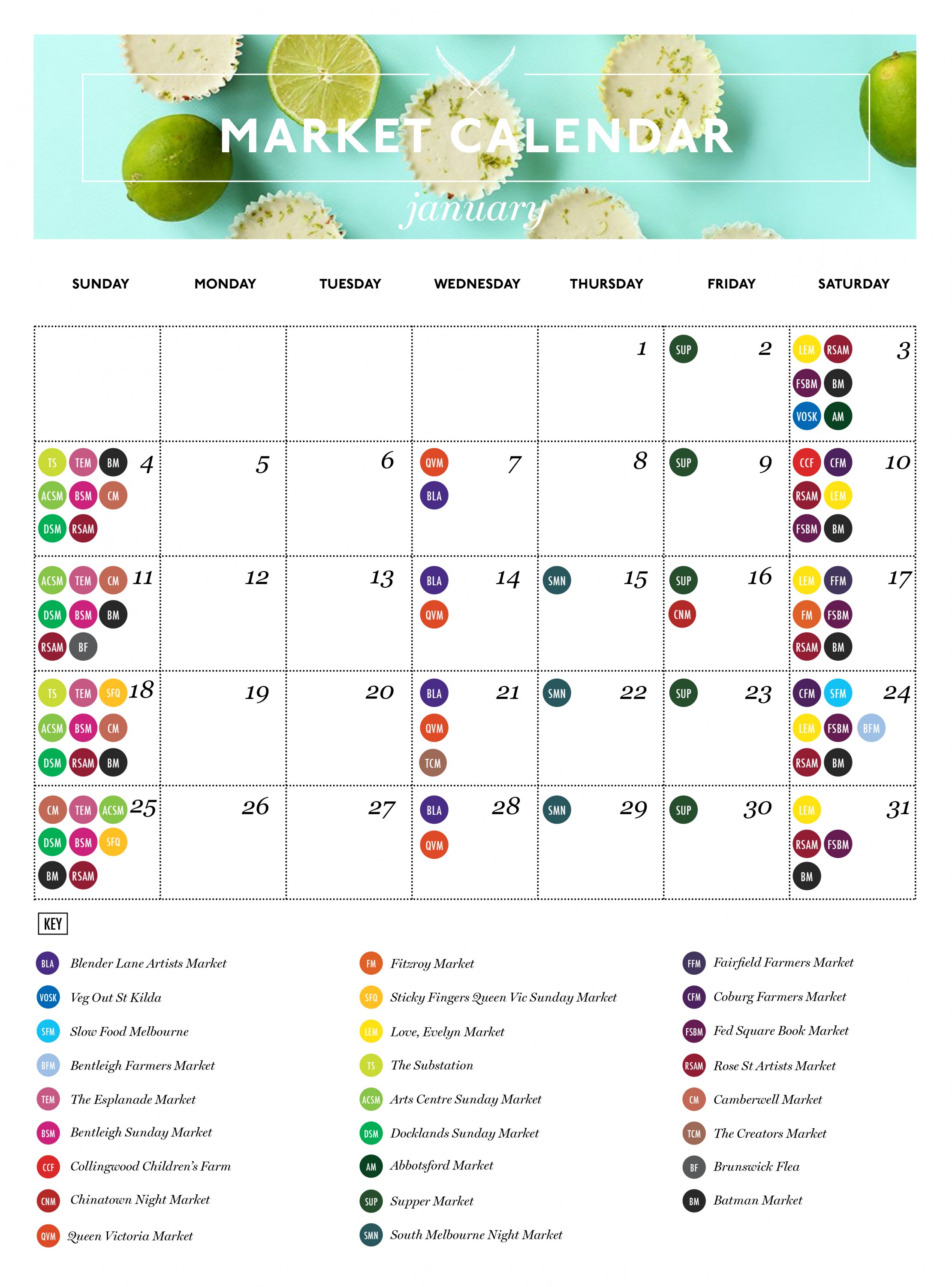 Lifestyle Markets
Federation Square Book Market
Bibliophiles, file yourself away at the Federation Square Book Market. For all you bookish beauties, this is the place to find over 5000 new and pre-loved titles, from fiction fantasy to fly-fishing*. This is one of the largest weekly book markets in Melbourne; held in the airy Atrium, it's the spot to get your literature on. *No fly-fishing books guaranteed!
Where: Atrium, Federation Square
When: Every Saturday, 11:00am – 5:00pm

Love, Evelyn Market
Fitzroy locals and lovers, visit the Love, Evelyn Market, open every Saturday for your fill of market goodness. One of the best boutique markets in Melbourne, the Love, Evelyn market is held at one of Fitzroy's oldest pubs, the iconic Evelyn Hotel on Brunswick Street. Take your pick of clothes, books, vintage wares, a tarot card reading or a Bloody Mary. Yup, you heard us, and it's perfectly reasonable (if not essential), seeing as the market starts at 12pm!
Where: Evelyn Hotel, 351 Brunswick Street, Fitzroy
When: Every Saturday, 12:00pm – 5:00pm

Abbotsford Market
Touted as being one of the cutest, most popular markets in Melbourne, Abbotsford Market is a family friendly, community endeavour in the vibrant suburb of Abbotsford. Find a pair of quirky vintage shoes, or stock up on old-school records. Spot some pre-loved fashion, or pig out on some Pierogi. Really, just head along for a good time; there's something for everyone at this cracker Melbourne market.
Where: Abbotsford Primary School, Lithgow Street, Abbotsford
When: Saturday 3rd January, 9:00am – 2:00pm

Brunswick Flea
Brunswick Flea Market is largely considered one of Melbourne's best markets by hipsters, and they should know! Boasting both new and pre-loved wares, this market features everything from edible treats to old-school vinyl beats.
Where: 7 Dawson Street, Brunswick
When: Sunday 11th January, 11:00am – 4:00pm

Camberwell Sunday Market
Running every Sunday, Camberwell Sunday Market is the place to head for when your market madness needs quenching. Find some second-hand treasures, homemade crafts and art, or some tasty sweet and savoury treats! Get there early before all the best stuff sells!
Where: Station Street, Camberwell
When: Every Sunday, 7:00am – 12:30pm

Docklands Sunday Market
Down in the Waterfront City, The Docklands Sunday Market has plenty to peruse and purchase. From art, to vintage clothing, to books, there's even piano music to serenade you while you wander.
Where: Waterfront City New Quay Promenade, Docklands
When: Every Sunday, 10:00am – 5:00pm

Bentleigh Sunday Market
With everything but the kitchen sink, the Bentleigh Sunday Market boasts 145 stalls for your viewing pleasure! You know what they say about how one man's trash totally turns out to be a Jackson Pollock (sorry art snobs)? Find your treasure here, marketeers.
Where: 1 Bent Street, Bentleigh
When: Every Sunday, 7:00am – 12:00pm

Rose St Artists Market
For one of Melbourne's best art and design markets, pay a visit to the Rose St Artists Market in Fitzroy. On every weekend, decorate your walls with a beautiful print, some photography, or decorate yourself with some great fashion and jewellery. Listen to some beats while you taste some treats, or play spot the hipster from the Young Bloods Diner on the rooftop. Fun times in Fitzroy at this iconic Melbourne market.
Where: 60 Rose Street, Fitzroy
When: Every Saturday and Sunday, 11:00am – 5:00pm

Fitzroy Market
Fitzroy is just the place to go for your monthly Melbourne market cravings. Running for four years, the Fitzroy Market held at Fitzroy Primary School has 65 stalls filled with second-hand solid gold treasures. With food to fuel you, there's a great vibe that encourages you to slow down and enjoy yourself at this family-friendly market.
Where: Fitzroy Primary School, 322-326 George Street, Fitzroy
When: Saturday 17th January, 10:00am – 3:00pm

Arts Centre Melbourne Sunday Market
The Arts Centre Melbourne Artisans Market is where local creatives show off their goods. Everything is produced or made locally, and with over 80 artisans, there's something unique for every taste. A great place to admire and support the handiwork of talented local artisans.
Where: Arts Centre Melbourne Lawn, Melbourne CBD
When: Every Sunday, 10:00am – 4:00pm

The Esplanade Market
Summer is here, Listers, so when you head down to the beach, make sure to make a pit stop at The Esplanade Market in St Kilda! With over 120 unique stalls stretching along the sunny esplanade, this popular Melbourne market boasts everything from paintings to purses.
Where: Upper Esplanade, St Kilda
When: Every Sunday, 10:00am – 5:00pm

Batman Market
Get excited market-goers, cos in charming Coburg you'll find the Batman Market! Holy Smokes! With over 100 stalls, there will plenty to see while you're spelunking, including fresh produce, arts and crafts, live music and a range of multicultural cuisine.
Where: 14-22 Gaffney Street, Coburg
When: Every Saturday and Sunday, 9:00am – 3:00pm
Chinatown Night Market
In Heffernan Lane, Chinatown, you'll find a little corner of Melbourne that's dedicated to fantastic and flavourful cuisine! All about food, you can enjoy hawker-style eats running late into the night. Did we mention there will be dumplings?
Where: Heffernan Lane, Melbourne
When: Friday 16th January, 4:00pm - 10:00pm

The Queen Victoria Night Market
The Night Market is a trendy hang out, mixed with amazing food vendors selling cuisine from around the world. With fashion, craft, health and wellbeing stalls, and live entertainment, it's a great way to celebrate hump day! Head on down for a late-night browse, and check out the season's fresh new look!
Where: Queen Victoria Market, Melbourne
When: Every Wednesday, 5:00pm - 10:00pm

Blender Ln Artists Market
Held in one of Melbourne's most diverse and vibrant street-art laneways, the Blender Ln Artists Market is one of Melbourne's best markets to showcase wonderful art, craft, illustration, design, textile and jewellery talent. With yummy treats, live performances, and a chilled atmosphere, spend your Wednesday evening soaking up the culture at the Blender Ln Artists Market.
Where: 110 Franklin Street, Melbourne
When: Every Wednesday, 5:00pm - 10:00pm

Supper Market
Celebrate summer at the Abbotsford Convent with the Supper Market. Held at night, enjoy watching the sun go down and the stars come out surrounded by charming greenery and character-filled buildings. Live music, children's activities, and of course, supper. Be there, or be supper-less.
Where: Abbotsford Convent, 1-16 St Heliers Street, Abbotsford
When: Every Friday, 6:00pm - 10:00pm

South Melbourne Night Market
Summer nights brings with it this sweet Melbourne night market! Running for 8 weeks, the South Melbourne Night Market runs every Thursday evening. Get excited for the culture this great market has to offer, from delicious hawker-style food, to trendy designer goods and fashion. Look out for some live entertainment and music too!
Where: South Melbourne Market, Cnr Coventry and Cecil Streets, South Melbourne
When: Every Thursday (from 15th January), 5:30pm

The Creators Market
Showcasing the talent of local designers and artists, Malvern Town Hall is set to host this one day market. Shop till you drop for fashion, designed goods and art. Plenty of great food to keep you going, too. There will also be family-friendly activities, and hands-on workshops—to learn a new skill or gain some inspiration—that you can register for online.
Where: Malvern Town Hall, 1251 High Street, Malvern
When: Wednesday 21st January, 2:00pm - 9:00pm

Sticky Fingers Sunday Market Food Festival
Queen Victoria Market welcomes its newest initiative, Sticky Fingers! Running every Sunday, this foodie festival has asked food vendors to think outside the box…and put it on a stick! All food will be served up on a stick, toothpick or prong, and will be economically priced! There's entertainment for those with kids, and a beer garden by Two Brothers Brewery for those without! With live music to set the summer mood, don't miss this great Sunday market in Melbourne!
Where: Queen Victoria Market, Melbourne
When: Every Sunday (from 18th January), 9:00am - 4:00pm

Produce Markets
Slow Food Melbourne
Why anyone would rush the process of eating is beyond us here at The Urban List. That's why we plan to attend the Slow Food Melbourne market at the Abbostford Convent. Featuring 60 of Victoria's finest growers and producers, you can buy your fruit 'n' veg directly from the farmer that grew it.
Where: Abbotsford Convent, 1 St Heliers Street, Abbotsford
When: Saturday 24th January, 8:00am - 1:00pm

Coburg Farmers Market
Saying stuff ya to supermarkets? Then head to the Coburg Farmers Market at Coburg North Primary School to stock up on all your grocery goods. Find a tasty selection of fruit and vegetables, along with nuts, oils, and tangy bakery fancies to keep you fuelled.
Where: Coburg North Primary School, 180 O'Hea Street, Coburg
When: Saturday 10th and 24th January, 8:00am – 1:00pm

The Substation Farmers Market
Brought to you by Melbourne's Farmers Markets, The Substation Farmers Market delivers greedy market-goers a bunch of fresh produce and local handmade goodies. With all the proper fancy schmancy accreditation, the Substation Farmer's Market in Newport guarantees that as a customer, you are buying fresh seasonal produce directly from the producers.
Where: The Substation, Market Street, Newport
When: Sunday 4th and 18st January, 9:00am – 1:00pm

Veg Out St Kilda Farmers Market
Planning a lazy Saturday morning? Oh wait, that's not what veg out means this time around! Get your organic goodies at the Veg Out St Kilda Farmers Market, held at St Kilda's favourite community-run garden, the Peanut Farm Reserve. On the first Saturday of the month you can find one of Melbourne's best fruit and veg markets.
Where: Peanut Farm Reserve, Chaucer Street, St Kilda
When: Saturday 3rd January, 8:30am – 1:00pm

Collingwood Children's Farm Farmers Market
Here you can buy and sell children! Hey wait… Just kidding! The Collingwood Children's Farmers Market is held at the Collingwood Children's Farm, and has over 50 stalls featuring Victoria's best producers and artisans. With a family-friendly atmosphere, it's a wonderfully fun weekend stop (remove that price tag from your child at once!).
Where: Collingwood Children's Farm, 18 St Heliers Street, Abbotsford
When: Saturday 10th January, 8:00am – 1:00pm

Fairfield Farmers Market
Expect a fair price and a fair go at Fairfield Farmers Market in (yup, you guessed it) Fairfield. With a focus on food and fantastic fresh produce, feel free to shop and feed your fancies from 8 in the morning to 1pm, or all tuckered out!
Where: Fairfield Primary School, Wingrove Street, Fairfield
When: Saturday 17th January, 8:00am – 1:00pm

Bentleigh Farmers Market
Run by East Bentleigh Primary School, the once market garden is now blooming with market stalls! Head along on the fourth Saturday of each month to stock your pantry with wonderfully fresh Victorian produce direct from the growers! Saa fresh.
Where: East Bentleigh Primary School, 90 Bignell Road, East Bentleigh
When: Saturday 24th January, 8:00am - 12:30pm

Image Credit: Cooking for Pleasure.