This year marks a decade of Melbourne Music Week and if one thing's for sure, they're going all out to celebrate.
Not only have they gifted us arguably one of their greatest programs of all time, they're bringing back the original Balestra Berlin-designed, Melbourne Music Week Hub, Kubik—with a brand new design.
Kubik was last sighted in Melbourne in 2011, where it popped up in Birrarung Marr. This year Kubik will be popping up across the Yarra, at Alexandra Gardens, a short walk from Flinders Street Station.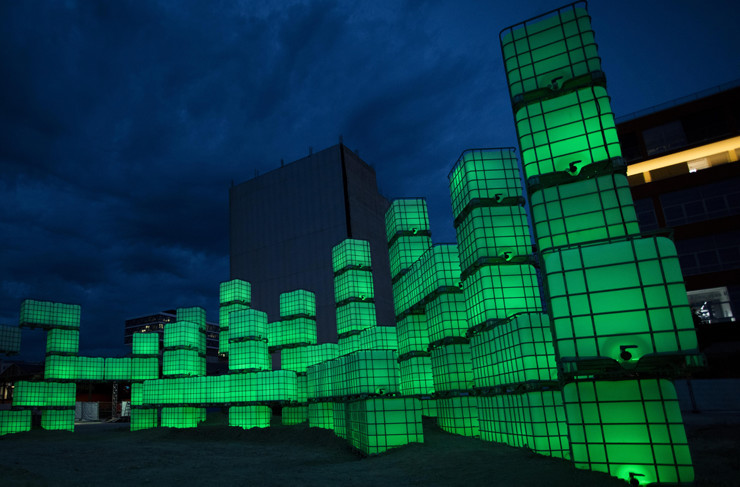 If you're not familiar with Kubik, it's an outdoor music venue constructed using industrial containers. It's also a multi-sensory experience with each unit housing LED lights individually controlled by custom software, interacting with the beats and frequencies from live performances.
So if you weren't lucky enough to immerse yourself in the Kubik experience back in 2011, you'll want to make sure that you do so this year.
For the first time ever, the Hub will also be powered with 100% renewable electricity sourced through Melbourne Renewable Energy Project's wind farm. They're also including a $1 carbon offset contribution from each Hub ticket sold.
Tickets to Hub events are currently on sale and you'll want to grab a ticket before they sell out. There's a stacked line-up of performances set to take the Hub stage across a range of genres and styles, including CC:DISCO! locked in to open the venue with a DJ set with French house and electronic DJ, Raphaël Top-Secret.
The Details
What: Kubik, Melbourne Music Week Hub
Where: Alexandra Gardens, Melbourne 3004
When: Friday 15 November - Saturday 23 November
For more info, click here.
Speaking of Music Week, have you bought tickets to all the unmissable gigs this month?
Image credit: supplied