The Australian Interior Design Awards (AIDA) will be announced in the grand ballroom of the George Street Hilton in Sydney this Friday, but as per usual, design capital Melbourne has stormed the board, particularly in the hospitality and retail categories. Here, we speak to three of our favourite local nominees.
ELENBERG FRASER
Shortlisted: 2014 Retail Design
For: Zumbo
More usually associated with some of the city's tall, gleaming towers, integrated design and architecture practice Elenberg Fraser has been nominated in the residential design category and in retail design for its fit-out of renowned patissier Adriano Zumbo's first Melbourne outpost, Zumbo in South Yarra's Claremont Street.

An undulating metallic wonderland doused in pink neon, with seats seemingly carved from gooey marshmallow, Zumbo allowed the firm almost free reign, simply stipulating that it should reflect his well-established brand, but he was happy for Elenberg Fraser to bring a little of what they do and to reflect the city's innate style too. Only the pastry cabinets were locked in, with Zumbo having picked them up at a trade show in France.

"We wanted to reinvent the French patisserie," says Thomas Orton, who helps oversee the graduate program at Elenberg Fraser. "We looked at the way Adriano approaches his baking; he's taken an old technique that's been around for quite a while and infused it with new techniques and flavours to make these contemporary desserts. We took that approach with the design."

Drawing inspiration from the pressed tin ceilings often spotted in Parisian patisseries, the pillow-like panels were vacuum-formed from clear polycarbonate, heated for different periods of time, hence the fluctuating depth. Aluminium vapour was then introduced to achieve the mirrored finish. "It looks like a melting block of chocolate," Orton says. "We really enjoyed the fact we were applying heat, effectively baking them."

The mirrored surfaces reflect the crazy colours of Zumbo's cake cabinets, with the clever but sparing use of pink neon picking up on the company brand. "The typeface was custom designed by the graphics team here," Orton says. "It reflects nicely off the wall and ceiling panels and creates that really beautiful, candy-coloured environment."

With dessert lovers able to order Zumbo's delights online, it was important to create a sensory experience in Melbourne's first bricks and mortar outlet and Adriano approved of the result. "He was blown away with what we came up with," Orton says. "We're really chuffed with the AIDA nomination. Elenberg Fraser's towers tend to take 5-10 years to see through from idea to completion. For the graduate team to work on these fit-outs and see something great come together in 2-6 months is really rewarding."
MIM DESIGN
Shortlisted: 2014 Hospitality Design
For: Gochi and Rozzi's Italian Canteen



Mim Design for Rozzi's Italian Canteen. Image credit: Shannon McGrath.
Multidisciplinary practice Mim Design scored no fewer then seven nominations across five categories, including workplace design, residential, and two nods for hospitality – Crown Casino's sleek, contemporary Japanese restaurant Gochi and Rozzi's Italian Canteen at Highpoint.

Miriam Fanning, principal of Mim Design, says it's rewarding to be shortlisted so enthusiastically in this year's AIDA. "We have a strong design community in Australia and it's nice to be recognised as a part of it. It's fantastic to get these nods, particularly in the hospitality category. Our clients are very pleased, and it's great to be able to celebrate that with them."

Fanning says Rozzi's Italian Canteen was a brilliant project to work on. "They came to us with a new brand which they hadn't established a look, feel or interior aesthetic for, so we were actually able to work through the whole process from branding to menus, uniforms to the interior fit out."

The white tiled façade is daubed with an Italian phrase, "Se non alimentare il cane va in cerca de cibo della porta accanto," which translates to, "If you do not feed the dog, the dog goes in search of food next door," reflecting the restaurant's focus on comfort food served quickly and effortlessly in stylish surrounds.



Mim Design for Gochi. Image credit: Shannon McGrath.

Cute yellow and brown stools attend communal tile-topped benches outside while, indoors, beautiful yellow-tinged floral tiles fan out on the floor with blue and yellow detail on the contrasting wall tiles. Dark wood shelving houses cooking utensils, lending a homey, Italian kitchen feel, with a host of pendant grey and alternating yellow lamps overhead.

"We wanted to make sure that whatever we designed for that particular store, we could take details for future fit-outs," Fanning says. "They're not the cookie cutter type of client, but they wanted a really strong aesthetic with a few elements that could carry across. It's nice to be able to design that way."

The tight floor plan of Gochi provided its own unique challenges. The result's impressive, with deep red banquette seating, a woven rope ceiling, warm wood finishes and sun-like, backlit wall features fashioned from chopsticks.

Fanning thrives on working across a broad range of projects. "It's really important for us to make sure each design is unique, whether it's a Japanese restaurant, office fit-out or a residential home. We like to challenge ourselves as a studio. It makes you design for a sense of purpose, rather than having a particular style."
EADES & BERGMAN
Shortlisted: 2014 Hospitality Design
For: Mr Miyagi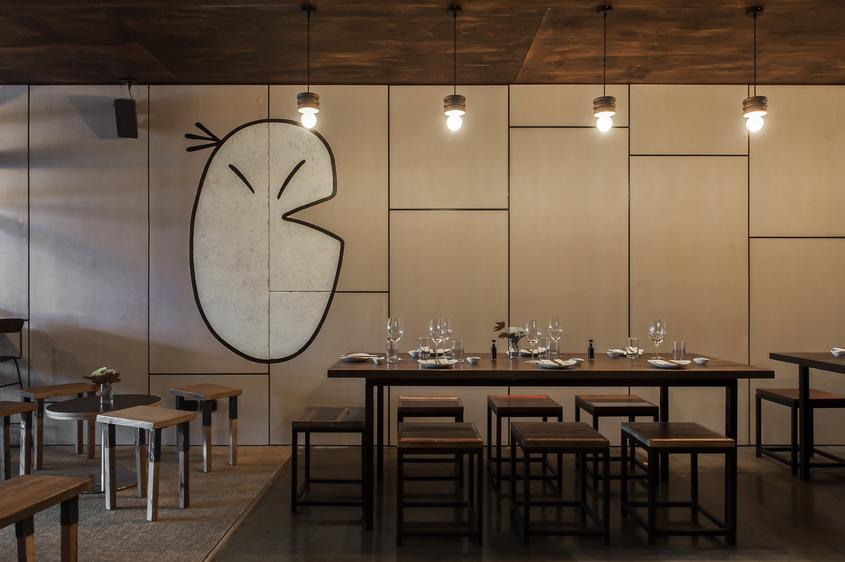 Eades & Bergman for Mr Miyagi. Image credit: Nicole England.
Design studio Eades & Bergman have also been nominated in AIDA's hospitality category for their fun fit-out of Chapel Street Windsor's fusion Japanese joint, Mr Miyagi, complete with custom-made lighting by Please Please Please, a Tokyo backstreet aesthetic and risqué, hand-painted erotic art in the bathrooms.

"It's a welcome acknowledgment, because we love what we do," says Eades & Bergman director Wendy Bergman. "We put our little think boxes on; how can we use recycled products and have our tongue in cheek? It was good fun – we love projects that pump the adrenaline."

Bergman says that she and business partner Samantha Eades form firm bonds with each of their clients, and they both regularly dine at Mr Miyagi's. "The guys were great, they were on board with the vision and everybody was really excited. I go back regularly. You build a relationship when you do a job like this. That's the beauty of it; you're always creating friends."

One of the added benefits of going back is that Bergman gets to sneakily judge the success of the project by observing how people interact with the space. "You're always looking at people's facial expressions, especially when they first come in," she says. "What attracts their eyes the most? Some things are subtle and some are a little bit more in-your-face. I love going into the toilet and being anonymous as people discover the erotica and you hear, "What the hell?"

Bergman's proud of the nomination and with how the project turned out. "Maybe if you had an unlimited budget, you might tweak it a little, but sometimes being in that position, when you're working to a set budget, forces you to think in a way you wouldn't normally, and that's often where you get your best results."

For more info on the Australian Interior Design Awards go to the website.