The Yarra River might only be 100 metres wide, but when I venture to the Northern side of the city from the safe haven of the south, it feels much further. I do tend to make the crossing on a regular basis, so it's probably a good thing that in terms of food, the North gives you something to look forward to once you arrive. As a follow up to my Southside gluten-free round up, here are my top 10 choices for gluten-free breakfasts and brunches on the 'other' side of the river.
What came first, the chicken or the egg? Auction Rooms has a similar quandary – did you visit for the food, or the coffee? With a menu that includes 'absinthe-buttered kale' (health food was NEVER this good), I suspect it was the food. The nine-hour spicy braised beans with friend onion polenta and gruyere cheese is a gluten-free favourite.
Where: 103-107 Errol Street in North Melbourne
Contact: 03 9326 7749
It seems an oddity to visit a Baker for gluten-free goods – after all, those places are usually FULL of gluten – but, at Dench, the staff lovingly handcraft a sweet and savoury gluten-free loaf, plus a stack of sweet treats. Eat in at the café and you'll find plenty to try – my pick is the quinoa and herb fritters with honey marinated bacon, crushed avo and rocket. Take a loaf home to enjoy later!
Where: 109 Scotchmer Street in North Fitzroy
Contact: 03 9403 5333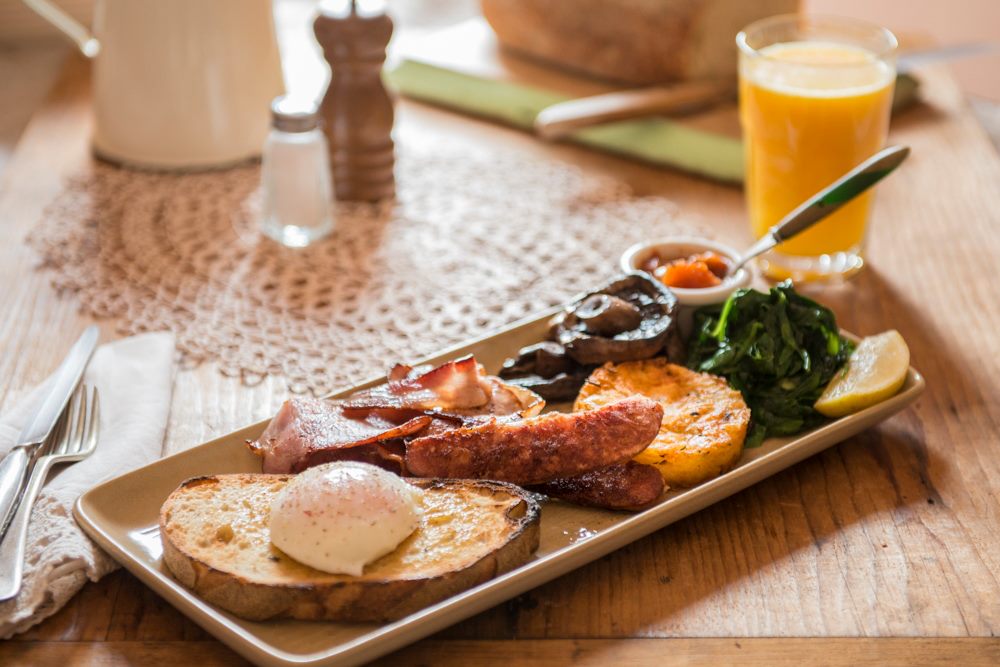 Mini Big Breakfast at Dench Cafe. Image Credit: Dench Bakers Facebook
Industry by name and industry by nature, this warehouse conversion in the back streets of Fitzroy is a gem. They bake their own gluten-free bread (bonus points!) and you can pretty much do anything with it. The avocado smash is tried and tested, and with their fabulous coffee, it's your basic win-win situation.
Where: Warehouse 3, Corner Rose & Fitzroy Streets in Fitzroy
Contact: 03 9417 1034
As far as spring breakfasts go, all points are awarded to the beautiful Rathdowne street in Carlton for the delightful tree-lined avenues and perky personality. If you like your breakfast meats – bacon and sausages – these guys will float your boat. Gluten-free bread makes anything on the menu yours.
Where: 617 Rathdowne Street in North Carlton
Contact: 03 9347 4064
Famous for their baked eggs, Birdman Eating do everything from a poached egg to black pudding. Choose from the four specials on the blackboard (a variety of baked eggs), or opt for the simple toast and jam - blueberry, licorice root and pinot noir on Fatto a Manno gluten-free bread. A fave.
Where: 238 Gertrude Street in Fitzroy
Contact: 03 9416 4747
Short for 'A Place to Eat', APTE is a little out of the inner city circle, but is worth the drive. The all day breakfast menu is mostly gluten-free, and you know how awesome it is when you get to choose from more than two things! These guys do a gluten-free bircher muesli with honey yoghurt and poached fruit that makes spring sing.
Where: 538 Heidelberg Road in Alphington
Contact: 03 9482 2991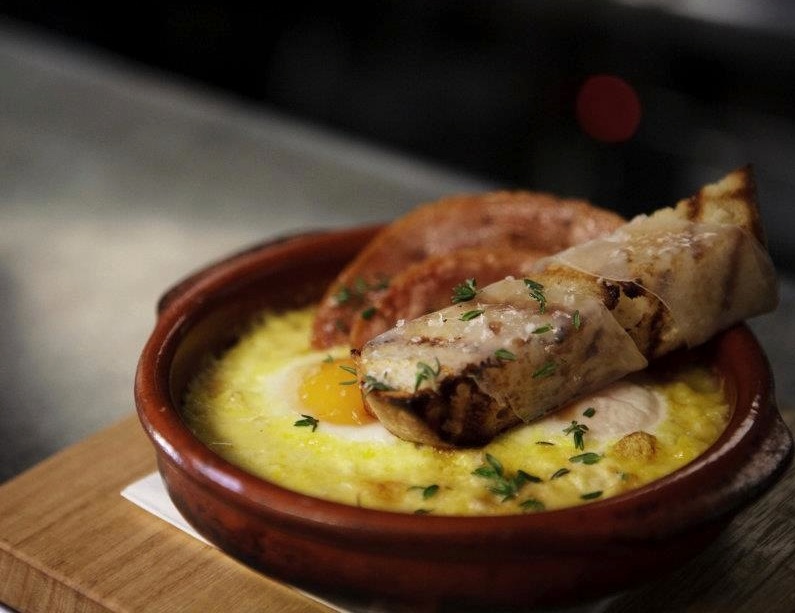 Baked Eggs at Small Victories. Image Credit: Small Victories Facebook
Do not be dissuaded by the use of 'flour' in the title, the gluten-free bread here is yummy and the menu is easily altered to accommodate. Come in late and go straight to the lunch menu, 'cause everything tastes better with chips. A club sandwich (or BLT!) is the best hangover cure.
Where: 337-341 Sydney Road in Brunswick
Contact: 03 9078 0497
A buzzing café, with personality and va va voom, South of Johnston is a little hidden, just to the south of Johnston Street in Fitzroy. The spring-summer menu is full of yummy treasures, like field mushrooms with Danish feta, thyme and beetroot relish. Add gluten-free toast and you have a great start to your day.
Where: 46 Oxford Street in Collingwood
Contact: 03 9417 2741
Start with granola, rice pudding, or boiled eggs with soldiers, or perhaps you'd like one of everything and prefer to try it all? The acronym CBDGF on the menu encourages you to ask (Can be done gluten-free), so be sure to take your time making up your mind. As a sweet tooth, I'm partial to the rice pudding with Bridge Farm organic rhubarb. Delish.
Where: 77-79 Nicholson Street in Brunswick East
Contact: 03 9388 8858
I love a theme in a restaurant. Breakfast Thieves have picked a good one, with menu items named for the greatest of robbers: Goldilocks (a personal favourite); The Spanish Gypsy; Legend; Elly's Feed and Thieves on the Run can all be adapted to gluten-free. But if you are after something simpler, The Usual Suspects is where you should look.
Where: Shop 1, 420 Gore Street in Fitzroy
Contact: 03 9416 4884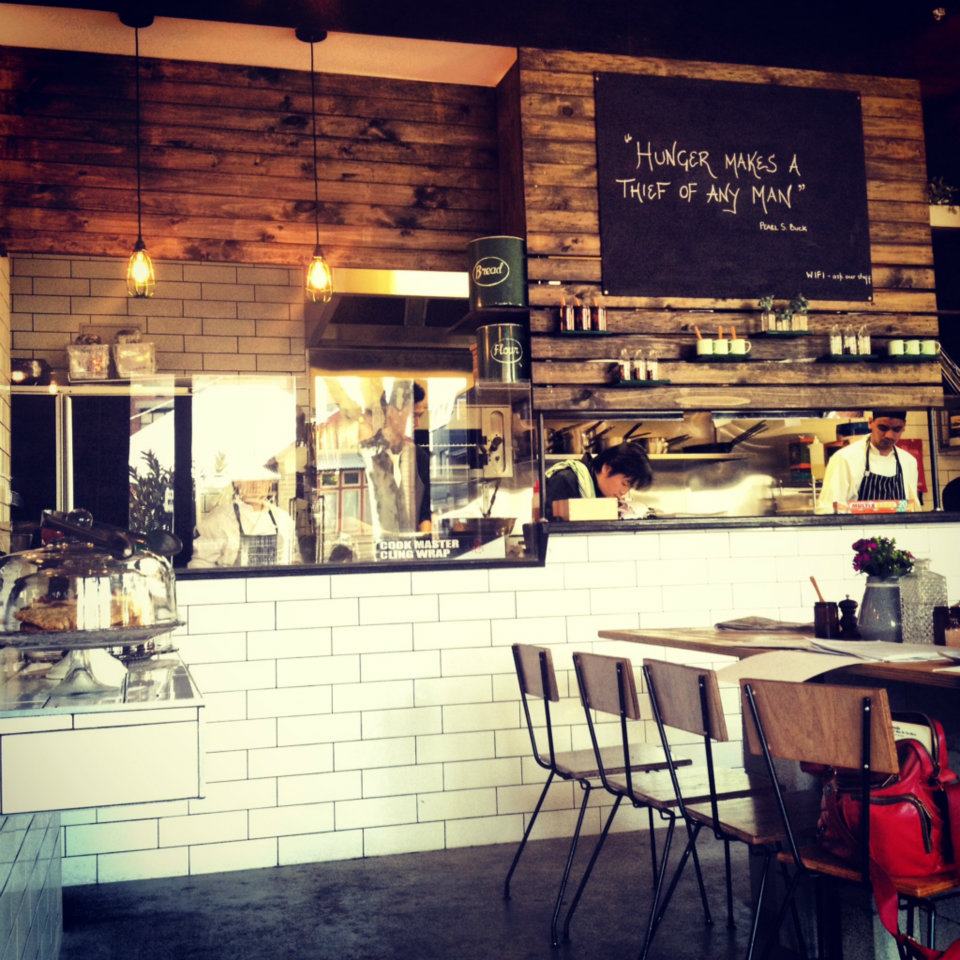 A stylish spot to indulge in gluten-free goodies - Breakfast Thieves. Image Credit: Breakfast Thieves Facebook
BONUS: Fatto a Manno
While not a café or restaurant per se (they do have coffee though!), Fatto a Manno is a gluten-free institution on the Northside, and a spot I have regularly crossed the river for. With the most fab gluten-free bread at a decent price, heaps of gluten-free treats, pizza and bread rolls, Fatto is a destination in itself for your bready needs. Perfect for a quick lunch or a snack on the go. Anytime, really!
Where: 228 Gertrude Street in Fitzroy
Contact: 03 9417 5998
TUL Note: Click here for our gluten-free round up of the southside! And make sure you check out the top 13 gluten-free dinners in Melbourne!
Main Image Credit: Shades of Cinnamon