Flowers are blooming, bees are buzzing, the smell of fake tan is in the air – it's official, spring has sprung! To celebrate this glorious season, QV Melbourne has built a bespoke glasshouse smack bang in the centre of the CBD. Filled with a plethora of plants, the QV Glasshouse will serve as the base of QV's Spring Uncovered festival until the 10th of October. On the agenda are a range of exciting events involving floristry, fashion and food...can anyone say fun?!
With everything from butterfly face painting to champagne tasting (smelling a bouquet of a whole different kind!), the QV Spring Uncovered festival has something for all ages and interests. Here is our pick of the very best bits.
'M DREAMS' KARL LAGERFELD SHOE WORKSHOPS
Tuesday 24th September – Thursday 26th September | Various times
The Kaiser himself has created his first capsule collection for Melissa shoes, and to celebrate, expert stylists will help you customise your very own Patchuli Wedges or Aranha Hits. To top it all off, one lucky fashionista will have the chance to win a pair of Melissa x Karl Lagerfeld shoes of her own! Sessions are priced at $69 and include a gorgeous pair of Melissa shoes for you to decorate. Tickets are sure to sell out quick, so book here and prep those feet!
Saturday 28th September and Sunday 29th September | 10:00am – 12:00pm
Head to QV Glasshouse to adorn your paws with a free mini spring mani courtesy of the team at Goddess of Nails and Beauty. We repeat: Free. Mani. Need we say more? Be there!
TERRARIUM DEMONSTRATIONS BY PETITE GREEN
Saturday 28th September – Tuesday 1st October | Various times
Adored by hipsters the world over, the terrarium is a jarred mini eco-system and possibly the cutest invention ever. Amy and Tim from Petite Green are conducting free demonstrations on how to create rainforest and succulent terrariums from the 28th of September until the 1st of October. Times vary, so make sure you check out session details here.
TERRARIUM WORKSHOP BY PETITE GREEN
Monday 7th October | 6:00pm
Still wanting to flex that mini green thumb of yours? Snag a ticket to Amy and Tim's workshop, where you can get your DIY on and take home your very own terrarium. The workshop on rainforest terrariums is $85 and includes all tools and supplies. Spots are limited and are sure to fill up quick, so secure yours here.
Friday 4th October – Sunday 6th October | Various times
Nestled in the QV Glasshouse, the Butterfly Enclosure gives children the chance to get up close and personal with these enchanting lepidopterans. Come along on the Saturday and Sunday for butterfly face painting, pot-plant decorating classes, balloons and other fun giveaways. A gold coin donation with get you in and, with all money donated to The Butterfly Foundation, what reason do you have not to come? It's sure to be popular with little critters, so make sure you RSVP here.
TEA HOUSE
Daily until Thursday 10th October | 12:00pm – 4:00pm
All that flora and fashion making you hungry? Thirsty as a plant? Perch yourself between the blooms in the QV Glasshouse and enjoy afternoon tea from QV's resident brewers, Lupicia Tea. Held daily from 12:00pm 'til 4:00pm, it's only $5 for a cuppa and cake. Each day will see a different variety of tea and bite sized treats, so you have the perfect excuse to go more than once! Premium Sisko Chocolate tastings and champagne samplings hosted by the Champagne Dame herself, Kyla Kirkpatrick, are also held throughout the week, so make sure you check out those too! All the info can be found here.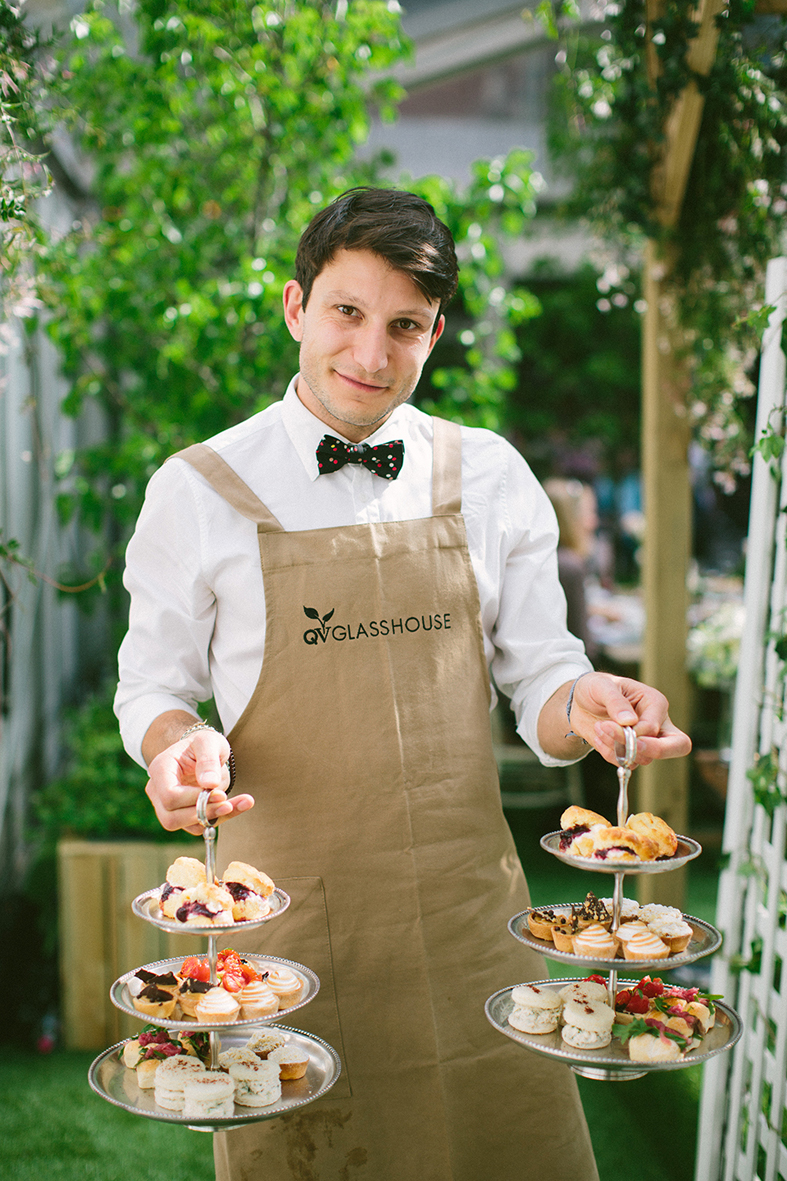 Spring Uncovered | The QV Melbourne Glasshouse
Corner Lonsdale and Russell Streets in Melbourne
Sunday 22nd September – Thursday 10th October
TUL Note: Melbourne-based writer Ella Pleasant is a lover of cheese, wine and all things utterly delectable. The only thing she enjoys more than eating and drinking is boasting about her culinary finds online.
Image Credit: Alison Mayfield Photography