Ah, St Kilda Road –Melbourne's tree-lined artery and gateway to the CBD, central parks, Yarra River, Southbank and city landmarks! What a neat street! Whilst the strip acts as a thoroughfare for those travelling to and from the city, from the north to south and vice versa, for many a-worker of Melbourne, St Kilda Road is home from 9am – 5pm, Monday – Friday.
Outside of the CBD, St Kilda Road is now home to some of Melbourne's biggest corporates and is lined with office space upon office space, all containing a hustling and bustling workforce that, come midday, have stomachs a-rumbling and appetites to be satisfied!

So, because we wouldn't want you to slave day-in-day-out in your St Kilda Road jobs, only to say farewell to your hard earned dollars come lunchtime, we have trawled through the sparse strip and done the hard yakka for you in order to bring you the BEST cheap lunchtime options along your leafy office strip.

DON DON
Don Don on St Kilda Road is the younger sibling of CBD lunch hour institution – Don Don (funnily enough…). The Japanese eatery ticks off all three C's – cheap, cheerful and, errrr, cham-packed – offering a menu speckled with delicious, flavour-filled and fresh dishes, and everything for below $10!

The Don Don menu offers 11 meal options, including teriyaki chicken on rice, tofu curry don on rice, beef curry, soba noodle salad, beef noodle soup of the soba or udon varieties, and sashimi. Traditional flavours are balanced with simple ingredients, making Don Don a virtually risk-free venture for Japanese connoisseurs and hard-to-please palates alike.

For the busy worker-bees lining St Kilda Road, Don Don's is the complete lunch-break package. Meals are delivered with such lighting speed that your boss will never think you were gone, be impressed by your commitment due to never having taken a lunch break, and promote you to acting-CEO on a base salary of $5 million + bonuses within 3 months of employment. Guaranteed.

Don Don | 5 Bank Street in South Melbourne



Image Credit: Village Melbourne Facebook.

PEKO PEKO
Located just off the main corporate-crawl of St Kilda Road, Peko Peko is verging on a legendary status to rival that of Jabba The Hutt. A tremendously popular venue well known by most inhabitants of the surrounding office buildings and apartments, anyone in a hurry should stop in for an early lunch as tables are nigh impossible to source during the 12:30pm – 1:30pm peak lunch hour.

But fear not! For those of you with a few minutes up their sleeve, your wait for a table will be far from dull with illustrations lining the walls containing quirky drawings coupled with phrases such as 'I lost my virginity to the piano' and 'when I think too hard my nose bleeds'.

The high quality of food is indisputable, with influences including Taiwanese, Japanese, and modern Asian, and the menu offers ample options, all for under $15. Sample the Peko noodle soup, house-made fried rice, array of spring rolls and dumplings that will make your mouth water like Niagara Falls, and be sure to experience the ever-popular 'Peko Box': protein of your choice (the 'pop chicken' is an Urban List favourite), served with rice and seasonal sides in an oriental box.

Peko Peko | 190 Wells Street in South Melbourne

SOUL KITCHEN WOODFIRED PIZZA TRUCK
What self respecting Melbourne round-up would be complete without a food truck?! Soul Kitchen can be found every day at the foot of the iconic Arts Centre building on St Kilda Road, ready and waiting to satisfy your stomach for under $15, with a classic wood-fired Napolitana-style pizza.

Do not be alarmed by the limited space a truck can offer, as Soul Kitchen doesn't skimp on the quality, flavour and range of gourmet pizza options available for hungry punters from midday, and into the evening for anyone swinging by post-work.

Gourmet pizza options include:
Napolitana: tomato, fior Di latte, olives, anchovies, oregano – $12
Veggie Nice: tomato, roast eggplant, scamorza, red peppers, olives, basil, rocket – $13
Pizza Verde: tomato, mushroom, fior Di latte, marinated zucchini, friarielli, & basil – $12
Prawnalicious: tomato, marinated prawns, fior Di latte, parsley (chilli optional) – $13

Finish off with a 'Sweetie', a dessert pizza with melted Nutella and fresh strawberries. You had us at Nutella…

Soul Kitchen Woodfired Pizza Truck | Arts Centre, 100 St Kilda Road in Melbourne

VILLAGE MELBOURNE
With summer just around the corner (although if I had a dollar for every time I've set that in the past month I'd be halfway to Copacabana by now…), Village Melbourne is the perfect place for a cheap midweek work lunch in the sunshine. And with plenty of frosty boutique and craft beer options to choose from, you'll head back to the office with a skip or three in your step!

For under $15, bites on offer include beef jerky, prawn & chive dumplings, chorizo & figs in a chili glaze, fish ceviche with lime & chili corn chips, spicy Thai chicken meatballs, Belgian cheese croquettes, Thai fish cakes, Peking duck crepe rolls, baked spiced feta…the list goes on! And everything is mouthwateringly delectable.

If you're feeling a little less fancy, the Village Kiosk will have you covered for under a tenner: with dogs that are hot of the NY, chili and special Village variety; a fish Po Boy with crispy barramundi, chipotle coleslaw, corn and jalapeno salsa; cheeseburgers; pork belly sliders; and BBQ-glazed lamb ribs with Texan salad. (Tip: pack some Wet Ones if you're intending on returning to the office with a respectably clean face and fingers).

Village Melbourne | 557 St Kilda Road in Melbourne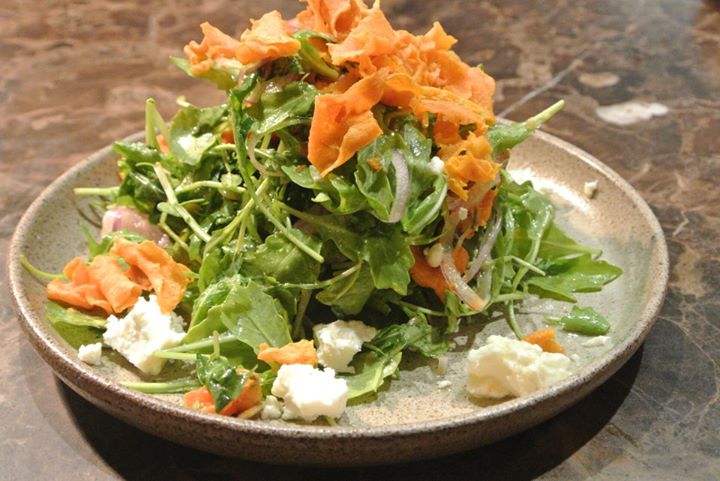 A healthy lunch offering from Cafe Vué. Image Credit: Facebook.

CAFÉ VUE
Part of the culinary empire that stems from the globally recognised Vue de Monde restaurant, Café Vue gives St Kilda Road dwellers a daily dose of great coffee, fast and friendly service, and simple, fresh food.

Café Vue serves up a daily smorgasbord of sandwiches, baguettes, pastries and cakes, plus lunch boxes catering specifically for the workforces flocking to the St Kilda Road precinct from Monday – Friday. Grab a classic chicken and mayo or tuna and egg sandwich, or take your tastebuds a bit further off the beaten track with a smoked ocean trout and caper mayo on dill brioche number, or a pulled pork steamed roll with house fries.

Lunch boxes are available for pre-order, delivery and takeaway (perfect for when you're frantically meeting a deadline), and will set you back very little of your hard earned dosh. A box comes with an entrée, salad, savoury main and dessert – e.g. bruschetta and garlic bread to start, asparagus, caper & anchovy salad for entree, beef cheek and 'shroom burger for main, and a chaser of strawberries and cream! Gluten-free and vegetarian options are also available.

Café Vue | 401 St Kilda Road in Melbourne

THE LITTLE PHO CAFE
In the wise words of Bridget Jones, 'It is a truth universally acknowledged' (or wait, maybe that was Jane Austin?) that Pho has taken Melbourne by storm in the late 'naughties, arguably more so than any other single dish. Lucky for worker-bees inhabiting the St Kilda Road hive, there is a superb pho provider right on your doorstep.

The Little Pho Cafe serves up Pho Bo for under $10 – a traditional Vietnamese beef noodle soup with thin cuts of eye fillet beef, homemade beef meatball and fresh rice noodles, garnished with scallions, coriander, pickled white onions, sawleaf herb, Thai basil, lemon, bean shoots and fresh cut chilli. All the necessary trimmings, we say.

Little Pho also caters to anyone foolish enough to not love Pho with a traditional Banh Mi, crispy pork banh mi, and grilled lemongrass and garlic chicken banh mi. You'll be left muttering 'Banh Mi Me' in your sleep after one of these delectable rolls has entered your life!

For the caffeine-addicted (so that's 99.999% of the workers of Melbourne), there's traditional Vietnamese iced coffee that will ensure you'll stay awake at your desk for at least the next 26 minutes until your 9th coffee of the day is required.

The Little Pho Cafe | 1/618 St Kilda Road in Melbourne



Image Credit: The Little Pho Cafe Facebook.

TRADEBLOCK CAFE
Want a midweek lunch that will not only leave your wallet filled with cash, but leave your stomach filled with delicious food, AND leave your heart filled with gratitude and love for humanity? Look no further!

The Tradeblock Cafe is part of the Victorian College for the Deaf, offering students the opportunity to gain real-life industry experience in the hospitality industry! Tradeblock is open Tuesday – Friday until 2:30pm, serving up excellent coffee, homemade cakes and light lunches, all prepared by the students and trainees on site. Head on down and try ordering your coffee in Auslan sign language (it's encouraged)!

Cooking up heaps of cheap menu items, such as roast vegetable, pesto and fetta rolls, Middle Eastern pides with salad (for only $6!), plus a daily rotation of homemade soups, you'll leave with a smile on your dial, and a happy tummy.

Tradeblock Cafe | 597 St Kilda Road in Melbourne
Not a St Kilda Roadian? We've got plenty more cheap eats to choose from here!
Love cheap eats in Melbourne? Check out Melbourne's 25 Top Breakfast Cheap Eats and our 11 Best Healthy Lunch Cheap Eats.