Obsessively hospitable and madly passionate, the hidden town of Milawa is one of Victoria's most picturesque wine regions, and it's only 2.5 hours out of Melbourne. Untarnished by frills and frivolity, we checked out this hidden food-lover's treasure, which is home to the incredible Brown Brothers winery, just south of Wangaratta.
Here are nine reasons why you need to visit Milawa.
#1: A dedicated Easter festival
The right way to spend a holiday practically dedicated to feasting on chocolate, good food and even better wines — Brown Brothers' Easter festival will run on Saturday 15 and Sunday 16 April. Live music, biscuit decorating and the competitive Easter Scavenger Hunt (get those fluffy tails ready to run), will feature over the weekend, along with 50 wines to taste at the Cellar Door.
Before you fill up on chocolate, check out the pop-up festival food stores in The Barn or browse through some of the finest produce from North East Victoria at Brown Brothers weekend-long marketplace. Award-winning Patricia's Table will be hosting a four-course lunch complete (of course) with matching wines so you can really celebrate the long weekend.
The festival is free for children and $5 for adults (which is refundable upon the return of your festival glass)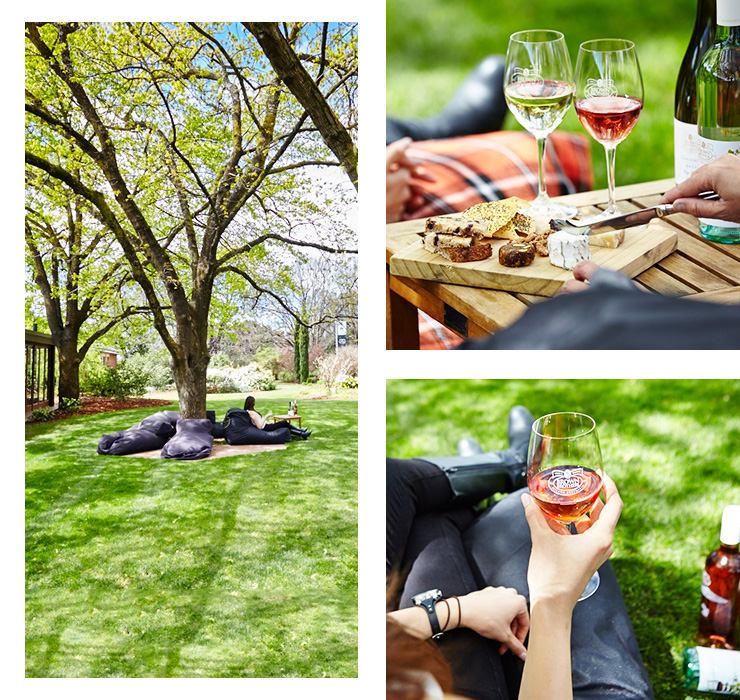 #2: Load up on chocolate muscat butter and brandy butter
The ultimate divider of friendships, here at The Urban List HQ mustard is non-negotiable on hotdogs, hamburgers and all things sandwich-related. For all condiment lovers, Milawa Mustards is a haven of tangy yellow spread. Run by husband-and-wife team Jim and Kristy Mellor, this family-run business grow their own mustard seeds to create Milawa Mustards' impressive line up. From a slightly sweet ginger and orange mustard to flaming hot chilli mustard, Milawa Mustards is also home to ridiculously decadent butters like orange chocolate, brandy and chocolate muscat. Who would say no to chocolate muscat butter on sourdough come Monday morning?
#3: Taste the finest French cheeses
Taste your way through hearty cheeses you won't brie-lieve. Inspired by European cheese making methods, the Milawa Cheese Company is home to a host of award-winning, handmade cheeses, which are more than worth the drive out. Every chees-y offering is worth a taste (or seven), but the most popular King River Gold Washed Rind Cheese is a soft, richly smoky cheese with a slightly gritty rind. Prepare to walk away with your wallet significantly lighter and your stomach significantly grate-r. A range of buttery bread from Milawa Factory bakery, including corn cob, and grain and honey loaves, are also on offer.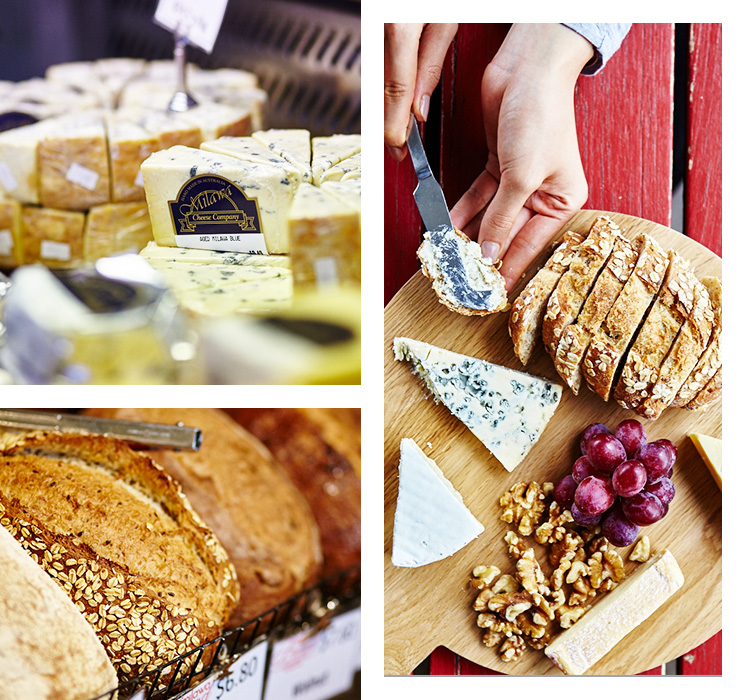 #4: Wine. All the wine…
Growing grapes and making wine since 1889, you can rest assured that the Brown Brothers team are the type to keep your glass half full. Over 40 wine varietals are on offer to taste at the Brown Brothers Cellar Door, including wines exclusively on offer at the Milawa vineyard. Taste your way through interesting drops such as Gamay, the King Valley hero Pinot Grigio, and the flagship Brown Brothers Patricia range.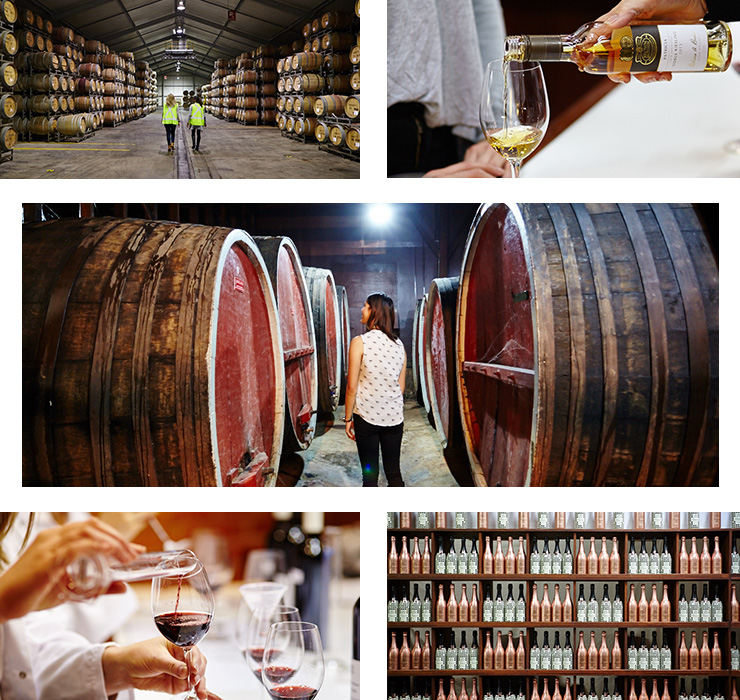 #5: Fine dining plus at Patricia's Table
Brown Brothers newly hatted Patricia's Table showcases the best Milawa produce and wine in one rustic location. Boasting two or three-course options with matched wines, impeccable service complements the rotating seasonal menu of rich, sophisticated dishes. Some favourites on offer when we visited included the mandarin and chocolate torte with gianduja mousse and orange meringue. Impeccable ricotta gnocchi with assorted mushrooms, pickled pumpkin, brown butter, pangrattato and sage was also a highlight. The cosy, quietly refined interior features deep oak tables and refurbished wine barrels.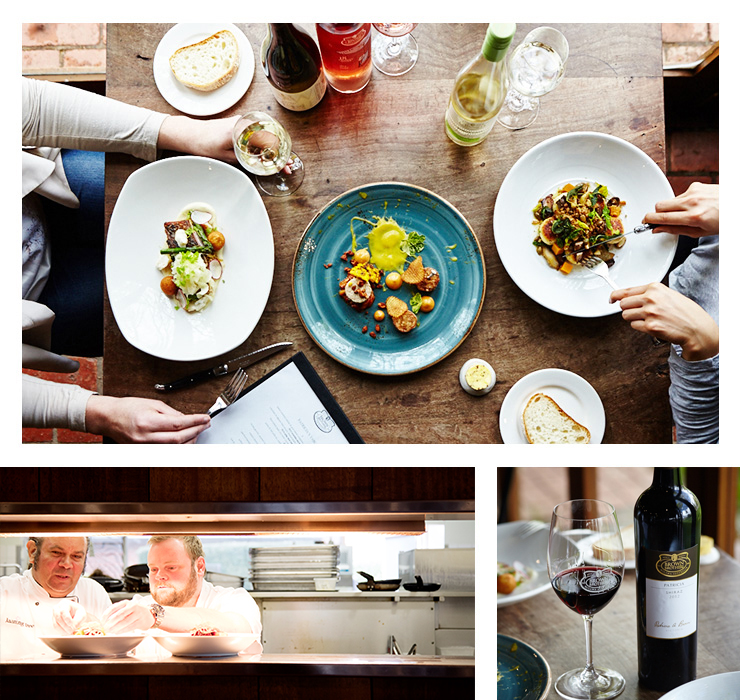 #6: Get splashing with a wine-filled adventure
As part of Brown Brothers foodie-approved wine tours, participants are expected (and encouraged) to get messy with red wine. The most alcohol-savvy science class in the state, the cellar door wine blending experience gives you the chance to create your own red wine just like the winemakers at Brown Brothers. Grape winery tours of the still-used family cellar, experimental Kindergarten winery and old winery are perfect for the die-hard bottle lover.
#7: Accommodation is (cleverly) just steps away
If you can't find your left foot without the help of Google Maps, Brown Brothers Milawa vineyard is (ingeniously) just down the road from Lindenwarrah. A luxury villa featuring spacious rooms with vineyard or garden views, Lindenwarrah is also home to Restaurant Merlot, because they know how much we like to eat. Using local produce including Milawa Mustard, Beechworth Apple Juice and Blue Ox Berries, enjoy perfectly tender Milawa honey and cardamom glazed duck breast with grilled peach and bulgur salad, or Milawa free range chicken with chorizo, creamed sweet corn, freekeh and grilled broccolini.
#8: There's heaps of great food on your doorstep
If you're craving a sweet treat between devouring local cheese and fine wine, pop into the Snow Road Produce cafe, just a hop away from the Brown Brothers vineyard. Their homemade peanut butter and chocolate chip cookies are buttery, chunky and we guarantee you won't stop at one.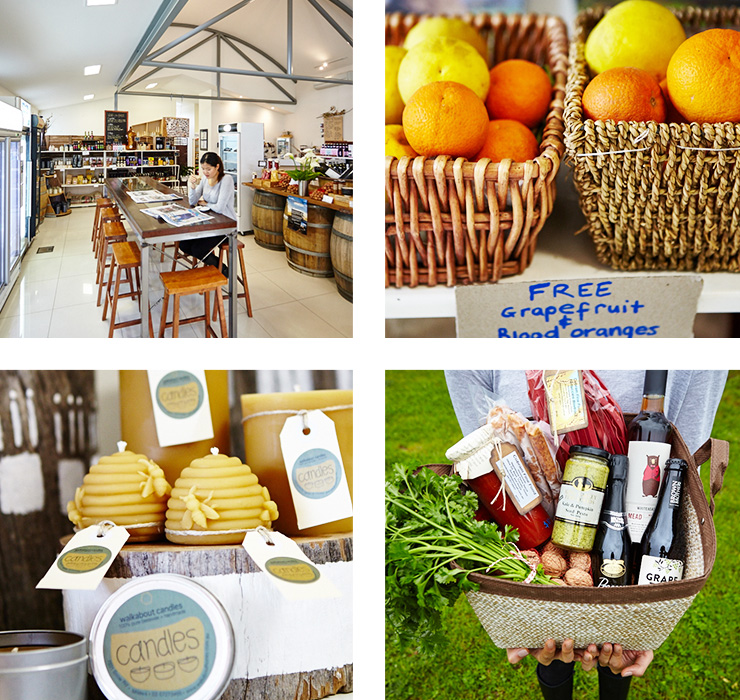 #9: And the views are pretty epic too!
Green rolling hills, sun-kissed skies and an endless, endless number of vines—these are the sights from the top of the breathtaking Banksdale Vineyard. And if you visit the main Milawa vineyard when vines are blooming, you can spot everything from flowering shiraz to mondeuse.
Ready to head to Milawa for your very own wine adventure? Simply click on this handy map link, and follow the directions out of Melbourne, through Seymore and towards Wangaratta. You'll want to turn off the main road and head towards Milawa before reaching Wangaratta town centre... Then just look for the Brown Brothers sign!
Brown Brothers is hosting events throughout 2017 at its Milawa vineyard. Look out for the up-coming High Country Harvest Wine Blending and Wine and Patricia new release dinner in 2017.
To keep up to date with the latest wine news, check out the Brown Brothers Facebook and Instagram pages.
Editor's Note: This article is proudly sponsored by Brown Brothers and endorsed by The Urban List. Thank you for supporting the sponsors who make The Urban List possible. Click here for more information on our editorial policy.
Image credit: Michelle Jarni for The Urban List