How best to describe Footscray's Bad Love Club? A hot pink, all-day jaffle bar and bakery...that also mixes epic cocktails. It's a concept designed to baffle pigeonholes.
Drop by here at 6am and you'll find the jaffle iron piping hot, strong Sensory Lab lattes flying out the takeaway window, a bunch of Footscray regulars stopping by for a pre-work snack. After dark though, the place morphs into a late-night dessert and cocktail bar. Lumberjack shirts and navy wool beanies. Home-baked cakes and well garnished cocktails, spiked with Woodford reserve rye, mescal, yuzu and fizzy ginger beer. All moody street lighting and pumping hip hop tunes.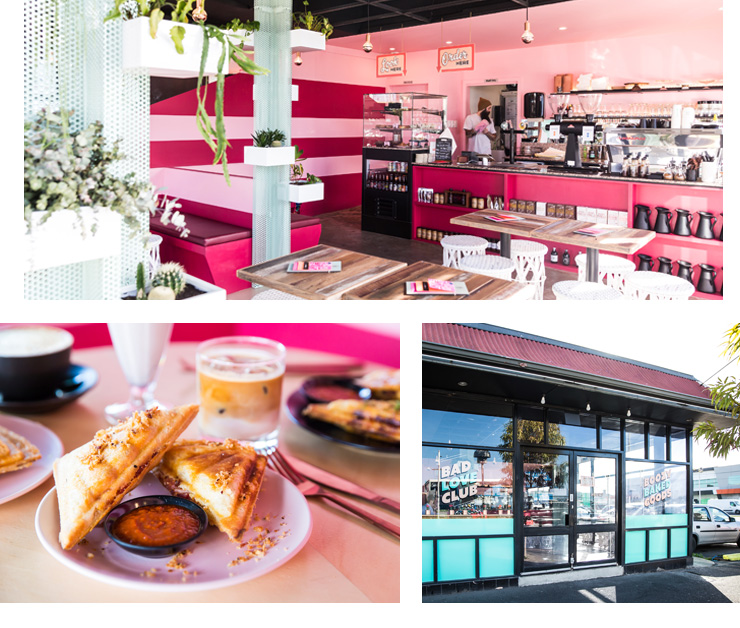 There's nowhere else in Melbourne quite like it. But as the story goes, Bad Love Club nearly had a home among the gum trees.
Owners, hospo power couple Sarah Ryan and Damien Shaw, almost set up shop in Sassafras, deep in the Dandenong Ranges. But in the end they decided the world of tea, scones and doilies wasn't quite ready for a genre-bending cocktail bar (probably true) and settled in Footscray instead.
"We wanted somewhere that just felt like home to us," Ryan says. "Where we could just chat to people and hang out. We're here so often, it had to be comfortable."
Comfortable is a good word. Bad Love Club sits on a sunny corner of Hopkins St and Moore St, in a glass-fronted building that looks like somewhere you'd open a Blockbuster (you know, if it was 1994). Inside, the couple hired the architects at Boarch to style the hell of out of the space. It's one of the more beautiful fit-outs we've seen. A Mexi-Cali mix of bubble pink block colours, mint metal pillars, hanging plants, desert cacti, and plenty of raw un-treated timber.
The design was inspired by Ryan and Shaw's travels through California, particularly the area around Joshua Tree. The result is refreshing, and original. You know a place's décor is on point when you can't use the phrase 'It kind of looks like...' Bad Love Club is very much that sort of place.
What you eat here depends on when you arrive. During daylight hours, it's got to be something off the scrumptious jaffle menu. Pick either sweet or savoury, depending on your mood, then go to town on combos like The Big Cheese (an oozey mix of Monterey Jack, American red cheddar and spring onion), or seasonal specials like the 'Fleetwood Mac and Cheese' (pretty self-explanatory) and the Frankie (baked meatballs and marinara sauce in a GARLIC BREAD JAFFLE).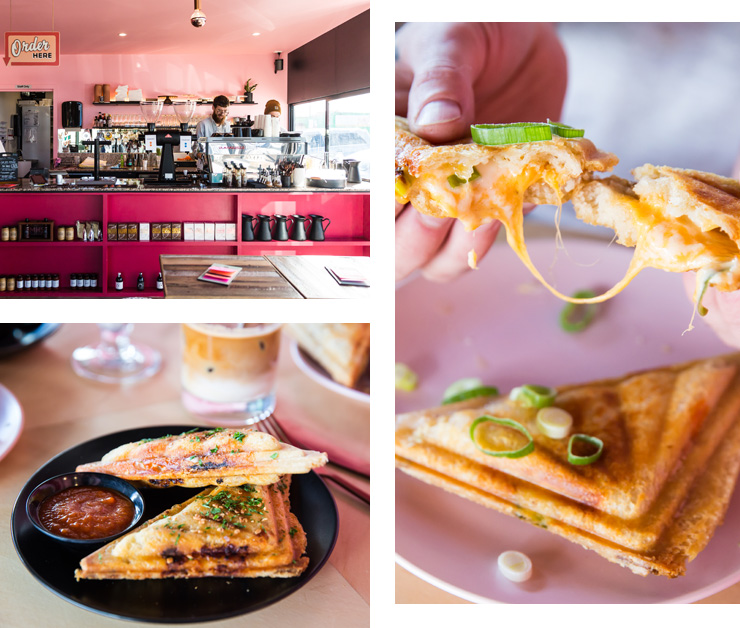 There are 'mini jaffles' if you're looking for a pre-work bite (either cheese n' ham or cheese n' vegemite) and you can switch up any of the jaffles with gluten-free bread, vegetarian fillings, or even vegan cheese. Nice touch, that
Ryan's family are bakers by trade, and it's around mid-afternoon when the cakes start appearing on Bad Love Club's mismatched vintage display plates. Ryan and Shaw bake everything in-house, by hand (except for the bread, which is jumbo-sized Zeally Bay sourdough). The produce comes fresh from nearby Footscray Market. The butter is the fancy stuff—snooty-nosed Pepe Saya, made from probiotic lactic culture.
Cake-wise, the menu changes week to week, depending on what's in season (or what crazy concoctions Ryan has floating around her head). The retro pecan pie is a popular choice, but if you only eat one slice, make it the strawberry Prosecco cheesecake (a fan favourite with the Footscray locals).
While Ryan runs the bakery, Shaw and his bar team take care of the booze: a solid mix of west Melbourne beers (think Moon Dog, West City Brewing and a few hoppy boutique specialties, like Garage Project's 'Cherry Bomb'). The cocktails are top drawer too.
Try the Crème de Violet Sherbet for a fizzy fruit bomb that's gonna run right up your nose, or the 'Tropical Jerry' (ginger beers, lotsa rum and heavy on the pineapple) in summer.
Our pick? The Smoke On The Vodka, Shaw's take on the espresso martini: house-made vodka, infused with torched marshmallows, espresso, white cacao tea syrup, chocolate liquor, chocolate bitters and smoked salt (with a couple of blackened marshmallows whacked on top as a garnish). It's nuts.
There are a lot of bars in Melbourne that take themselves seriously. Bad Love Club isn't one of them. The whole thing just screams two people having the time of their lives. And that kind of fun is infectious. Carve us off a slice of cheesecake—we've found our new home.
Want to learn more about Bad Love Club? Right this way.
Image credit: Jenna Fahey-White