It's pretty obvious before we even walk through the door: Baroq House isn't shooting for 'more of the same'. This place is going for 'best cocktail bar in Melbourne' or nothing. It isn't everyday that a bar splurges for a giant billboard on Punt Rd...
We're here for the opening night. Outside in Drewery Lane, there's a crowd of what we might hesitantly call Melbourne's 'glitterati'—the people who move and/or shake and generally live lifestyles you'd describe as lavish. Several of them look like minor league Instagram celebrities.
Hostesses from the bar are moving among the crowd, flames shooting out of their headwear like the Tribute Parade from Hunger Games. The fire throws a glow onto Baroq's two huge golden doors that look like they were pinched from the Emerald City Of Oz. Overhead, the old sculpture of entwined lovers still hangs from the wall, looking only slightly crumbly with age.
Some of you might be too young to remember Baroq in its heydey. For a while there it was the city's premier cocktail bar: an institution that ran from 2006 to 2014, known for wild post-midnight ragers and atomic-strength cocktails. A few years ago, the doors closed, and the renovations began. Melbourne's club scene moved on. Our phones got bigger. People kind of forgot about Baroq.
Well, now it's back, $5 million in the making. And the money shows. We're talking multiple bars split over three levels, a gold-edged private function room, shimmering metallic ceilings, glowing bottles of Moet and Belvedere, DJ booth and dance floor, even a WIP coffee house downstairs on the corner of Drewery Ln (stay tuned for more details that one).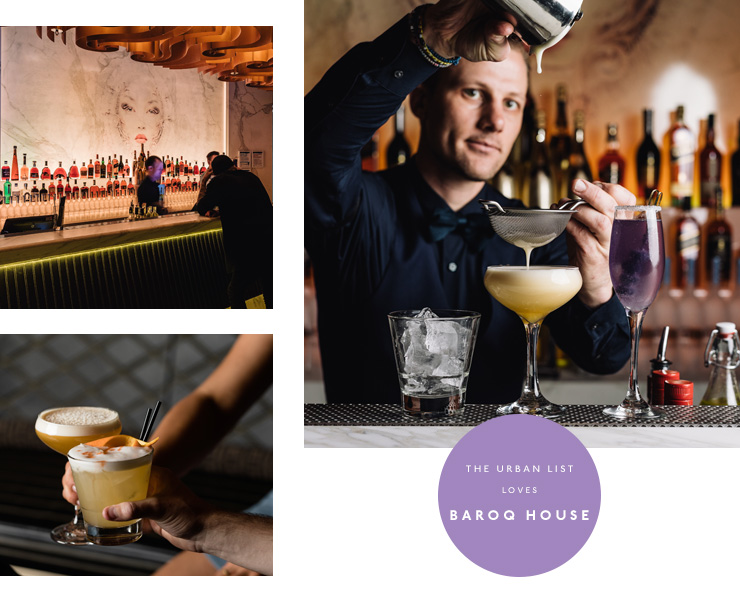 As you walk through the golden doors, turn left. This is the main bar, decked out in emerald leather drinking booths and back-lit tables. The sort of spot you'd shoot an Evanescence video clip. There's a solid range of whiskies, rums and spirits, glowing pink in the light of a massive custom artwork behind the bar, not to mention some of the biggest champagne bottles we've ever seen, some with LED lights inserted into the base.
Up to the mezzanine level and you'll find the back bar, DJ booth and dance floor, with a few people-watching lounges raised up against the wall. More classy green leather. Above your head, the ceilings ripple and shimmer in the lights. They've been hammered from some kind of buffed copper-ish metal, and kind of look like water viewed from underneath. Downstairs there's a heavily gilded private function room (slash overflow space), twinked out with pre-tarnished mirrors, golden couches, a downstairs bar and flat-screen TVs (expect many, many 30ths down here in the years to come).
The overall effect is like a scene from Eyes Wide Shut. You half expect supermodels in leather and spiky heals smoking cigarillos and judging you with their eyes. Or perhaps a very exclusive swingers party. Everything is opulent, shiny, expensive. It's the Jurassic Park of cocktail bars: no expense has been spared. Not a surprise when you know the guys behind it are The Collective Establishment Group (the ones who own Bond and Mon Bijou).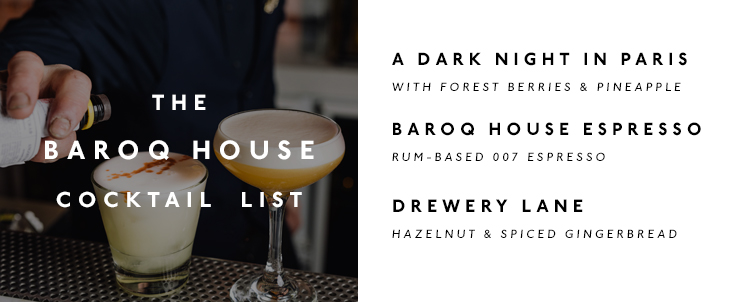 The cocktail list is what you'd expect: sultry and experimental. Try The Dark Night In Paris (spiked with rich forest berries and pineapple juice) or the White Choc & Passionfruit Martini (a sweet and creamy twist on the Bond classic). Our pick of the bunch might be the Sweet Contessa (a subtle Negroni-spin, with apricot, plum and rhubarb...and a hell of a kick). The rum-based espresso ain't too bad either.
The food menu is still in the fine-tuning stage, but it's brought to you by the guys at Om Nom, so you know what to expect. Classy canapés and bar snacks. Something to soak up the double-finger Belvedere's you've been chugging all night.
It feels like Melbourne's cocktail scene is stepping up a gear this year, and Baroq House has done a solid job of re-inventing the wheel. The places feels more 2017 than 2007. There's a more upmarket approach this time: less raging, more staging. Exquisite finishes and an opulent fit-out to match. The kind of place you take out-of-towners you want to impress.
Best cocktail bar in Melbourne? Time will tell. In the meantime, Baroq's got a lock on 'most impressive'.
Want to learn more about Baroq House? Step right this way.
Image credit: Griffin Simm