Some Melburnians spend their time chasing sh*t-hot new venues. Multi-million dollar refurbs and highfalutin concept bars. And that's cool. Some of us are just looking for a quiet spot with free-flowing vino and a killer charcuterie. And that's pretty cool too.
If 'unpretentious', 'cute-as-a-button' and 'inhales-cheese-like-a-Heffalump' are adjectives that apply to you, you might want to check out XM4, St Kilda's new wine, cheese and bagel bar.
This places morphs and changes throughout the day, so let's start at the crack of dawn. Owner Claire Lane throws open the doors at 7:30am and a starving mob of St Kilda locals storms in, demanding piping hot PADRE coffee (a rotating seasonal blend) and sourdough bagels stuffed with smoked salmon, ricotta and capers, or roast chicken, pine nuts and mayo.
There's a solid little brekky menu on the cards, and if you've got the time, you should definitely grab a window seat and tuck into the 'avo smash with torn mint and broad beans, or maybe the Green Eggs and Ham: scrambled eggs whipped with pesto and feta, topped with sautéed spinach, pan-fried asparagus and shaved leg ham on crusty sourdough.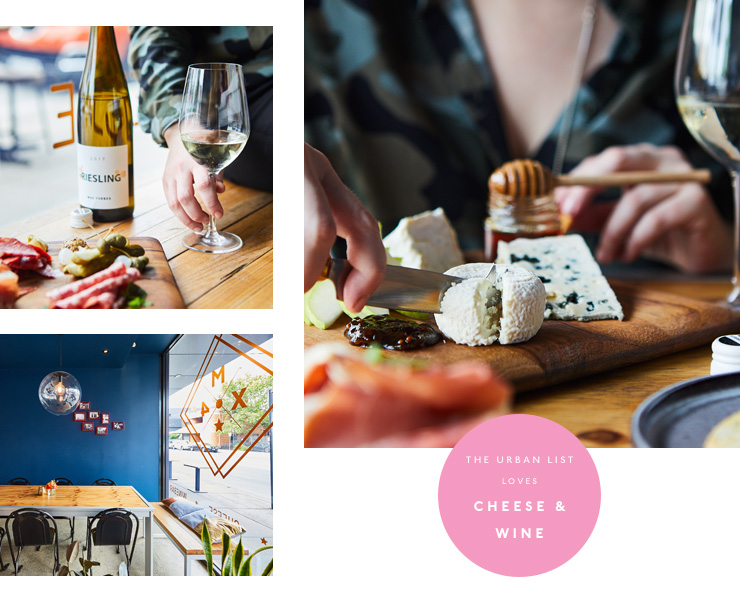 Brunch and lunch are served till 3pm. After that, the tiny plates come down from the shelf, and XM4 shifts gear into an afternoon wine and cheese bar. The shared menu keeps running into the wee hours. Think little smackerals like marinated olives from the South Melbourne Market, duck and orange pate with warm toast and dill pickles, maybe even a little shallow fried tempura cauliflower with lemon.
It's all creative, zesty stuff, designed to compliment the drinks list. Claire wanted this to be a 'wine bar' in inverted commas. So while she's constantly updating the plonk (check out the new Bianco from Amato Vino) there are also craft tinnies, beer on tap, plus a range of banging summer cocktails. Personally, we'd travel a long way for another sip of the thyme-garnished spritzes, served with cheese and charcuterie.
Speaking of cheese, XM4 comes fully stocked with the good stuff, sourced from some of the best local and international suppliers. Claire updates the selection regular, and is more than happy to sit and talk chèvre and Roquefort till the cows come home. All the cheese boards come locked and loaded with toast crisps and condiments. You can grab one cheese or meat for $11, or go the triple cheese option for a cool $30.
What's nice about XM4 is the lack of old-school wine bar snobbery. This is a decidedly un-fussy wine bar. The sort of place you can kick back with a tequila Negroni and a few Spanish anchovies and actually have a human conversation. The music is mellow, the décor is cutesy verging on kitsch (what else do you call a neon cockatoo, perched on the wall).
In summer this place will really come into its own (there's a few timber bench tables set up outside). A nice alternative to the rammed bars on Acland St, and a wine list built for lazy Sunday afternoons.
If this is the new model for Melbourne wine bars, sign us the hell up.
Want to get all the XM4 deets? Step right this way.
Image credit: Michelle Jarni