October is almost over, Listers. Say farewell to Oktoberfest parties with pizazz, and move onwards and upwards to sunnier weather and a huge list of things to do in Melbourne this weekend! Get silly for cider season, or serious for salami. With art, food, wine and festivals overflowing on the events calendar, here's our guide to the best of what's on in Melbourne!
THURSDAY 23RD
Can't afford a trip to Marlborough? Head to Metropol in St Kilda for 'Wonder of Nature', where you can sample, sip and swill the day away on delicious Stoneleigh wines. The Marlborough label has created a unique pop-up cellar-door experience like no other, where guests can sample fine vino, feast on tasty treats, and chill out to DJ-spun tunes, all in the lush surrounds of this urban oasis. Wonder of Nature is running until the 28th of February, so head to Metropol to sample the very best wine Marlborough has to offer. We'll cheers to that!
Wonder of Nature, Stoneleigh Metro | Metropol in St Kilda | ?Running until 28th February
Richmond Favourite, Richmond Hill Larder, have joined forces with Duke's Vineyard from Mount Barker in Western Australia. This special event will feature wines from Duke's, matched with six delicious artisan cheeses, and a glass of champagne! Learn a bit about cheese and wine while you indulge in this tasty degustation.
Wine and Cheese Matching Workshop | Richmond Hill Larder in Richmond | $85pp | Bookings by phone - 9421 2808
Fitness fanatics and fitness fearfuls, try out your local Fitness First for FREE this week! From the 20th to the 26th of October, Fitness First encourages you to surprise yourself and challenge your comfort zones. Today's challenge is a Dynamic Movement Training workout, with details in your local club. Over the weekend, challenges include wellness, strength, and cardio workouts. Download their seven-day guest pass online to make the most of this freebie! #nofear
Fitness Week | Fitness First, various locations | Free | 20th - 26th October
Crafty types put down those knitting needles and head to the Caulfield Racecourse for The Stitches & Craft Show to get your fix of hands-on workshops, cake decorating displays, international textile exhibitions, and the latest hard-to find products! Check out the Yarn Corner, with a yarn-bombed vintage Daimler car on display, or have a peek at the 5000 Poppies Project, an initiative that's seen over 26,000 poppies contributed to a large wall by show attendees. There are loads of things to do for young and old alike, so mosey on down to learn about beaded jewellery, quilt making, sewing, hand dyeing, scrapbooking, card making or embroidery!
The Stitches & Craft Show | Caulfield Racecourse in Caulfield East | 10:00 am - 4:30pm | 23rd - 26th October | Tickets vary
You know the weather is getting good when the summer term programs are announced! Enter: School of Life Melbourne. Although the program is running from December 1st to February 28th, tickets go on sale TODAY, and you'd be nuts to miss out on some of the ripper philosophical events on for the season. Attend one of their classes such as, How to Communicate Better at Work, or How To Make Up Your Mind. With a kick off summer party on November 28th, there's even a chance to mingle!
School of Life Summer Program | School of Life in Melbourne | Tickets on sale today, prices vary | Running from December 1st - February 28th
FRIDAY 24TH
In the forecourt of Collins Place in Melbourne, the Royal Melbourne Wine Awards event, Uncorked, is the perfect opportunity to try all the winning wines in one place! Sample drops from the best of the Melbourne and regional wine shows, enjoy live music, and try scrumptious street food from TUL fave, Hammer & Tong. Wine lovers get on board! Tickets include a Riedel wine glass and a copy of the James Halliday Wine Companion Magazine.
Uncorked, Royal Melbourne Wine Awards | Collins Place in Melbourne | $50pp | 6pm - 10pm
Foodies, get excited! As part of the Melbourne Salami Festa, Guy Grossi is hosting a Gala Dinner at Merchant Osteria Veneta. The dinner will be 'celebrating the pig and all its parts', and will include a sumptuous three-courses, supplying guests with delicious treats such as Guy Grossi's very own cured Patron's Truffle Salami. With wine, beer, and live music from Southern Italian style Santa Taranta, pig out at The Gala Dinner in anticipation for Sunday's Salami Festa!
The Gala Dinner with Guy Grossi | Merchant Osteria Veneta in Melbourne | $160pp | 6:30pm
As part of the exciting Jean Paul Gaultier exhibition at the NGV, Friday nights see a range of events celebrating the fashion world. Guests can immerse themselves in a scene of fashion and music, as DJs and bands play alongside pop-up talks, bars and dining. Tonight hosts performer JD Samson, leader of the band MEN and one third of electronic-feminist-punk band, Le Tigre. DJ set by Andy Frost will also take place from 5:30 - 7:30.
NGV Friday Nights | NGV in Melbourne | 5:30pm
Hey Fringe fans, the Melbourne Fringe on Tour program sees a selection of some of the best shows from the 2013 Fringe Festival head out on the road to outer metropolitan and regional locations! Gillian Cosgriff's This is Why We Can't Have Nice Things, is showing tonight at the Kew Court House. This funny performance includes original sounds on the topics of drinking, sex, procrastination, humiliation, grammar, love and more! Head along for a good laugh.
This is Why We Can't Have Nice Things, Gillian Cosgriff | Kew Court House in Kew | $28 (Adult) $23 (Concession) | 7pm
We have some popping news, Listers. Today is Global Champagne Day! Don't let you're social life fizzle out, and sign up for La Bonne Vie, a club for champagne novices to aficionados! Club members will be invited to share their love for champagne through masterclasses, a curated selection of rare and back vintage bottles, and many other benefits. With champagne ambassador, Kyla Kirkpatrick, 'The Champagne Dame', there's no better time to sip on some bubbles than now with the stunning weather and spring racing carnival!
La Bonne Vie Champagne Club | Membership prices vary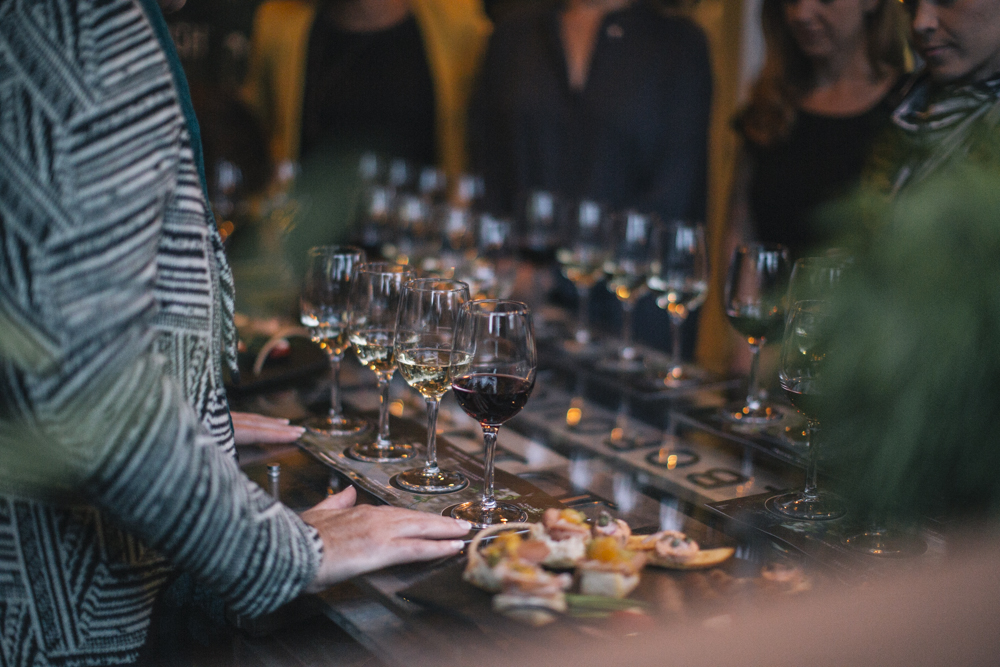 Stoneleigh Metro.
SATURDAY 25TH
Collingwood's foodie superstar and one of Melbourne's best restaurants, Saint Crispin, is celebrating St Crispin Day medieval style with a Ye Olde Feast! With a menu that would make even Laurence Olivier drool, we've got our sights set on the spit roast suckling pig, although the spiced roast duck breast with moreish crispy vegetables sounds pretty darn decent too! Wine an impressive wine offering, St Crispin Day is a sure fine reason to celebrate at Saint Crispin in Collingwood!
Ye Olde Feast for St Crispin Day | Saint Crispin in Collingwood | $95pp | 12pm | Call 9419 2202 to book
Cider season is here, Listers! To celebrate, The Last Jar is hosting a Sausage and Cider Taste Festival! In conjunction with Magners Irish Cider, Mountain Goat, St Ronan's and Harcourt Ciders, The Last Jar pub and rooftop garden will be converted into an Irish street fair, with ciders and sausages galore! With sausage making demonstrations and music from Anne of the Wolves, don't be a leprechaun; head down to the Sausage and Cider Fest! We could make an inappropriate joke about a sausage fest here, but we haven't started on the cider yet!
Sausage and Cider Fest | The Last Jar in Melbourne | 1pm - 6pm | Free entry
Oktoberfest celebrations are still top of our list of things to do in Melbourne this weekend! If you haven't partied it up in your lederhosen yet, then head down to Birrarung Marr to celebrate Oktoberfest in the Gardens! Down by the banks of the Yarra River, have a stein or two in the outdoor bier hall. Featuring six bars, roving performances, competitions and bratwurst, mosey on down and do your wurst.
Oktoberfest in the Gardens | Birrarung Marr in Melbourne | $45.50 + BF | 2pm-10pm
Chef Damian Snell of Orient East has created an Asian inspired menu that makes our mouths water. Orient East in Melbourne is hosting a food and beer pairing event, showcasing a range of micro brews and cider to complement the delicious foodie fare. With brews from Thunder Road, Lucky Duck, Bridge Road and Boatrocker, there'll be plenty to quench your thirst while your appetite is being oh so satisfyingly sated.
Orient East Taps Out, Spring Edition | Orient East in Melbourne | $40 + BF | 1pm
Craft beer is not only on the rise in our lovely land of Oz, but also in the United Kingdom. The Local Taphouse in St Kilda is hosting the Great British Beer SpecTAPular, celebrating the best of British craft beers. With twenty different beers, and British themed food and entertainment, channel your inner Brit and have a brew or three. Costumes awarded prizes, and gold coin donation with entry that will be donated to charity. Bout that time eh, chaps?
The Great British Beer SpecTAPular | The Local Taphouse in St Kilda | Gold Coin Donation | 12pm
Melbourne shoppers, are you in the market for a giant banana? No? Well how about a 1930s golf bag, water jet-pack or a pregnant alpaca? Because who wouldn't want a pregnant alpaca, amirite? You can purchase all of these items (plus more!) at this year's Garage Sale Trail, held this Saturday, with a national program that's all about sustainability and community. There are over 900 sales listed in Victoria alone, with registrations open right up until October 25th.This event is for buyers, sellers, makers and creators, so get involved and register today to do your bit for sustainability and community involvement!
A special sale on our 'to visit' list is Frankie Magazine's! Selling new items, seconds, wonky samples, and personal garage sale items, this funky festival will include a musical performance from Sugar Fed Leopards, special Frankie 'Iced VoVo' donut from All Day Donuts, and a range of awesome stalls from designers such as Gemma Patford, Min Pin and Little Gold Studios! Literally a treasure trove of garage sale goodness!
Garage Sale Trail | Register here
SUNDAY 26TH
If you want to listen to some awesome Cuban Jazz music this weekend, then don't let us stop you! Plan your trip to Rochford Wines in the Yarra Valley for the annual Cuban Jazz Festival presented by Somersby Cider! With Headline act Jam X'press, it certainly beats staying home along and listening to the Cantina Song.
Cuban Jazz Festival | Rochford Wines in Yarra Valley | 11am - 6pm | Tickets Vary
What better excuse to pig out than with the Melbourne Salami Festa! Held at the Northcote Town Hall, the Melbourne Salami Festa is all about delicious Italian Salami. The Melbourne Salami Festa aims to bring together the local community, with an added competition of course, to find the best salami in Melbourne! Head along for some live music, salami making demonstrations, and plenty of home-made Italian cooking. Slow down and enjoy the tastes and sensations of the Melbourne Salami Festa!
Melbourne Salami Festa | Northcote Town Hall in Northcote | $10 (Under 12 Free) | 10am - 6pm
Today is your last chance to catch some of the awesome and awe-inspiring acts at the Melbourne Festival. Our pick of the plethora of wondrous events is Pure Movement, an exhilarating expression by the Trisha Brown Dance Company. See this unique and exceptional dance program that gives Melbourne audiences a chance to experience the playfulness and challenges of such a unique artist.
Pure Movement, Melbourne Festival | Playhouse, Arts Centre in Melbourne | 7pm | Tickets Vary
Victor Liong from Lee Ho Fook invites diners to The Commoner in Fitzroy, to 'embrace the madness'. As part of the guest chef dinner series, Victor Liong has designed a menu around orange; the colour of insanity. Courses will incorporate the colour orange, and draw influence from Holland and the Dutch colonies of the Indo-Chinese regions including Sri Lanka, Malacca, Borneo, Macau, New Guinea, and Indonesia. This dining event looks pretty fancy – think steamed egg custard, tomato aspic and shellfish essence! Crazy? Crazy delicious, maybe!
Guest Chef Dinner with Victor Liong from Lee Ho Fook | The Commoner in Fitzroy | $75pp ($125 with matched wines) | To book call 9415 6876
Want to know more about artistic self-taught misfits? Or do we mean misfit self-taught artists? Yeah, the latter, we're pretty sure. Speakeasy Cinema presents Turning the Art World Inside Out, a documentary that looks at Outsider Art practices. At the Capitol Theatre in Melbourne, this is part of an international conference hosted by Arts Project Australia and the University of Melbourne, with James Brett (Museum of Everything) hosting a conversation after the film. Turn up to turn your art world inside out, and turn it around for a few questions for James Brett.
Speakeasy Cinema presents Turning the Art World Inside Out | Capitol Theatre in Melbourne | $15 + BF ($18 at door) | 5pm
Get ready for the awesome combination of art, design, fashion, vintage, and all day breakfast! With an assortment of stalls showcasing amazing talent from the local creative community, the Bend and Snap Market at 1000 £ Bend in Melbourne, is the place to get your market fix this weekend! Special sessions this moth include crafting a succulent concrete creation with Colour Box Studio, or some DIY afternoon fun with Eelav McBee. From 11am to 4pm, get your fix of arts, crafts and foodie delights!
Bend and Snap Market | 1000 £ Bend in Melbourne | 11am - 4pm
So there you have it Urban Listers. Stuff yourselves silly with spring goodness, and work your way through our list of what's on in Melbourne.
Image credit: Style Me Pretty.