When asked what beer you fancy, it's been a long time since the acceptable answer was a three-way bet between Carlton, Melbourne Bitter and VB. The thirst for craft beer in Melbourne has exploded in recent years, bringing in speciality drops from as far afield as WA's Feral Brewing Company, to just east of the CBD with Richmond's Mountain Goat, with plenty of international highlights, too.

Fans of the cream of the microbrewery crop are so thirsty for new pint-sized flavour sensations that the fourth annual Good Beer Week, to be held in the city this May, has grown exponentially, with international brewers like California's Brendan Moylan singing its praises as one of the best anywhere in the world.

If you can't wait that long for a swig of craft beer, there's a two-day Good Beer Week Gala Showcase on March 12-13 at Village Melbourne, with brewers from across Australia on hand to showcase their latest wares. The paltry $30 ticket price includes 20 beer-sampling tokens too. The Melbourne Food and Wine Festival is also playing host to Melbourne Beerfest in Flagstaff Gardens this weekend (you can catch the second day today!), with stallholders including Bridge Road Brewers, Little Creatures and 3 Ravens offering master classes, taste tests and a wealth of beer history.

Not that you need a big fest to get the best of beers far and wide in Melbourne. Our round up of the best bars and pubs that stock craft beer in Melbourne kicks off on the southside with arguably one of the city's finest, The Local Taphouse. With 20 rotating taps offering the likes of Tassie's Moo Brew, Moorabin's 2 Brothers' finest and OS highlights, there's a further 70-odd bottles on the go. There's a cracking rooftop terrace, great bar grub and regular special events from Oktoberfest to SpecTAPular showcases that may pick one brewery and run with all they've got, or highlight a specific type of beer.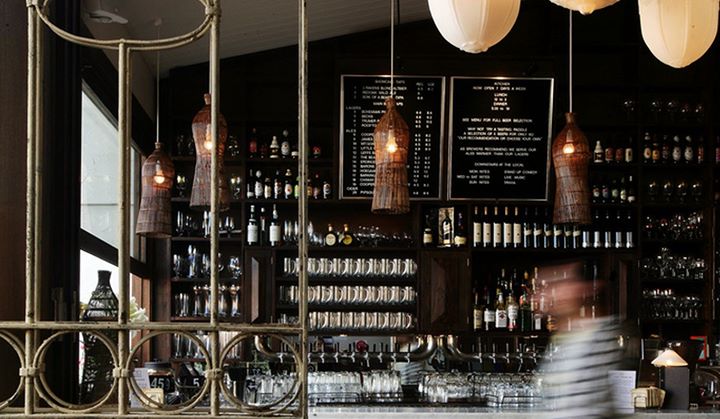 The Local Taphouse. Image Credit: Facebook

In Melbourne CBD, the vast hall of Cookie, ensconced in Curtin house, is a stalwart of the craft beer scene, with the long marble bar housing 24 taps, with up to 200 different brews once bottles are taken into account. Grab yourself one of Scotland's finest from the BrewDog stable – we rate the Hardcore Punk IPA – or plump for one from Brunswick's Thunder Road Brewing Company, like the Collingwood Draught. The Kiwis 8 Wired Big Smoke Porter is a stonking coffee and chocolate-tasting concoction.

If you prefer to take your beer with a view, perch at the base of Eureka Tower in the Belgian Beer Cafe's garden, which certainly features a range of drops from said country, like the Titje with coriander and orange notes, but there's great stuff from all over the globe, too. Their monthly Beer Club offers fun experiences a little outside the norm, like February's pairing of five craft beers with five handcrafted cheeses.

Mountain Goat's handcrafted ales include the knock-your-socks-off Rare Breed batches with big, bold flavours, or the more subtle Steam Ale. They have a bar, so you can drink in the shadow of the beer vats on Wednesday and Friday evenings, with added pizza bonus only on Fridays.

While in Richmond, Bridge Road is home to the best dedicated craft beer shop quite possibly in all of Australia, certainly Melbourne, Slowbeer, with a focus on brewers using quality ingredients. You can pick any bottle to drink on premises and they have four taps, too, all of which go down nicely with their selection of artisan cheese and meats.

Keep pushing in that general direction and you'll eventually come to Camberwell's East of Everything, upstairs from Bar None, also owned by brother sister duo Gen and Michael Cotter. Six taps champion local heroes like Hargreaves Hill and Mornington Peninsula Brewery, as well as at least one American craft beer, with plenty more bottles and a food offering that draws on the flavours of Michael's Gumbo Kitchen.



Image Credit: East of Everything Facebook

Heading north, Freemantle's finest came to town with Brunswick Street's Little Creatures Dining Hall, a vast, warehouse-like space that's always buzzing. As well as their craft beer range, including the Pale Ale, Roger's Amber Ale, the Bright Ale and their Pilsner, you can also sup on White Rabbit's Dark Ale or White Ale and Pipsqueak apple or pear cider.

With one of the biggest and best beer garden's in town, Rathdowne Street's Great Northern Hotel is owned by Feral Brewing Company co-founder, Alistair Carragher, and is the best place to get your hands on Feral's awesome Hop Hog IPA, with an abundance of taps serving up the likes of Brooklyn Brown Ale, Byron Bay's Stone & Wood and a Holgate ESB hand pump.

Nearby on the East Brunswick end of Lygon Street, The Alehouse Project popped up near to local breweries Thunder Road and Temple. It's a fine addition to Melbourne's craft beer scene, with 12 taps largely focusing on Australian brews like Temple's Resurrection Pilsner or 7 cent Brewery's Angry Freeballing Frenchman, with a few international interlopers for good measure.

While you're in the hood, check out Atticus Finch, with a minimalist hipster's four taps running everything from Bridge Road's beers to Kooinda's crop, with a decent bottle range to slake any crafty beer thirst.

Need more beer? Check out our Fave 5 Melbourne Craft Beer Breweries round-up!
Main Image Credit: Little Creatures Facebook