Ladies and gentlemen, I have a bold statement to make – Smith Street is the new Brunswick Street. There, I said it. With a bunch of cool new places opening up weekly, a long standing reputation as a hipster hub and of course, the greatest Northside location, Smith Street is a melting pot of cultural greatness and a definite must on any Melburnian's list of places to explore. Here's a helpful guide of the best places to eat, drink, and shop on Smith Street – perfect if you're new to the strip, or even just looking for a bit of variation from your ol' faithful.
EAT
Everyone needs a white crusty roll filled with deep fried oysters, slathered in gris gris sauce and garnished with slaw at some point in their lives. Fact. New Orleans inspired restaurant Po' Boy Quarter, the permanent location of famed food truck Gumbo Kitchen, caters to this need with their famous po' boys. As well as their signature item, there's chicken and sausage gumbo on the menu, along with thick fries doused in shredded beef and sauce. It's devilish but oh-so-delicious.
Po' Boy Quarter | 295 Smith Street in Collingwood
Are you craving a steaming cup of joe after a hard day's shopping on Smith Street? Pavlov's got you sorted. Not only do they have a great little space with high ceilings and exposed brick walls, their street side seating is shaded and perfect for lazing around on Sunday afternoons. Their breakfast and lunch menu is like nothing else – highlights include Cajun calamari and a bad ass open steak sanga. That said, the must-try item is the eggs benny with two eggs, hollandaise and crispy bacon, served on a warm bagel alongside two crunchy hash browns. Heaven.
Pavlov's Duck | 401 Smith Street in Collingwood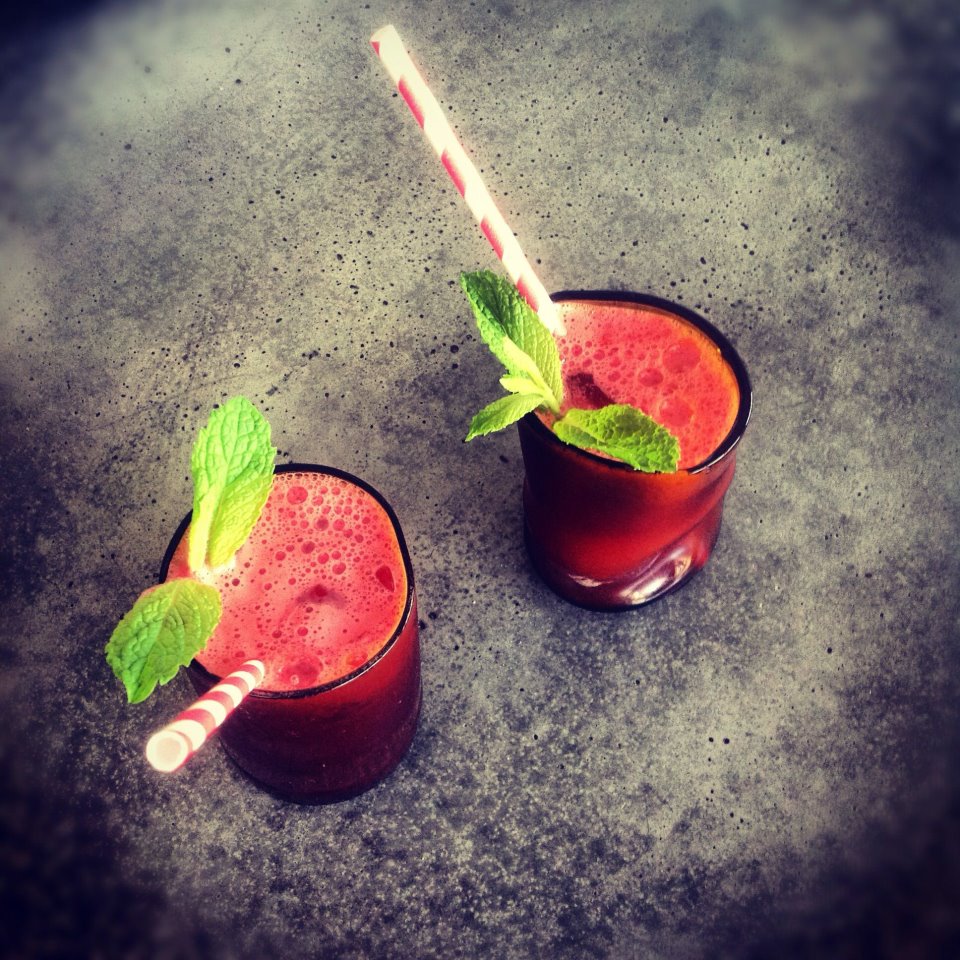 Freshly squeezed beets from Tomboy.
Collingwood is in no short supply of quaint cafes, and Tomboy is one of the best ones. With street side seating that makes for an easy perve or communal tables in the tiny shop inside, patrons here can munch on handmade cakes or something from the perfectly executed brunch menu. The coffee is exceptional as well. Just remember, cash only.
Tomboy | 356 Smith Street in Collingwood
You know the drill. Hot beef, cold beer. With a concise list of burgers, Huxtaburger serves up some of the best patties in Melbourne. You can pop into Bill's Bar next door to wet your whistle straight after, too.
Huxtaburger | 106 Smith Street in Collingwood
Bill's Bar | 108 Smith Street in Collingwood
The sister to Brunswick Street's Alimentari and neighbour to Gorski and Jones, Smith Street Alimentari is a new addition to the precinct. Take home meals that are better than anything you're cooking, delightful coffee, daily lunch specials and of course, the gourmet provisions Alimentari is famed for. There aren't many places to sit, so make sure you get in early to secure a table, then sit back and enjoy the buzzy and light hearted atmosphere.
Smith Street Alimentari | 308 Smith Street in Collingwood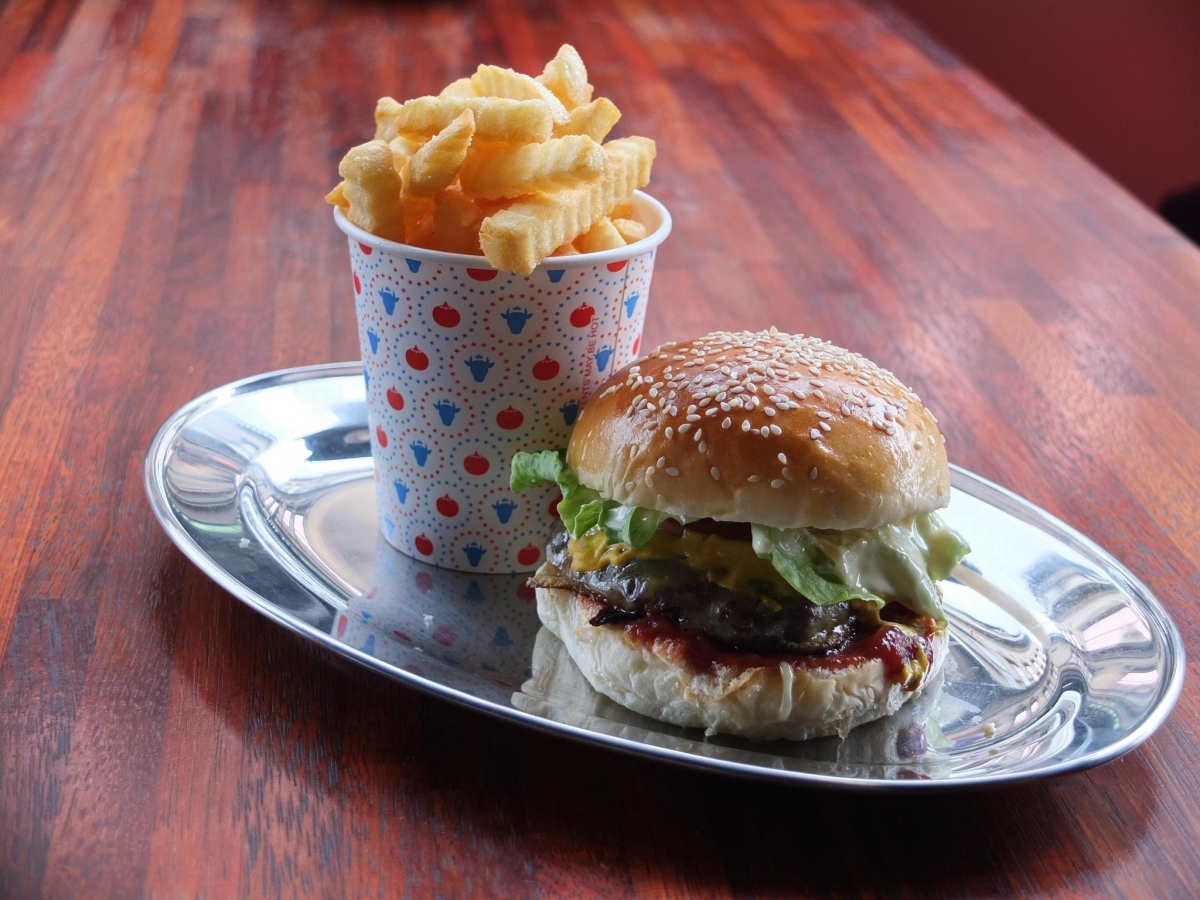 Dayum gurl you're a sexy pattie - Huxtaburger.
A hippy hub of happiness, Friends of the Earth is not only a great place to stock up on teas, seeds and meditation crystals, it's also a great place to eat. With an entirely eco-friendly vegan menu, Smith Streeters can nosh on a range of goodies – everything from muffins to scrambled tofu dishes. With heaps of seating and a never-ending list of interesting people to talk to, Friends of the Earth is a happy little space on Smith.
Friends of the Earth | 312 Smith Street in Collingwood
DRINK
Though technically not bang on Smith Street, it's certainly worth the stray. The Union Club Hotel has oodles of character – the big dining room, lounge, beer garden and infamous rooftop deck are all prime spots for copious amounts of drinking. Plonk yourself down on a battered old couch and enjoy.
The Union Club Hotel | 164 Gore Street in Fitzroy
One of Melbourne's oldest and greatest pubs, it is unacceptable to hit up Smith Street for bevvies if you're not going to the Grace Darling. Inside is a sailor chic fit out with plenty of nooks and crannies, a bistro quality menu (check out the daily specials) and great live music. With a wide selection of boutique beers, imported wines and a classic cocktail list, you can enjoy the vibe outside on the street, upstairs for live music, or downstairs in the dungeon.
The Grace Darling | 114 Smith Street in Collingwood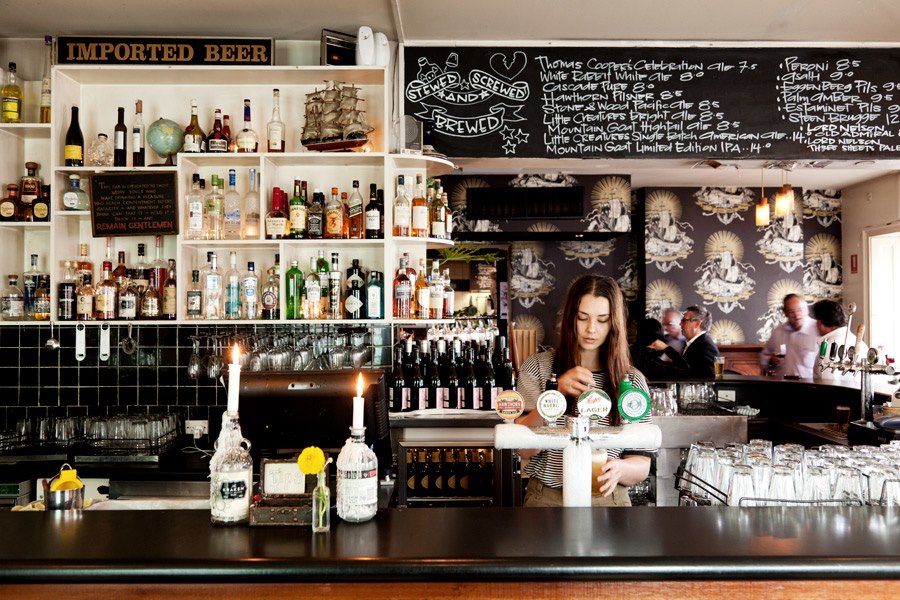 Pouring cold ones at the Grace Darling Hotel.
Kent Street may look as though it is reserved for Smith Street locals, but don't be put off by its hip vibe. Vintage furniture and a comfy, share house look that makes you feel instantly at home is accompanied by beers, jaffles and the ultimate people watching stools. Listen out for the sounds of the local music acts that are showcased on a regular basis.
Kent Street | 201 Smith Street in Collingwood
Though technically more of an eatery than a bar, this Spanish hotspot on Smith Street is an absolute treasure. All day breakfast, lunch and tapas for dinner, with outdoor and courtyard seating perfect for sangria drinking and music listening.
Bebida | 325 Smith Street in Collingwood
Drink sake and eat meat – it's a simple premise, but a brilliant one at that. This fabulous little bar on Smith Street is full of Japanese club culture references, but seasoned with just the right amount of Western flavours. Vinyl spins, grills glisten, taps pour and everyone is delightfully rambunctious in this vibrant drinking den.
Teriyaki, Anarchy and Sake | 346 Smith Street in Collingwood
SHOP
Need a present for the friend who's got everything? Or even a 'just because' gift for yourself? Then Happy Valley is for you. The store is a veritable treasure trove, with owner Chris Crouch stocking everything from ceramics and art, to books and gifts. Supporting a variety of local artists as well as brands from around the world, Happy Valley is perfect for both a planned purchase and the cheeky impulse buy.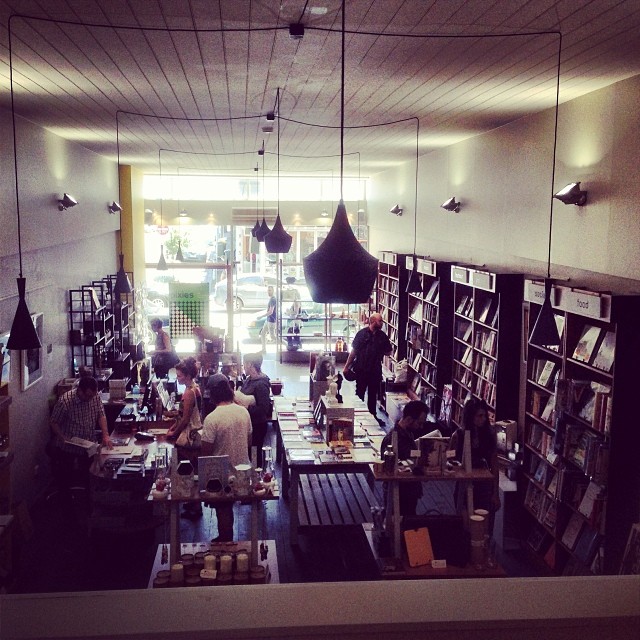 #selfie of Happy Valley
Every time I go to Vintage Garage, I buy something. Whether it's a mink coat, a bottle opener from the '60s, a tattered sci-fi read or a monocle, the Garage is a collector's Nirvana. So whether you're in the market for a Bob Fossil safari suit or some cool new dinnerware, a trip to Vintage Garage is a must on the Smith Street shopping trail.
The smaller, but nonetheless incredible, sister to Lygon Street's Lost and Found, this warehouse is bursting with bric-a-brac, clothing, jewellery, vintage furniture, lighting, books, records, art and, as I found out, appropriately sized, mountable stag heads. You can literally spend an entire day in here and not have finished seeing even the half of the wares, but if you're searching for something specific, the team at Lost and Found Market will happily fossick Melbourne for you.
Housed in an old taxi mechanic workshop, Spares is a gallery space and menswear outlet that helps Smith Street maintain its index page in the hipster handbook. Supporting local and international designers, Spares has everything from Aztec printed socks to surf 'zines and fresh kicks. So, if you want to be one decked out dude that looks fresh out of Odd Future, we suggest passing by Spares.
What's the point in hitting up multiple shops on a shopping trip when you could just chuck it all together in the one spot? Eureka Rebellion Trading owners Amelie and Tony have thought the same thing, hence the creation of their Smith Street one-stop-shop. Grab a haircut, get a tattoo, pick up some hot sauce and ogle their huge collection of art posters – everything that would've upset a soldier during the Stockade somehow made it to their shop. Make sure you check out their famous signed wall as well!
In the market for a new paperback? The team at Horton Books will help you out. Horton is much like the bookstores you see in the movies – a merry little nook with books piled high, ready for literary hands to sift through the stacks in order to find gold. With recommendations on new and classic releases from the very well-read staff, Horton is perfect for picking up a read for the 86 tram home.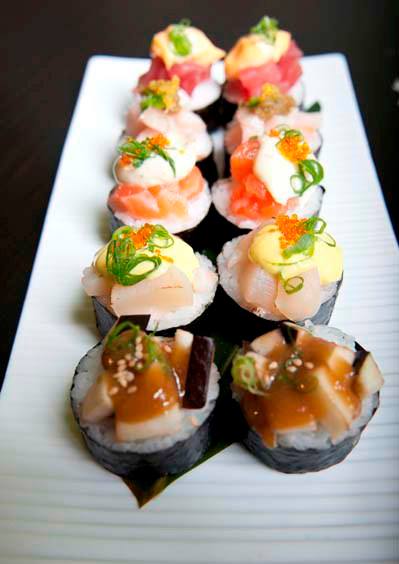 Fresh sushi rolls from Hinoki Japanese Pantry
One of our fave finds, Hinoki Japanese Pantry is a Japanese grocery store in the heart of Smith Street. Fresh sushi and sashimi is on sale daily, as well as all of your Asian culinary needs – think sushi mats, dried shitake mushrooms, soba noodles and much, much more. The staff at Hinoki are also some of the friendliest people you'll find on Smith Street.
The Social Studio is a not-for-profit enterprise that seeks to create opportunities for young people with social barriers in Collingwood. One part fashion label, one part printing studio and one part cafe, The Social Studio has created hundreds of jobs for the refugee community of Melbourne, as well as turning out some exceptional clothing. We suggest browsing through the racks to do your bit for the community – you'll walk out looking damn fine in one of their pieces.
Main Image Credit: 10th Kitchen