As nature-loving foodies, we're guessing most of you will have passed by Geelong en route to the Bellarine Peninsula or Great Ocean Road. But – and correct us if we're wrong – we reckon you probably haven't spent much time in the mini-Metropolis itself. Well, that's a darn shame for a number of reasons!
With a thriving cafe scene boasting farm-fresh fare and top notch coffee, some awesome craft breweries, and more brilliantly repurposed old industrial buildings than you can poke a stick at—plus a buzzing arts and cultural scene—­Geelong's got serious 'mini break' chops. Yup, just a zippy hour's drive from Melbourne and sitting pretty on Corio Bay, the Geelong of 2016 has been reinvented and is full of tasty surprises.
If you need more convincing (seriously?), here are seven Urban List-approved reasons to reconsider Melbourne's surprising little sister.
#1: The Breakfasts Will Blow. Your. Mind.
What tops a Melbourne breakfast? Peppermint Crisp ChocTop Waffles, that's what. You'll find this gut-busting brilliance alongside lighter breakfast and lunch fare at cute industrial-chic cafe, The Pickers Union. Local heroes Cartel Coffee Roasters deliver the brews here, and the cake cabinet deserves serious exploration, with raw treats attempting to distract you from the jam doughnut muffins.
In the city centre, Freckleduck is a light-filled corner cafe with first-rate coffee care of Five Senses. The menu caters equally to the clean eating crew and the hung over, with both superfood smoothies and PBJ waffles. Whatever you do, don't miss the delish and not-too-sickly-sweet ricotta and blueberry hotcakes with passionfruit curd mascarpone and mixed berry and acai compote.
If you're into provenance and sustainability, Hugh Whitehead's Little Green Corner is the real deal. The petite blackboard menu rotates regularly, with much of the produce coming straight from Hugh's in-laws' hobby farm—the scraps even return there to feed the chooks. The tucker is tasty and uncomplicated, showcasing exceptional, seasonal produce. They make their own Kombucha and even run foraging tours. Show offs.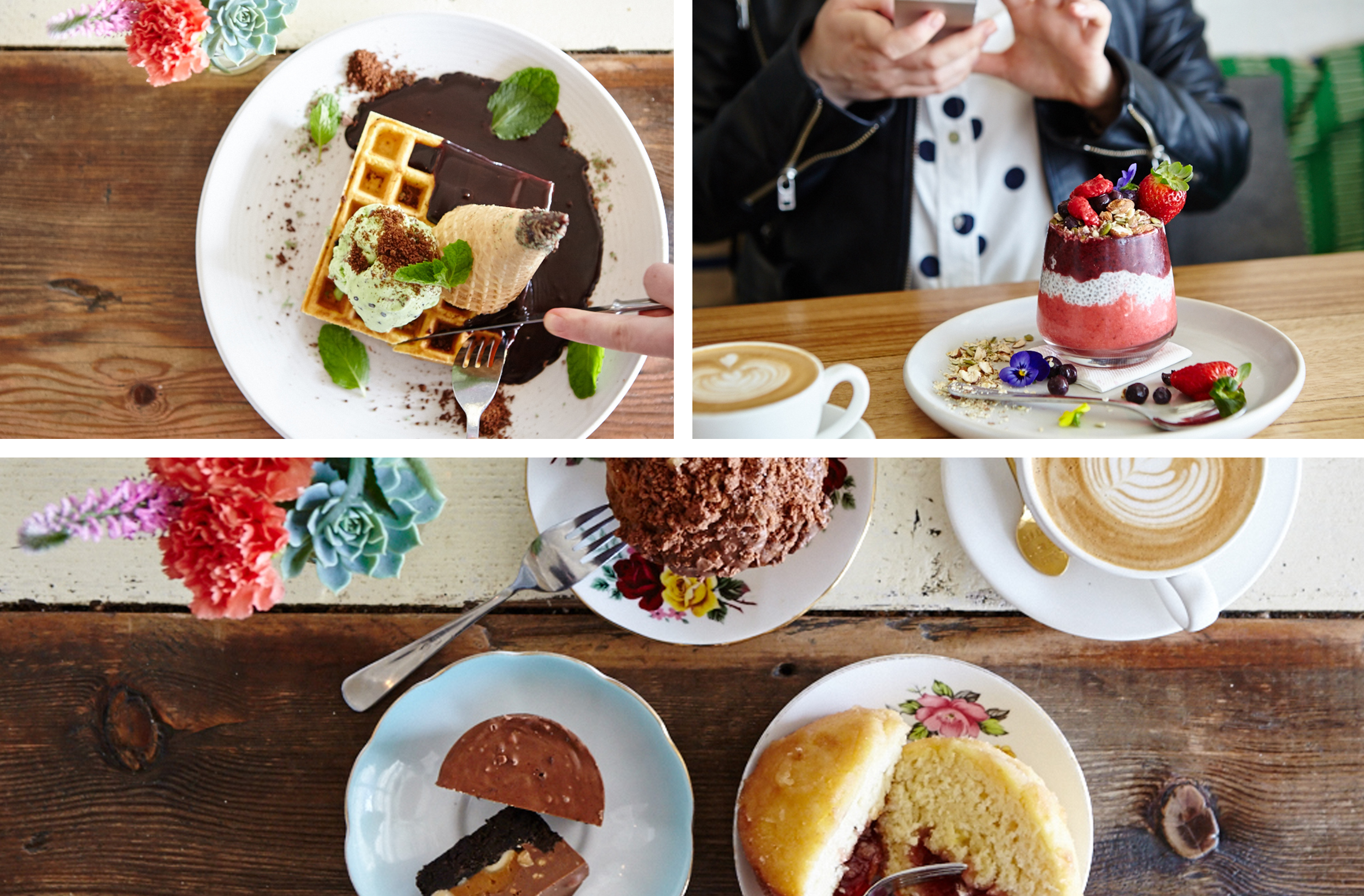 #2: From Craft Beer to Cocktails, the Drinking's Good
Geelong is as much about brews as it is about beans, and the city is dotted with awesome beer venues. Recently, we visited two of our favourites: In a repurposed woollen mill in South Geelong, you'll find Little Creatures' epic East Coast operations, with an onsite brewery, bar, canteen and beer garden, as well as the more petite White Rabbit set up. For just over a tenner, Little Creatures run tours of their cutting edge brewery seven days a week—best enjoyed with pre/post pizzas, a pale ale and pulled pork sliders in the cavernous canteen with its super chill, retro-industrial vibe. On a sunny day, the beer garden can't be beat, and they even do brekkie on the weekends.
Next door is Healesville's loss but Geelong's gain: the recently relocated White Rabbit Brewery. Here it's a more high-brow hipster affair, with an elegant, pared-back aesthetic, bearded-and-aproned staff, and a focus on creative fermentation and barrel-aged beers.
If beer ain't your bag, there are some killer cocktails to be had at Latin American-inspired bar and newly minted smokehouse, Quban. Housed in an 1860s bank building on Malop Street, the bar and eatery's soaring ceilings, lush green wall and chic, eclectic fit-out make it an enticing spot to unwind. While you're there, you should definitely munch your way through some street food favourites like corn on the cob, chicken ribs, and jalapeno poppers.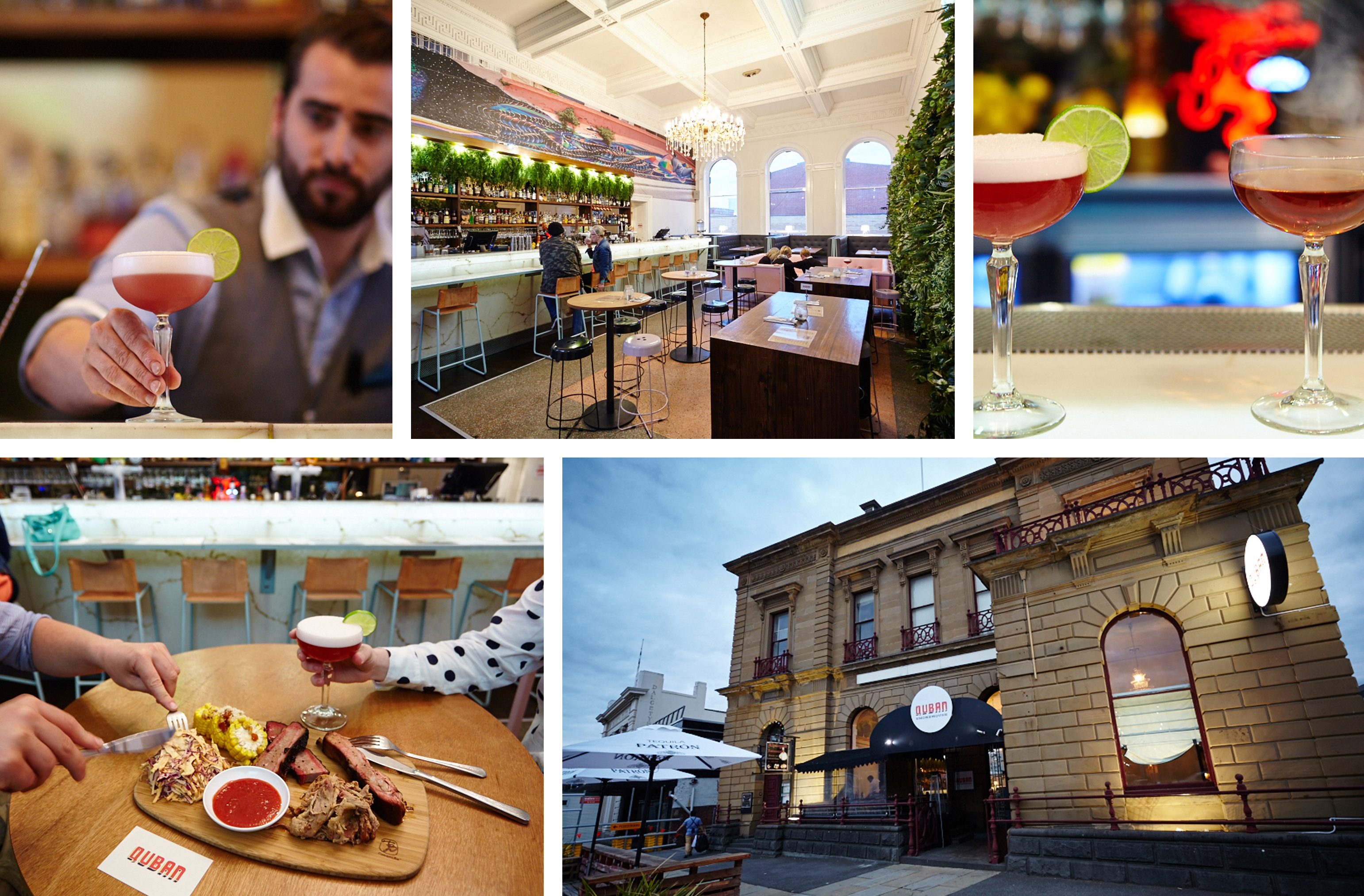 #3: There's Some Serious Architectural Eye Candy
Geelong has a rich industrial past, so you'll probably hear the words "this was once an old mill" more than once. Many of these historic spaces have been reimagined as creative hubs, galleries, and venues, and it's a lovely thing indeed.
Adjoining the Geelong Gallery on Little Malop Street, however, the new nine-storey Geelong Library & Heritage Centre is a much more modern beast. Opening in November last year to mixed reviews and with a $45-million bill, it's a stunning, glass-panelled, golfball-esque dome that looms over Johnstone Park. Roll out a picnic blanket and marvel at its curves and crevices, then take a squiz at its equally impressive innards.
#4: It's An Arts Hub
In the swish suburb of Newtown, by the banks of the Barwon River, BOOM Gallery is a truly excellent contemporary gallery-cafe-retail space housed in—you guessed it—an old wool mill. Take in an exhibition, grab an Industry Beans coffee from Lola's Kitchen, and pore over the jam-packed stock room at your leisure. Pro-tip: Pack your credit card because you will definitely want to bag yourself a piece of locally-crafted jewellery or ceramic-ware—we left with some leafy loveliness from Greenhaus Projects.
Opened in the late 1800s, Geelong Gallery is one of the country's most established regional galleries, curating and playing host to around twenty exhibitions a year. If you have a chance, make sure you catch the Land of the Golden Fleece: Arthur Streeton exhibition before it closes in June.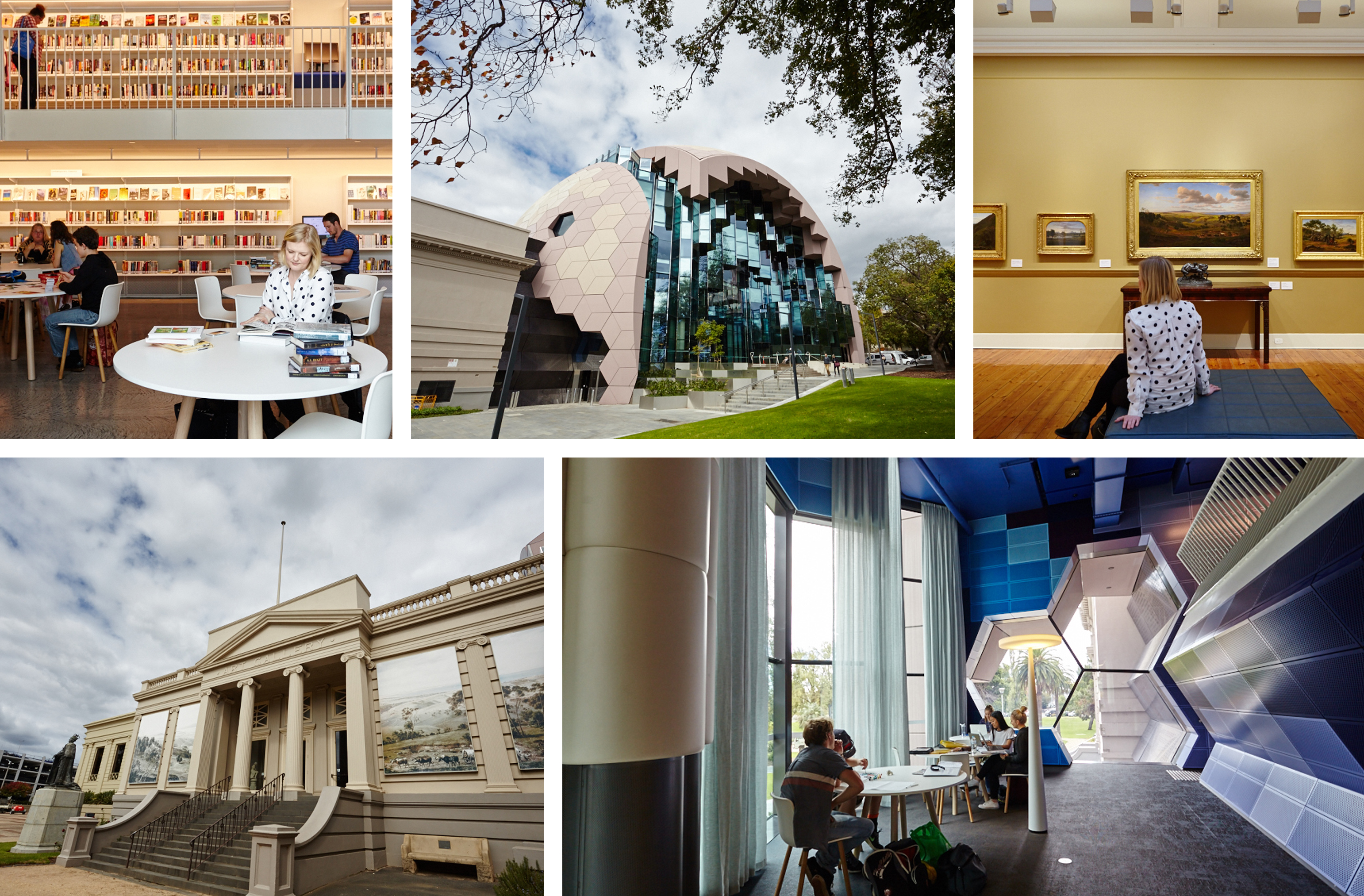 #5: You Can Pick Up Awesome Retro Furniture, Fashion & More
Open every day except 25 December, you'll still feel like it's Christmas when you step into the Geelong Vintage Market, housed in the old Federal Woollen Mills. Once at risk of being demolished, it seems kinda poetic the iconic building's now packed to the rafters with vintage and second hand goods.
There are two buildings – one housing the clothing, trinkets, furniture and smaller-scale items (there are some great retro items here, and a fab stall selling industrial lamps), with the brick mill building holding more large-scale and industrial pieces.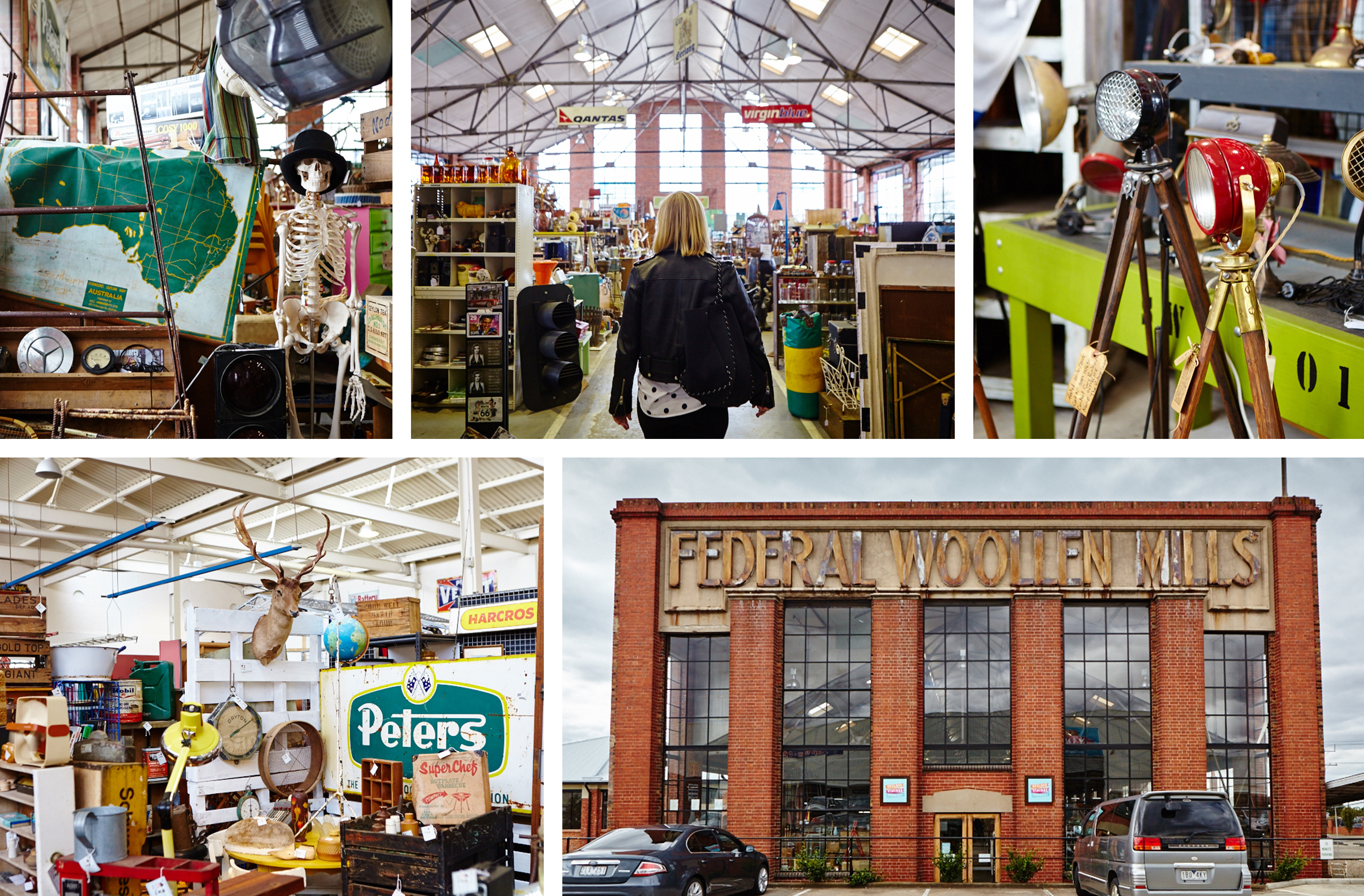 #6: There's A New Foodie Precinct with Ace Street Art
If you're a dyed-in-the-wool Melburnian and can't bear to be too far from street art and good coffee, the burgeoning Little Malop and James Street precinct is for you. Here you'll find a bunch of newly opened eateries and cafes, plus homewares, books and more.
Our pick of the strip, Craft Space is so ca-ute it practically hurts: a pastel-hued, caffeine-fuelled haven for the craft-inclined, where you can get your hooks into a piece of communal crochet work, take part in a class, indulge in some mindfulness colouring, or just let your stress unravel as you sip on Bahen & Co hot chocolate (we have no words!), imbibe in loose leaf tea from a heart-shaped cup, or nibble on crafty gingerbread cookies from Kuna's Pure Food.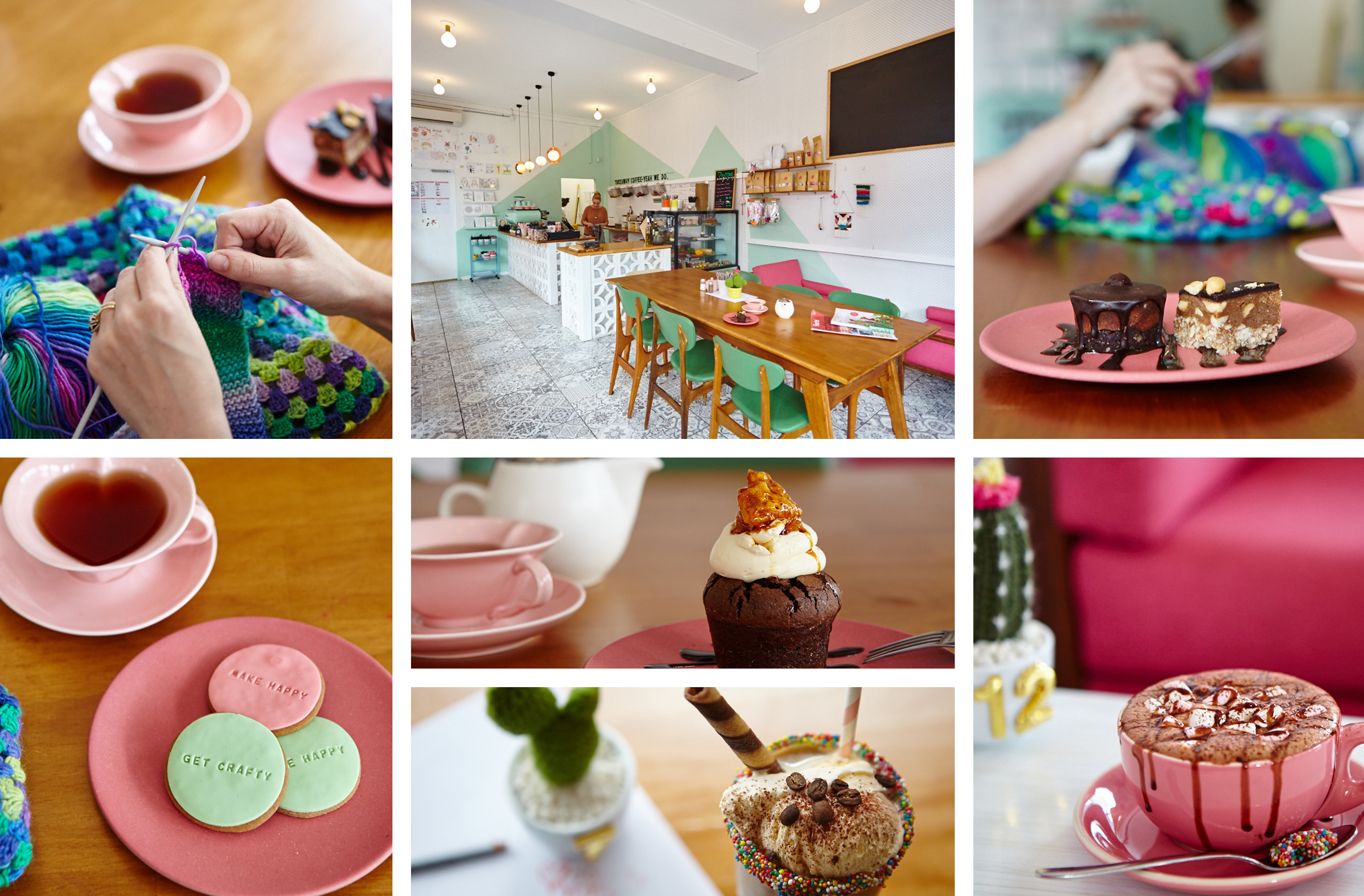 #7: The Accommodation is So Good, You'll Definitely Want to Make a Weekend of It
Housed in a heritage-listed 1920s building, the site of a former technical school, Devlin Apartments are our pick of accom in the big G. So new that the paint's barely dried, the fully self-contained luxury 4.5 star apartments are GORGEOUS, walking the line between chic and cosy in a way that few places manage to nail. There are three styles of room: the industrial, paying homage to the building's past; the modernist; and our favourite, the New Yorker, with its arched windows and luxe finishes.
And if you decide to travel a little further afield to check out the Bellarine Peninsula or surf coast, Geelong-based Mustang & Co offer guided tours in a convertible red '66 Mustang. Just sayin'.
Melbourne's an incredible city, but sometimes we all need to get out of town for a weekend. The Urban List has partnered with Visit Victoria to bring you our Get Out Of Town! series — the ultimate guide to Victoria's regional gems. For more ideas about where to wander in Geelong, click here.
Image credit: Michelle Jarni for The Urban List