If you thought last week was a blockbuster week in Melbourne, then you ain't seen nothing yet! Now that the last race of the Spring Racing Carnival has been run, we can focus on two things we know Melbourne does VERY well – eating and shopping.
This week is choc-a-block full of fabulous food and stupendous shopping, and since you're all such busy bees, we've wrapped everything up in a lovely little A List article package. Yes, yes, we know how nice that is of us to do…feel free to send thankyou chocolates.
Read on for all of Melbourne's must-do and must-see events this week…
Monday 11th November
Today is Remembrance Day, the anniversary of the armistice that ended the First World War. A minute of silence will be observed at 11:00am, in memory of the men and women who have died or been injured serving our country in the armed forces. Lest We Forget.
Reduce, reuse, recyle - it's National Recycling Week! Image Credit: Mouths of Mums.
Monday also marks the start of the 17th National Recycling Week, an excellent initiative from Planet Ark. Designed to promote the benefits of recycling and to get the public involved, the week-long campaign teaches people how easy it is to incorporate recycling measures into your daily routine and the benefits to all.
National Recycling Week | 11th – 17th November
For more information, visit the website
If you're like the rest of Melbourne, and are crazy for food trucks, then get your kaboose down to Trailer Park! A highlight of Good Food Month, Trailer Park sees 24 of Melbourne's best food trucks gathering at Village Melbourne for a week's worth of delicious food. This is Trailer Park's last event before they take a break over Summer, so make sure you pay them a visit.
Trailer Park | 11th – 17th November
Village Melbourne, 557 St Kilda Road in Melbourne
For opening hours and a full list of trucks, click here
Tuesday 12th November
Celebrating excellence in hospitality design, the prestigious Eat-Drink-Design Awards will be held tonight in Brunswick. Prizes are awarded across the following categories – Best Bar, Restaurant, Café, Temporary, Retail and Identity Design – with the winners taking home a $1,500 cash prize. Eat-Drink-Design recognises projects across Australia and New Zealand, with entrants running the gamut of venues, from big to small, high-end to hidden gem.
Stay tuned for all the details on the winners!
Eat-Drink-Design Awards | For more information, visit the website
Wednesday 13th November
Stock up on unique art at the Blender Lane Artists Market. Image Credit: Yusuke Tsutsui.
What do you get when you combine Melbourne's famous street-art with the city's most unique artists and designers? Blender Lane Artists Market, of course! Held in the iconic Blender Laneway, the market brings together artisans from across Melbourne, from fashion designers and painters, to sculptors, jewellery makers and more, all selling their handcrafted, locally made wares. Held every Wednesday night until the end of February, the Blenders Lane Artists Market is one you can't miss!
Blender Lane Artists Market | 13th November 2013 – 16th February 2014
Wednesdays nights 5pm – 10pm | Blender Laneway, 110 Franklin Street in Melbourne
For more information, follow Blender Lane on Facebook
Thursday 14th November
Ladies and gentlemen, we hope you've invested in a pair of stretchy pants and are prepared to feast because Taste of Melbourne starts tonight! The four-day food extravaganza celebrates Melbourne's best restaurants and chefs with pop-up restaurants from the likes of Mamasita, B'Stilla, Tonka, Longrain and more. What's more, there'll be cooking demonstrations, cocktail making classes and gourmet food to stock up on too! Win.
Taste of Melbourne | 14th – 17th November
Pelican Lawn (next to Carousel), Aughtie Drive in Albert Park
For opening hours and other information, visit the website
The annual City2Sea run is being held this Sunday and today is your last chance to register! Starting at the Arts Centre and finishing on The Bay Trail, the 14km is quickly becoming one of Melbourne's most popular events. This year also sees the introduction of a 5km course, so now there's no reason not to enter!
City2Sea | Start time: 8:00am (14km course) and 9:15am (5km course)
Meeting point: Arts Centre, St Kilda Road | Finish area: Pier Road, St Kilda
For more information and to register, visit the website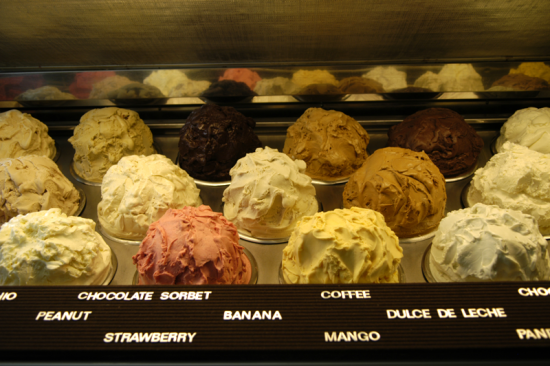 Gelato Messina is FINALLY in Melbourne - woo hoo! Image Credit: Gelato Messina.
All hail…Gelato Messina has landed! After realising that Melbourne is indeed the fairer city, the Sydney-based Messina team have set up shop in Fitzroy – Sing Hallelujah! From today, you can feast on crazy mouth-watering flavours such as Campari and Orange Marmalade, Coffee with White Chocolate and Hazelnut, and Peanut Butter, Fried Brioche and Banana Jam….drool. We'll see you in line!
Gelato Messina | 237 Smith Street in Fitzroy
For more information, visit the website or Facebook
Do you love going to the movies but find yourself passing on the stale popcorn and other unfulfilling food? Then book a ticket to Culinary Cinema and prepare to have your mind, and tastebuds, blown! The brainchild of Jess Pryles, aka BurgerMary, Culinary Cinema pairs a movie classic with a specially designed menu. Tonight's screening of Cat On A Hot Tin Roof (there's also Death Proof on the 30th) has a Creole style picnic in store but you better book soon, because these tickets are selling fast!
Culinary Cinema | 7:00pm – late
Tickets $49 each | Beer and wine can be purchased separately
For more information, click here
Friday 15th November
How's this for a sweet collaboration – Albert Park Hotel has partnered with Rekorderlig Cider to bring you The Nine Nights of Rekorderlig, another highlight event of Good Food Month. Inspired by the nine fruity Rekordelig flavours, Andrew Beddoes, the Albert Park Hotel's head chef, has designed a unique menu for guests that includes a special Rekorderlig cocktail and canapés on arrival.
The Nine Nights of Rekorderlig | 15th – 13rd November
7:00pm – 10:00pm | Albert Park Hotel, Corner Montague Street and Dundas Place in Albert Park
Bookings are essentials and can be made here
Saturday 16th November
We all know how much Melbourne loves a pop-up and how much people love their vintage shopping, so what better than Retro Market, a pop-up market selling brilliant vintage finds? Held at the quirky Where?House space in Melbourne, there will be plenty of vintage clothing, jewellery and accessories on offer, all for $10 and under (yes, you read right)! Pure vintage heaven!
Retro Market | 16th – 25th November
11:00am – 8:00pm daily | Where?House, The Argus Building, Corner Elizabeth and Latrobe Streets in Melbourne
For more information, visit the website
Sunday 17th November
On your marks, get set, go…the annual City2Sea event is being run (groan) today! The event calls for some serious training – make sure you hit one of Melbourne's best running tracks as preparation.
City2Sea | Start time: 8:00am (14km course) and 9:15am (5km course)
Meeting point: Arts Centre, St Kilda Road | Finish area: Pier Road, St Kilda
For more information and to register, visit the website
Get ready to party South American style at Fiesta Noviembre! Image Credit: Britta Bandit.
No one knows how to party quite like the South Americans do, which is why you need to be at Fiesta Noviembre! Held on the rooftop at the Richmond Club Hotel, Fiesta Noviembre is a celebration of all things South American with three hours of delicious food, devilish drinks and downright awesome dancing. For $50, you'll have all your food and drinks included so grab a friend and book your tickets ASAP!
Fiesta Noviembre | Richmond Club Hotel, 100 Swan Street in Richmond
4:00pm – 7:00pm | Tickets $50 pp, all inclusive of food and drink
Purchase tickets at the bar or email