You know you're always going to find somewhere delicious to eat in Melbourne's CBD and inner 'burbs. What can be trickier is stumbling across good cafes, bars and restaurants in suburbs that sounds like made up countries from Game of Thrones (hey there, Maidstone). That's where we come in.
Pack the car snacks and join us as we tackle everything worth eating in Melbourne's shadowy outer burbs. A strange land of affordable housing, friendly locals and roadside tyer stores.
Keilor East | One By One
We're so grateful for Melbourne's brunch culture, and for cafes like One By One over in Keilor East. Wrap your laughing gear around pressed lamb shoulder on minted peas with cucumber, cherry tomato, tendril salad and mint yoghurt, or chia pudding with rhubarb gel, mango sorbet and macadamias. Whatever you pick, you're going to want to keep coming back until you've tried everything on the menu.
Tullamarine | Hide and Seek
There are a couple of good places for a fish n' chips feed in Tulla, but our top pick is Hide and Seek Fish n' Chippery. They've got all the classic packs, fried to perfection, but if you're wanting something a little fancier, go for the char-grilled squid with chilli lime dressing. Fresh as. Be sure to come back to try their excellent burgers too (we're going for the 'Phat', with its Wagyu beef patty, double cheese, bacon, chipotle mayo, jalapenos and caramelised onions).
Essendon Fields | Mr McCracken
Essendon fields or Gowanbrae? Who knows. Mr. McCracken is a new-age gastropub with a big focus on live music (Friday to Sunday) and top-notch grub. The perfect spot to scoff down an artisan cheese plate (or on Friday, $2 buck oysters). If you're after something more substantial, give the gnocchi with romesco tomatoes, Tuscan kale, hazelnuts and pecorino a shot. They've also got banging pizzas, cooked on a 72-hour rested dough. Noice.
Eltham | Bar Piccolo
You know that feeling where you want to go out for a drink, but really don't want to make the trek into the city? Same. For you lucky folk over near Eltham, you can skip that whole process—Bar Piccolo is right on your doorstep. Head down for a quick post-work glass of wine, or try out some of their cocktails. They mix and match the booze menu all the time.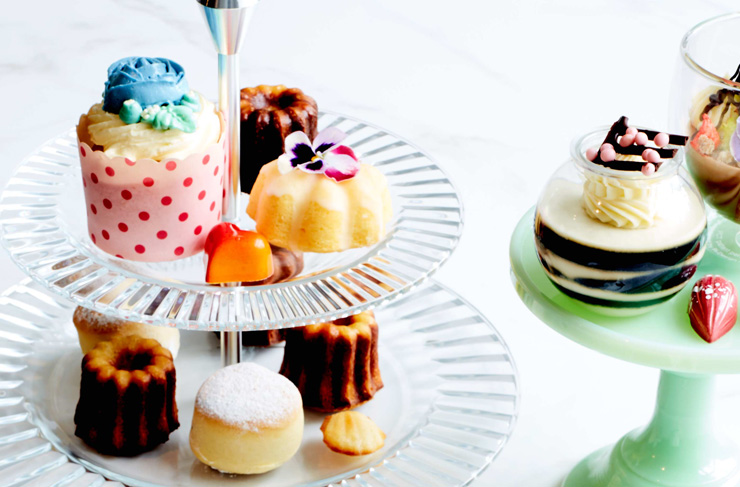 Bayswater | The Hatter and The Hare
Look, no one's arguing Bayswater is a particularly hip and happening suburb just yet. But it does have a fantastic cafe in The Hatter and The Hare. It opened about a year ago now, and it's been capturing the eyes (and Instas) of countless hungry Melburnians ever since. There are some awesome lunch dishes, but with an in-house patisserie be sure to grab at least one of the sweet treats—from flourless mocha cake to delicate eclairs.
Belgrave | Earthly Pleasures
Once you've finished the 1000 steps, it's only right to reward yourself (feel free to skip the steps. We don't judge). Coffee is good, and maybe some organic porridge with seasonal poached fruit and hazelnut dukkah. Or Vegan banana bread with mixed seeds and cranberries. Or thyme and garlic roasted field mushroom with house-made bourbon barbeque sauce, red cabbage and kale slaw and vegan aioli in a ciabatta bun. The point is, you can get all this and more at Earthly Pleasures café over in leafy Belgrave. Highly recommend.
Sherbrooke | The Piggery
Another spot for post-1000-Steps feeds. It's another venture from Shannon Bennett (Vue de Monde, Iki-jime and, of course, Masterchef). The Piggery Café offers up tasty brekkies, fresh-baked in-house pastries and bread, and the most peaceful spot for a coffee ever. Sit outside by the lawn bowls, croquet and bocce pitches as you sip your latte, and don't forget to stop and say hello to the pigs in the pen on your way through.
Sassafrass | Proserpina Bakehouse
Sometimes you just don't feel like scones, even if you're in the Dandenong Ranges. Fortunately, Proserpina Bakehouse has got you covered with all sorts of tasty alternatives, including a range of freshly baked bread and cakes, with flour milled on-site. Plus, savoury offerings in the way of egg and bacon tarts, salads and quiches. It's a popular local spot.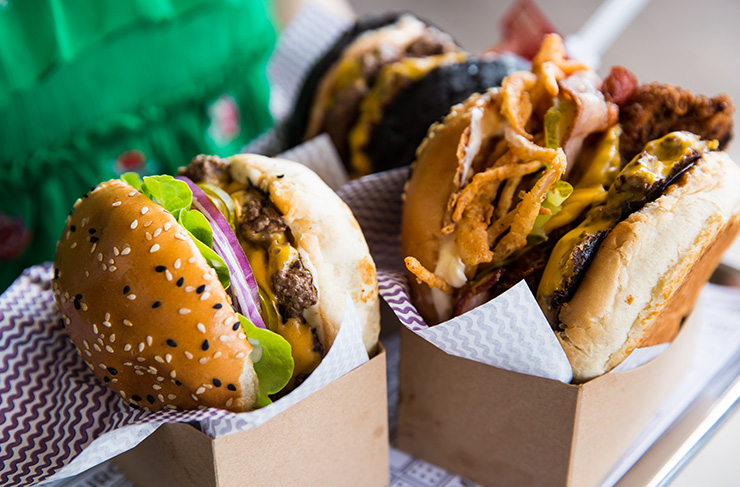 Glen Waverley | YOMG
There's a whole range of great food over in Glen Waverley, but we can't go past YOMG whenever we're after a burger fix. Keep things simple and try the Yo My With Cheese, and add pickles. Don't forget a side of fries either—we're not fully sure what the secret to their seasoning is, but we're big fans.
Glen Waverley | Glenny Kebabs
Okay, so 'restaurant' is being used loosely here, but if you're after a late-night eat (or dinner, both are good), look no further than Glenny Kebabs. It's kinda tucked away next to a petrol station, but with the crowds milling about, it's hard to miss. That and the assortment of muscle cars being modelled out front... Follow the masses and get yourself a quality kebab, or a classic HSP. This place was even selling merch at one stage. Nothing quite like your local kebab joint offering a side of hoodies with your chips. Honourable mention to the legends at Kebab Thyme. They're no slouch.
Rosanna | Sideshow Burgers
We don't blame you if you haven't even heard of Rosanna, but that's part of its appeal. However, you will be kicking yourself for having not heard of Sideshow Burgers, the venture from hospo-pros Abbish Gupta and Julian Chew. There aren't many options on the menu, only six in fact, but they've each been carefully thought out and use A-grade, locally sourced ingredients. If you can handle the heat, go for the Fire Eater, with its beef patty, cheese/tomato/lettuce, jalapenos and a three-sauce blend of Sriracha, chipotle and kewpie mayo. BYO milk.
Rosanna | Miss Marie
While we're singing Abbish and Julian's praises, we've gotta mention their other café, Miss Marie. Head here for a top-notch brunch (our picks are the strawberry and cream ricotta hotcakes with berries, white choc, strawberry compote, gel and sherbet or the 'hey bloke' for a feed to keep you full for hours), and even kick on for their lunch menu, with fresh, tasty sandwiches and burgers. It's a Sunday, what's the hurry?
Mickleham | Marnong Estate
Another suburb you probably haven't heard of, but you'll be glad you did. Mickleham doesn't have much, but it does have Marnong Estate—a $35 million tourism investment in Melbourne's north-west. It's still in it's developing stages in terms of the restaurant (and upcoming vineyard, micro-brewery and coffee roasting house) but keep your eyes and ears open. This one's gonna be HUGE.
Moonee Ponds | Sorry Miss Jackson
Moonee Ponds has definitely been stepping it up in the past couple of years, and there's no clearer example than Sorry Miss Jackson—the fried chicken parlour from our dreams. This place is exactly what you're looking for on a Friday night (because we all know healthy eating doesn't matter on the weekend). Get yourself a serve of wings in a well-seasoned batter with a chilli kick to leave you sweating, and excellent sides to finish it all off.
Moonee Ponds | Zeus Street Greek
Another Moonee Ponds classic. Zeus Street Greek has only just made its way to Victoria after trawling around the country, and it picked Moonee Ponds as its home. If you're new to Zeus, you've gotta start with the signature 'Uncle Tzimmy' or the 'Zeus' pitas—you'll probably recognise them as souvas, or gyros. Whether you go classic chicken or pork (roasted over a charcoal spit), you're in for a good time with their mix of house-made tzatziki, onion, paprika and hot chips.
Mernda | Turner's Bakehouse Eatery
Now and then you just want a solid high-tea sesh, but making the trek into the Dandenong Ranges seems like a lot for a quick scone. North-west-locals, we got you. Get down to Turner's Bakehouse Eatery in Mernda, and sip some Devonshire tea in a beautiful old stone farmhouse. Be sure to take home some freshly made sourdough or a savoury pastry on your way through—all baked in a historic woodfired Scotch oven over 120 years old.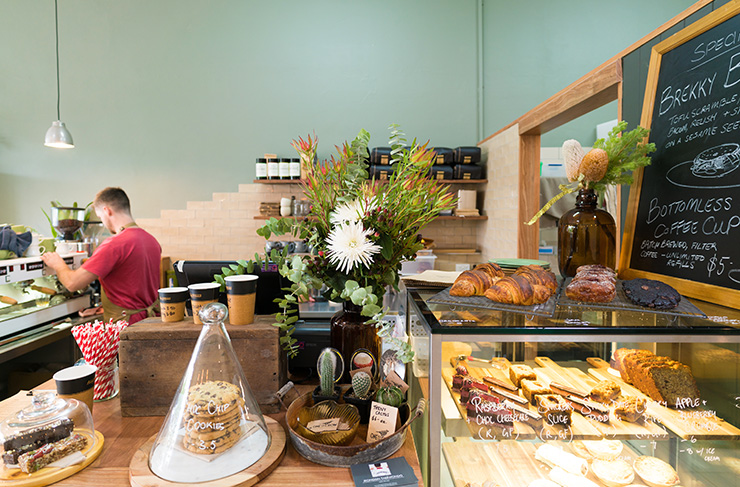 Maidstone | One for the Crow
If you're looking for a new place to get a solid vegan feed, we've found it at One For The Crow—a plant-based café nursery in Maidstone (Melbourne's north-west). Think soba noodle bowls filled with green veggies, tahini-miso dressing, pickled daikon and carrot kimchi. Seeking a sugar hit? They've got vegan waffles with house-made vegan Nutella (we know), caramelised banana, soy ice-cream and maple syrup. Not bad, not bad at all.
Hoppers Crossing | Morris and Heath
Hoppers Crossing doesn't always have the best rep, but don't write it off just yet. Especially when they're supplying the goods, like Morris and Heath are. Not sure where to start with the menu? Give the lemon poppy seed and ricotta hotcakes a try, served with banana, espresso and French vanilla whipped mascarpone and dried cranberry with sweet dukkah. Order it alongside your capp, and settle in for a solid start to your weekend.
Eltham | Ginger Garlic
With the huge range of top-quality Indian restaurants around the city, it can be hard to impress. However, the humble Ginger Garlic over in Eltham has stepped up to the challenge. Their Beef Madras with fresh coriander is one of the best we've had anywhere. And don't leave without trying their vegetarian Tandoor Sabzi: capsicum stuffed with a mix of masala alu, panir and nuts, roasted and served on a sizzling hot plate with mushrooms, diced tomatoes and onions.
Yarrambat | Tanck's Corner
Seriously, find a more beautiful weatherboard cafe in Melbourne. Go on, we'll wait. We'd never even HEARD of Yarrambat before checking out Tanck's Corner, but damn we're glad it's now on our radar. Husband and wife, Chris & Sue, built this place back in 2011, and it's become a cult sleeper with locals. Swing by for lunch and try the 8-hour slow cooked beef tacos. Soooo good.
Mitcham | Yo Mamma
With a name like that, you know you're in for a good night. Yo Mamma is Mitcham's buzzing pizza parlour. There's a reason this place packs out most nights—the woodfired pizzas are huge and generously topped. Our personal pick? No shame here—it's the HSP Pizza, topped with lamb, chips and three kinds of sauce (the chilli has an amazing kick). Highly recommend for a good night out.
Image credit: The Piggery Cafe