We gin lovers are a dedicated bunch. After all, there's nothing a little gin can't solve*.
Luckily for us, January (read: GINuary) happens to be one of the best months of the year to gin-fully indulge. One of our favourite makers, Bombay Sapphire, has put together a drool-worthy line-up of pop-up events and limited edition cocktails to properly celebrate the first month of 2018.
So, if you're a gin-lover in Melbourne, these venue's cocktails will blow. Your. Mind.
*This is not 100% accurate.
Eau De Vie
CBD
Forget standing at the bar and waving at the bartenders like you're hailing a taxi on New Year's Eve (hint: it's still not working). Eau De Vie is leaps and bounds ahead with their luxury Star of Bombay martini trolley. A nod to the lavish excess of the past, this sweet, sweet trolley rolls right up to your table and watch as your cocktail appears in a cloud of liquid nitrogen in true Eau De Vie style. Order the martini flight (four mini martinis for $50) because you can never have too many martinis. Then sit back and enjoy Eau De Vie's signature theatrical bartending. Needless to say, Eau De Vie is the place to be this Ginuary.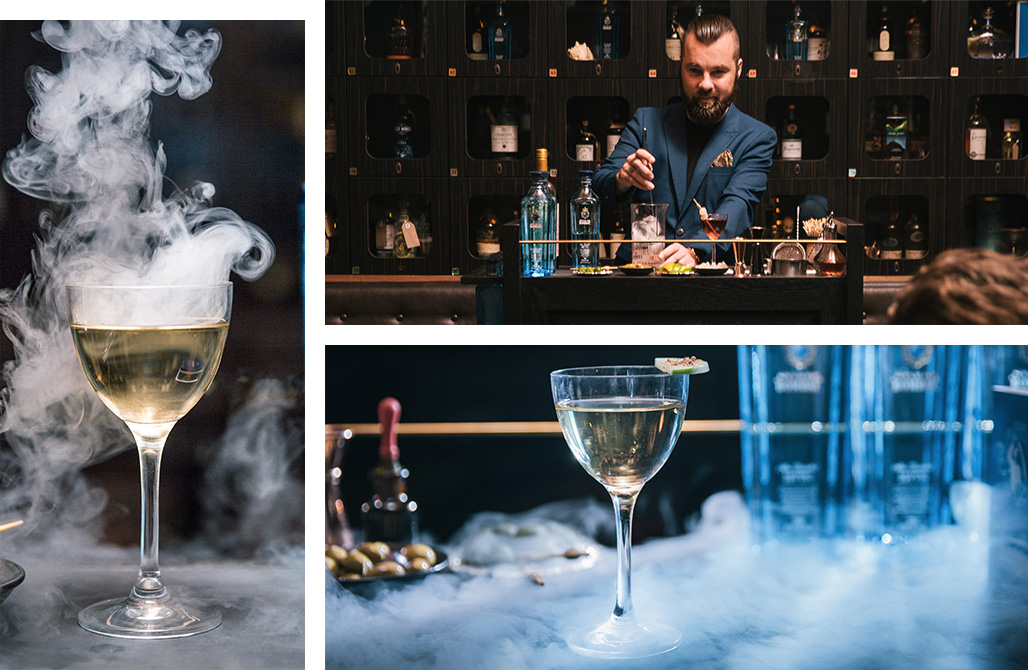 Bar None
Camberwell
Unicorn cocktails are officially a thing in Melbourne and you can grab one at Bar None. Saunter over to the bar for this glittery, colour-changing cocktail and snap a pic to make your mates jelly. It's almost (almost) too pretty to drink.
Ludlow Bar Gin Garden
Southbank
Positioned along the Yarra River and a stone's throw away from the Australian Open this summer. If you need us, we'll be hanging out at Ludlow Bar's pop-up Gin Garden. Expect $12 gin and tonics with a twist (cheers, Bombay Sapphire!) and $17 gin cocktails all day, erryday.
Nineteenforty Rooftop Bar Gin Garden
Hawthorn East
If you haven't been to the new rooftop bar nestled on top of the Village Rivoli Cinemas, Ginuary is the perfect excuse. The Gin Garden will be open until mid-February featuring Bombay Sapphire-inspired gin and tonic (with a twist!), cocktails and panoramic views of Camberwell and some of the best art deco architecture in Melbourne.
Union Electric
CBD
Union Electric shakes up the original and one of the finest Lola cocktails in the city. A combination of Coco Lopez Coconut Cream, ginger, Pierre Ferrand Curacao, and Star of Bombay gin, it's the gin-lovers version of a pina colada (true genius does exist). For a sweeter option, ask for the Lulu with gin, triple sec, lemon, lime, liquorice bitters and caramel syrup, fennel sprouts and edible flowers top it off.
Gin Palace
CBD
It's all in the name. This gin-filled palace is one of the finest places to drink on a balmy night. We recommend the Flatline Martini—a cheeky martini variation with the mix of gin, vermouth, Absinthe and lemon.
Editor's note: This article is proudly sponsored by Bombay Sapphire and endorsed by The Urban List. Thank you for supporting the sponsors who make The Urban List possible. Click here for more information on our editorial policy.
Image credit: Michelle Jarni, Hugh Davies, Griffin Simm for The Urban List & provided.