As if Melbourne wasn't pretty enough already, a bunch of talented street artists went and made it even prettier with their creative masterpieces. From Fitzroy, through to the CBD and out to Cremorne, Melbourne is covered in glorious street art that makes us swoon.
In celebration of all that art, Bugaboo have partnered up with Niark1, a French graphic designer, illustrator and artist who creates ah-mazing surreal and psychedelic artworks, who has created some incredible canopies for their strollers. Babies are so cool these days.
To get in the spirit we've scoured the streets to bring you some of Melbourne's best street art, so open Google Maps, plan the perfect route and seek out some eye candy, stat!
Johnston Street
Fitzroy
Start on the corner of Johnston Street and Fitzroy Street to spot the magnificent piece by the AWOL, a dream team of Slicer, Deams, Adnate, Li-Hill, Lucy Lucy and Itch. We recommend ambling through Fitzroy Street and peeping behind every nook and cranny —there's almost always a mural or three to see.
Rose Street
Fitzroy
Home to the Rose Street artist markets and Lune Croissanterie, Rose Street is Fitzroy's casual home to art, design and emerging talent. Spot everything from tiny stencils to towering murals.
Cubitt Street
Cremorne
In between greying office buildings and cottage-style houses, a towering mural of a butt-naked Kanye West in bed with Kim Kardashian and Taylor Swift is a must-hit on your art list. Obviously.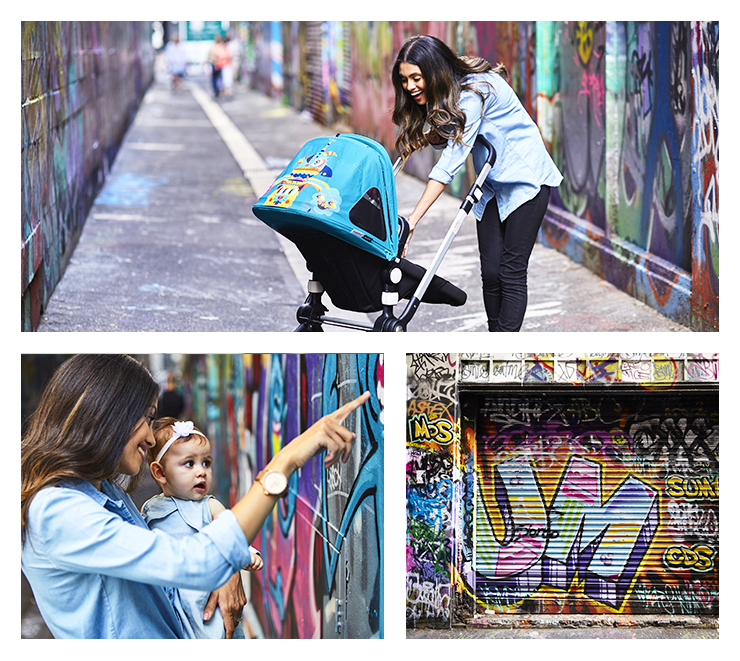 Easey's
Collingwood
Quite possibly the most hipster joint in Melbourne, along with renovated trams and graffiti-filled gardens, Easey's is home to a five-storey mural of Beyonce in all her pregnant, flowery glory. Use the mural as an excuse for burgers.
Hosier Lane
CBD
Hosier Lane is known for its ever-changing exhibition of Melbourne's finest street art. Home to the iconic unnamed Indigenous boy by Adnate; this arresting, towering, 23-metre tall mural (very) intentionally overlooks Birrarung Marr. After you've wandered through layers upon layers of spray painted works, skip along to Duchess for an impeccably refined, two-course lunch for just $40 every Thursday and Friday. You deserve the treat.
Caledonian Lane
CBD
This casual home to graphic art is tucked in a sliver of a laneway between Little Bourke and Lonsdale Street. One of the lesser-known laneways in Melbourne's jam-packed CBD, hit up Shortstop Coffee & Donuts for a post-walk treat.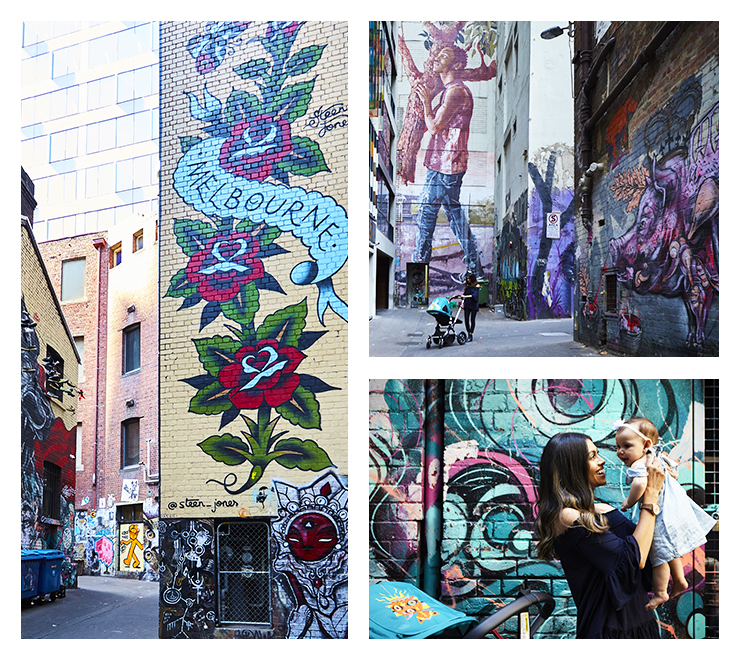 Duckboard Place
CBD
Surrounded by the likes of Chin Chin, Eau Di Vie and Gazi, Duckboard Place is the ideal pit-stop for art-lovers and baby-toteing mamas alike. Pick up a decaf soy latte from Axil Coffee Roasters and stroll (with your stroller, see what we did there?) past these spray-painted walls.
Union Lane
CBD
ICYMI this is the #instagrammable art lane of the CBD. Whip out those cameras and get 'gramming.
Rutledge Lane
CBD
Despite a controversial start in 2013 when artist Adrian Doyle painted the entire lane a block-out baby blue (destroying every other piece of artwork), Rutledge Lane is far from a blank canvas nowadays. Once you've filled up on your daily art, head over to Supernormal for a foodie feed.
Image credit: Michelle Jarni for The Urban List
Editor's note: This article is proudly sponsored by Bugaboo and endorsed by The Urban List. Thank you for supporting the sponsors who make The Urban List possible. Click here for more information on our editorial policy.