Whether you're a fan of the sporting prowess, a sucker for the competitive thrill, or you just like drooling at the muscular slow-mos (Rafa, tick. Drool, tick), it's fair to say that living in Melbourne, you're in the beating heart of the epic Australian Open!
But what if you didn't manage to score tickets to the live shebang this year? Well don't throw your racquet! What if we could promise you a combination of social excitement, gourmet food and drink options, AND comfort! We're thinking that's a bit of an ace in our book. So if you're wanting to get off the couch (but not quite to courtside), and want to know where to watch the Australian Open in Melbourne…in style, here's our list of the classiest joints around town, serving up some pretty sweet sets.

BUILDERS ARMS HOTEL | FITZROY
Cool down in Fitzroy's Builders Arms Hotel's snazzy Public Bar. From January 19th, they'll be screening the Australian Open action every day until the final on February 1st. With dining options running the gourmet gamut from oysters to a 'Rotisserie Royale', to even some gourmet housemade ice cream, sit back and pig out, while the tennis stars (and crowd!) sweat it out on the screen. Sip on some delightfully classy cocktails, or enjoy a cool craft beer or cider. Definitely a stylish joint to get your Australian Open tennis fix.

THE BOTANICAL | SOUTH YARRA
If you want to win a set or two of your own, head to The Botanical in South Yarra where they're not only screening the action, but they're also serving up a set menu throughout the Australian Open! Running from the 19th of January to the 1st of February, their two course dinner (at only $45 pp!) features delicious options such as Rock flathead with clams, ratatouille and lemon and thyme sauce, while any with a sweet tooth can get revved up for a peach, olive oil and raspberry trifle!

HALF MOON | BRIGHTON
Wondering where to watch the Australian Open in Melbourne if you live Bayside? Want to head somewhere a little more local to avoid the public transport crushes? Then head on down to Half Moon in Brighton, where you can watch the Australian Open on one of their TVs, inside in the cool air-conditioned bar, or outside in the dappled shade courtyard. With a range of classy wine, cocktail, beer and cider options, and some gourmet snacks, get settled in for numerous tie-breakers at one of Melbourne's best pubs! Truly a class act.

CLUB APEROL AT FATTO | MELBOURNE CBD
If you haven't managed to grab a seat in the arena, don't stress, we've still got you covered! While not screening the games, Club Aperol at Fatto Bar & Cantina is the place to be this summer and another top pick for celebrating the Australian Open in style! On your way in or out of catching your live match, pop in to visit this snazzy river terrace, open from 4pm until late, Wednesdays through to Sundays until the 31st of January. Decked out with tennis-chic outfits, props and accessories for guests to use in an epic Instagram pic, get into the spirit with a table tennis tournament (or just a bit of fun)! With local DJs, Aperol Spritz specials, and a to-die-for Italian inspired menu, check out Club Aperol at Fatto to complement your Aussie Open experience!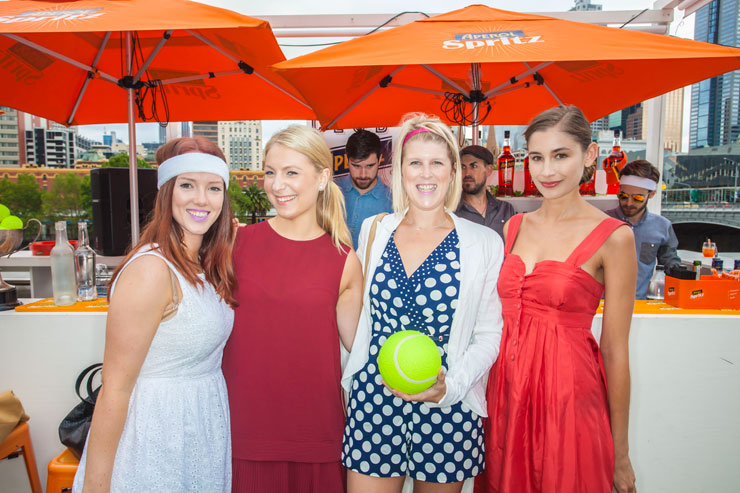 THE RAILWAY HOTEL | WINDSOR
If you want to sip on some fancy drops while watching the Australian Open, head to The Railway Hotel in Windsor (and work your way through their impressively large cellar). They'll be screening the major games in their downstairs bar, where you can choose from 78 varieties of sparkling! But don't stress, there's also 100 different local and imported beers to choose from too. Not to get hung up on the liquor, but if you're that upset that Hewitt gets cut on his second match, there are also 360 spirits on offer…

ALBERT PARK HOTEL | ALBERT PARK
With two screens in the main bar, Albert Park Hotel will be showing the Australian Open throughout the length of the tournament. With $20 daily specials on offer during the week too, get your lobster roll fix on Mondays, or a Mussel Pot on Tuesdays! With an emphasis on fresh, seasonal produce, sip on a special drop from their selection while dining on some sweet snacks.

TIME OUT IN FEDERATION SQUARE | MELBOURNE CBD
Snap up a view of the big screen at Fed Square, whilst sitting in the newly refurbished comfort of Time Out restaurant. Not only does it look super snazzy now, it's also serving up some sexy coffee from Brunswick's Code Black, and plating up some fresh Victorian produce. Get excited for dishes like the Atlantic salmon salad with freekah, warm roast pumpkin salad with roasted kale, and smashed avocado on 7-grain toast. It's said even Andy Murray has been spotted in this hotspot—that's if he's not on the big screen, we guess!

RIVERWALK AT CROWN | SOUTHBANK
Crown is setting up a mini stadium live site on the Riverwalk, where tennis lovers can watch the Australian Open matches on a big screen, and also enjoy some gourmet food and drink options from the range of pop-up vendors! From Friday the 16th of January until Sunday the 1st of February, the Aussie Open will broadcast live. While you sip on some Moët and Chandon bubbles, or shovel away some Mövenpick ice-cream, also get excited for live appearances from Kei Nishikori, Eugenie Bouchard, Li Na and Maria Sharapova. Immerse yourself in the great atmosphere Riverwalk offers, with a summery tennis vibe!

THE EMERSON | SOUTH YARRA
Summer is all about rooftop bars, and the rooftop at The Emerson in South Yarra is set to screen the Australian Open to fancy folks. With two dedicated, 80inch screens, there's also a bunch of Aussie Open related events, including the Heineken Super Saturday Party on the 24th of January. Look forward to The Emerson's Australian Open Cocktail Bar, which will be serving up a Pimms based cocktail, the 'Tie Breaker', a 'Passion Ace', and a strawberry and cream themed 'Summer Volley'!

ROYAL CROQUET CLUB AT BIRRARUNG MARR | MELBOURNE CBD
This summer brings fun-filled pop-up food, entertainment, sporting and lifestyle venue—The Royal Croquet Club—to town! Located at Birrarung Marr, the festival will screen all the major games from the Australian Open, while you can get your greedy paws on some of Melbourne's best food vendors. Get excited for appearances by D.O.C, Mr Claws, Meatmother, St Ali, Gelato Messina, and more!

MIDDLE PARK HOTEL | MIDDLE PARK
The Middle Park Hotel is a stylish pub option to watch the Australian Open in Melbourne. Watch all the action live in their bar on one of their nine plasma screens. If you're looking to go all the way though (hey, we're talking classy here!), then you can even book one of their five private dining booths, that come with individual screens to enjoy your favourite sporting event! All that cheering is thirsty work, so wet your whistle with one of the 45 beers on tap around the 70m bar.

There you have it, Listers—our top picks of where to watch the Australian Open in Melbourne, in style! Love-all!

Image credit: Fancy Glamster, Club Aperol at Fatto - Nick West